U.S. Women's Open
San Francisco and U.S. Women's Opens have been good to Jeongeun Lee6. Will they accommodate her again?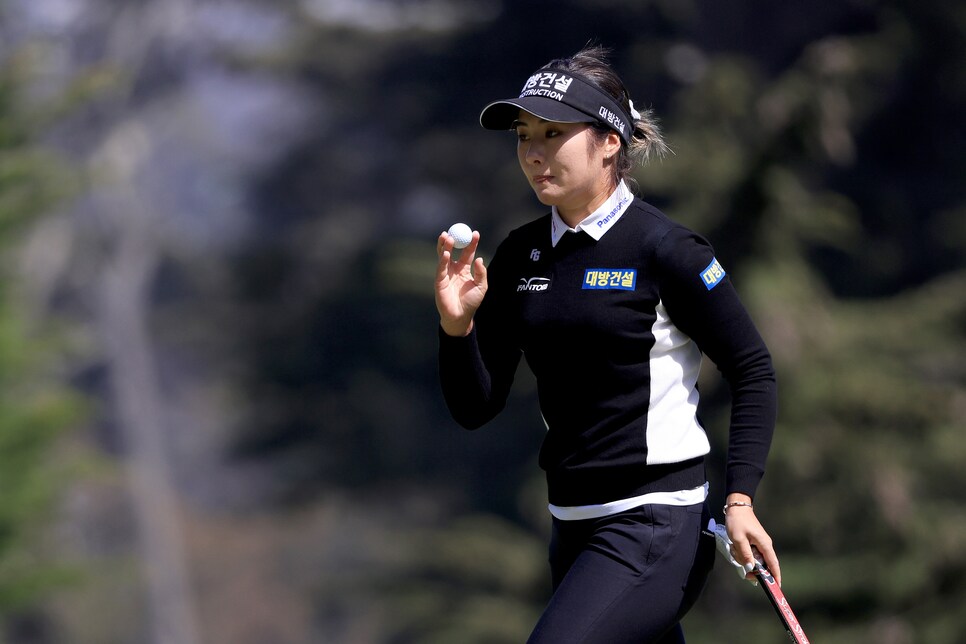 SAN FRANCISCO — After the 2019 Mediheal Championship at nearby Lake Merced Golf Club, Jeongeun Lee6 walked off having lost a three-way playoff with Bronte Law and champion Sei Young Kim yet maintained a positive mindset.
"She [Lee6] just wanted to play, just have fun with the playoff, and she's pretty satisfied with it," Lee6's manager at the time, Jennifer Kim, said.
Law won the next tournament at the Pure Silk Championship, and Lee6 emerged the 2019 U.S. Women's Open Champion the week after.
Sitting T-3 at three under at Olympic Club, Lee6 is in a position to have the city of San Francisco serve as a launching point again for her season.
"My goal was top three this week. So, it's going to be possible," Lee6 said Saturday.
Her work with her primary coach, Jun Seok Lee, is a big part of why the reigning Louise Suggs Rolex Rookie of the Year is finding her stride. They discovered that her clubface in her backswing was closed. To fix it, as part of her pre-shot routine, Lee6 takes the club halfway back and looks, ensuring that her face is square.
It's got Lee6 back on her consistent track after a 2020 season that did not meet the standard she set in 2019. The 25-year-old began her career as an LPGA Tour member on fire, finishing in the top 16 in nine of her first 10 starts, including her win at the Country Club of Charleston, before rounding out 2019 with six more top-10 finishes. In 2021, she has had one top-10, a T-7 at the Hugel-Air Premia LA Open in late April, through nine starts.
Her consistency shines brightest at U.S. Women's Opens. Since her first start in 2017, Lee6 has finished in the top six three times. Her worst result is still impressive at T-17 at Shoal Creek in 2018. She credited winning in 2019 for making her more confident this year, and for her T-6 finish at Champions Golf Club in Houston in 2020. But another big part of that success is the consistency with her team, as she's been part of Jisan Golf Academy for the last seven years.
"I learned a lot with my coach so I can play on the LPGA," Lee6 said.
Her coaches made her a bag tag in 2018, with Jeongeun spelled in Hangul and "6" prominently featured. She carries it on her bag to remind her how much support she has from the academy wherever she is in the world.
She added a new coach off the course as well for another goal the major champion is tackling. Lee6 spends an hour a week FaceTiming with a Canadian who lives in South Korea to learn English. She delivered an emotional acceptance speech at the 2019 CME Group Tour Championship in English but hasn't rested on her laurels, answering every question Saturday in English.
"I want to do interview myself in LPGA," Lee6 said. "A lot of Korean player speak English well. I have to learn. I want to speak English."
When asked what the hardest part of learning the language was, Lee6 paused, thinking through a second language to find the right words to say. "Just English is difficult," Lee6 said before laughing. "Another language is hard."
She has maintained her positive mindset. Before walking off to work on her putting Saturday evening, the same lesson she took away from her Mediheal Championship playoff loss just over a mile away from Olympic reverberates ahead of the final round of the U.S. Women's Open.
"I was very nervous today, so tomorrow same," Lee6 said. "I am going to be nervous, so I have to be patient and stay positive. Just relax. Very important."