The Loop
Samuel L. Jackson posts bill from Donald Trump, says "I'm gonna block his a*$ too!" (Update: Trump responds. Again.)
Donald Trump might be able to get away with outlandish claims to the American public during his run for President, but one of the country's celebrities is calling BS -- and he has proof.
On Tuesday, Trump denied Samuel L. Jackson's claims that he cheats at golf and that he sent the actor a surprise bill for being a member at one of his courses. And he did it in classic Trump fashion:
Maybe it was that nasty "commercials" comment, but Jackson responded by posting a photo of the bill in question from Trump National Bedminster to his Instagram account. It's been taken down since it showed Jackson's home address, but not before a screenshot was taken: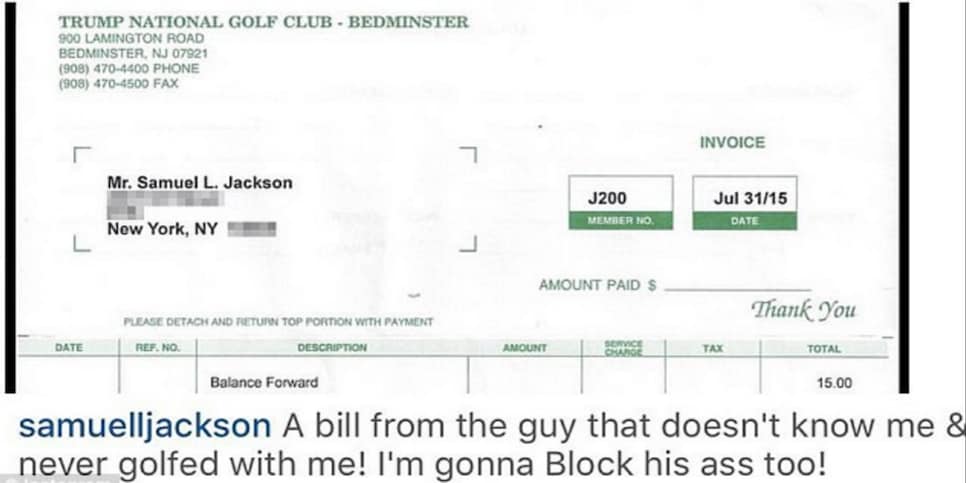 "A bill from the guy that doesn't know me & never golfed with me! I'm gonna block his a*$ too!" Jackson wrote. Seems pretty convincing.
What was first a he said-he said situation has now turned into a they said-he said scenario. And surprise, surprise, it's Jackson, not Trump, getting support from another source.
Fellow actor and celebrity golfer Anthony Andersen has taken Jackson's side, claiming the three not only played golf together (and saw Trump cheat together), but also had lunch after.
Shrimp AND hot dogs? That's an interesting combo -- and a nice detail, Anthony. Maybe these guys should be moderators at the next GOP debate.
UPDATE: The Donald has responded. Again.
Blah, blah, wait, play him for charity? Now that's actually a great idea. . .