News
Ryder Cup reset: How things are shaping up one year from the rescheduled event at Whistling Straits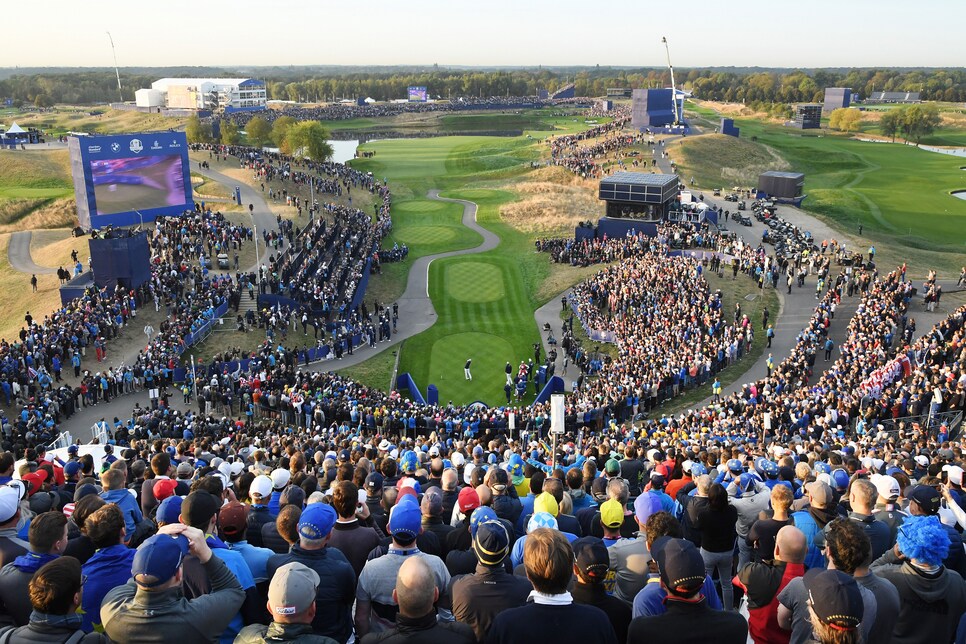 A view of the first tee at the 2018 Ryder Cup at Le Golf National outside of Paris hints at what might have been happening this week at Whistling Straits.
Ross Kinnaird
When you close your eyes for a moment and let your mind wander, the visions come fairly easily. You can "see" the large grandstand surrounding the first tee and nearby 18th green at Whistling Straits. You can "hear" the cheers and laughter and general raucousness of the full-throated spectators. You can "feel" the excitement that is unique to a Ryder Cup.
Those visions would have come to life on Friday along the shores of Lake Michigan, in what was supposed to be Day 1 of the biennial competition between the United States and Europe. Of course, COVID-19 had other ideas, forcing a one-year postponement of the Ryder Cup.
It's easy to lament what might have been, particularly when you glance at the weather forecast this weekend for Haven, Wis., and see temperatures in the low 70s and loads of sun. And no doubt there is a bit of a void this week that can't be replaced by the standard PGA Tour and European Tour stops.
Instead, let's take the optimistic approach and look forward to what's to come. Those visions we've talked about are now set to become reality one year from today, the rescheduled matches being held Sept. 24-26. And it's not too early to look at what the teams competing might look like.
Steve Stricker's U.S. team will consist of six automatic qualifiers off a performance-based points list and six captain's picks. Here's how the points list shakes out after last weekend's U.S. Open
1: Dustin Johnson, 10,278.79
2: Bryson Dechambeau, 9,586.86
3: Collin Morikawa, 6,901.81
4: Brooks Koepka, 6,805.27
5: Justin Thomas, 6,293.21
6: Webb Simpson, 6,044.09
7: Xander Schauffele, 5,671.28
8: Patrick Reed, 4,971.55
10: Daniel Berger, 4,433.27
11: Matthew Wolff, 4,177.73
12: Gary Woodland, 4,055.52
13: Kevin Kisner, 3,493.76
14: Harris English, 3,106.71
15: Tiger Woods, 2,815.20
Points so far have been earned in select 2019 events (majors, WGCs and the Players) and then from PGA Tour events played in 2020 season. Players will earn more points in 2021 events with the final cutoff coming after the finish of the PGA Tour's BMW Championship next August.
In case you're curious, Ryder Cup regulars Phil Mickelson, Jordan Spieth and Rickie Fowler are currently ranked 29th, 27th and 25th.
As for the European team, Padraig Harrington's criteria continues to use two different points lists: one based off performances in European Tour events (four players will be taken here) and then a second based on World points (five players not including those from the first list). He'll then have three captain's picks to round out his 12-man lineup.