News
Ryder Cup 2018: What you missed from Day 3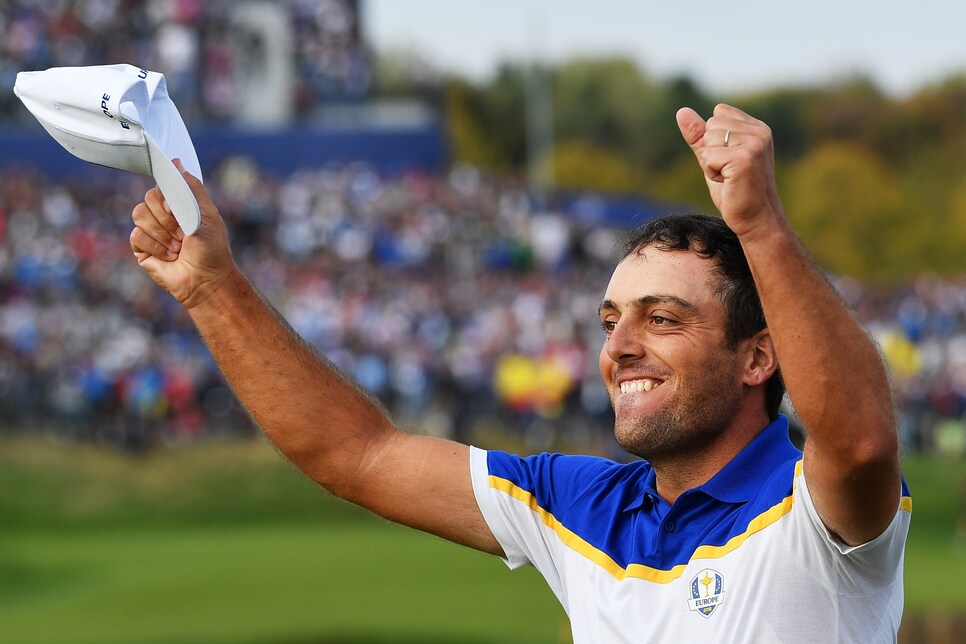 For a brief period on Sunday morning, it appeared the American Ryder Cup team had a window of hope. Justin Thomas had defeated Rory McIlroy, Webb Simpson upset Justin Rose and Tony Finau stopped the freight train that is Tommy Fleetwood. That window was promptly shut, however, thanks to Jon Rahm, Ian Poulter, and Francesco Molinari, all three turning toss-ups into resounding victories in a matter of minutes. In fact, Molinari probably notched another point by the time this sentence is complete.
The Sunday score board, as it has been on Friday afternoon and most of Saturday, was washed in a sea of blue and yellow, the final winning margin—Europe 17.5, United States 10.5—somehow not conveying how bad the beating really was. When the U.S. returns to Italy in 2022, they will be looking for its first win overseas in nearly three decades.
From Molinari's performance to the no-shows of American stars, here is what you missed from the final day of the 2018 Ryder Cup.
Was there any other choice? With his singles victory over Phil Mickelson, Molinari became the first player in golf history to go 5-0-0 in the Ryder Cup and win the Open Championship in the same year. He also clinched the final point for Europe to take back the cup. Not a bad way to end a career season, we'd say. He'll be 39 when the Ryder Cup comes to Italy, his home country, in 2022, and he should probably just be named playing captain now after this performance. -- Christopher Powers
Best effort in losing cause: Justin Thomas
Thomas' "rookie" status was referred to ad nauseam, as if winning a major and eight tournaments in the last two years left any doubt of his merit. The reigning Player of the Year went 4-1 in five matches this weekend, highlighted by vanquishing McIlroy twice. His present is already bright, his future even moreso. But this weekend, world rankings be damned, left little doubt who holds the conch in American golf. -- Joel Beall
Underrated performance: Alex Noren and Tony Finau
Tommy Fleetwood and Thomas were clearly the most impactful rookies, but close behind were Noren and Finau, who each ended their week with a singles match victory to finish 2-1. Ironically, it was Finau who handed Fleetwood his only loss of the week, causing everyone to question why captain Jim Furyk hadn't played the rising star more than twice before Sunday. As for Noren, he quietly played some of the best golf of anyone in France, and emphatically ended the event with a bomb of a birdie putt at the 18th hole to earn the final, full point after Bryson DeChambeau tried to halve the match with some late heroics. -- CP
Biggest no-show: Tiger Woods
You can't hold Paris against him. Not after pulling off the unbelievable at East Lake. In fact, perhaps Atlanta took everything out of him. Still, Woods, who has never enjoyed success at this event, went 0-fer in four matches at Le Golf National. Certainly not what Jim Furyk had in mind when tabbing Tiger as a captain's pick. -- JB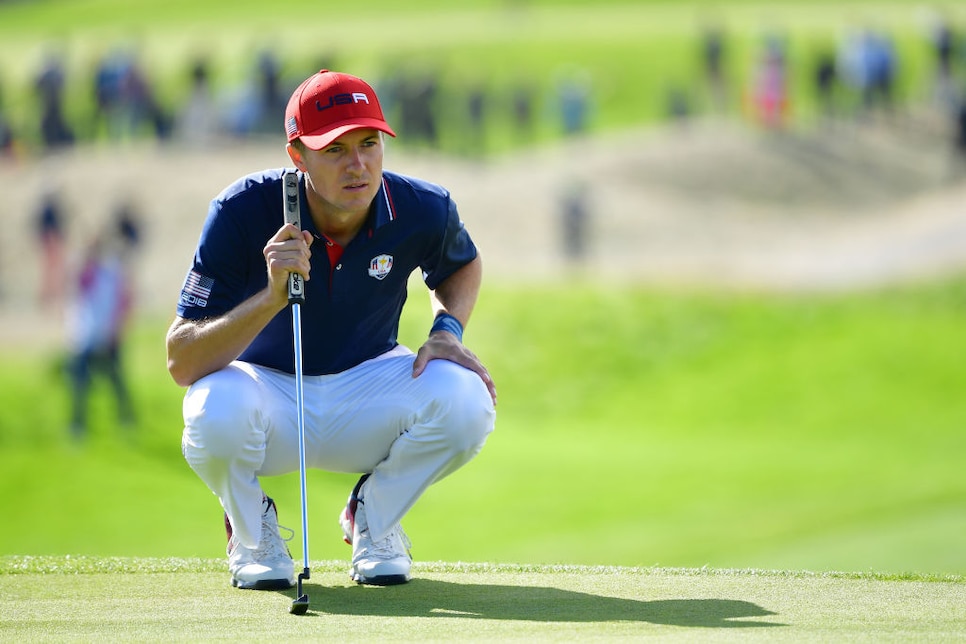 Most mind-boggling stat: Jordan Spieth
Spieth has three majors, almost won two more this season and has already been a part of six U.S. teams at the age of 25. His performance—rather, the lack thereof—during singles play, however, continues to astound. Playing against Thorbjorn Olesen, who appeared in just one previous match, Spieth was wiped off the property to the tune of 5&4. That dropped Spieth's career record in singles play to 0-6. Spieth did contribute three points this week along with Thomas, but for the U.S. to recapture the cup in 2020, it will need Spieth to show up on Sunday. -- JB
Most emblematic shot of the week: Phil Mickelson's water ball
There were plenty of shots that underscored American futility this week, but none were as telling as the shot that clinched the win for Europe. Three down with three holes to play against Francesco Molinari, Phil Mickelson needed to put his tee shot close on the par 3 to have any chance of keeping his match alive. Instead his tee shot landed in the middle of the pond, forcing the American veteran—winless this week—to concede the match on the tee. -- Sam Weinman
Second most emblematic shot of the week: Alex Noren's closing birdie
And just to pour salt into the proverbial open wound, consider how this whole thing ended. With the outcome of the Ryder Cup long decided, Bryson DeChambeau appeared on his way to at least halving his final match against Alex Noren. Instead Noren rolled in a birdie putt from forever away to win the match outright, prompting another European celebration, and leaving the Americans even more dumbfounded than ever. -- SW
Biggest loser: The Tiger Woods-Phil Mickelson Thanksgiving "Match"
It was already becoming problematic with Mickelson's second-half struggles. That the Hall of Famers went 0-for-6 in France won't alleviate those worries. Perhaps a shot of life will be injected closer to the event, but in the moment, any hype rings hollow. -- JB