News
Ryder Cup 2018: U.S. captain Jim Furyk's guide to 'The Loop Of Doom'
Reviewing the 15th, 16th, 17th and 18th holes at the Albatros Course at Le Golf National, site of the 42nd Ryder Cup

Photo By: David Cannon/Getty Images
There is nowhere to hide when playing the final four holes on the Albatros Course at Le Golf National, both literally—save for mounding that separates the 15th and 17th fairways, you can see most of the four in their entirety from behind the 18th green—and figuratively. Precision play is required with each shot, with water coming into play on three of the four holes. Matches that reach this part of the course, dubbed "The Loop of Doom" by locals, during the Ryder Cup are likely to be tight to begin with, and given the stakes, these holes could prove pivotal in the outcome of the overall competition. We spoke with U.S. captain Jim Furyk to get his assessment of the closing holes and how he sees them factoring next week. —John Huggan
15TH HOLE
408 yards / par 4
4.26: Average in 2018 French Open
Fourth-most difficult
This one is all about where rather than how far. So the perfect place to hit it off the tee is about 260 yards into the fat of the fairway. From there, the most difficult pin placements—the ones that really get your attention—are all in the front half of the green or along the right edge, close to the water. There's a little bit of movement in the green, which only underlines the need for good placement off the tee.
Put the ball in the fairway, and you have an opportunity to attack, but with the water so close, the risk is always there, so we'll see some bogeys and double bogeys. A lot will happen down the stretch on this hole.
I don't see much difference between foursomes and four-balls in terms of strategy, given that everyone will lay up in pretty much the same spot, unless they decide to move the tee way up and give the longer hitters a go at the green. I'm not sure if that will happen, but we'll be aware of it in practice rounds. I have to say, I don't see that as a good option. If you decided not to go for it, guys would be hitting wedge off the tee. [Laughs.] It would be a bit like the 10th at The Belfry. I remember hitting 7-iron off that tee. I know fans love to see players going for the green, but this doesn't look like a hole where that's going to happen. But we'll see. Besides, it really gets your attention on the second shot.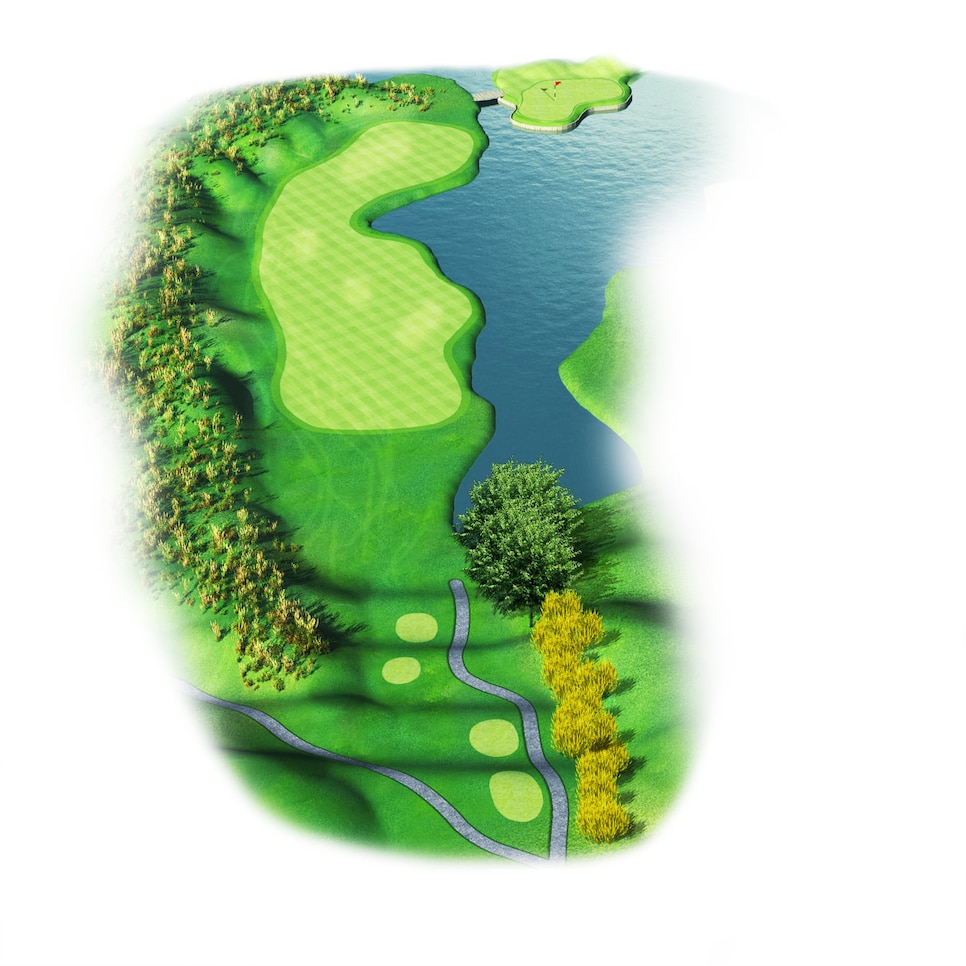 Diagrams by Steve Carr/Le Golf National
16TH HOLE
177 yards / par 3
3.11: Average in 2018 French Open
Ninth-most difficult
It plays mostly downwind. I can recall hitting a 9-iron off the tee, but it will probably play a little longer than that, even if it'll be a short iron for most guys.
There are some really difficult pin placements. Not only near the water, but toward the back-left portion of the green. I know they have the pin there at least one day during the French Open. Then they run the other pins along the water—front right, middle right, back right.
Like 15, short and right is dead in the water, and the miss is long and left. I'm reminded of the holes we play at PGA National. I'd much prefer to see the pins there placed along the water so that guys can bail out in the bunker and still get up and down. The pin close to the bunker is the most difficult.
This green is a little wider than those at PGA National, but it still runs away from the left bunker pretty significantly. It looks to me that there is a really tough pin maybe 13 yards on and five from the left. There's a little shelf up there. Both teams will be very aware of the general areas where pins will be placed.
Sometimes you get two guys at the top of their games getting extremely aggressive in the Ryder Cup. In those cases, the fear of water is diminished. You can only lose one hole, so you see amazing shots.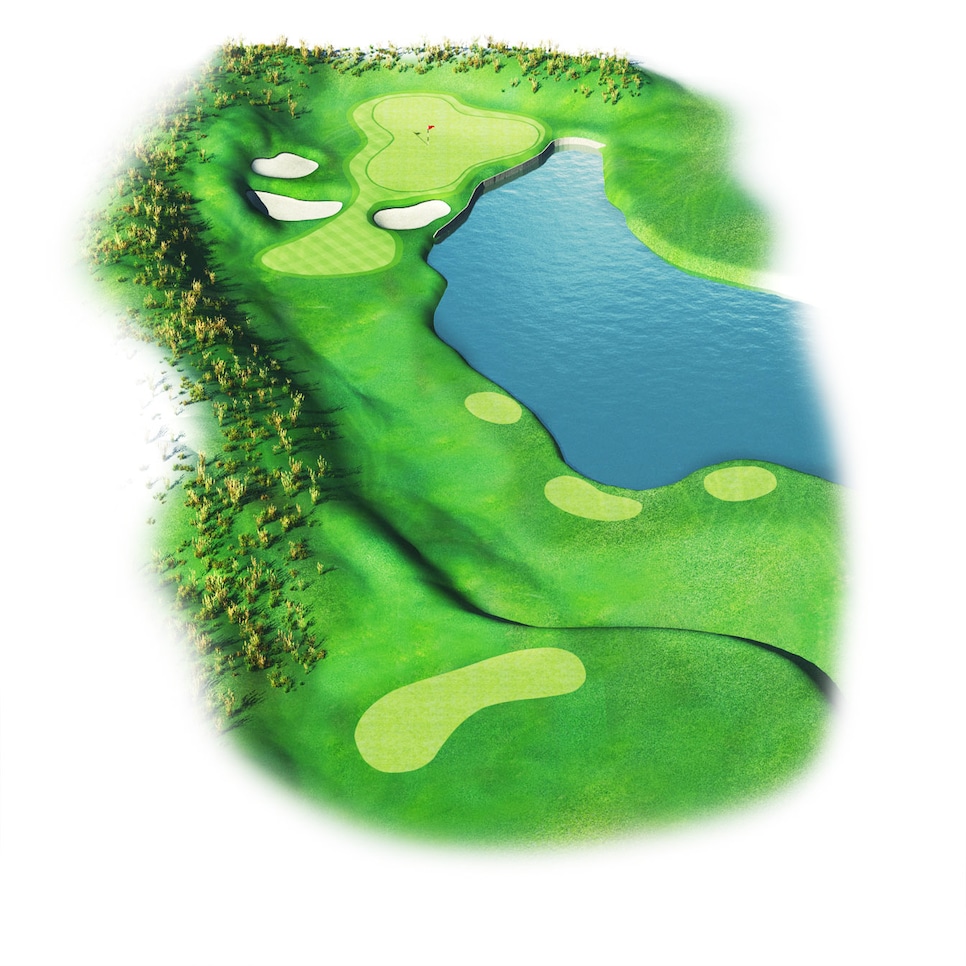 17TH HOLE
480 yards / Par 4
4.17: Average in 2018 French Open
Sixth-most difficult
This hole makes me chuckle: 15, 16 and 18 with all the obvious risk/reward aspects in play and all the water, then we have this brute of a hole. It doesn't have a bunker. It doesn't have water. It's close to 500 yards, uphill, and just a really good hole. It bends a little right to left off the tee, and the green accepts good, well-struck shots. It's not deep—only 26 yards—but it's wide. Over 25 yards wide.
Amid all this placement play and water, it's the exact opposite, but it's one of my favorite holes on the course. It's proof that you don't have to have a lot of hazards in play to make a great hole. Just a great change of pace.
Depending on wind and setup, this hole will favor the longer hitter. Henrik and Dustin and Rory are going to be hitting middle irons in there. No one on the American side is going to be as short as me, but I'm going in there with at least a long iron in my hands.
There's a bit of a backstop at the rear of the green, so there's some help for those going in with longer clubs. You can get in some trouble short and left, though. That front-left pin is close to a pretty deep depression, so making 4 from over there will be difficult. Having said that, the green is not as busy as some of the others out there. Certainly not as busy as 15 or 16. It matches the shot you're asked to hit. It's the perfect green for the type of hole it is.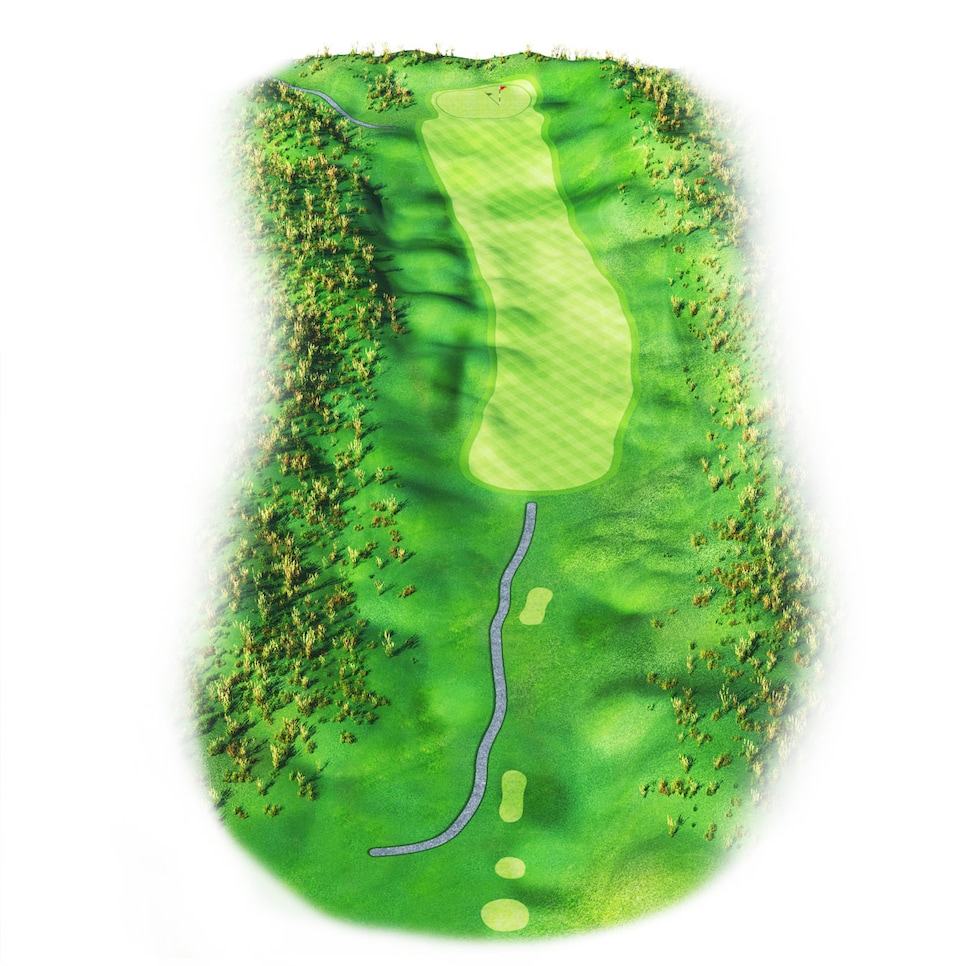 18TH HOLE
471 yards / Par 4
4.51: Average in 2018 French Open
Most difficult
I'm betting everyone in France is hoping a lot of matches make it to the 18th. It's a par 5 converted to a par 4, playing about 10 yards downhill. It's an uncomfortable tee shot, but you have to put the ball in the fairway. There's water all the way down the left, and there are bunkers on the right. You'd love to split those. I think guys standing on that tee are going to be as nervous as they've ever been in their entire careers. The key will be picking your spot/line and committing to it. Then hitting the ball to that spot without worrying about the periphery. That's all there is to it. [Laughs.]
If you do get your ball in the fairway, you're left with a relatively large target. But the green is well-guarded and looks a lot smaller than it is. There's not a lot of room for a miss. But, as I said, it's a large green. So an aggressive swing and the smart shot will never be punished. That combination will win some matches. I can't imagine that par will ever be a bad score on this hole. But you never know. There's a lot going on, for sure.
I've heard some say that the rough on this hole should not be too thick or deep, to encourage guys who have missed the fairway to still go for the green. But I can't imagine they'll set the course up as difficult as it was for the French Open, then cut away all the rough for the Ryder Cup.