News
Ryder Cup 2018: Twelve men, one team: Why Europe succeeds where America fails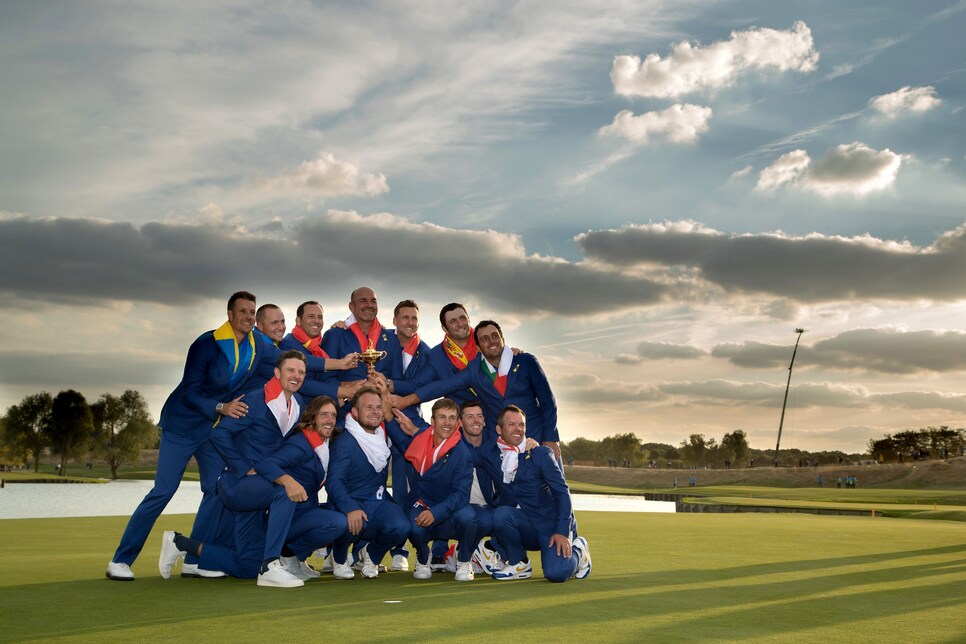 Photo By: Richard Heathcote
In the 18 Ryder Cups since 1983, the first year that the modern era became truly competitive, the United States has accumulated 108½ singles points to Europe's 107½. The Americans have won the 12-match singles session in 10 of those 18 years. It's remarkably tight, but a look at the pairs matches in that time span tells a very different story. In those matches, Europe leads the U.S. 158½-129½ and has won the cumulative battle (16 matches over four sessions) in 14 of the 18 competitions.
The Euros have been so dominant, in fact, that it's hard to think their pairs success hasn't bolstered their singles record—there have been several Ryder Cups where the Sunday session was a mere formality, and on those occasions a palpable sense of prolonged dread infected the American teams. The not-infrequent death marches certainly yielded more losses than they might have in a less enfeebling atmosphere. In other words, the razor-thin singles margin would probably be significantly better for the Americans if they weren't so bad in pairs.
Which stands to reason. In the vast majority of Ryder Cups, the U.S. has arrived with the better team on paper. Match play is famously volatile, but you'd expect them to win a slim majority of their singles matches. But you'd also expect them to win the majority of their pairs matches, because golf is golf and the skills should translate.
They don't, and because they struggle so mightily with partners, they lose entire Ryder Cups. Twelve of the 18, in fact—a record so poor that it finally provoked a Ryder Cup task force intended to discover what exactly they were doing wrong. It seemed to work well at Hazeltine in 2016, but this past weekend in Paris, it was back to ordinary business—a humiliating loss on European soil. Armed with wisdom and enthusiasm and a superlative team that believed in him with all their hearts, Jim Furyk somehow managed to wangle fewer points than the woeful Tom Watson at Gleneagles.
You might hate the truth, but it's cultural. It's absolutely cultural.
Anyone with the temerity to suggest such a thing, much less believe it, is immediately overwhelmed by media pundits and average fans who retreat to the smug high ground of conventional wisdom and overwhelm you with practical explanations.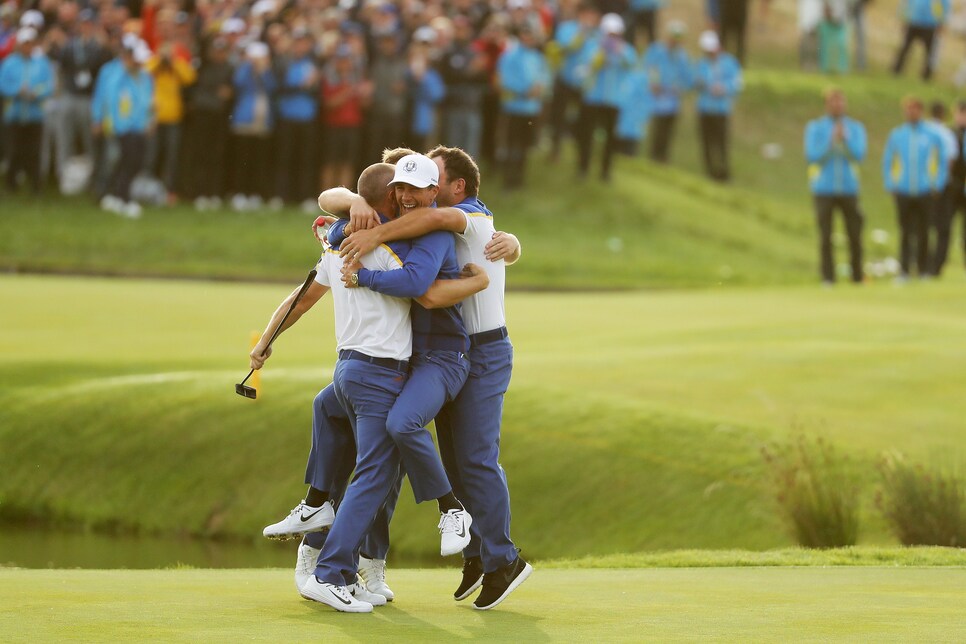 Uh, dude, you're overthinking it. … the Europeans just played better.
It's not complicated. The Americans just couldn't make putts.
Furyk's pairings were terrible.
The golf course took the driver out of America's hands.
The Europeans just care more.
And fine, some of that stuff is true, and the people who propagate it will think this article is a load of B.S. But—sorry—it's not enough. Not by a longshot.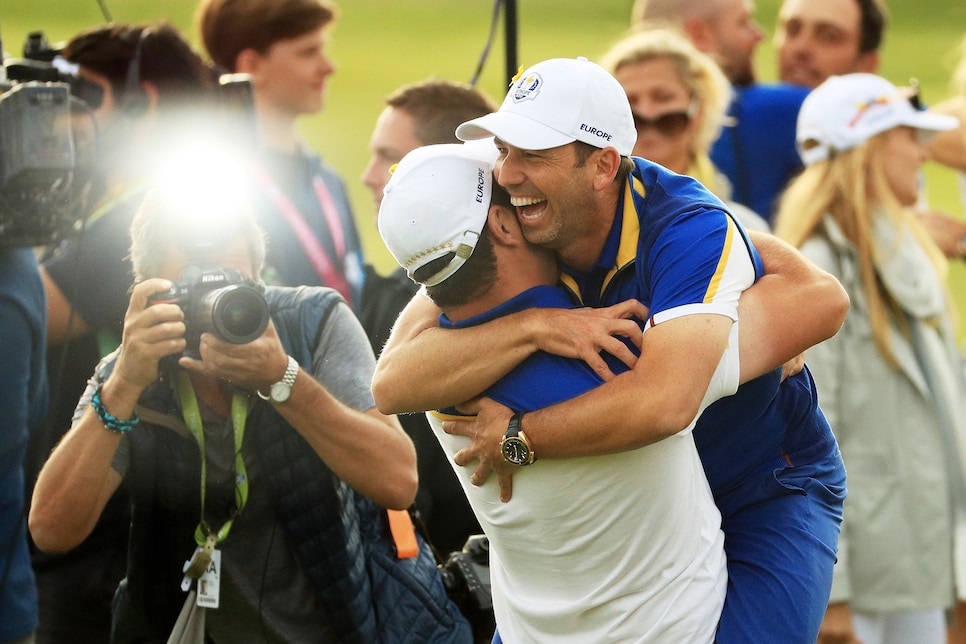 It doesn't answer why it's true, year after year after year, Cup after Cup after Cup. As in, why couldn't the Americans make putts? Any look at PGA Tour statistics shows you that the American players are just as good at putting over the course of an ordinary year as the Europeans, and occasionally better. Whywas the driver nullified? Because of some narrow fairways and thick rough? Didn't Brooks Koepka win the U.S. Open on a brutal course that penalized errant drives? Didn't Dustin Johnson? And wait, don't the Europeans have their own bombers? Aren't the Americans just as good, if not better, at iron play? Why were Furyk's pairings ineffective when they (mostly) looked fine on paper? As for desire, give me a break—nobody who watched the emotional swings of the Americans could honestly believe they wanted it any less. It's insulting to even suggest.
The zealots cannot answer the most meaningful questions—cannot even face them—especially when confronted with the grand sweep of European historical dominance.
The answer is cultural. The answer is about teamwork, and fellowship, and collective spirit.
Wait, let me stop. Let me admit that I don't know the answer, or at least that I don't know it precisely. I'm not a cultural anthropologist, and I hesitate to make unprovable generalizations. When I posed the question on Twitter, ESPN's Kevin Van Valkenburg wrote, "Abject capitalism instills a winner-take-all, screw-the-underperforming-bloke strain of individualism that gets woven into our DNA, whereas Europe's willingness to bond together as a collective...is in theirs." And I agree with him, and I suspect he's right. But I don't know for sure, and even if he is, I don't know if it's a complete explanation.
Here's what I know: Even on the odd years when the Americans win the pairs matches, there is something stiff and repressed and a little awkward about them, as though they're feeling things that beg to be expressed, but have been confined to the subconscious. (I don't come from the exact same background as most professional golfers, but it's close enough, and I feel the same things. I am stiff, repressed, awkward.) And while there may be such a thing as the "strong-but-silent" type, most times when we talk about emotional stoicism, we are in fact talking about a repression that can be harmful in life and relationships.
Here's what I believe: Americans are preternaturally good at neglecting certain emotions, especially as they pertain to the hidden things that bind us to each other. We are encouraged to do so; we are tacitly rewarded for isolating ourselves.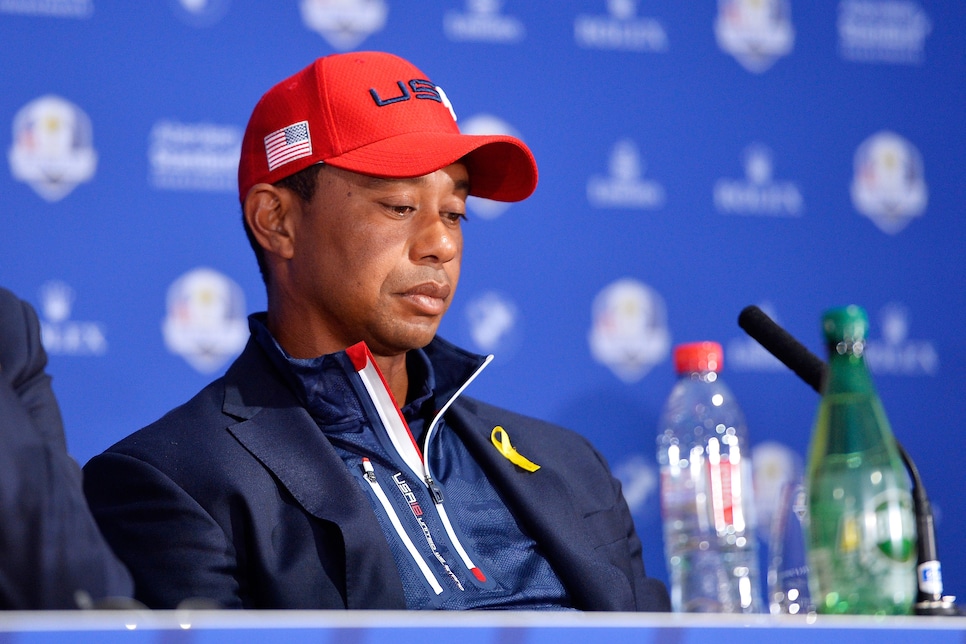 Back to golf. American Ryder Cup celebrations are aggressive, masculine, confrontational, individualistic. The Patrick Reed shushes, the Justin Thomas ear-cupping … they are about demonstrating the primacy of one individual over the masses. They are performed by men who believe in the lone triumphant hero of American mythology. European celebrations can look similar on occasion, but they're also celebratory, inclusive, shared. You have Tommy Fleetwood, arms spread wide. You have Molinari, who reacts to his Sunday victory by throwing his body into the mass of people. I'll never forget Ian Poulter leading his team to a miracle finish at Medinah in 2012 and falling to his knees in front of a small flock of Europeans. It's true of the fans, too—imagine a group of Americans acting like this. They are a collective, and when they talk about the joy of winning as a team, they mean something more than the Americans can understand.
There is something about the bond between teammates that is expressible for European Ryder Cup golfers, but that remains a total mystery for the Americans. There's a kind of platonic love—defining it that way would Americans deeply uncomfortable, but Tommy Fleetwood and Francesco Molinari embraced it—that flows through them. Come the Ryder Cup, Ian Poulter is more than a prickly egomaniac; Rory is more than a faltering legend; Jon Rahm is more than a ball of fury; Justin Rose is more than a remote enigma. They find strength in one another, but it's more than that—they disappear into one another, and the entity they form is stronger than the ingredients that compose it. They are a team in the most mystical sense of the word. It makes them all better.
The Americans, however, remain themselves. Occasionally they play well enough to win, but there is no transformation. They are a collection of individuals who have grown up playing an individual sport—who have in many cases chosen golf precisely because they found team sports difficult to manage emotionally—and that's what they remain. Any bond they create is forced, temporary, and therefore fraudulent. This is a team whose best pair in decades wouldn't play together in 2018 because of what one of the player's wives alleged is a personal rift. They believe in themselves above all else. It probably makes them better in majors, but it ruins them for the Ryder Cup.
The same should be true for the Europeans. They are playing the same individual sport, maybe for the same reasons. They are not better, more noble people. There's nothing holy about them. But the coming together isn't the same at all. And the more you consider the results, the more you understand that the differences between the two teams cannot be explained by anything but culture. It's not a matter of skill, or desire, or effort. It's a matter of learned values and perspective relating to what people mean to each other. It's something ingrained, beyond their control.
The fact that this Ryder Cup turned out a certain way—that it keeps turning out a certain way—is nobody's fault. Not the players, not the captains, not the fans. Everybody on that course wanted the same thing, and they went about it with the same intentions. They just happen to come from two separate worlds, and that makes all the difference.