The Loop
Ryder Cup 2018: How players used shoes and hats to match their style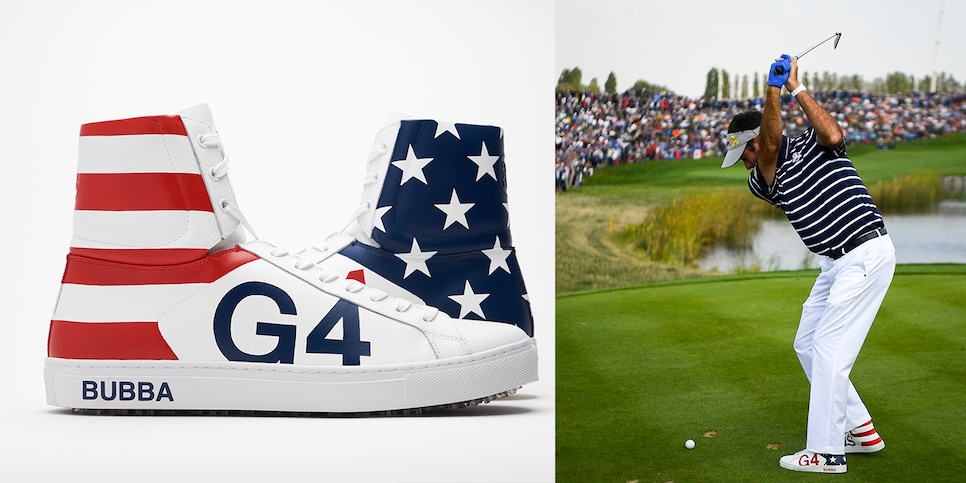 The Ryder Cup apparel is typically about uniformity. Each team is dressed the same to represent a united front during competition. Team USA was dressed in Ralph Lauren and Team Europe in Loro Piana, but this year in Paris the players took to accessories to make each outfits their own. Working with the hat provider, New Era and each of their own shoe sponsors, players were able to wear something that both suited their style and felt familiar. Players with bolder styles like Bubba Watson and Rickie Fowler unsurprisingly used their accessories for a little extra patriotic flare within their ensembles. Here's a review of the accessories at the 2018 Ryder Cup.
New Era Caps
Team USA wore New Era hats for the 2018 Ryder Cup and each player was able to select the silhouette they'd like to wear each day. The team wore a gray version Friday, navy caps on Friday and red on Sunday. Tiger Woods, Jordan Spieth, Phil Mickelson, Jordan Spieth, Webb Simpson and Patrick Reed all wore the baseball cap-esque 39Thirty Stretch hats ($32).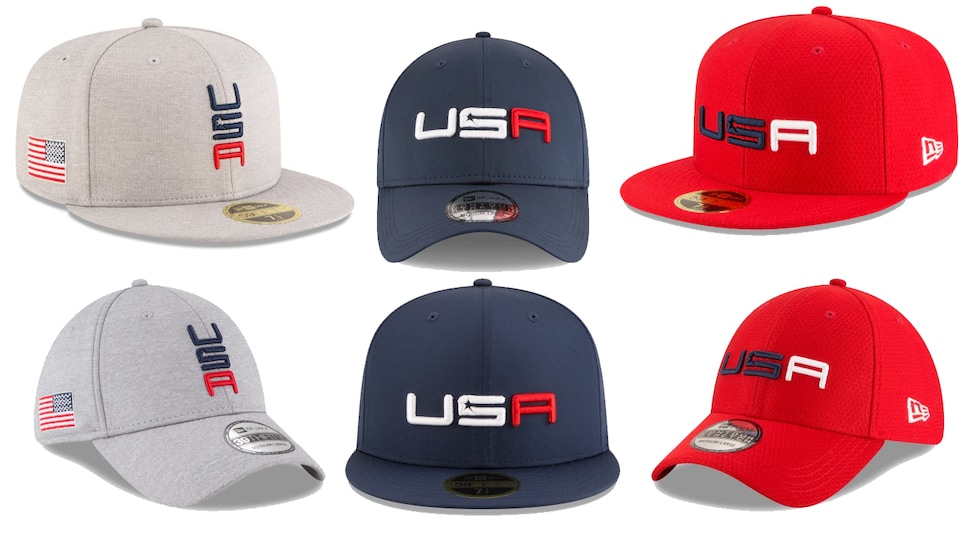 Wearing a flat brim, snapback version (59Fifty hat, $37 were Rickie Fowler, Dustin Johnson, Tony Finau and Brooks Koepka.
The brand made a cap special for Bryson DeChambeau to match his drive-cap style. He said it was a little more old-school than what he is used to wearing, but loved it just the same.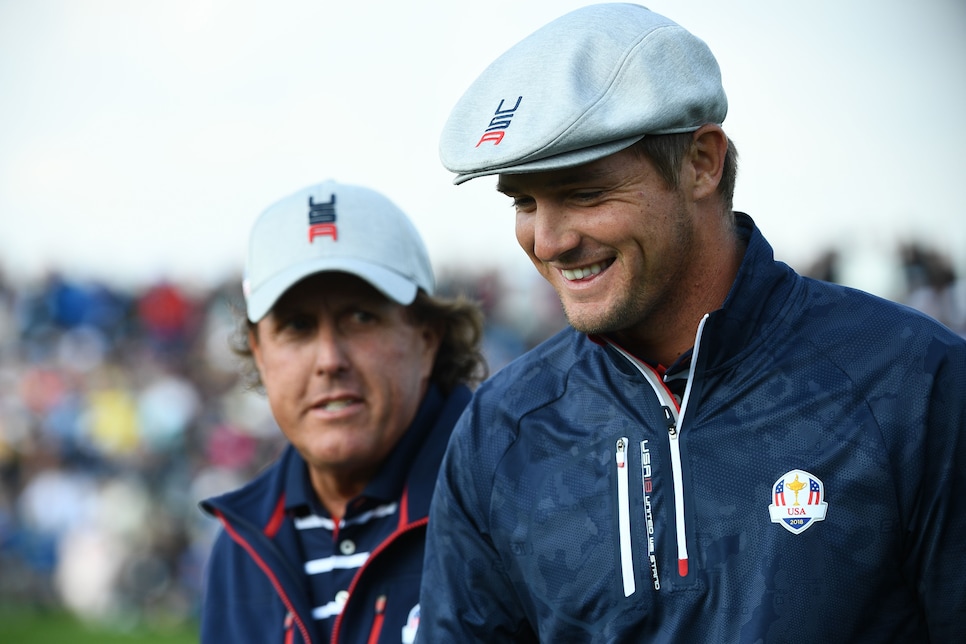 The brand also catered to Bubba Watson's hat preference and provided him with tall visors for the week. Offering a variety of silhouettes allows each player to feel comfortable and wear something that fits with their personal style, a great move from New Era and Ryder Cup organizers.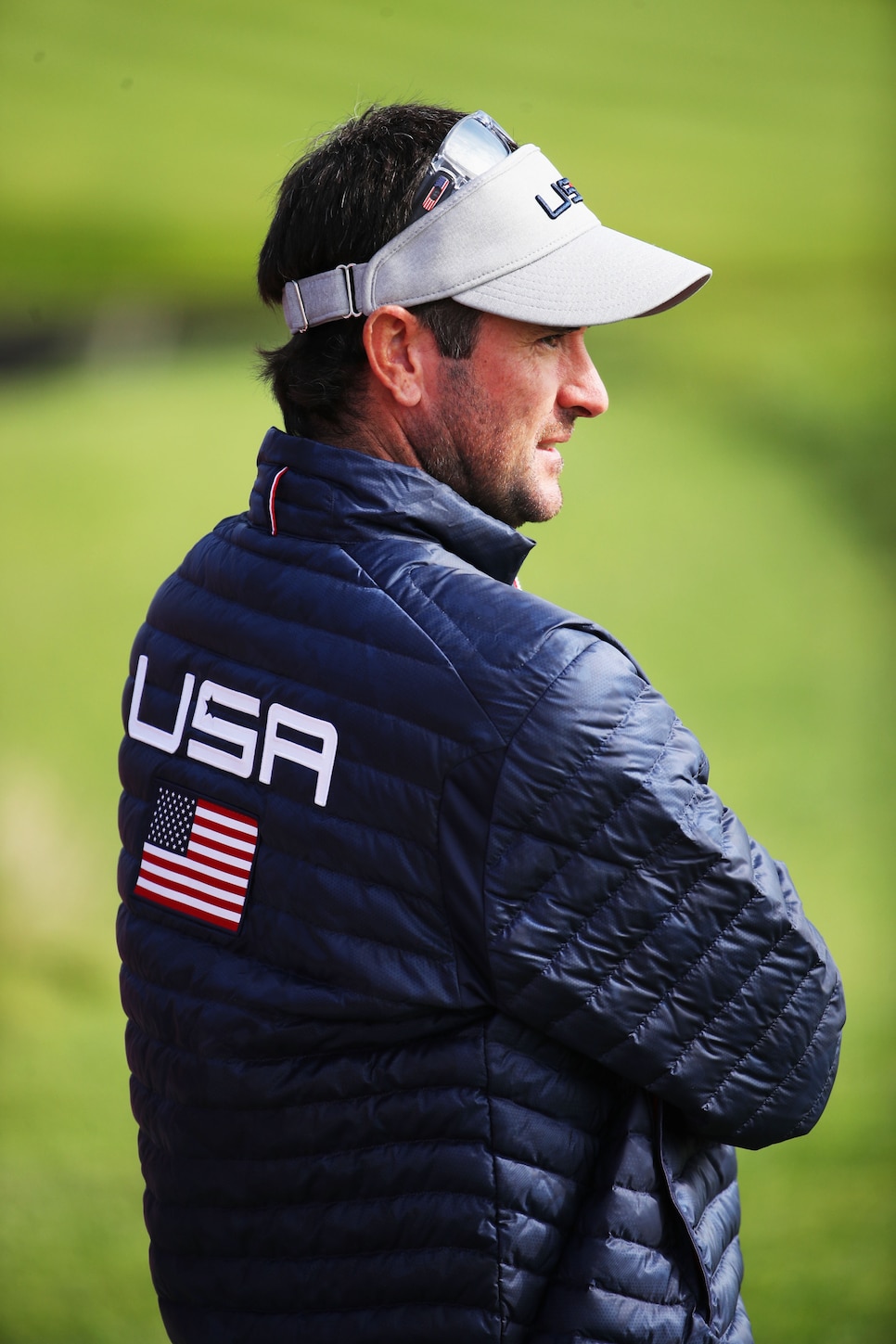 Rickie Fowler's Custom Golf Shoes
Rickie Fowler is known for his flashy sense of style. He loves bold colors and always sticks out on the golf course. Relegated to a simpler uniform, the 29-year-old took to his golf shoes to show a little individuality in Paris. Puma sent Fowler with a few pairs of extra patriotic custom golf shoes. On Friday, he wore a white leather shoe with a blue formstripe covered in stars on the right root and a striped red-and-white formstripe on the left.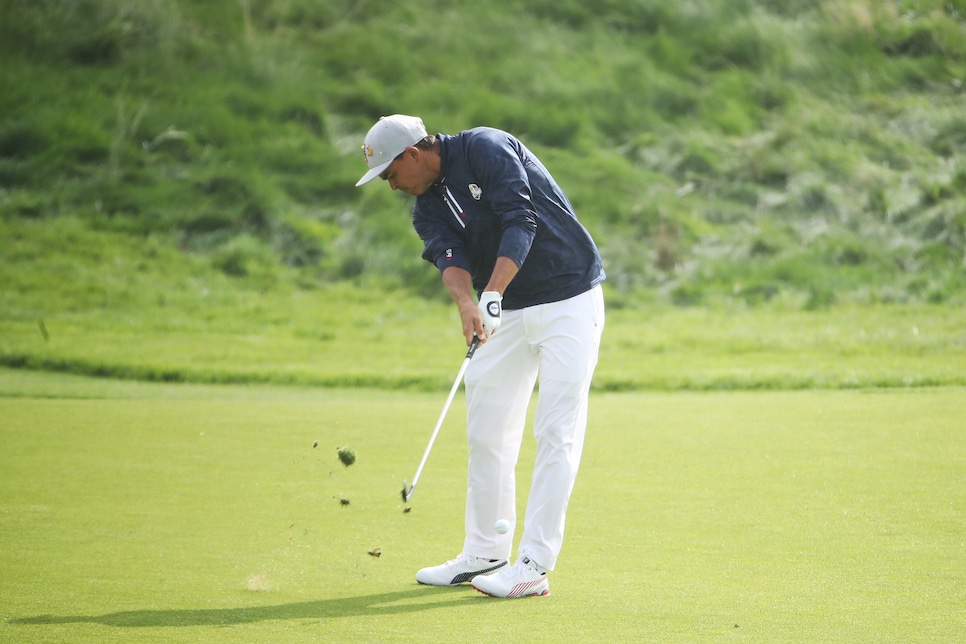 Here's a look at more of the custom shoes Puma made for Fowler's fourth Ryder Cup appearance.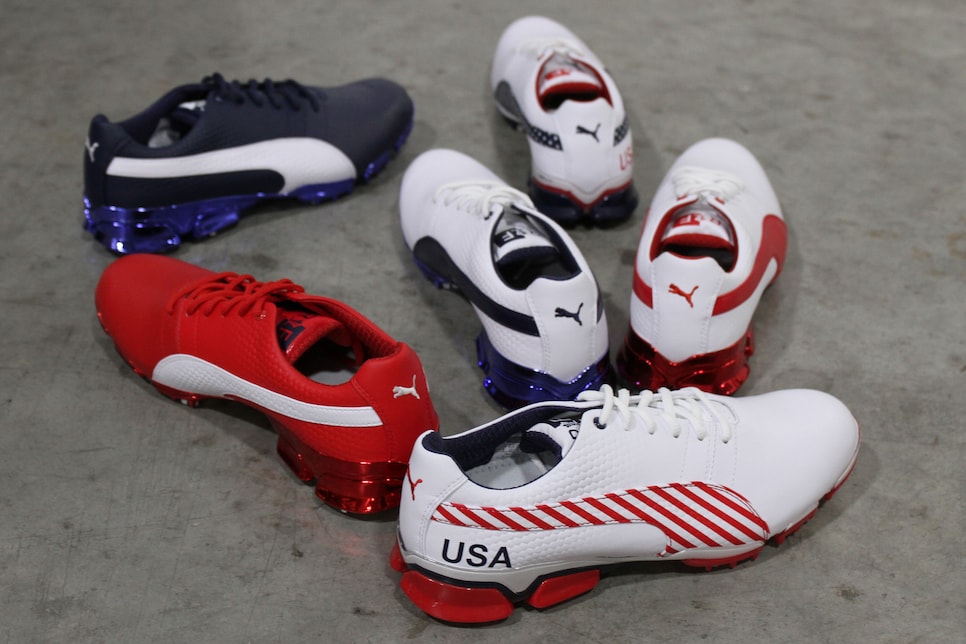 Dustin Johnson's Patriotic Tour360s
DJ was sent to France with a pair of the ultra-cool Adidas Limited Edition gold and white Tour360 golf shoes that were inspired by the Ryder Cup Trophy. The shoe ($220) has gold accents on top and a wood grain design on the sole. There is a sock liner for each team, but we'd assume DJ packed the Team USA liner that has the American Flag and the year of every U.S. Ryder Cup win printed on it.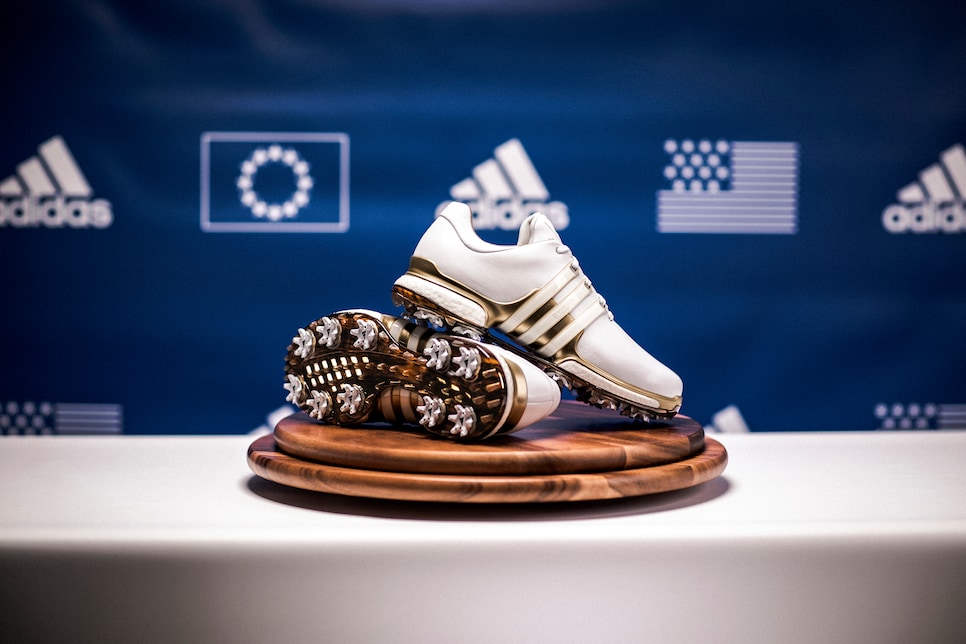 On Friday and Saturday afternoon, DJ broke out a different exclusive shoe from Adidas with the Tour360 Boost 2.0s that came out earlier this year. The white shoe has a red, white and blue stripe on the body that looks sleek and modern. The shoe paired well with both the white team uniform pants on Friday and pinstripes on Saturday. He even accessorized with fun patriotic socks on Saturday afternoon, a great look for the typically toned-down golfer.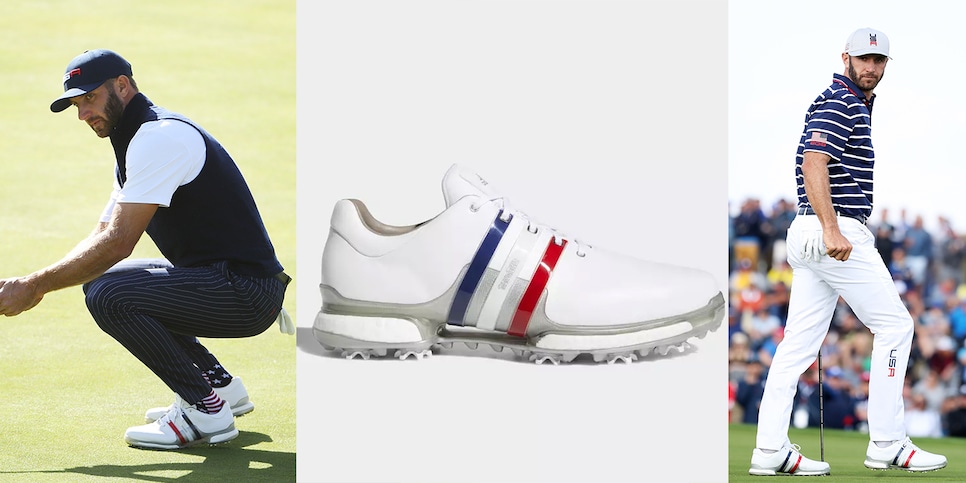 Under Armour's Speith 2
Jordan Spieth's style is typically a little more simple and Under Armour seems to understand that well when they drop limited edition versions of the Spieth 2 golf shoe. The version he packed for Le National Golf in Paris has a white base and a navy heel with a red woven design mixed in. It's dark and simple, but gets the "Go Team USA" message across. The shoes also matched well with all the ensembles the team had on tap for the week.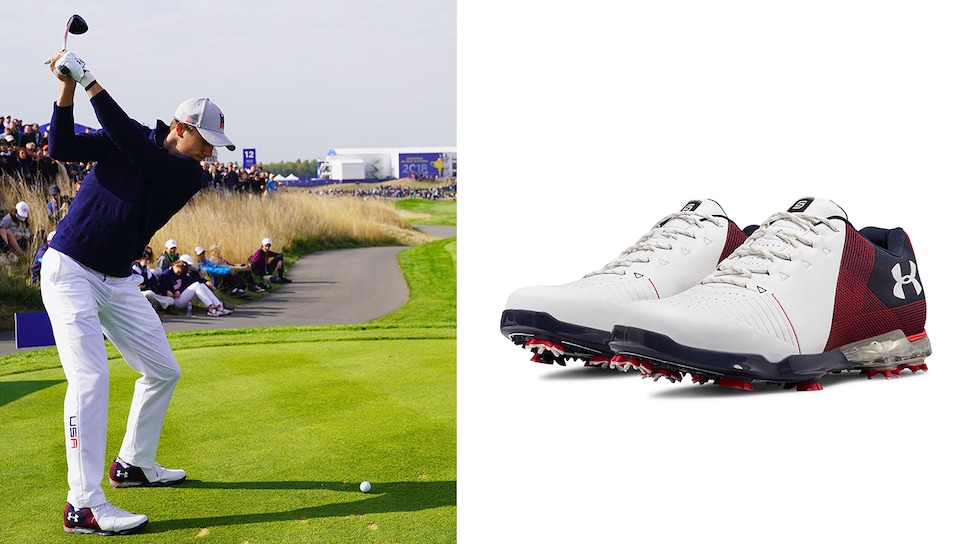 Bubba's Hightops
A fan favorite in Paris was certainly Bubba Watson's custom G/FORE High Top Disruptor Golf Shoe. They were loud, patriotic and so very Bubba Watson. The flag heel design with red-and-white stripes on one side and a blue-and-white star pattern on the other really shined under his white trousers on Friday. Unfortunately, this custom design is not for sale, but plain versions of the hightop golf shoe are.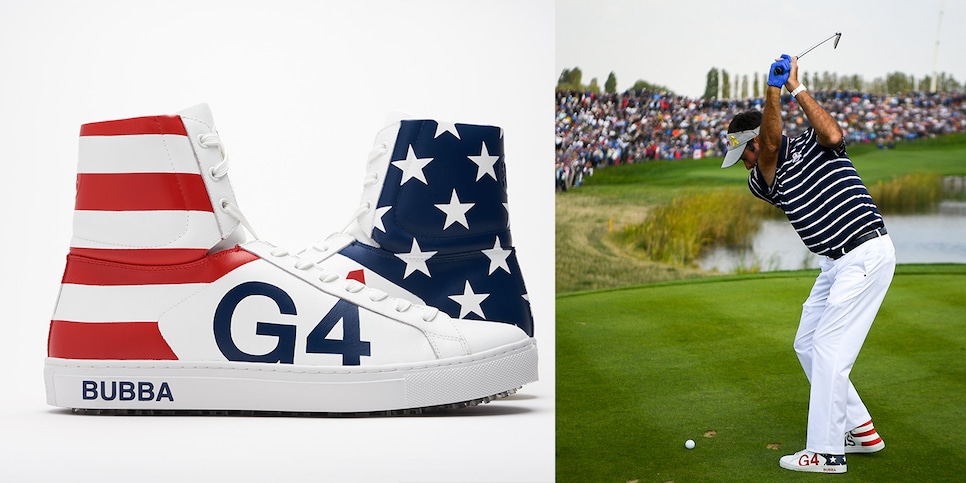 Bryson's Custom Pumas
Puma also hooked up Bryson DeChambeau with some custom Ryder Cup themed golf shoes that are too cool. His Friday look was completed with a crisp pair of Puma Ignite PWRADAPT leather golf shoes that have a subtle navy heel, red toe and red lace details.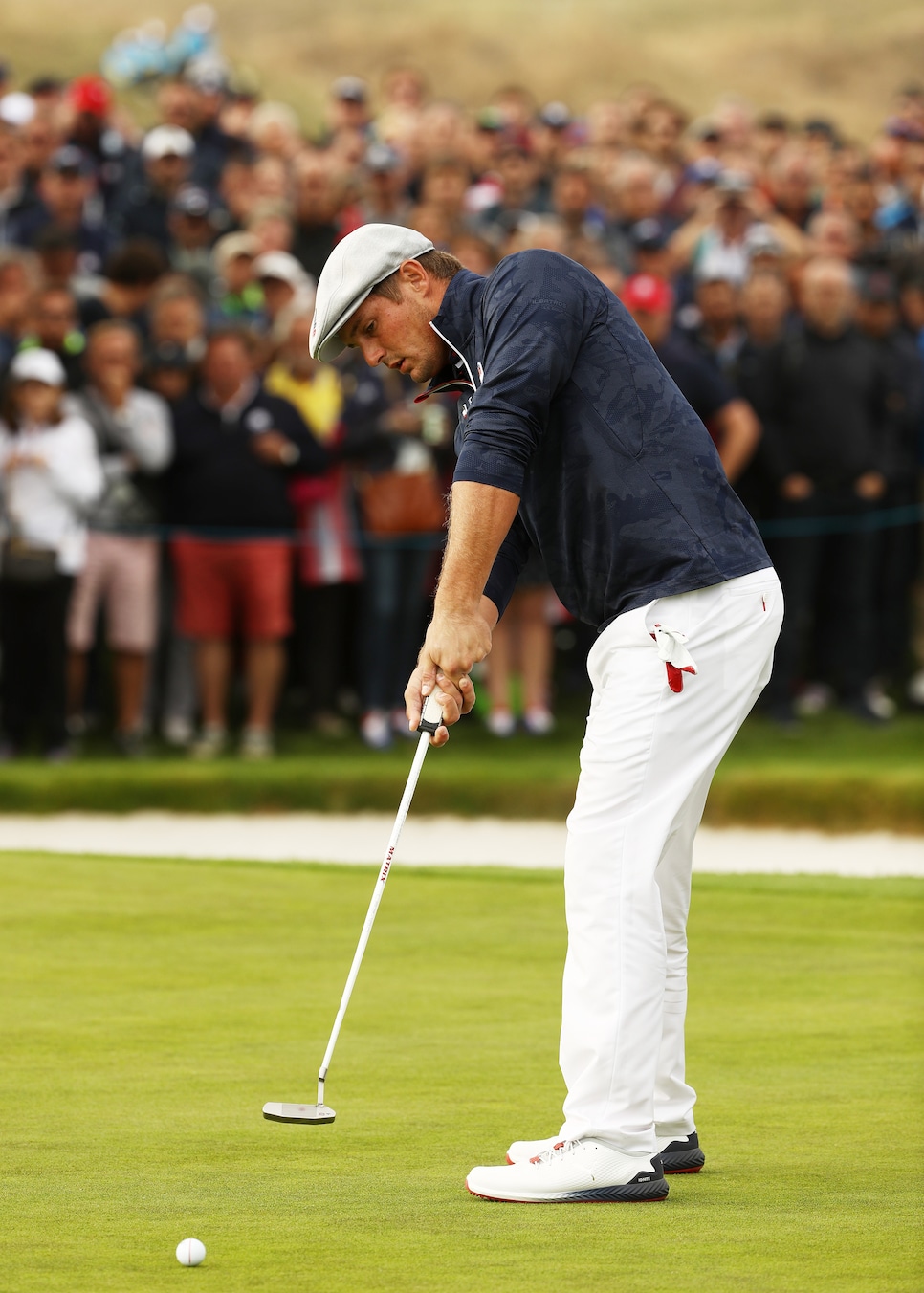 Here's a look at the other iterations of the PWRADAPT Puma sent with DeChambeau.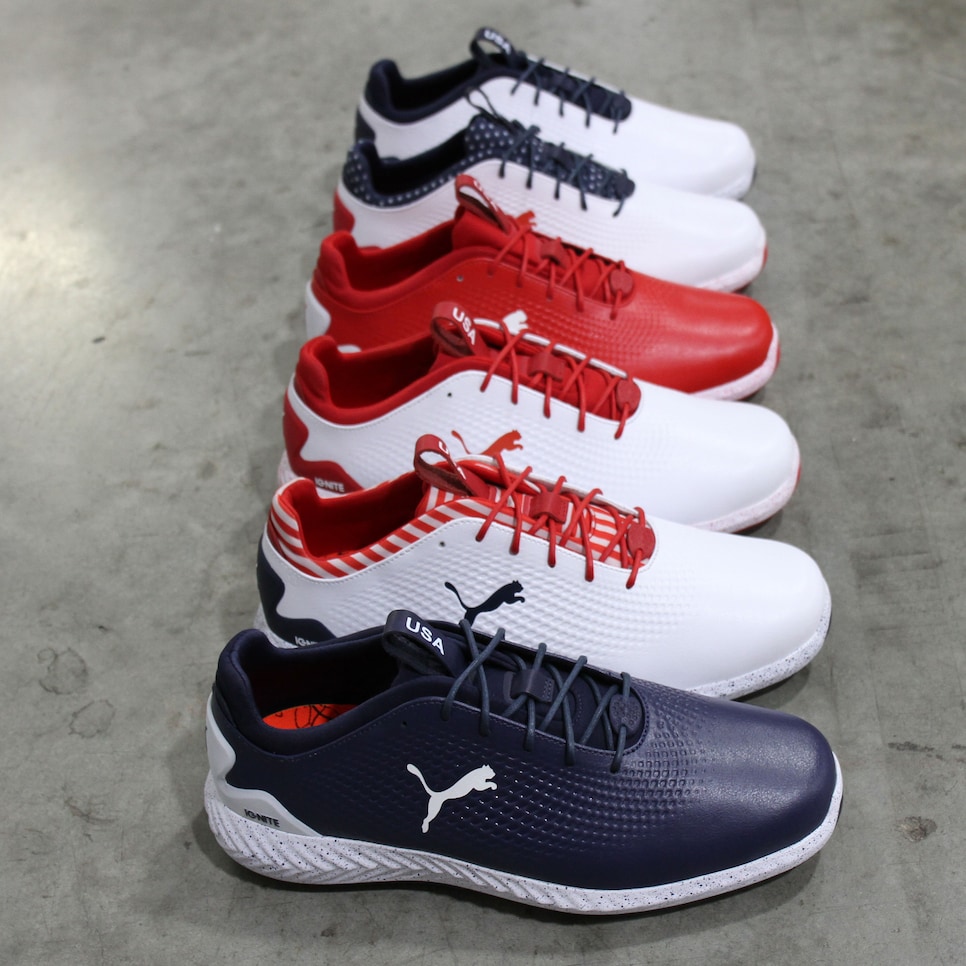 Phil Mickelson's Custom Saddle Shoes
G/FORE whipped up a fun version of his classic saddle golf shoe for the Ryder Cup. The patriotic version of the Saddle Gallivator has red saddles and Mickelson's iconic celebration pose printed on the bottom. Mickelson didn't end up debuting them in Paris, though we hope Lefty'll give 'em a try sometime.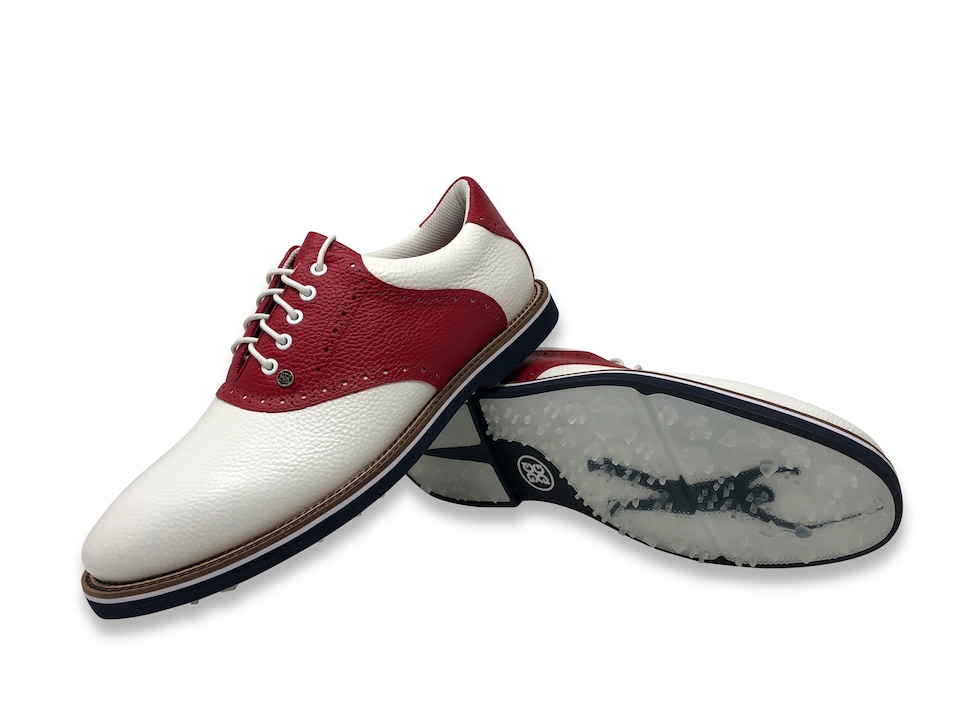 Ian Poulter breaking out from the pack
On the European side, players stayed pretty conservative with their choice of footwear, but it is no surprise that Ian Poulter broke with the ranks in a pair of custom FootJoys. The unique satin blue finish was striking on the primarily white shoe and the gold stars and trophy details added an extra cool touch.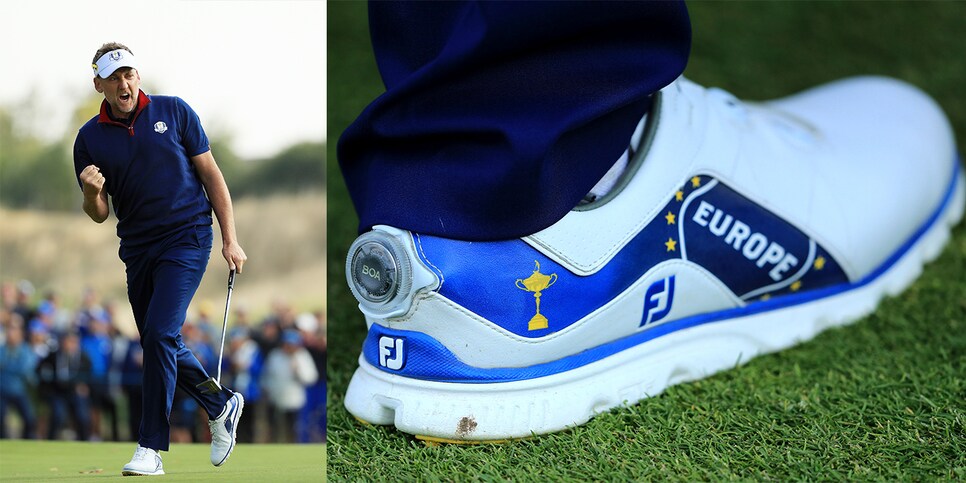 Keeping an eye out for Nikes
Nike debut the Nike React Vapor 2 golf shoe at the Ryder Cup that went on sale September 27. The shoe has Nike React Foam, which is a technology borrowed from the company's basketball shoes. Tony Finau rocked the pink colorway that will be available in limited quantities online.