News
Ryder Cup 2018: Dustin Johnson gives revealing interview...or not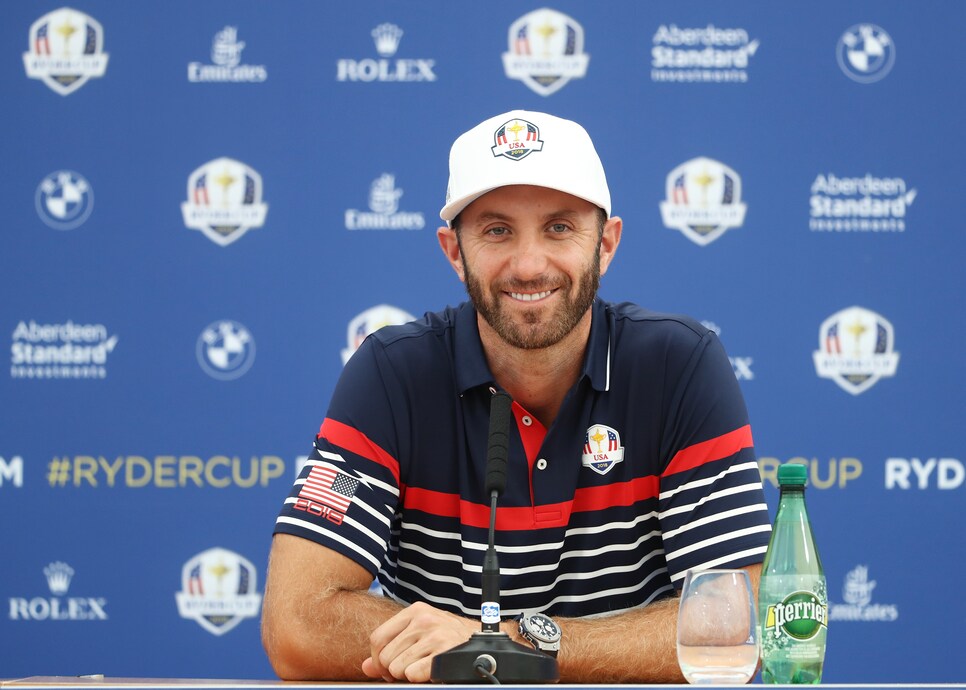 SAINT-QUENTIN-EN-YVELINES, France – It's no secret that players choose their words carefully in their respective pre-Ryder Cup press conferences, and this week at Le Golf National has proved no different. Dustin Johnson may have come the closest, however, to providing a bit of bulletin board material.
During his Thursday session, Johnson, playing in his fourth Ryder Cup, was asked about overtaking England's Justin Rose to reclaim No. 1 in the Official World Golf Ranking after the Tour Championship. It was a leading question. Johnson didn't mince words. This was how the examination proceeded:
Q. Do you think you've inflicted any kind of psychological blow by knocking Justin Rose back off the No. 1 ranking and reclaiming that coming into this week?
DUSTIN JOHNSON: I didn't understand.
BRIONY CARLYON (moderator): The psychological advantage of being world No. 1 instead of Justin.
DUSTIN JOHNSON: Sure. (Laughter).
BRIONY CARLYON: Enough said.
DUSTIN JOHNSON: I guess it depends on how you look at it.
Q. Is it an advantage for you?
DUSTIN JOHNSON: For me? Yeah, I like being one.
It should be noted here that Johnson was in a mood. He was playfully truculent throughout his 20 minutes on the dais, and his purposeful succinctness drew snickers.
When he was asked if he settled on a putter and a putting grip – he debuted a cross-handed method at East Lake Golf Club – his first response was one word. "Nope."
He let the answer hang in the air before adding, "I'm going to surprise you tomorrow."
Another beat or two elapsed. "Yeah, I'm going to putt just like I was at the Tour Championship, left-hand low, and with the same putter. No changing."
Johnson, 34, is 6-5 overall in 11 Ryder Cup matches, including 3-0 in singles. Though he is world No. 1, the U.S. team is deep, therefore the odds of him playing all five sessions is rather remote. Only in his rookie appearance in 2010 at Celtic Manor in Wales, when poor weather forced the configuration of the schedule to four sessions has he played in every session.
But the question was put out there.
Q. Have you been told that you will play all five matches?
DUSTIN JOHNSON: I have not been told.
Q. Have you been told how many you will play?
DUSTIN JOHNSON: I have not. I would imagine I'll at least play one (laughter).