News
Ryder Cup 2018: Americans claim a one-point win in the Junior Ryder Cup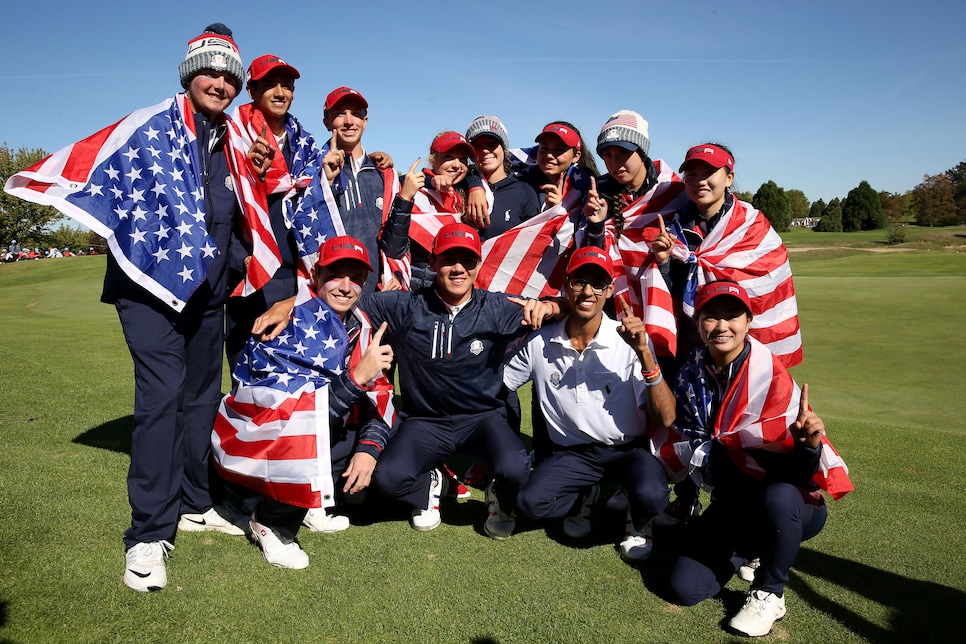 Alex Pantling/Getty Images
SAINT-QUENTIN-EN-YVELINES, France—Who says the United States can't win a Ryder Cup on foreign soil?
By a 12½-11½ margin, the 12-member American side held off the Europeans on Tuesday at Golf Disneyland to win the Junior Ryder Cup, claiming the biennial match between top boys and girls from both sides of the Atlantic for the sixth straight time and increasing their overall record to 7-3-1.
Rachel Heck, a 16-year-old from Tennessee who two weeks earlier finished tied for 44th at the LPGA's Evian Championship, made a 12-foot birdie on the 18th hole to halve her match with Annabell Fuller and clinch the deciding half point.
"It's incredible to have the team be right on the green," Heck said. "It was the most incredible experience of my life. It is so nice to be in Paris playing with my best friends."
Heck was set up by reigning U.S. Junior champions Michael Thorbjornsen would, who drove the green on the last hole with a 315-yard shot, then made the five-foot eagle putt for a 2-up win over Spain's David Puig that clinched at least a tie.
"I knew that the shot was not into the wind, and I could easily reach the green," said Thorbjornsen, who made sure U.S. captain Allen Wronowski was OK with the decision. "I just wanted to make sure its O.K. with him. I didn't want to be the person who plays driver when they shouldn't have played driver, but he gave me the green light to do so. It was just spectacular knowing 12 of the best junior golfers from our country are playing against 12 of the best from Europe."
The U.S. team entered the final singles session with a comfortable 7½-4½ advantage only to see the home side make a run. Twins Rasmus and Nicolai Hojgaard, who helped clinch the World Amateur Team Championship for Denmark earlier in the month, each won points early to give the Europeans some momentum. And England's Conor Gough was in the midst of defeating the top-ranked junior in the world, Akshay Bhatia, 1 up.
The Europeans entered the final session on a somber note, after learning overnight of the passing of the father of their captain, Maitena Alsugeren.
"I feel for our team as they wanted to win this for their captain," said European vice-captain Richard Heath. "It's very difficult for us as we wanted to do this for Maïtena but I think she will really appreciate the effort the team put in for her today."
Past participants include current Ryder Cuppers Jordan Spieth, Justin Thomas and Tony Finau on the American team and Rory McIlroy for Europe.