Courses
Take your sticks on Route 66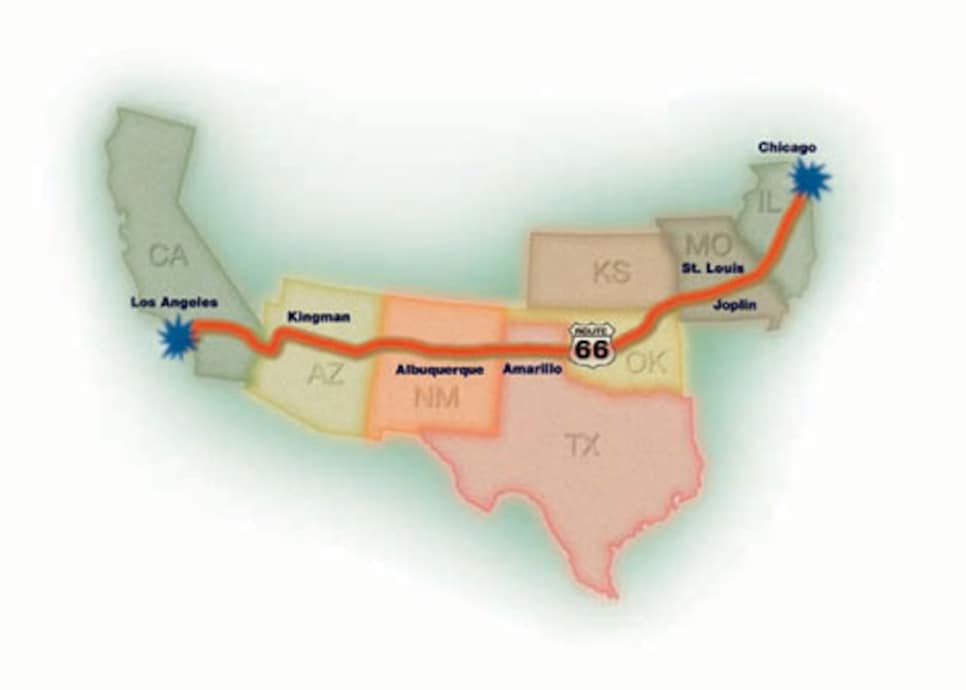 There is a quaint sameness to the many small towns that time seems to have forgotten along Route 66, the thread of bumpy, historical road that has stitched together a vast cross-section of America for the better part of 80 years. There are the ramshackle motels that will never again illuminate the "No" preceding "Vacancy." There are the vinyl-and-laminate diners and corner grocers, picket fences and steepled churches, and, inevitably, the ancient graveyards, their listing tombstones a melancholic reminder that time has not stood still.
There are also golf courses, upward of 80 of them along the Route 66 corridor, inviting travelers to infuse wanderlust with passion for golf and explore this country's most famous road, America's Main Street, 18 holes at a time.
It has not occurred to many to do so, including Jim Conkle, founder and executive director of the Route 66 Preservation Foundation and a golfer, who has made the round-trip trek from Los Angeles to Chicago on 49 occasions. "People just don't drive up and down Route 66 with golf clubs sticking out the back of their Corvette or antique car," he says, though he can't readily explain why. Virtually every event staged by the myriad Route 66 associations, he says, includes a golf tournament.
Golf and Route 66 have never shared the same sentences, notably those with historic cachet. The Joads from John Steinbeck's landmark novel, The Grapes of Wrath, had no money for food, much less for golf. They set out on what Steinbeck dubbed "the mother road" in search of a better life. Accordingly, Steinbeck also called Route 66 "the road of flight," which it remains for the tourist determined to flee the fast lane, the Interstate highway system that, along with Sam Walton, has irrevocably changed the American landscape, for better or worse.
Route 66 is best navigated via rearview mirror. It is a journey back in time, along a lengthy stretch of road from Chicago to Santa Monica, Calif., 2,248 uninterrupted miles at one time, and encompassing eight states, or nine by Conkle's count, "the biggest being a state of mind."
Golf is played along Route 66 from virtually its beginning (Harborside International Golf Center in Chicago) to its end (Rancho Park Golf Course in Los Angeles), and the range of golf available in between is as wide as the road is long. Paa-ko Ridge Golf Club in Sandia Park, N.M., and Cuba Lakes Country Club in Cuba, Mo., for instance, share little more in common than the love their respective constituents bring to the game, yet neither should be overlooked on a Route 66 excursion.
Paa-ko Ridge, east of Albuquerque and only a middle iron north of Route 66, was recently rated the best in the state and the 20th-best public course in America by Golf Digest. Cuba Lakes, meanwhile, will win more hearts than awards; it is a charming, simple, short (2,744 yards) nine-holer in a serene setting on the outskirts of town. "My description of a golf course is that it's either fun or it's work," says Cuba Lakes' owner, Dave Voss. "I don't like work."
Cuba Lakes also has the town of Cuba arguing on its behalf. Cuba is representative of the kinds of places still found along Route 66. In the '50s, it featured the only stop sign between Springfield, Mo., and St. Louis. When Interstate 44 bypassed Cuba, the townspeople began pondering ways to attract more industry to the town. "What happens after that is, cars come, people come, and now we have more traffic lights," says Voss, who laments the industrial notion and renders it a misguided one, as the population of Cuba has swelled to 3,500.
In the meantime, the town has been artfully restored and features Route 66 murals adorning the sides of many of its historic buildings, creating a standard many old towns along the road have been unable to attain. Only about 80 percent of the original Route 66 remains, and of that only about 65 percent is drivable, according to Conkle. The Interstates have crippled towns without industries to sustain them, particularly in Arizona.
Winslow, Ariz., has become a forlorn stop along Route 66. Many of its old buildings have been boarded up, and aside from an empty gas tank or stomach, the only other reason to exit I-40 in Winslow is to pay homage to the Eagles' song, "Take It Easy," that gave the town a modicum of fame with the lyric, "standin' on the corner in Winslow, Arizona . . . " Here's hoping that Standin' On the Corner Park in downtown Winslow will fare better than the town's lone golf course, Santa Fe Station, which closed from lack of interest.
For those heading west, another reason motorists bypass Winslow is to expedite the trip to Flagstaff and beyond. Flagstaff is the antithesis of most of the rest of Arizona; it rises above the desert to 7,000 feet elevation in the midst of a ponderosa-pine forest inhabited by deer and elk. Downtown Flagstaff has been exquisitely preserved, as has its Museum Club, which opened on Route 66 in 1931 to house the owner's collection of stuffed and mounted animals, rifles and Indian artifacts. In 1936, it became a popular nightclub and remains so today, under the ownership of Martin Zanzucchi, an inveterate golfer who will steer you toward two public courses on Route 66: Continental Country Club just across the Interstate and Elephant Rocks in Williams, west of Flagstaff and the gateway to the Grand Canyon.
Elephant Rocks took its name from the large volcanic boulders that loosely resemble the animal and stand sentry at the entrance to the course. It opened in 1922 with nine holes and sand greens, losing the latter only in 1990 and adding a second nine in 1999. The course is framed by Bill Williams Mountain and San Francisco Peaks and is cut from a pine forest and through a meadow—a postcard on which golf has been played along the mother road since Route 66 officially opened in 1926.
That golf is played along its edges contributes to the appeal of Route 66; it is a working relic, a living monument to the past. Ruefully, it also is a dying one. A hand-written note taped to the door of Wrinks Food Market on Route 66 in Lebanon, Mo., announces, "Closed. Owner Promoted to Glory, 3-16-05." Another says, "We are closing our doors. We have loved being part of your lives."
For 55 years, Wrinks was a Route 66 mainstay, until its founder and owner, Glenn Wrinkle, died in March, consigning another piece of the old road to the pages of history, one less reason to explore America's Main Street without golf clubs.
With golf clubs, there are still more than 80 reasons to do so.
The 66 best public golf courses on Route 66
Course ratings derived from the exclusive Golf Digest 5-star Places to Play scale.
Harborside International G. Center,
The Links at Carillon-Gauntlet, ½
Naperbrook G. Cse., ½ 630-378-4215
Wedgewood G. Cse., ½ 815-741-7270
Mistwood G. Cse., 815-254-3333
Big Run G.C., 815-838-1057
Old Oak C.C., 708-301-3344
Prairie Bluff G.C., 815-836-4653
Illinois State University G. Cse., ½ 309-438-8065
Ironwood G. Cse., ½ 309-454-9621
The Den at Fox Creek G. Cse., 309-434-2300
Prairie Vista G. Cse., 309-434-2217
Cinder Ridge G. Cse., 815-476-4000
Piper Glen G.C., ½ 217-483-6537
Fox Creek G.C., 618-692-9400
Gateway National G. Links, 618-482-4653
Pevely Farms G.C., 636-938-7000
Forest Park G. Cse., 314-240-4653
Bill & Payne Stewart G. Cse., 417-833-9962
Millwood G. & Racquet C., ½ 417-889-2889
Rivercut G. Cse., ½ 417-891-1645
Bent Oak G.C., 816-690-3028
Loma Linda C.C., 417-623-5050
Schifferdecker G. Cse., ½ 417-624-3533
Peoria Ridge G. Cse., not yet rated, 918-542-7676
Shangri-La Golf Resort, ½ Blue, ½ Gold,
Heritage Hills G. Cse., ½ 918-341-0055
Cherokee Hills G.C., not yet rated (27 holes), 800-760-6700
Mohawk Park G. Cse., Pecan Valley, 918-425-6871
Page Belcher G. Cse., Stone Creek, 918-446-1529
Clary Fields G.C., not yet rated, 918-248-4080
Coffee Creek G.C., ½ 405-340-4653
Kicking Bird G.C., 405-341-5350
Earlywine Park G. Cse., ½ (North), 405-691-1727
Lake Hefner G Cse., ½ (North), 405-843-1565
Lincoln Park G. Cse., (West), 405-424-1421
Silverhorn G.C., 405-752-1181
Comanche Trail G. Cse., Arrowhead, Tomahawk, not yet rated, 806-378-4281
Marty Sanchez Links de Santa Fe, ½ 505-955-4400
Paa-ko Ridge G.C., ½ 505-281-6000
Arroyo Del Oso Municipal G. Cse., ½ (27 holes), 505-884-7505
University of New Mexico G. Cse., 505-277-4546
Isleta Eagle G. Cse., (27 holes), 505-869-0950
Continental C.C., 928-527-7999
Elephant Rocks G.C., 928-635-4935
Valle Vista C.C., 928-757-8744
Shandin Hills G.C., ½ 909-886-0669
Empire Lakes G. Cse., ½ 909-481-6663
Mountain Meadows G. Cse., ½ 909-623-3704
Marshall Canyon G. Cse., ½ 909-593-6914
San Dimas Canyon G. Cse., ½ 909-599-2313
Brookside G.C., ½ C.W. Koiner,
Griffith Park G. Cse., ½ Harding,
Rancho Park G. Cse., ½ 310-839-9812