The Loop
Supporters help Mark Rolfing stay strong in his fight with cancer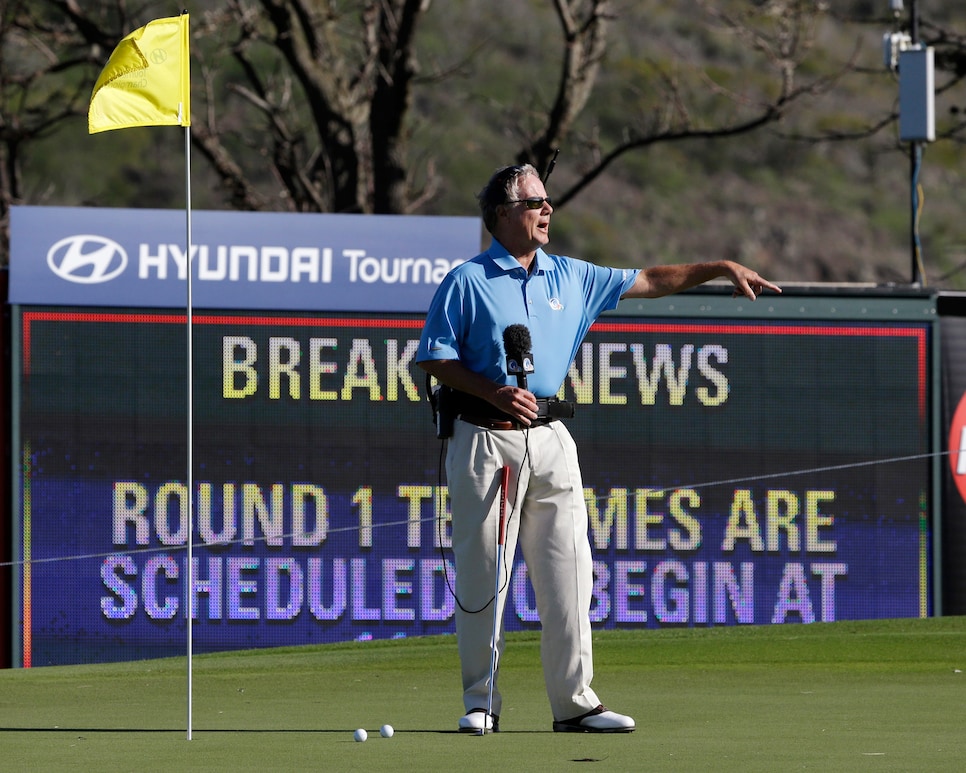 Those of us working with Mark Rolfing at last month's PGA Championship were blown away by the way our teammate was handling his situation. Like TV viewers, most of Rolfing's Golf Channel colleagues never would have known that the 66-year-old was carrying around a life-threatening cancer diagnosis. Only a small circle of his friends and family had actually been told.
That speaks not only to Rolfing's professionalism as a broadcaster but to the energy he carries with him daily. Whether or not he was living with an extremely rare form of cancer, Rolfing just had to be in the TV compound, and on set, doing his job. Right after the tournament, he drove the two hours from Kohler, Wis., to the University of Chicago Medical Center for what turned out to be a seven-plus- hour surgery to remove the malignant tumor from his cheek.
Rolfing is suffering from salivary gland cancer. Doctors diagnosed it as Stage 4a, and soon he will undergo further treatments to save his life. I called Rolfing at MD Anderson Cancer Center in Houston on Friday, a day before he checked out and returned to his Kapalua home in Hawaii, and his attitude was just as positive as when he left the production trailer at Whistling Straits on Aug. 12.
"It's easy to say now, but that's what I love. That's me. That's what I do, and the last thing I wanted was not to be able to do that," Rolfing said of those days he spent at the PGA. "It wasn't about work as much to me as having that experience. I knew that moment was important."
Rolfing first felt a bump on the left side of his face during the American Century Championship at Lake Tahoe in mid-July. He is scheduled to return to MD Anderson Sept. 21 for six brutal weeks of proton radiation. Tom Buchholtz, MD Anderson's Physician in Chief, who became a close friend of Phil Mickelson after Amy Mickelson's cancer treatment was successful, has given Rolfing a reason to be optimistic.
"I go through stages where I say, 'How could this possibly happen?' " Rolfing said. "And then, other times, I know how lucky I am and how lucky I've been."
Rolfing carved out a niche in the 1980s at ESPN as one of the first non-PGA Tour winners to become a network golf analyst. Though he was a college teammate of Dan Quayle on the DePauw University golf team, and won his share of tournaments around Hawaii, Rolfing had no real tour playing experience. Widely respected, he prides himself on his work, not his playing record.
When we spoke, the opening round of the Deutsche Bank Championship was on a screen in his hotel. It marked the first tournament broadcast by NBC that he had missed since his cancer was discovered. Rolfing mentioned how much he enjoys the moments with his co-workers in the production trailer just before a broadcast.
Rolfing's goal is to return to air for his hometown event, the Hyundai Tournament of Champions at Kapalua, the first week of January. What has carried him through fear and self-doubt is the wave of support he has received from all levels of the golf's extended family.
Says Rolfing: "It's almost like, Damn it, I'm not going to let them down."