The Loop
Chubby 'disappointed and a bit shocked' after split with Rory
The breakup came in a lounge at Kennedy Airport in New York, after Rory McIlroy and Andrew "Chubby" Chandler got off a plane from Bermuda and the PGA Grand Slam of Golf on Wednesday. Chandler, whose International Sports Management company had three clients, including McIlroy, win the first three majors this year, was headed for a vacation in Dubai. McIlroy was headed to London and connecting to Istanbul, where he would spend the rest of the week with girlfriend Caroline Wozniacki, who was playing in the WTA Championships. After traveling the world together for four years, this is where the road would end, in a lounge before two separate trans-Atlantic flights.
"He said I've decided to move on," Chandler said Friday, just hours after the news broke that the U.S. Open champion would follow in the footsteps of the previous U.S. Open champion Graeme McDowell, and join Horizon Sports, the management team run by Irishman Conor Ridge.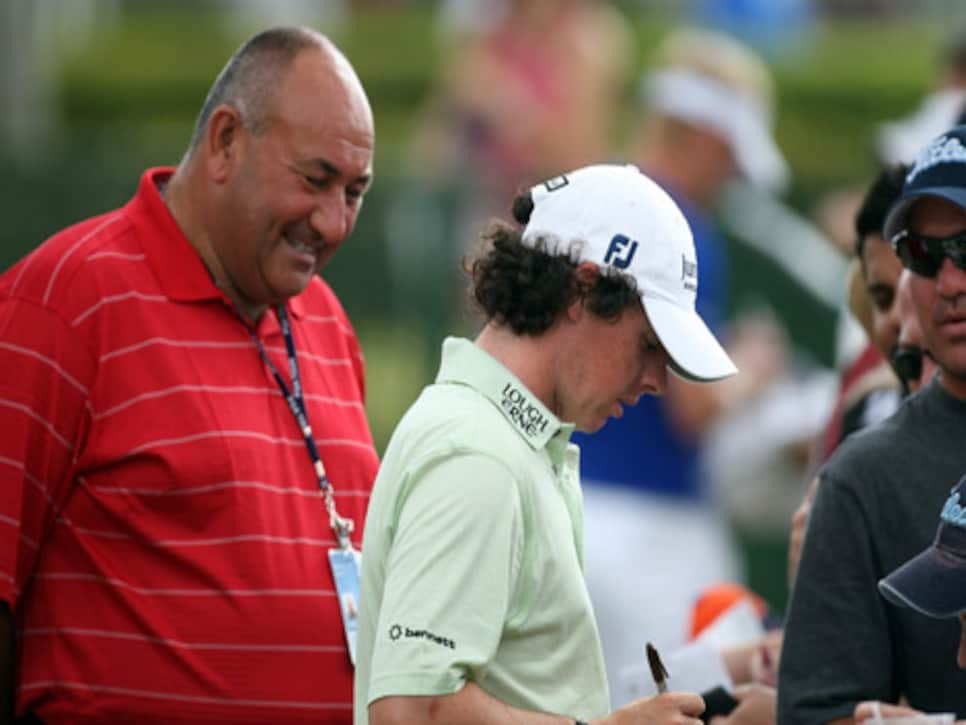 Happier times: Chandler was a constant presence alongside McIlroy in the player's first few years as a professional. Photo by Getty Images.*
"Disappointed and a bit shocked," Chandler said. "I thought we had a better relationship than that, but he had his reasons. He said he wanted to freshen things up a bit. It's one of those things; he's a 22-year-old with a very strong head who wants to make his own decisions, and one of his decisions was he didn't want us to manage him any longer."
Chandler had the 12-hour flight and a full day to think about it, and is taking a philosophical approach. But this was the second high-profile departure from his camp in the last month, following Ernie Els leaving to join the start-up group of former U.S. Amateur champions Vinnie Giles and Buddy Marucci based near his home in Jupiter, Fl.
While Els departed on good terms, there was speculation that one of the reasons was that ISM had become too big, and secondly, that Chandler was packaging his clients for tournaments and endorsement deals.
*__[Related: Golf's all-time biggest breakups
](http://www.golfdigest.com/golf-tours-news/2011-06/photos-golfs-biggest-breakups)__*
Chandler could accept that ISM's rise in prominence could have led to the separation, and that his fame -- especially the talk of a "Chubby Slam" -- could have been a contributing factor. But he strongly denied ever parceling his clients, unless it involved one of his up-and-coming players. "We never did that," he said. "We never ever did that. Never did that with one tournament of any description. It would never be fair on any of them, that."
This still leaves Chandler with major champions Darren Clarke, Charl Schwartzel and Louis Oosthuizen, the world's No. 2-ranked player in Lee Westwood and no hard feelings. He doesn't believe Ridge "chased" McIlroy, but wouldn't be surprised if McDowell was a major influence in Rory's decision. The Northern Irishman left Chandler before winning Pebble Beach in 2010 saying he wanted more personal attention.
"We live in too small a world in an industry where you can't have grudges," Chandler said. "You can't be childish about it. I'm surprised, but I'm old enough to know this happens. At the end of the day, I thought we did a good job. Obviously he didn't."