News
Rocco Mediate comes from nowhere to win Senior PGA Championship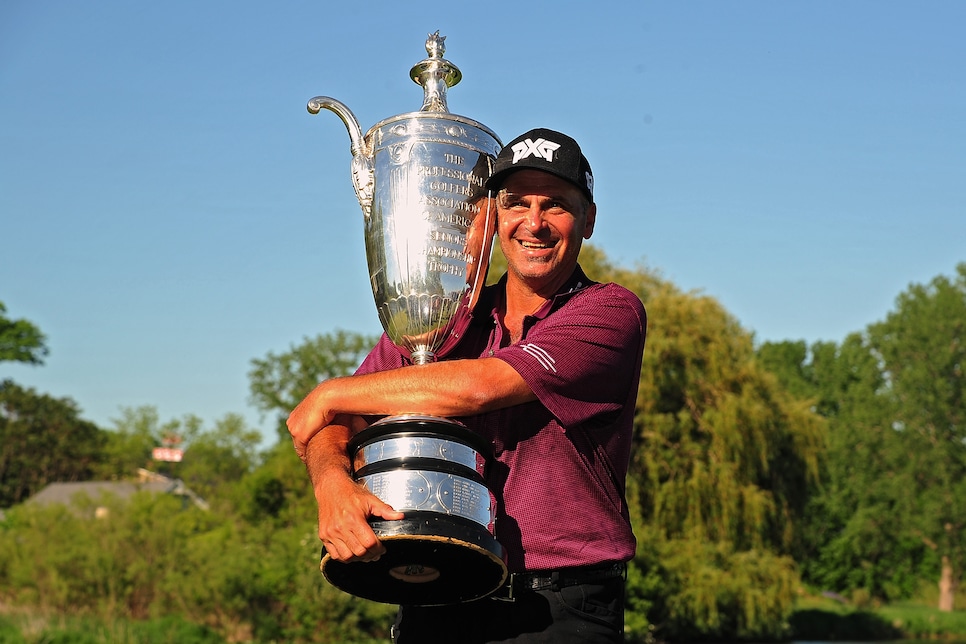 Rocco Mediate took a page from his past at the Senior PGA Championship, though he seized the opportunity to rewrite the ending.
The storyline otherwise was straight from the 2008 U.S. Open at Torrey Pines, where he emerged seemingly from nowhere and nearly beat Tiger Woods. This time, Mediate, with only a single top-25 finish in eight PGA Tour Champions starts this year, suddenly found his form at Harbor Shores in Benton Harbor, Mich., and won the Senior PGA Championship by three shots, his first major in a career that had always been good, but never great.
How did it happen? "I just made everything," said the 53-year-old. "I mean, my putter won it. My putting and short-game were just stupid this week. I just kept making them and making them and somehow kept it together."
Mediate, who had two previous senior victories, both in his rookie season in 2013, opened the tournament with a nine-under-par 62. He became the first wire-to-wire winner of the event since Jack Nicklaus in 1991.
Runner-up Colin Montgomerie had closed within one with a birdie at the 10th hole Sunday, but he bogeyed the 14th to fall two back. At No. 17, Mediate holed a bunker shot for birdie to take a three-stroke lead, effectively clinching the title.
"It was ridiculous," Mediate said. "That's what it takes to do something like this."
It was, indeed, the ending he would have preferred in 2008. Better late, as they say, than never.