News
Rickie Fowler shoots final-round 61 to win the Hero World Challenge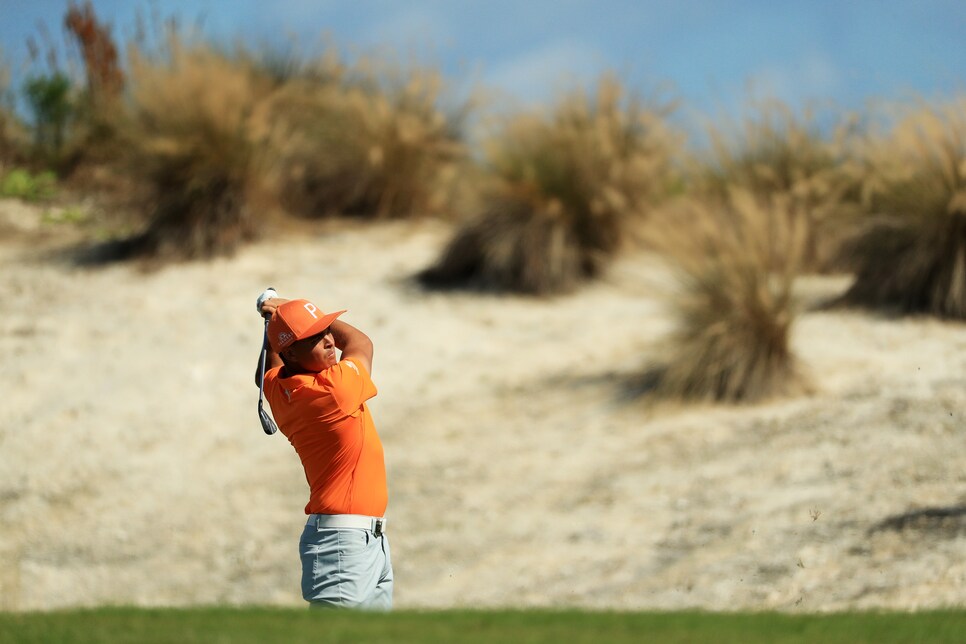 Entering the final round of the Hero World Challenge, Rickie Fowler trailed leader Charley Hoffman by seven strokes and needing a low round and some help from Hoffman to even be in the conversation. After opening with seven straight birdies at the Albany Resort in the Bahamas, it was clear that it was Fowler's day, and he didn't even need any of the leaders to back up. He vaulted over everyone with a course-record 11-under 61 to win by four shots at 18-under 270.
"I knew I needed to get off to a quick start today to at least show Charley I was there, and get up there on the board a little bit," Fowler said. "We took care of that and kept it rolling from there."
Rickie's red-hot start finally came to a halt at the par-3 eighth, where he settled for a par but was really hoping to keep the streak alive.
"Seven (birdies) was the most I had made (in a row) before, so I was really trying to get that eighth," he said. "Didn't want to get too greedy, just tried to make it with good speed, but ultimately left it short."
There were still more birdies to come, though, including at the following hole, the par-5 ninth, to finish with a front-nine 28. He made another at the 11th and the 13th, and the 59 watch was officially on.
"I knew 14 was going to be a big one, I knew if I got 13 that 14 and 15 were very birdie-able holes. I didn't get 14 unfortunately," Fowler said. "I knew it was at least within reach."
He was able to muster up just one more birdie and four pars to finish with a 61, the low round of his professional career. The win comes in just the second start of his season, just a few weeks after his solo second place finish in the OHL Classic at Mayakoba.
"It's nice to see the game hang around. We can build on some things and make next year a special one."
Unfortunately for Hoffman, his final-round even-par 72 was not enough to improve on his now 0-5 record when holding a 54-hole lead. He's now finished in second three times since last February, a place with which he's probably not thrilled based on his thoughts in the final round of the WGC-Bridgestone.
Tournament host Tiger Woods posted a final-round four-under 68, which got him to eight-under 280 on the week. All things considered, most would qualify it as a successful return for the 14-time major champion, including Tiger, who reflected on the week positively.
"I knew I was going to be able to play all four rounds, that wasn't going to be the issue," he said. "The issue was how was my scoring going to be, how's my feel, how am I going to get used to the adrenaline in my system for the first time in awhile? That took a little bit of time.
"I was still scratchy with my irons, I drove it pretty good all week, made some good putts, but overall I'm very pleased. I showed some good signs, I hit some really good shots out there."
Tommy Fleetwood and Jordan Spieth finished in a tie for third at 12-under 276.