News
Rickie Fowler 'played well,' but shouldn't he be more upset with his U.S. Open finish?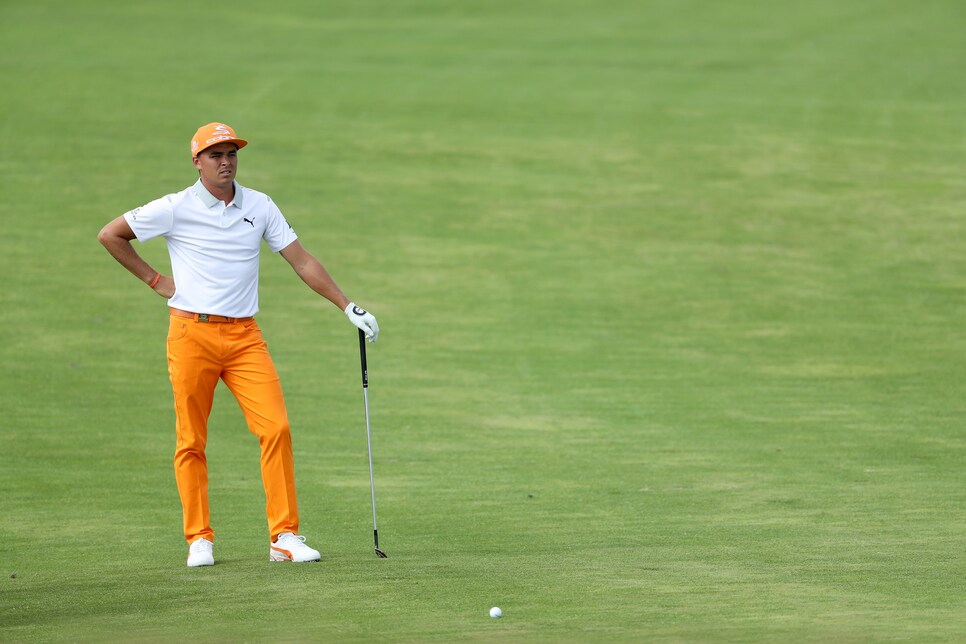 ERIN, Wis. -- Rickie Fowler tied for fifth Sunday at the U.S. Open, his sixth career top five in the last 24 majors and first since 2014, when he joined Jack Nicklaus and Tiger Woods as the only players to finish in the top five in all four majors in the same year.
All lofty accomplishments. Anytime your name is on a list with Jack and Tiger the achievement is inherently impressive.
Outside Erin Hills clubhouse, Fowler, who began the final round just two strokes off the lead and who earlier in the week led after an opening-round 65, met with reporters and assessed his day thusly:
"It was nice to finish with some good swings," he said following an even-par 72 that left him at 10 under for the week and six strokes back of winner Brooks Koepka. "Made a birdie at the last as well."
He also missed a five-footer for birdie on No. 2, a six-footer for par on No. 5, a 12-footer for birdie on the 12th and an eight-footer for par on 15.
There were some misfires with his irons, too. Fowler hit 61 percent of his greens in regulation on Sunday, which ranked just in the middle of the pack. Koepka, meanwhile, missed one green on Sunday.
Part of the calculation, one could theorize, is that a little guy swinging all out and at one speed on every shot is a lot to ask when it comes to consistency, particularly in the heat of a final round and especially in a major. In his career, Fowler is just 1-for-5 on the PGA Tour when holding at least a share of the lead going into the last day, and he has never broken par in any of those rounds.
Hey, that's golf sometimes. But that's also called a body of work.
"I feel like golf-wise I'm playing at the highest level," said Fowler, who earlier this year entered the final round of the Masters just a stroke off the lead but shot 76 to finish T-11. "If you look at the negatives too much, I mean, you're going to be stuck doing that the whole time.
"No real negatives," he continued. "I wish I would have been able to give myself a few more looks out there today and make a few more birdies, but we came out swinging well."
Fowler's life, and the lives of many of his contemporaries, is one that is full of birdies and lived quite well. Warm weather and luxurious destinations, a geniality that draws people in, just enough anonymity not to have your every move splashed across the tabloids and, of course, handsome compensation on and off the course if you play just well enough to earn it.
It's deserved and attractive. How could it not be?
Someone once said winning isn't everything, it's the only thing. But in this generation of players that's not necessarily the case at all times and at all costs.
Earlier in the week, Steve Elkington directed a snarky and judgmental tweet at Rory McIlroy after the 28-year-old Northern Irishman missed the cut that read "Rory is so bored playing golf...without Tiger the threshold is prolly 4 majors with 100mill in bank." An irked McIlroy shot right back. "More like 200mil... not bad for a 'bored' 28 year old... plenty more where that came from," and attached a screenshot of his various accomplishments that include four career major titles.
Speaking of achievements, one of the more impressive ones Woods managed throughout the height of his dominance was never seeming to lose his drive, even while becoming golf's first billionaire player and racking up one milestone after another. The examples are numerous, and included not missing a cut over a span that stretched seven seasons, and not making a bogey in the final round of the 2000 U.S. Open at Pebble Beach despite a 15-shot romp.
The "Tiger Effect" contains multitudes. It spawned this generation of players who took up golf inspired by him, and it sent prize money into the stratosphere (Koepka's victory netted him more than $2 million, while Fowler banked more than $450,000 for his fifth-place finish). It also offered up a cautionary tale that posed a vital question: Is it worth it to be all in on golf all the time? The collective answer from the current crop of stars seems to be ambiguous. It's telling that the latest major champion isn't a golf nut.
This isn't to say today's stars aren't driven to succeed. They didn't get to this level, much less have the success each has had to this point in their career, without a tremendous amount of drive and flat out work.
But they don't seem to burn with the same intensity as many past champions, and especially Woods. Not once did Fowler mention being disappointed, upset, mad or annoyed. It's a different approach for this group.
"You have to measure success in different ways, not just by winning, just because that doesn't happen a whole lot," Fowler said. "I think Tiger had the best winning percentage of all time at 30 percent, and you're lucky to even sniff close to 10.
"You kind of have to say, Hey, it's a major. We played well this week. I felt like I did a lot of good things, especially in the first round, executing my game plan. Even though the scores were somewhat lower than a normal U.S. Open, to finish in double digits under par at a major championship, especially the Open, it was a good week."
No question it was. But for all of Fowler's positivity, it still wasn't a winning week.