The Loop
Remembering Al Geiberger's 59 on its 35th anniversary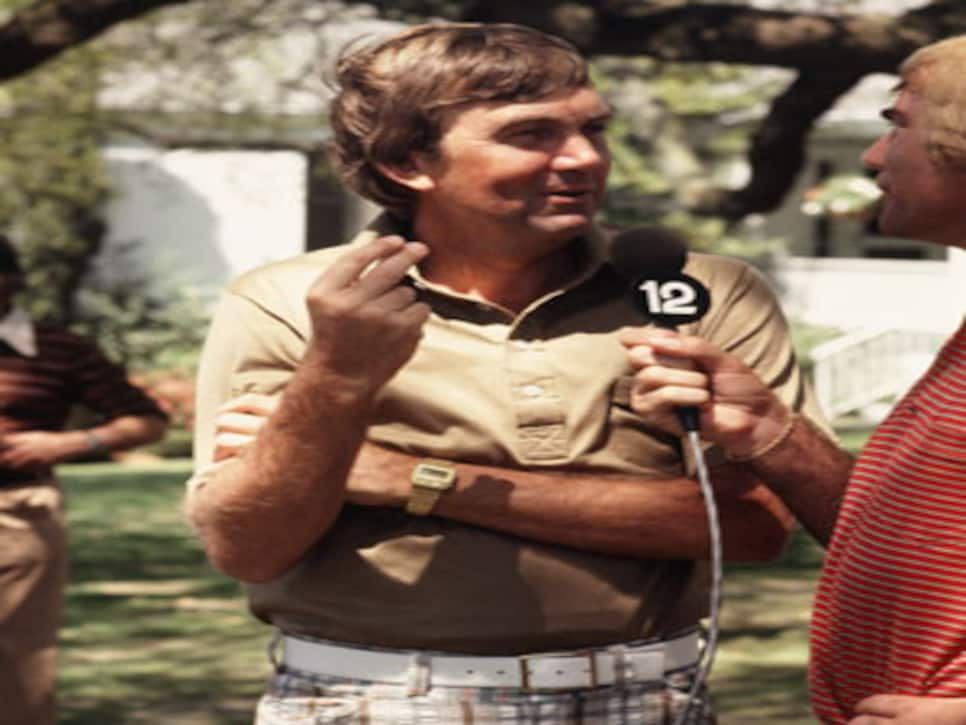 Just the other day, near his home in Palm Desert, Calif., Al Geiberger was telling someone who didn't know him from any other trim, tan retiree in the Coachella Valley, "You know, I have a record in golf."
Yes, he does. "Mr. 59" shares it now, but Geiberger was the first. Thirty-five years ago, on June 10, 1977, he shot a 13-under 59 in the second round of the Danny Thomas Memphis Classic, becoming the first golfer to break 60 on the PGA Tour.
Geiberger is 74 now, but what he did as a 39-year-old on that broiling Friday afternoon at Colonial CC when he hit every fairway and every green and had only 23 putts resonates still. Before Chip Beck, David Duval, Paul Goydos and Stuart Appleby (players to subsequently shoot 59s on the PGA Tour), there was Geiberger.
"I respect it more and more," Geiberger says of his achievement. "When I initially shot it, I thought if I can do it, then anybody can do it. I didn't understand how hard it is to do. When someone gets close to a 59, they tend to run out of holes."
Indeed when Geiberger started the second round in Memphis on the back nine at 12:32 p.m., it had even been 20 years since the last of seven 60s had been shot on the PGA Tour (Sam Snead, 1957 Dallas Open, matching a mark set by Al Brosch). Snead had shot 59 in the unofficial Greenbrier Classic in 1959, and Gary Player had 59 in the 1974 Brazilian Open.
No one, including Geiberger's peers who knew the landscape, would have guessed that the first sub-60 score would be shot at Colonial CC, long at 7,249 yards with grainy Bermuda greens.
There were 28 rounds shot in the 60s that fateful Friday, when temperatures inched up near 100 degrees and a parking-lot fire burned up a handful of cars. Raymond Floyd's 65 was the next best thing to the magic conjured up by Geiberger, the 1966 PGA champion. Preferred lies were in effect at Colonial owing to a rough winter and drought, but Geiberger has always maintained that lift, clean and place had little to do with his record score.
"We were playing improved lies, but I don't ever remember doing it," he said in a phone interview on the 35th anniversary. "As you came off every tee, there was a dip in the terrain where they had winter kill. But the fairways, where we were playing to, were pretty nice. I think the field staff didn't want to go chalk off every canyon. Most of the low areas that were damaged, we were playing over those."
Geiberger's immaculate ball-striking was complemented by even better putting. He  pitched in from 30 yards for an eagle on his 10th hole, but much of his record score was on account of his fine work  (nine birdie putts outside 10 feet, 166 feet of birdie putts overall) with a recently acquired Ping Pal, the same type of Karsten putter Tom Watson would use with great results in major championships. "I shot 59 with one and nobody switched," Geiberger says, laughing, "but then Watson won with one and everybody started using a Ping Pal."
Ten under with six holes to play, Geiberger stalled on his 13th and 14th holes, making pars at each, but he gave himself a pep talk before teeing off on the par-4 15th. "It was a miserable day, hotter than hell, and I was trying regroup, collect my thoughts," Geiberger remembers. "I had made two pars in a row, but I was hitting it better than I ever had in my life.
"My coach at Southern Cal, Stan Wood, used to say I was too conservative a player. Stan wanted me to be more aggressive. I thought, 'Now's the time to do it. If I screw up, it's Stan's fault.' I drove it right down the middle, hit it on the green and made about a 10-footer. The gallery started yelling '59.' I hadn't thought of it. You don't count your score when you're shooting a good round. That's the kiss of death."
Geiberger birdied No. 16, then sank a nine-foot birdie at No. 17. He faced an eight-footer on No. 18 to shoot 59. "The grain was coming at me but also at an angle from left to right," he says. "The hardest putt is when the grain is into and across -- it's going to affect it a lot."
But the Hogan No. 1 ball he had used all day -- "That was real unusual in the old days, because even a good shot could lump the ball, but I was a little superstitious that day," Geiberger says -- toppled in, raising him to heights no one had been before. Two days later, he rallied over the final nine to beat Player and Jerry McGee by three strokes, ensuring the historic 59 was not in vain.
"People always want to hear about the round," says Geiberger, who has never tired of telling them about it. "I was in the zone."