News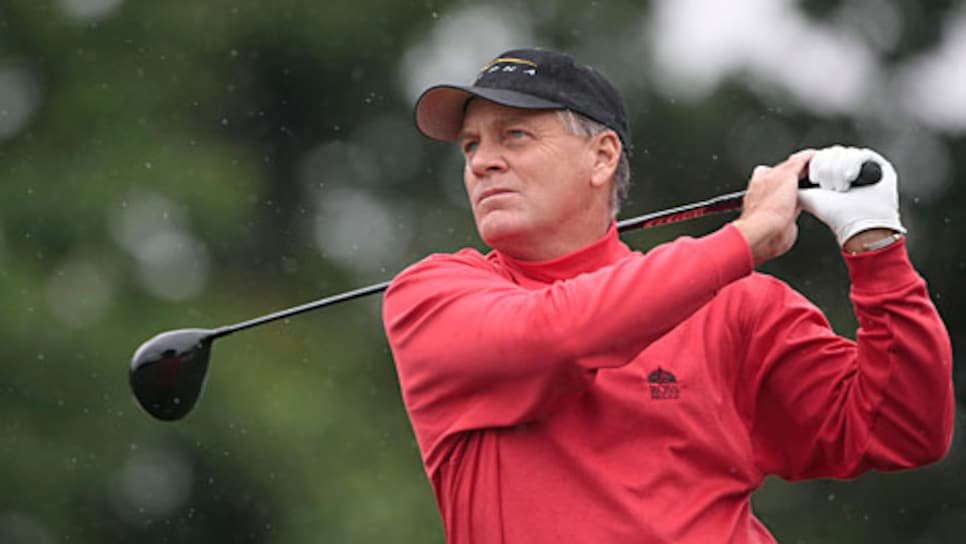 Fergus got his second career Champions win and moved into the No. 2 spot on the money list.
HOOVER, Ala. (AP) -- Keith Fergus won the rain-shortened Regions Charity Classic on Sunday, shooting a second straight 6-under 66 to beat Gene Jones by three strokes.
Fergus waited out the second long rain delay in as many days and then finished the second round in a steady drizzle for his second Champions Tour win of the year.
Tournament officials decided before the restart not to try to get in the final 18 holes with the course soaked by more than an inch of rain over two days.
"I'm not a real good mudder," said Fergus, who had his caddie buy a long-sleeve T-shirt from the pro shop before finishing the final three holes after the delay. "I'm from Texas, I like warm weather. But I came out and played extremely well."
He more than covered the cost of the shirt with the $255,000 winner's check that pushed him to No. 2 on the money list behind Bernhard Langer.
It was the first time a Champions Tour event had been limited to 36 holes because of weather since the Administaff Small Business Classic in 2006.
Tournament director Brian Claar said some fairway of the Ross Bridge course on the Robert Trent Jones Golf Trail were too soaked to play and some tee boxes were underwater, though the final three holes were in the best shape.
"The golf course became unplayable due to the saturation," Claar said.
Under tour rules, a third round could have been held Monday only if one more than half the players had finished and they can't send them out to start it unless officials believe they can finish the round.
Jones, who was tied for the lead entering Sunday, ended with a 69 to finish at 9 under. Joe Azaki was four strokes back and seven players finished at 7 under.
It was the second win in the last four starts and third on the Champions Tour for Fergus, a former University of Houston golf coach. He had capped a dramatic rally with a 95-yard wedge shot for eagle on No. 17 to win the Cap Cana Championship on March 29. There wasn't nearly so much drama on this one, after the 4-hour, 17-minute delay.
Just a lot of umbrellas and squeegees -- and waiting.
"Your mind's jumping around, all kinds of stuff going on in there," Fergus said. "There's nothing you can really do. I'm a routine guy. I got thrown off my routine a little bit."
Fergus hit a 30-footer for birdie on No. 15 before the break. Then he birdied again on No. 16 to briefly move to 13 under.
"At that point, I realized it was over," Jones said, though Fergus bogeyed the next hole.
Jones had already finished his round before the Sunday morning delay, and could do little but wait from there to see what Fergus did.
"He's one of the great guys on this tour," Jones said. "I told him I'd go out and caddie for him if he wanted me to. He's on a good roll. He's hitting it as far and as solid as anybody out here."
Jones, who also finished second at The ACE Group Classic in February, wasn't exactly heartbroken he wouldn't get another 18 holes to catch up in the difficult conditions. He fell further back with a bogey on No. 18 after his approach shot went into the bunker.
"It was cold and the course was getting very long and very demanding," he said. "There was something inside me (saying), take this second place or whatever and move on to the PGA. I'm proud of the way I played."