The Loop
Recalling Tiger's first Masters visit, 20 years ago today: 'Magnolia Lane, is that it?'
Twenty years ago today, April 3, 1995, Tiger Woods, 19 at the time, drove through the gate at Augusta National Golf Club for the first time. He was not impressed.
"When I first arrived here — Magnolia Lane, is that it? — I thought that it was a pretty short drive," he said two days later. "From what everyone says, it's majestic and a long drive, you can't believe it, and this, that and the other."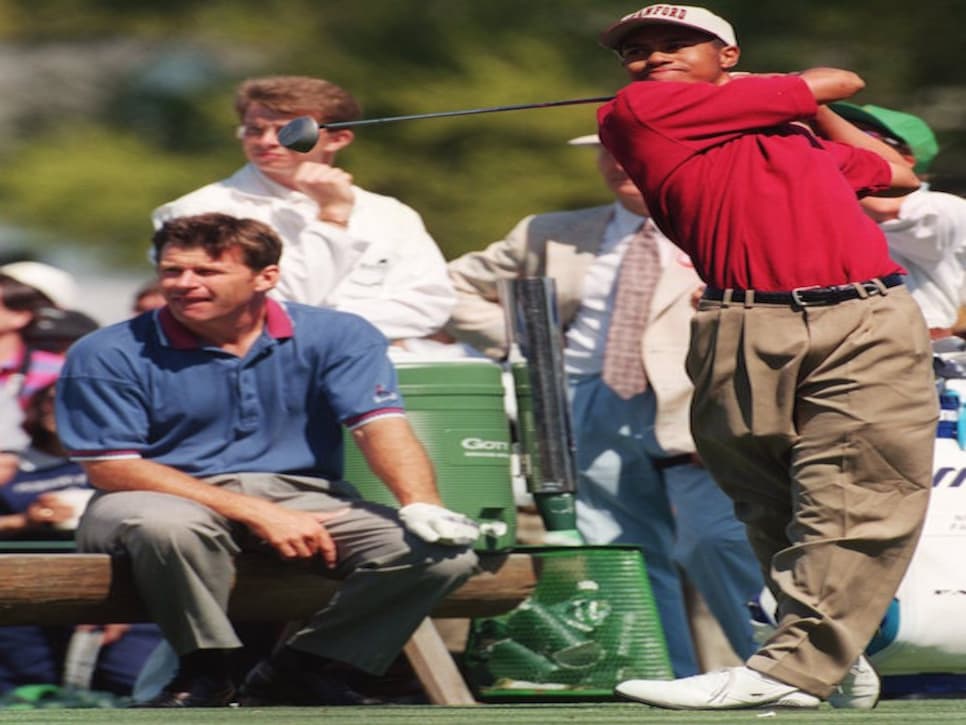 Woods tied for 41st and made a PGA Tour cut for the first time in eight starts. Here is a brief look back:
-- In his first practice round, with Nick Faldo, Woods reached the par-5 15th hole in two, using a 9-iron for his second shot. "He hits it long," Faldo said. "His shoulders are impressively quick through the ball. That's where he's getting his power from. He's just a very talented kid."
-- For the first time (though certainly not the last), Woods, upon completion of his first practice round, ran afoul of the national and international media when he declined to stop by the iconic oak tree adjacent to the clubhouse to answer a few questions, as everyone, including Jack Nicklaus and Arnold Palmer, invariably would.
"That's the rules this week, to make it easier for me," he said a while later when found in the administrative offices at Augusta National.
-- Woods was a curiosity to many in the field. His practice round partners included Faldo, Raymond Floyd, Greg Norman, Fred Couples, Nick Price and, in the Par 3 Contest, Gary Player.
"Certain players, you look at them once and you see something," Player said. "As soon as I saw Tiger Woods swing today, I thought, man, this young guy has got it. It's the way he puts his hands on the club, the way he stands over the ball. It's agility. It's speed. It is what a great horse has.'"
-- On the fifth hole of his final practice round, Woods suffered a back spasm that sent him to the fitness trailer. "I'm fine, I'm OK," he said, after being examined by Dr. Frank Jobe. "I've done this before. I have no pain now. I'm ready to go. I'll be there tomorrow."
-- Woods was paired with defending champion Jose Maria Olazabal in the first round. "I needed binoculars to see where he hit the ball," Olazabal said. "On the first hole he flew his drive over the bunker on the right side, 280 yards on the fly."
-- After the second round, Woods and his father traveled the short distance to the public Forest Hills Golf Club, to meet with former Masters caddies and to hold a clinic for kids.
"This is great," Jerry Beard, who caddied for Fuzzy Zoeller when he won the Masters in 1979, said that day. "It's a great thing for golf, and it's great especially for black youth. It's good for the kids to see you can get into something like this, to see that they can play golf."
-- Tiger's father, Earl, was seated on his shooting stick alongside the fifth fairway in the second round when an Augusta National member approached him and attempted to strike up a conversation by bringing up Tiger's collegiate victory at Shoal Creek the previous fall. "By the way, I'm Hall Thompson," the member finally said. "I'm the founder of Shoal Creek."
Earl stared impassively toward Tiger, never looking at Thomson, not saying anything. Later, he said that he had nothing to say to Thompson, that "Shoal Creek will forever be tarnished." Thompson was the man who in the run-up to the PGA Championship at Shoal Creek in 1990 was asked why the club had no black members. "Because that's just not done in Birmingham," Thompson said.
-- After the tournament, Woods wrote a letter of thanks to Augusta National membership:
Please accept my sincere thanks for providing me the opportunity to experience the most wonderful week of my life. It was Fantasyland and Disney World wrapped into one. I was treated like a gentleman throughout my stay and I trust I responded in kind. The Crow's Nest will always remain in my heart and your magnificent golf course will provide a continuing challenge throughout my amateur and professional career.
I've accomplished much here and learned even more. Your tournament will always hold a special spot in my heart as the place where I made my first PGA cut and at a major yet! It is here that I left my youth behind and became a man. For that I will be eternally in your debt.
With warmest regards and deepest appreciation, >