Equipment
Q&A: Norah O'Donnell of CBS talks about how women taking up golf can get the most out of the game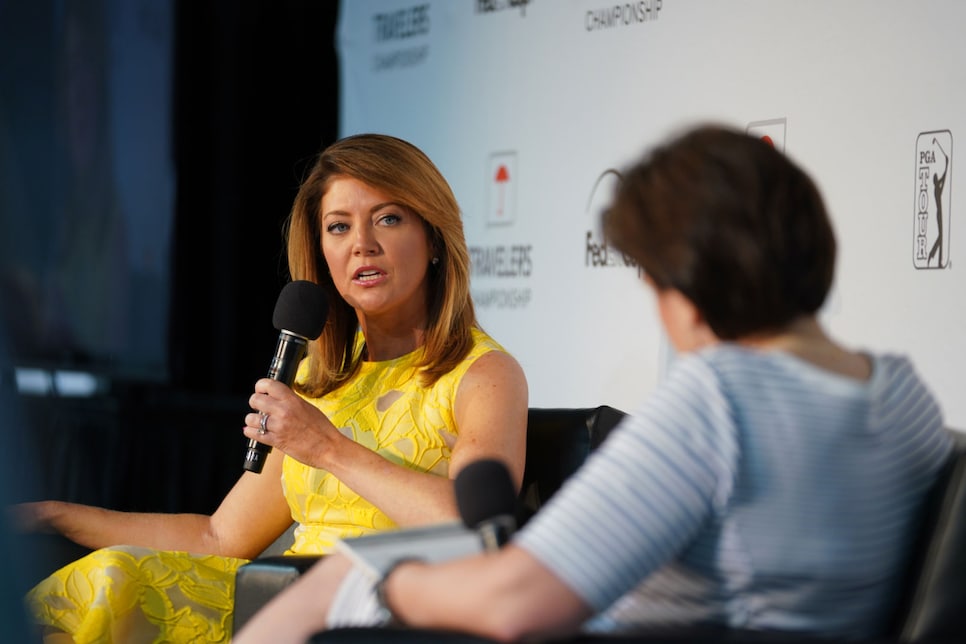 Courtesy of Travelers Championship
You likely know Norah O'Donnell as one of the co-hosts of "CBS This Morning" and as a correspondent for "60 Minutes." You might not realize that she's also an avid golfer. O'Donnell got hooked on the game years ago by her husband, Geoff Tracy. Tracy is an accomplished chef with a few restaurants in Washington D.C., where the couple lives with their three children. They have become a big golf family, with memberships at nearby Congressional Country Club as well as Fishers Island Club in New York.
O'Donnell was the featured speaker at Women's Day at the Travelers Championship this past Thursday. The event had more than 600 attendees, and tickets sold out in an hour. Afterward, O'Donnell took a few minutes to talk to Golf Digest about her love for the game and why it's important to get more women involved in golf. Here's her conversation with our Brian Wacker.
What ways can the game become more attractive to female golfers?
Women so often decide what sports their kids play, decide what cars to buy and in many ways decide how the family is going to spend its time. Golf is such an incredible game. My husband taught me how to play golf when I was 25, and it has changed my life, changed the way we socialize, changed our friendships. Now all three of our kids play, including two girls. It helps to be a member at Congressional, where there's a great junior program, but I also think for women, the game of golf is a great way to learn patience, a great way to learn a skill and socialize in a business setting that women haven't done traditionally. How do you grow the game? We need more women who are spokespeople for the game, and we need to shorten the game. It's hard to get four hours, especially on a weekend. A lot of clubs are talking about how to do that, but I also never feel bad about playing even just nine holes.
What aspect of golf is the thing that makes it enjoyable for you?
It can be a good workout if you carry your own bag and walk. Then there's the socializing aspect. When else do you spend four hours with your husband or friends just talking and walking? That's one of the best ways to get to know someone. I've taken lessons for years and just recently hired a coach, and one of the most fulfilling things for me was having someone tell you to move your body in a certain way, and then actually being able to achieve that. You forget, as someone who's 44 years old, that I can still be athletic and achieve success. Things like that are confidence boosters for me.
Have you ever gone on a buddies trip with other women to play courses?
I haven't yet done a women's buddies trip—my husband seems to be doing a lot of those. But what I do is I have a girlfriend who says I have a tee time at 7:30, and we'll just go right out. I used to play with just my husband or other couples, but I've reached the point now where I'll play with just other women and that's a lot of fun.
What's the biggest reason why a woman should try to take up the game?
Women have to find ways to meld sports and socializing. Sports are incredibly important to have something in our middle and older age to do. Women socialize around non-sports related activities all the time. We may watch sports together, but it's important to find sports, like playing tennis. A lot of women play tennis, and that's a great way to socialize. Golf can be that same thing. We have to find active ways to socialize and golf can be a way to do that.
Has President Donald Trump hurt the perception of the sport by playing so much golf while in office and staying at his resorts so frequently?
I don't think the President has hurt the perception of golf. He owns a number of golf courses and there are still a number of people that play at those golf courses. Would the press like to see more of him on the golf course? Yes we would like more access to whom he's playing with and when he's playing. But look, all presidents need time off. President Obama took time off to play golf and this current president takes a lot of time off on weekends to play golf. But that doesn't bother me at all.