The Loop
Presidents Cup 2017: Admit it, you can't get enough of the ridiculous American golf celebrations
Kyle Porter, the humorous golf writer at CBSSports.com, must have been reading my mind when he sent out this tweet as the Presidents Cup turned from respectable to a runaway on Friday afternoon.
Indeed, I can't tell whether these guys are cutting-edge trend setters or the most uncoordinated group of athletes this side of curlers. But seemingly they have put an awful lot of thought into making themselves look hip and fun and cool, all while hoping they don't break a hip, which certainly wouldn't be fun, or cool, but actually might turn the Presidents Cup back into a match again.
Mind you, I don't want to be that "get off my front lawn" guy just yet (I'm aging but not quite that old; check me out doing the Ickey Shuffle in this highly prescient Golf Digest video where we ask what golf would be like if it had touchdown celebrations). That's why I've decided it's time to embrace the absurdity creativity by breaking down the Americans' ridiculous imaginative celebrations and rating them, using my highly sophisticated Celebration Above Replacement system™ (kidding, just going with standard golf terms because I'm not nearly as young and hip as the American team).
Oh, and I've got a clear winner.
BOGEY
Matt Kuchar-Dustin Johnson hand slap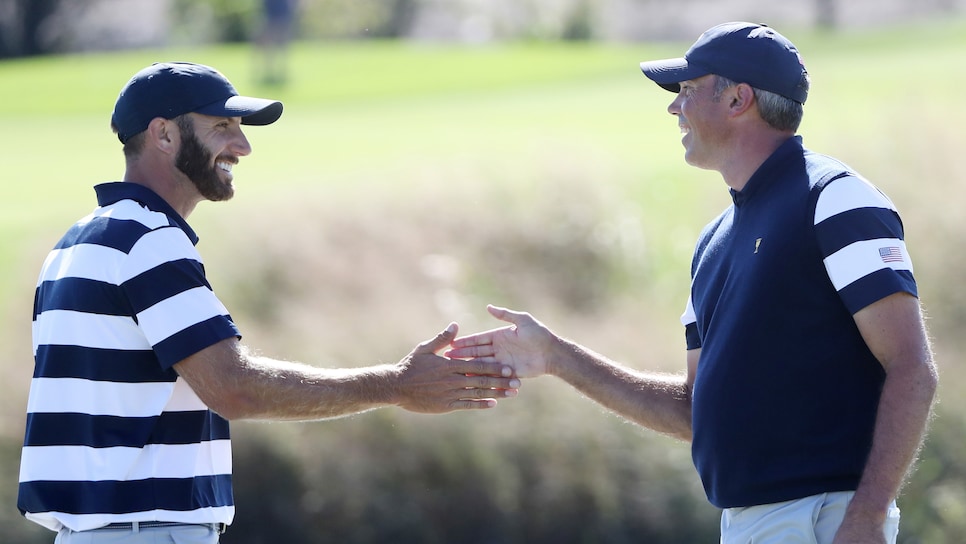 Sam Greenwood/Getty Images
Apparently Kuch-DJ didn't get the memo. The hand-slap is so Presidents Cup, circa 1996. It's probably why U.S. captain Steve Stricker benched Kuch on Friday. (That or he hurt himself playing ping-pong on Thursday night and nobody had the guts to tell us.)
PAR
Rickie Fowler-Justin Thomas fist bump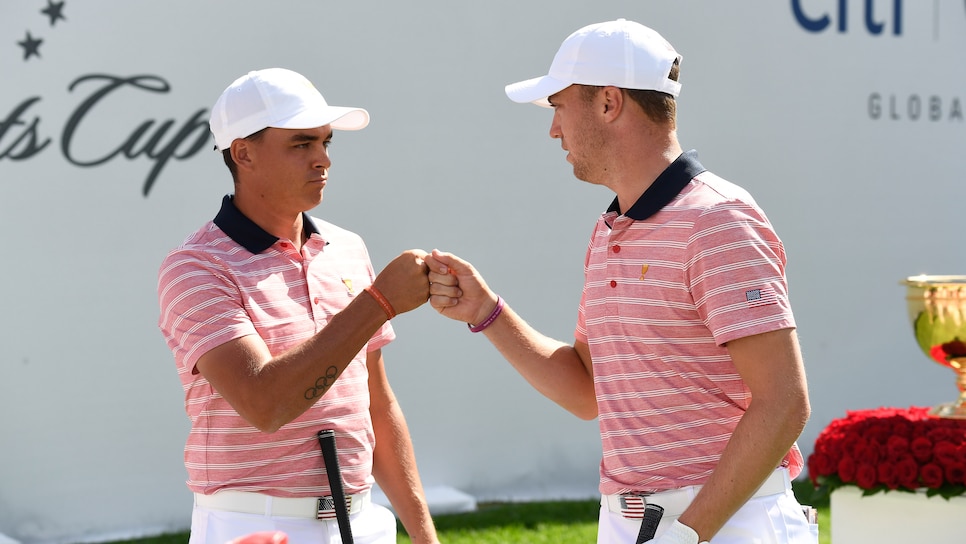 The Baker's Bay bros have had plenty of time to concoct something elaborate that the millennials would embrace and re-Tweet/re-Gram. Instead, the young guns went old school. Give them time, they'll have something bigger planned for the Ryder Cup in France, we're sure.
BIRDIE
Phil Mickelson-Kevin Kisner explosion handshake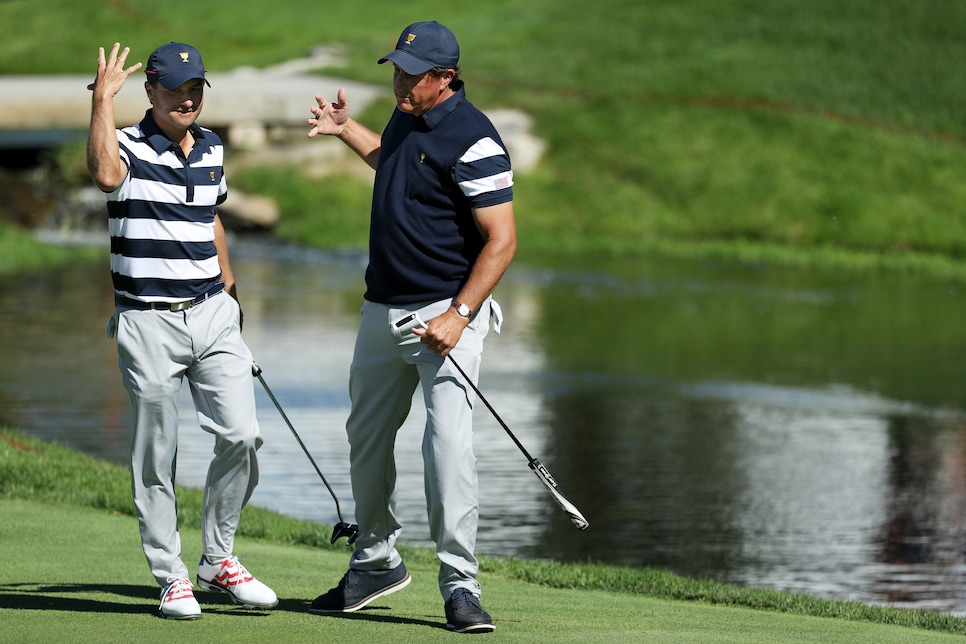 The Batman and Robin of the U.S. team broke this out on Thursday and had left it on repeat the last 36 hours. Some will say it is a rip off of the 2015 Solheim Cup team. Of course, nobody will say that in front of Lefty and Kis for fear they might have an explosion of the shouting variety.
EAGLE
Kevin Chappell-Charley Hoffman forearm bash
OK, I will date myself now. I remember when Jose Canseco and Mark McGwire were teammates for the Oakland A's and called the Bash Brothers, not just for all the steroid-induced home runs they hit, but for their steroid-induced celebrating of the home runs by bashing their forearms together in a sign of boredom "team spirit."
It would seem that Chappell and Hoffman have access to YouTube, have seen this, and decided to give it a go with their own twist.
Have to admit, at first I thought the guys were giving each other standard high-fives only to have it go radically wrong. But no, this was the intent. And I must say, it's pretty bold. It was certainly the leader in the clubhouse mid-way through Friday. Until, well …
DOUBLE EAGLE
Mickelson-Kisner "Three Amigos" dance
After Mickelson's point-clinching birdie putt on the 18th green closed out the Americans' dominate four-ball session and ruined an hope of NBC getting a reasonable rating against the NFL on Sunday, he and Kisner broke out a dance, that, well, you've got to see it to believe it.
"I saw him practicing it at one point," U.S. captain Steve Stricker said on Friday night. "You know, I said, 'I don't know if that's such a good idea.' But Phil is Phil, and he's got a partner with him in Kisner that they like to do that kind of stuff. You've just got to let them go, I guess. They are having fun. That's what we've been stressing, too. Let's have fun. Put a smile on your face and try to play well."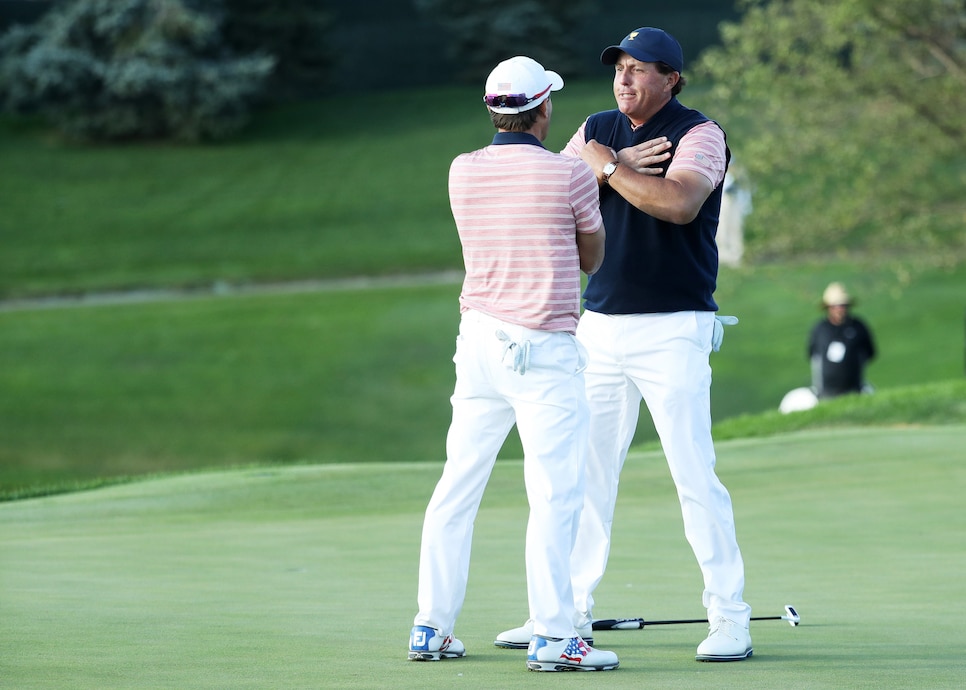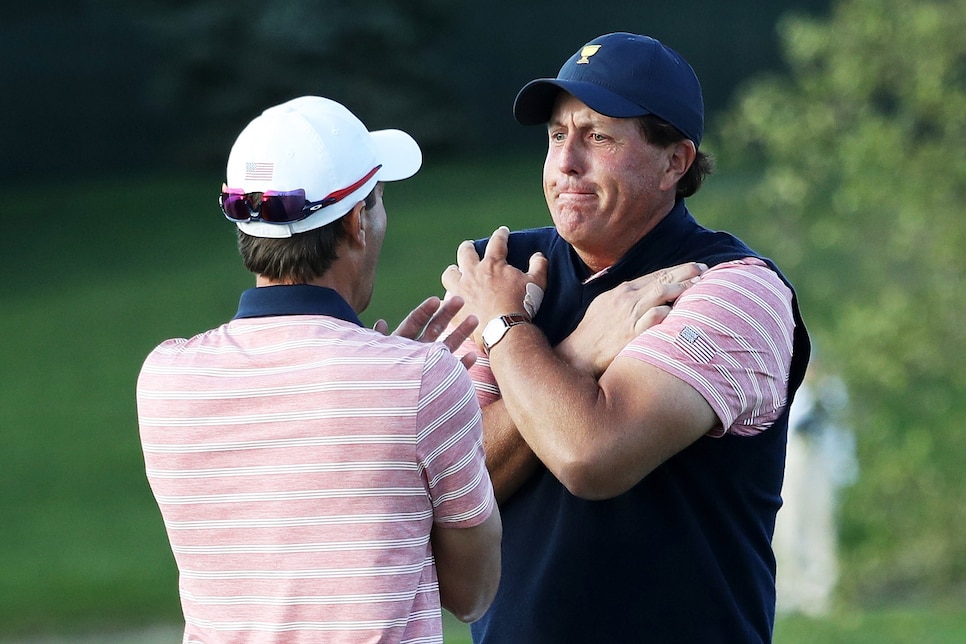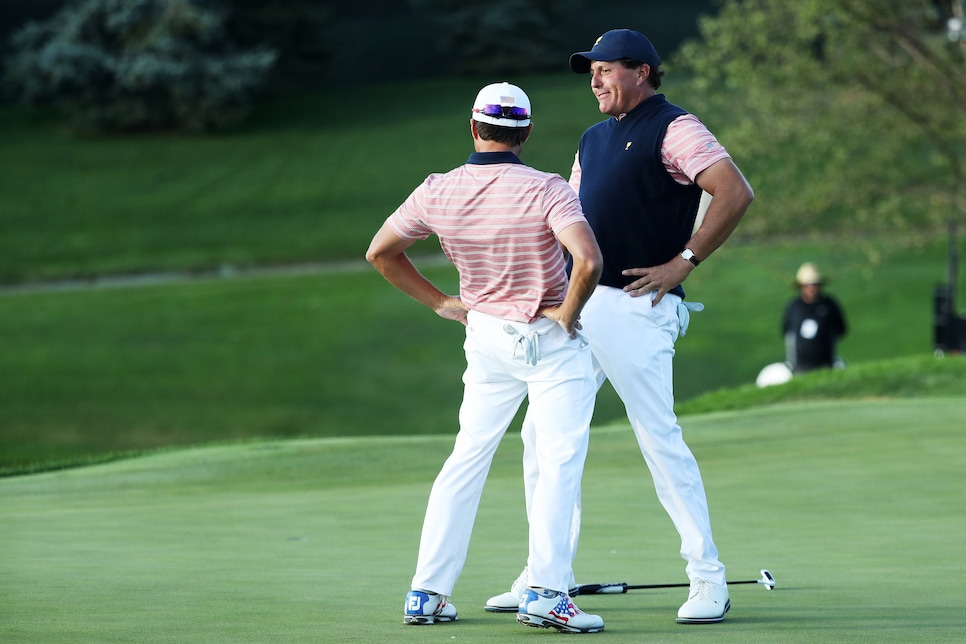 OK, so everybody who loved the dance, raise your hand?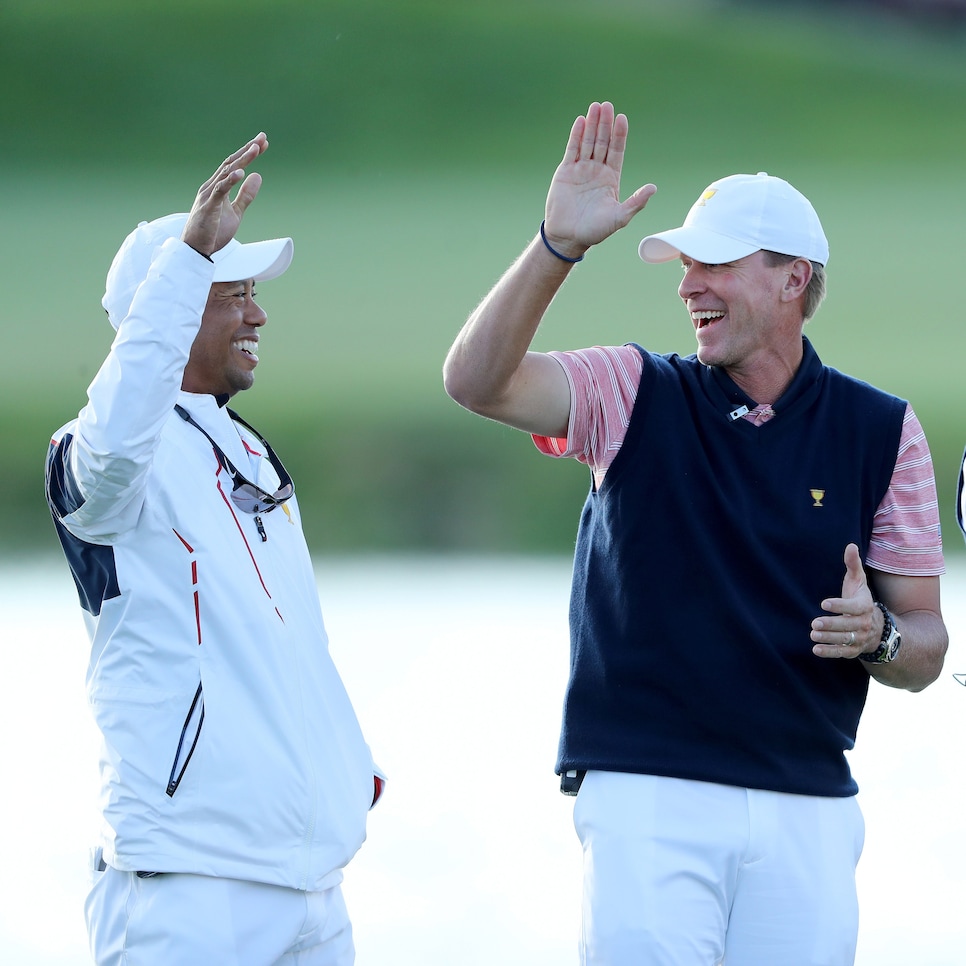 David Cannon/Getty Images
So do the Americans have bigger, better, crazier celebrations in store for the weekend? Hey, it might be the single best reason we all have to watch the action the next two days.