The Loop
Please help: I think I'm starting to appreciate James Harden and the Rockets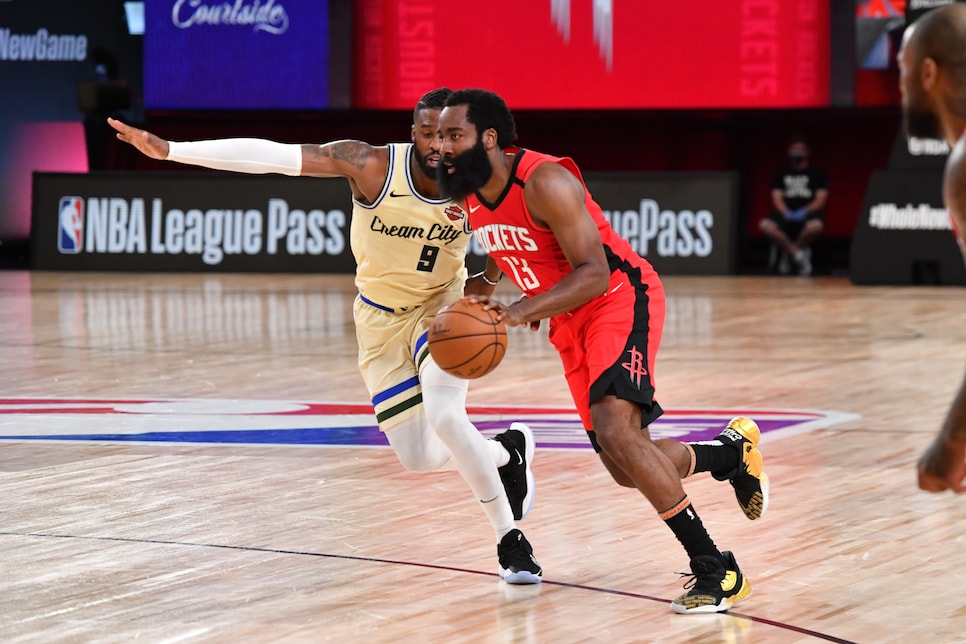 I don't want to do it. I don't want to develop a grudging respect for James Harden and his soul-killing band of mercenary chuckers backed up by a front office of nerdy ghouls practicing statistical arbitrage in service of outlawing the mid-range jumper. I will never like the Houston Rockets, but I don't even want to tip my cap in a show of muted respect.
I must tip my cap in a show of muted respect.
Let's start last week, when the incredibly fun Dallas Mavericks, led by Luka Doncic and Kristaps Porzingis, controlled most of the game against their in-state rivals, with Trey Burke in particular going off from three-point range. The Mavs had a 13-point edge early in the fourth quarter, and played well enough to lead by six with a minute left. Harden drew a foul (which is like saying the sun rose) and hit both, but the Mavs hit a three to seemingly ice the game with 45 seconds left. Then Harden hit a bomb of his own, and before you could blink, this was happening:
The crazy thing is, Harden actually played unbelievable defense on Porzingis all game, completely locking down the much taller former Knick in the post. Some defensive highlights from the end:
The Rockets won in overtime, and that brings us to Sunday night and Rockets-Bucks. Milwaukee is one of the most exciting teams in the NBA, they hold the best record in the NBA, and if there was any justice, Giannis would get his first title this season and stay with the Bucks in perpetuity. Yet again, despite some poor three-point shooting from both teams, the Rockets found themselves down by eight points with three minutes left. This time, they erased the deficit in 90 seconds courtesy of Westbrook and Harden. This was the climactic play, followed by another piece of terrific post defending by Harden against Giannis:
In the final three minutes, the Bucks looked totally lost—kind of a panicky proposition, if you're a fan—and the Rockets looked...well, they looked like pros. And Harden's defense is particularly galling, because it shatters a key tenet of my belief system. Now, the dude is just laughing when people question his D, and he has every right to.
Now, don't get me wrong—I still kinda hate the weird half-effective moneyball game they play. They missed 40 threes against the Bucks, which is astounding, and speaks to the religious fervor with which they pursue Daryl Morey's analytics-based approach. I hate when Harden draws a cheap foul by jumping forward into a defender on a three. It also feels like they missed their one big shot in 2018, and now it's safer to appreciate them from a distance since they aren't a real title threat. And yet, quibbles aside...there's something about it that's admirable. With reluctance, I tip my cap.
The Human Baseball Party of the Week: Aaron Judge, Yankees
Ten days ago, I tried to tell you that Aaron Judge was here to rescue us from our sports coma, and now look what's happened: He's entered baseball messiah mode. With a home run in five straight games, Judge is entering rarefied air, and even that streak doesn't quite explain how great it's been. These aren't just ordinary home runs—they come at the biggest moments, as we saw last night against the Red Sox in the 8th inning of a 7-7 game:
A few games earlier, he hit the go-ahead bomb in the ninth against the Orioles, and I'll forever be ashamed that I didn't watch it live since it came after a rain delay and I had gone to bed:
It's incredible that he's made it happen in the biggest situations imaginable, but even on a purely aesthetic level, these dingers are magisterial. That easy power, exercised almost slowly, grandly, is just sheer baseball nirvana. For him, it's the most natural thing in the world to clobber a baseball 450 feet.
Now, please note this: The record for most consecutive games with a home run is eight. I'm not saying...I'm just saying.
Nutmeg of the Week: Ricky Rubio
Basketball nutmegs are rare and delicate creatures, and Rubio pulled off a great one against poor Maxi Kleber. Brilliant:
Hilarious Contract of the Week: Yoenis Cespedes, Mets
Cespedes didn't show up for Sunday's game against the Braves, and it became clear afterward that he's opting out for the rest of the season. He took his things and left without telling anybody, and had his agent relay the news later. This marks the end of his four-year deal with the Mets, and, well, let's review how that one turned out:
On the bright side, Mets fans, it could be worse:
Oh wait, that's also the Mets. Let's move on.
Hockey Thing of the Week: Nazem Kadri, Avalanche
Here's a guy pulling off that rarest of feats: The hockey buzzer-beater.
The Avalanche are playing for playoff seeding at the moment, so this wasn't life or death, but still...love that buzzer-beating drama.