News
I Played TPC Sawgrass From The Shortest Tees And From The Tips
How'd I do? Don't ask.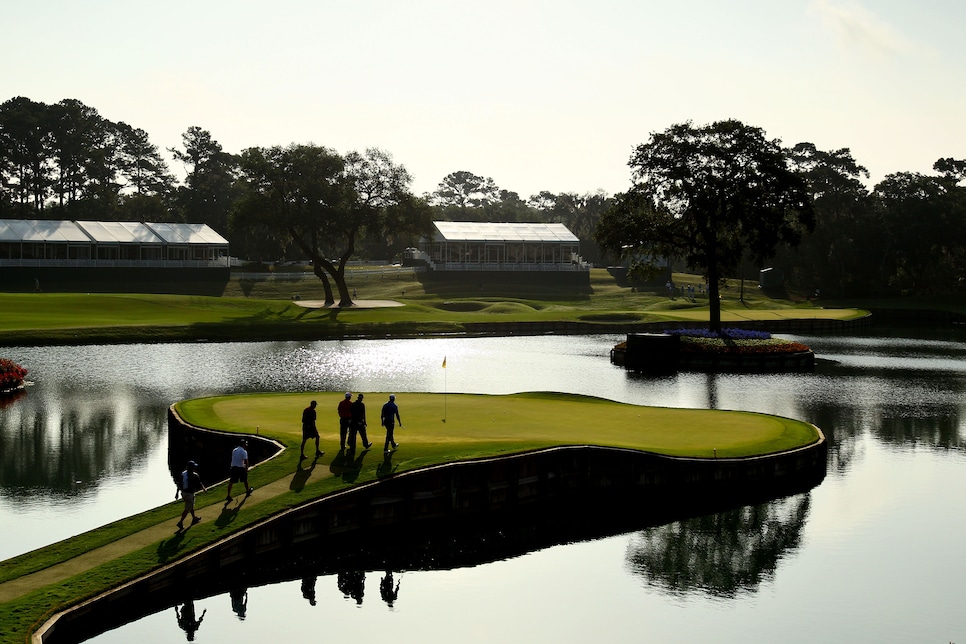 Photo By: Richard Heathcote/Getty Images
In early March, I traveled to TPC Sawgrass, the home club of the PGA Tour, to play the Stadium Course from the tees the pros use during the Players Championship. Most average golfers don't truly understand how much worse we are than the guys we watch on TV. Contrary to popular belief, the difference between us and them isn't the difference between our handicaps and "scratch"; it's the difference between roller skates and racecars. I learned that lesson indelibly eight years ago, on another Golf Digest assignment, when I played Pebble Beach from the U.S. Open tees. My handicap in those days was 6, yet I shot what my father and his friends used to call "even par" (in the bond market, par is 100). So when I pulled up to the bag drop at Sawgrass, I had no illusions, other than my standard fantasy that at any moment I might turn into another person.
From the Players tees, the Stadium Course is just under 7,250 yards. That's semi-shortish by modern big-tournament standards but virtually endless by mine. I'm 63 years old, and my home course, in northwestern Connecticut, is 5,600 yards if you go around twice (it has nine holes). I took up golf late, at 36. My Handicap Index is 7.9 and rising. I vividly remember feeling torn, 20 years ago, between sand wedge and pitching wedge from 125 yards; the same shot now is often an 8-iron.
The day before I subjected myself to my TPC ordeal, I played the Stadium Course from its most babyish tees: the greens, which a caddie, after one slip, was careful not to refer to as "the ladies' tees." From those tees, the course is just 5,019 yards long, or ten 220-yard drives shorter than it is during the tournament. My idea was that by moving all the way up, I might establish a useful statistical baseline and give myself a much-needed warm-up. Winter at home had been brutal, and during the previous three months, I'd played just two rounds, both during a nongolf trip to California.
That's my first excuse, but not my last.
SAWGRASS FROM 5,019 YARDS
I played Sawgrass for the first time in the early 1990s. Most golf courses are hard to tell apart on television, but when I watched the Players the next year, I recognized many of the holes. Those holes have undergone several renovations and jungle-removal projects since then, and the clubhouse has been transformed from a wood-and-glass flying saucer into the summer home of the Medicis, but the Stadium Course is still as visually striking as it was when I first saw it. Part of what you get for your unnerving green fee ($500, plus or minus, during prime playing season) is happy jolts of TV familiarity—a big bonus for a golf-oriented couch potato.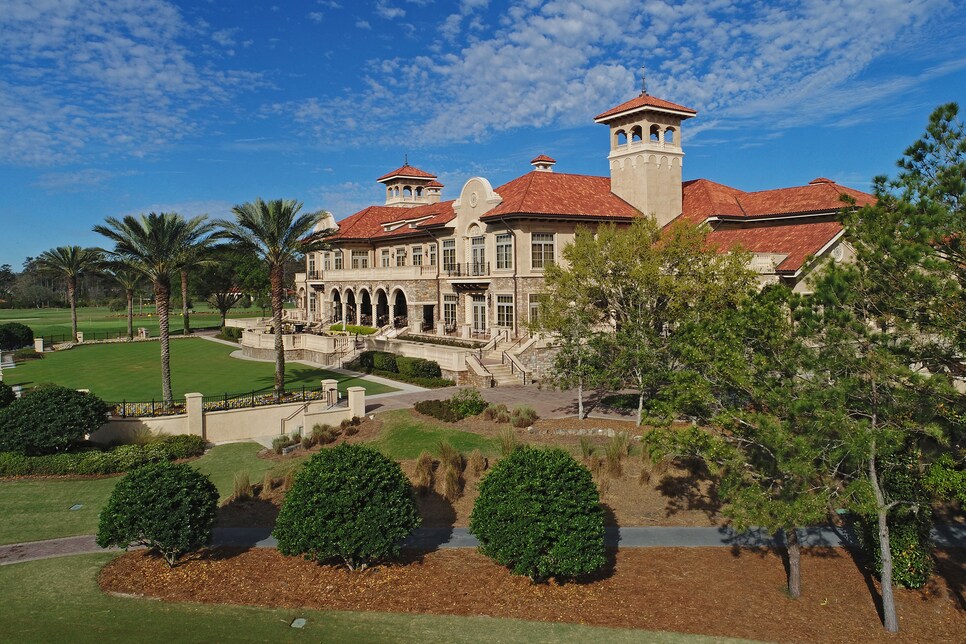 For my round from the green tees, I was joined by Alex Urban, who works in the PGA Tour's communications office and has a handicap that's within a rounding error of mine. The starter began to give us his standard lecture about choosing appropriate tees based on our driving distance, but we waved him off, because we were headed so far forward that we could barely see the markers from where we stood. Because my home course is so dinky, I had an initial advantage over Alex.
Low-handicap visitors to my club see the yardages on the scorecard and imagine how cool it will be when they break the course record on their first try. Then, not infrequently, they double- and triple-bogey their way into oblivion. Like many golfers, I fantasize about how awesome it would be if I could hit my driver as far as Dustin Johnson hits his. But when you play from 130 yards ahead of where Johnson plays, you do hit your driver as far as he hits his, if not farther—and then, when you get to your ball, you realize that your biggest problems are still ahead of you. The world's best players are insanely long—but they aren't only insanely long.
I managed to par the first hole without touching the fairway or hitting the green in regulation. And I parred the second hole, too, despite having driven into a fairway bunker—although not everyone would count a 381-yard hole as a par 5.
I had brought my favorite golf club: a discontinued Nike 16-degree driver, which is basically a 4-wood with a huge head. I call it Baby Driver, and I usually hit it about 200 yards, a useful distance on a couple of holes on my home course. The wind blew steadily and hard during the round, and when it was at our backs, Baby Driver was actually too much. But I choked down and used it anyway.
Alex, meanwhile, was wrestling with the short-hole paradox. Because he was long enough to drive most of the par 4s, he understandably tried to drive them; then, when he missed, he found himself in trouble that he had trouble getting out of. When tour players suddenly began bombing their tee shots, architects mostly responded by making courses longer. But if the goal is to make life harder for super-long hitters, making holes super-long is counterproductive. The par 4s that give big hitters fits are more often the short ones—like the 10th at Riviera, the third at Augusta National, and a couple of the par 4s from the green tees at Sawgrass.
Anyway, I shot 40 on the front, including an entirely unnecessary one-chip-and-three-putt double bogey on the 121-yard eighth, on which I was quite pleased with my tee shot until it landed 10 yards short of the green. Then I birdied the 10th—here we go, baby!—but immediately followed that birdie with two more stupid double bogeys. Alex parred five holes in a row on our second nine, and we both came close to birdieing 17. If we'd been playing a nassau, I'd have won the front and the overall, and he'd have won the back, but neither of us had much to brag about. I shot a 10-over-par 82 (see chart below). On to the tips!

SAWGRASS AT 7,245 YARDS
On the big course, the next day, I played with Stewart Moore, who also works in the tour's communications office. He's older than Alex but hits the ball even farther. He played college golf roughly 20 years ago, then competed on various mini-tours. He gave up golf almost entirely eight years ago, when his son was born, and now plays hardly at all—although he didn't look as though he'd forgotten very much.
For me, playing with someone as talented as Stewart was a mixed blessing. On the one hand, I was immensely relieved to be accompanied by a golfer who looked as though he belonged on the Players tees. On the other hand, I don't think I ever play worse than I do when I'm with someone I've just met who hits his driver 80 or 100 yards farther than I hit mine.
I swung so hard on the first tee that I popped my ball almost straight up and into some pine trees on the left—and so short that my caddie and I found it only after walking 50 yards back from the spot where we'd begun to look. Then: punch, top, smother, chunk, or something like that, for a triple-bogey 7 that felt like a 10. I realized two holes later that I was still wearing my bifocals (another excuse), although I don't think that was really my problem.
Stewart got off to a great start. He bogeyed the first hole, but then parred three in a row. He told me later that as we walked to the fifth tee he was thinking, Hmm, just one over after four. Having that thought was a fatal error, of course. On the seventh hole, I got to tee off first for the first time, because, Stewart said, "You don't shank two in a row and keep the tee." (Actually, the tee was still his—his double beat my triple—but I took it anyway.)
A sensible strategy on a course that's too big for you is to treat the par 4s as par 5s, and the par 5s as par 6s.
And I was more than willing to do that, but from the Players tees there were several holes on which simply getting a ball into play was right at the cusp of what I could manage. The tournament tees on 15 were almost 200 yards behind the tees that Alex and I had played the day before, and the space between them was filled with a pond overhung by trees. I needed two tries to reach the far shore, and then got into worse trouble. I ended up with a 9.
My only decent holes were the two par 3s on the back: the 13th, where I sank a 60-foot downhill birdie putt that my caddie (who had also played on mini-tours, before working at Schwab) read perfectly; and the 17th, where I came within a couple of centimeters of sinking a 50-foot uphill birdie putt (ditto). During my 39-over-par 111, I lost just three or four balls.
(Or maybe five.) And I saw a bald eagle, a bunch of ospreys, and a tree full of roosting pelicans. And when the Players begins, on May 10, I'll be humbly glued to my set.
2018 PLAYERS CHAMPIONSHIP
This is the final May date for the Players Championship before the tournament moves to March and the PGA Championship moves to May beginning in 2019.
DATES
May 10-13 at the TPC Sawgrass Players Stadium Course in Ponte Vedra Beach. Televised by Golf Channel, NBC and PGA Tour Live.
RECENT CHAMPIONS
2017 Si Woo Kim
2016 Jason Day
2015 Rickie Fowler (below)
2014 Martin Kaymer
2013 Tiger Woods
TOURNAMENT RECORD
24-under-par 264 by Greg Norman in 1994.
COURSE RECORD
Nine-under-par 63
1992 Fred Couples
1994 Greg Norman
2013 Roberto Castro
2014 Martin Kaymer
2016 Jason Day
2016 Colt Knost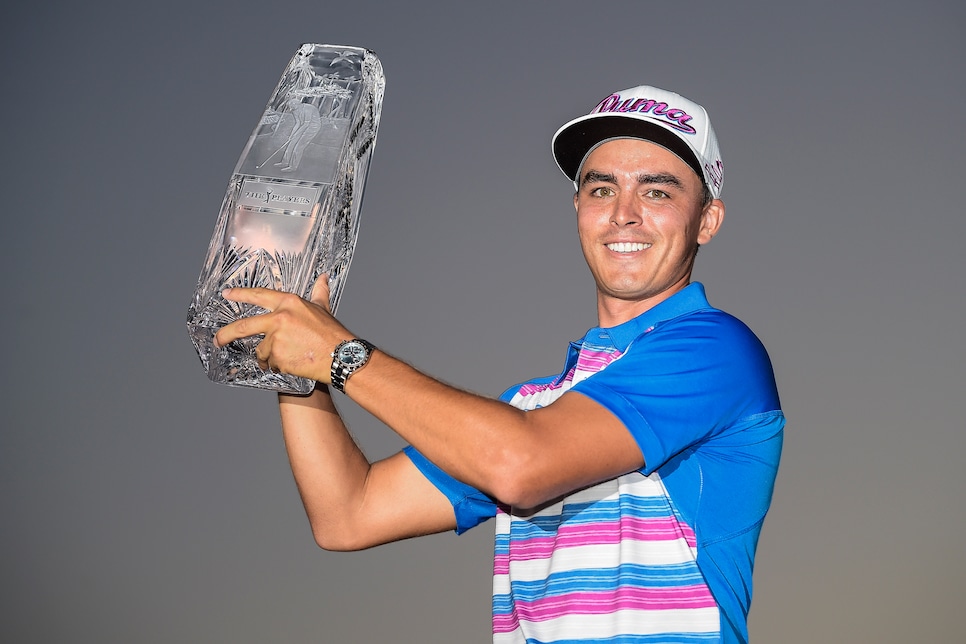 Photo by Chris Condon/PGA Tour/Getty Images