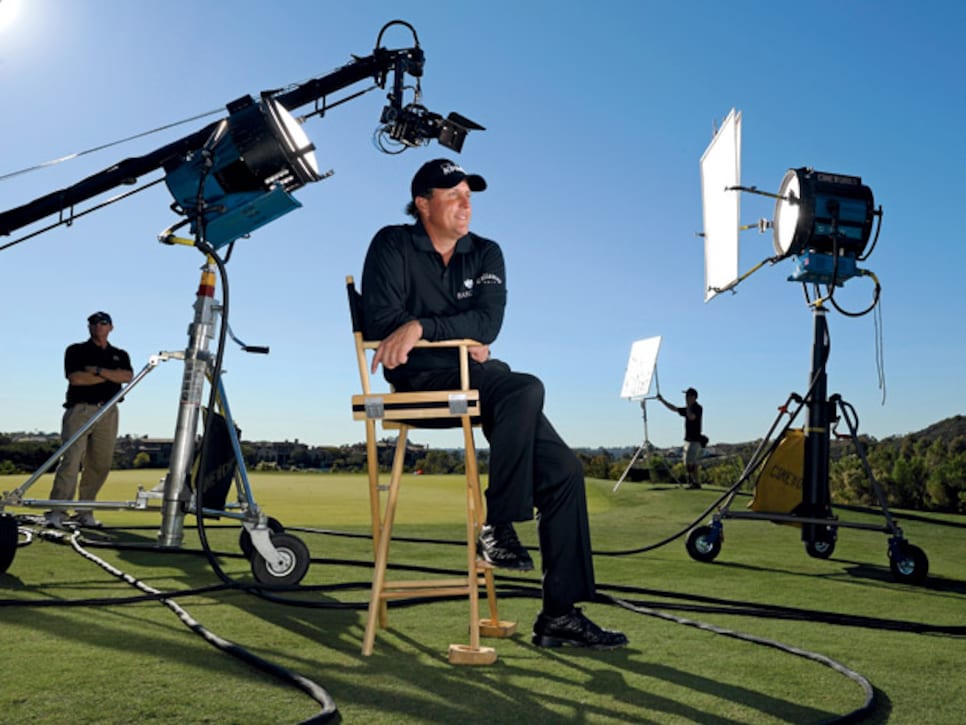 With the 2009 U.S. Open coming to Bethpage Black in June, Phil Mickelson again is thinking about trying to win the national championship he covets on a course he thoroughly enjoys. He's had a few close calls and a few that were not so close, such as last year's Open at Torrey Pines in his back yard of San Diego. On Monday of Open week, he required seven hours of intravenous treatment at a local hospital after a viral infection caused dehydration. Another case of dehydration earlier this year in Miami requiring Saturday-night IVs didn't stop Mickelson from winning for the 36th time in his PGA Tour career, putting him just three wins short of joining Tom Watson and Gene Sarazen in 10th place on the tour's all-time list.
In extensive interviews with Golf Digest, Mickelson, who turns 39 two days before the start of this year's Open, addressed a number of subjects, including New York sports fans, UFOs, criticism from Tiger Woods' caddie, a late collapse in the 2006 Open, business ideas conceived during sleepless nights, players who enjoy busting his chops, and some drastic policy changes he would like the tour to adopt (after a public spat with the commissioner). Oh, and then there's the dinosaur head in Phil's home office.
Golf Digest: Not to get too personal, but what's with the dinosaur head?
Phil Mickelson: That was my birthday present from Amy. Last June. Of the dinosaurs that have been preserved, the No. 1 is Sue, a very famous one at the Field Museum of Natural History in Chicago. A Tyrannosaurus rex. Her head is like five feet long. The one Amy gave me is from Mongolia [paleontologists say it's possibly a Tarbosaurus bataar].
Female, not that I would know by inspecting it or anything. I'm just going by what I was told.
Haven't named it yet. But it's the coolest thing I've ever gotten. My kids and I sometimes will just sit in my office and talk about what the world was like 68 million years ago. Amanda, our oldest daughter [born the day after the 1999 U.S. Open], wanted to be a paleontologist for a long time. Even before we got the dinosaur head. Our kids are really into that stuff, like outer space.
What is a dinosaur head worth?
I don't know. It was a birthday present. We've had four or five people bid on it, but it's not for sale. Talk about giving something to the man who has everything. I was really surprised, just like I was when Amy gave me the meteorite. That's from Argentina, a crash from the 1930s, I believe. I got that from Amy last Christmas. It weighs about 300 pounds and is the size of a basketball. I also have a small one that friends gave to me. It's about the size of a softball. There are more meteorites around than dinosaurs.
You mentioned outer space. Do you believe in UFOs?
I can't say whether there are "aliens" out there or not, but I was living in Phoenix in 1997 when those lights hovered over Sky Harbor Airport. Everybody saw them. They stayed for an hour. I don't know what they were, but to think that there's no life out there, not necessarily intelligent life, that's not really likely.
On to golf: the U.S. Open at Bethpage Black. Although you're from California, you seem to have home games there -- it's as if you were born in Brooklyn.
I love playing in the New York area. People from around there are incredible sports fans. The experience in 2002 at Bethpage was unbelievable, and I didn't even win. And those New York fans were a big part of how well it went.
That's interesting, because the image of New York fans -- perhaps one they enjoy -- is that they're pretty tough on athletes and teams.
I found them funny and entertaining. I remember Hidemichi Tanaka hit a ball over, I want to say, the ninth green. The TV microphone was in his way, so he lifted it. While he was doing that, one guy yelled out, "Hey, Tanaka, how about a little karaoke?"
You also go to New York not to play golf, correct?
Absolutely. We go as a family at least once a year. Whenever we're there, we take the kids [Amanda, Sophia and Evan] to shows, restaurants, museums.
And, of course, you made the rounds after your first Masters victory, in 2004.
Talk shows, stock exchange, the whole works in my green jacket. [Laughs.] I've done a bunch of photo shoots and outings in New York, too, and gone to Yankee Stadium afterward. Also, Madison Square Garden. Not only for the Knicks, but a WNBA game. Donna Orender, the WNBA president, used to work for the PGA Tour, and she's a good friend. We went to the Liberty's locker room, and the ladies on the team signed T-shirts for our two girls. Sophia still wears hers as pajamas.
Were you aware, after what happened to you in the 2006 Open at Winged Foot, where you doubled the last hole, how the air went out of your New York fan club?
No, I was in the scoring tent, doing a little bit of sagging myself.
Doug Sanders was asked how often he thinks about the putt he missed that cost him the 1970 British Open at St. Andrews. He said, "Only every day." How often do you think about Winged Foot?
That's too bad about Doug Sanders. But I think about Winged Foot as often as I think about the 2001 PGA [Mickelson lost to David Toms by one stroke], which is really never, except when it's brought up like this. [Laughs.] I might see a clip of Winged Foot every once in a while.
Yeah. I don't mind seeing it over again. I don't cover my eyes or anything like that. You learn from your mistakes, and my mistake there wasn't hitting driver off the 18th tee on Sunday. It was the next shot, the 3-iron. All I had to do was cut the 3-iron up by the green and get it up and down, like I'd been doing all day. I didn't hit a lot of fairways that day, if you remember. The hole before that, I was 50 yards in the rough off the tee. No, it was the second shot that cost me. I had a great lie, and all I had to do was cut it around the tree. I only had 190 or so yards to the green. Instead, I just blocked it into the tree. It happens.
So, when people assume you're tormented by moments like that at Winged Foot, they're wrong?
Yes, they're wrong. First of all, there's something about being in that position that's exciting, win or lose. That's why we play. Also, having won three majors before Winged Foot, I think it wasn't as devastating as it might have been. Obviously I want to win a U.S. Open. And I've come close. Now, if I never win a U.S. Open, I'll look back at my career and wish I had, whether it was Pinehurst [1999] or Shinnecock [2004] or Winged Foot or wherever. But I believe that won't be an issue, because I believe I will win an Open. I think I have a great chance at Bethpage. I like it a lot.
Is the U.S. Open any fun?
You guys usually look miserable playing it. No, it's never a fun tournament. It's such a grind. Like I said, it's thrilling to be involved, but I don't know that you would call it fun.
You were pumped for last year's Open at Torrey Pines, where you played as a kid. Were you too pumped?
I might have put a little too much into it. But I putted poorly, like I putted most of last year, and struck the ball very poorly, too. At Winged Foot, I missed fairways with the driver. So, I thought I would try 3-wood off the tee at Torrey Pines, which I did the first two days. I thought if I could get in the fairway maybe 70 percent of the time, I'd have a chance to contend. But I hit less than 50 percent.
You were criticized for taking driver out of your bag for the first two rounds.
And I was criticized for using driver too much at Winged Foot. I don't know which one is right, but it's kind of hard for both to be right. At Winged Foot, I was able to contend and almost win by hitting it in the rough, but far down in the rough. At Torrey Pines, I wasn't able to contend by hitting it short in the rough. I probably would have started with driver last year if I had known I was going to miss so many fairways with the 3-wood.
Then there was the time Saturday at the 13th when you attempted to wedge to the green from down below, only to have the ball roll back to you three times before you took a 9.
It happens to everybody. When I see that on TV again, I laugh. What can you do?
You played the first two rounds with Tiger Woods. Did you have any idea how much his left knee was bothering him?
Not really, not at first, but I wasn't really paying attention to his game. I knew he was coming off the surgery he had after the Masters. I didn't really realize what was going on, and I imagine what he went through the last two days -- the last three, with the playoff -- was obviously a lot worse than what he had to deal with Thursday and Friday.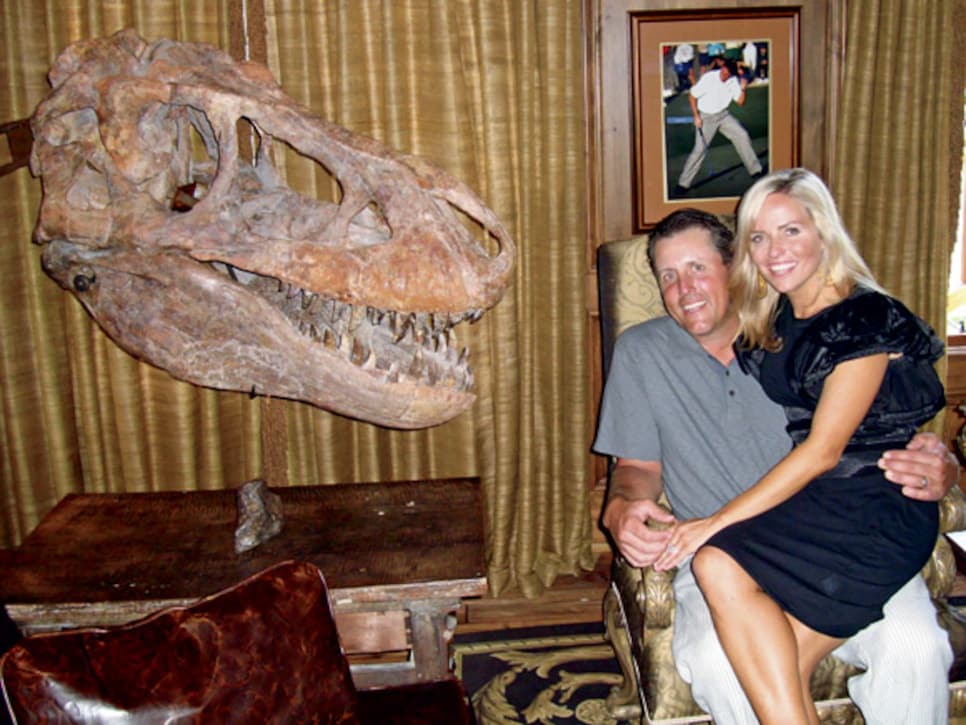 Photo Courtesy of Mickelson Family
Jack Nicklaus and Arnold Palmer were not bosom buddies when they were in their prime. Is this notion that you and Tiger are cool to each other fiction?
What's interesting to me is that there are so many articles in the media about how we don't get along. As far as I'm concerned, we get along fine, especially when we're together, which really isn't that often except at team events like the Ryder Cup and Presidents Cup.
Jack and Arnold were very influential on tour policy as players. Do you see yourself and Tiger in similar roles?
I think the tour talks to Tiger. That's a critical element, and he should be consulted. But if people assume that, before anything goes down, the tour talks to me about my opinion, that's not correct. On the other hand, I believe no one player should have input on the operations of the tour.
No player. Why? Because you're dealing with 200 individuals who are unable to take their personal bias out of the decision-making process. Whenever anything comes up, the first question guys ask is, "How does this affect me? If it's good for me, I like it. If it's not good for me, I don't like it." So you have 200 individuals not thinking about what's in the best interest of the tour. The commissioner should be concerned with the big picture and make decisions without any input from the players. That would make the tour the best-run organization possible, but that's not the way it works now.
For example, the tour should have 20 events where the top guys have to play. Whatever number you want to use. Say, the top 125. As it is now, sponsors are upset because they don't know who will be in the field, and therefore they don't know what they're buying. Same with television, where the ratings are flat or falling off. Fans would love it, too, to have 20 events a year with the top guys mandated to play. Those 20 events would be the four majors, the Players Championship, the World Golf Championship events and 12 others. Problem is, 200 players don't want that to happen. The top 100 don't want to be told where and when to play, and the bottom 100 can't afford to lose the leverage for those remaining 20-plus, or however many, events.
For the 20 events with the top guys guaranteed, sponsors and television would have to pay a premium. That would create a huge discrepancy in purses between those 20 events and the others without the guaranteed top guys. Now, in this economy especially, we've been encouraged to play more often in tournaments that we haven't usually played, and we're going to be scrutinized about it. But with 40-some events now, that just isn't as realistic as it was when there were 27 or 28 events. Our biggest problem on the tour is that we don't own our top revenue-producing events: the four majors and the Ryder Cup. I believe that should change.
If the commissioner were in a position to control when and where players played, as I believe he should be, and if he were able to sell that, he would be able to go to the four majors and the Ryder Cup and say, "If you want our guys to continue to play in your event, you have to pay the tour a certain fee." After all, the players are the product, right? Then you take that new revenue stream and subsidize the 20 or so events where the top guys are not guaranteed to play. Then, the gap between the events is narrowed.
That's some different thinking.
Maybe, but I've talked with a lot of CEOs about this, and also TV executives. I worked on this idea for two years and presented it to Tim Finchem [PGA Tour commissioner]. It was not some fly-by-night idea of mine, but it has been totally disregarded.
You went on national TV after winning the Deutsche Bank in 2007, saying you had "issues" with Finchem about the playoffs. You virtually announced that you would not play the next playoff event -- the BMW in Chicago -- even though you had an outing there two days before the tournament. And you skipped the BMW.
I had to say that because I had been represented to the CEOs of those companies, the sponsors of the four playoff events, as having signed on to play all four. When, in fact, Tiger, Ernie [Els] and I had said from the start that we wanted only three playoff events. That was disregarded, too, and we wound up with four. I talked with some of those CEOs, and I know what they were told about our commitment, that we were on board for all four. The reason I said what I said in Boston was to let the public and those CEOs know that I did not give my word that I would play all four playoff events and then just not show up. I was misrepresented.
When you confronted Finchem with that, what did he say?
It was denied. He said he did not tell the CEOs that I had agreed to play all four. I know what was said in meetings to them by the tour, and it wasn't what was said to me. So I said what I said that day in Boston for the sake of my credibility.
Despite what you said about you and Tiger, doesn't part of you believe that you two guys drive the bus?
Oh, I don't know about that. It might be partly the case today, but that doesn't mean it will be the case tomorrow. And I don't know how many days or months or years tomorrow is. But other people will come along. You mentioned Jack and Arnold. I remember when I first came out on tour, it was Greg Norman and Nick Price. We forget how big Norman was. What a presence he was. I remember one of my first tournaments, Greg threw an orange peel down on the ground and some fan ran over and grabbed it. This is Greg Norman's orange peel! It was amazing how people responded to him. There will always be somebody else, is what I'm saying.
During the winter, Steve Williams, Tiger's caddie, was at an outing near his home in New Zealand and called you a slang term for a male body part, and he added that he neither respects you nor feels respect from you. Where does that stand?
It's over, as far as I'm concerned. Tiger called me after it happened, and we talked. So did Steve. Tiger handled it. Everybody handles things differently. I would handle it my own way, but I can't expect everybody to handle things the way I would.
Are you saying you don't approve of Tiger saying he was disappointed in Williams' remark?
No, I'm not saying that at all. The way Tiger handled it was fine. I have no problem with it.
Besides Williams' characterization of you, what about this matter of mutual respect?
I try to respect everybody out here: Players, caddies, fans, media.
Your response to Williams' remark was that it just made you happy you had a "class act" like Jim (Bones) Mackay on your bag. What would your reaction have been had Bones said something derogatory about another golfer?
My answer would be that Bones, because he's a class act, would not talk like that about another golfer.
You and Bones have been together forever. Why is he so important to you?
He's the best. He's never late; he's a great person; he's smart with money; he's a terrific father and husband. On the course, he's got tremendous insight and ability to read greens. He's also better than me at selecting clubs. If we have a difference of opinion, I'll always go with my gut instinct, because I can live with my own mistake. I can't accept somebody else making a mistake and me going with it against my instinct. That said, when I go with my instinct instead of his, he's right eight out of 10 times. But usually in the clutch, we wind up on the same page.
Who do you enjoy hanging out with on tour?
I enjoy the guys who give me the most grief, and there are four of them I can think of right off the bat: Justin Leonard, Scott Verplank, Joe Ogilvie and Chris DiMarco. Those guys just wear me out, and I love it. Last year in Akron, I was telling a story at lunch about how David Toms and I played together in the 2002 Ryder Cup. Verplank looked up and said, "Did you and David win that match?" I told him, yeah, we won. Verplank looked up again with that smile of his and said, "Was that the last point you ever won at a Ryder Cup?" I had no comeback for that. I still laugh about it. Justin kills me. Very sarcastic, very funny. Ogilvie, Amy loves going to dinner with him because she says nobody kills me like he does.
You hired Tiger's former coach, Butch Harmon, a couple years ago. How is that working out?
I don't believe you've seen the full benefits of my working with Butch yet. The numbers don't indicate the progress I feel, but I feel it happening. My misses are smaller; I'm closer to hitting more fairways.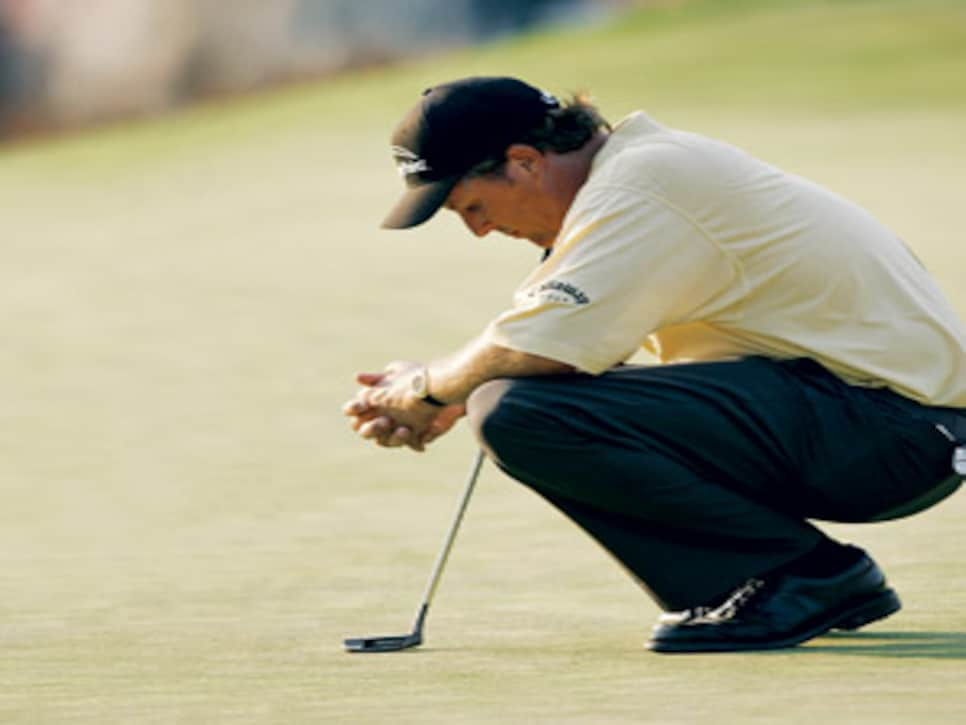 What exactly are you and Butch concentrating on?
My club isn't as far past parallel as it used to be, for one. My leg action is more solid and more consistent. Whenever I hit a bad shot, it's evident in the legs. Which doesn't mean if my legs are fixed that I'll hit a good shot. The width and angle of attack on my swing into the ball is better, requiring less hands. Because of that, the face of the club is squaring up better. I'm able to keep the ball within a much tighter frame, and I believe you'll eventually see me hitting with more accuracy. More fairways. I feel good about where we're going.
How would you rate yourself as a ball-striker?
That's not a concern of mine. The only way to win tournaments is with the short game. Over half your shots out here are within 30 or 40 yards. Ball striking is where I'm trying to improve, yes, but more to eliminate big numbers than make birdies.
What happened to your putting last year?
I putted poorly, is what happened. I won twice but didn't do as well as I wanted to in the majors. Finally, right before the Ryder Cup, I went to Callaway with Dave Pelz and used some laser devices. I found my blade was open 1 degree, at address and impact. That might not hurt from three feet in, but from four or five and beyond, it makes a big difference. I didn't make many 12- to 20-footers, and that's the key to scoring.
You played well at the Ryder Cup, then finished a stroke off the lead the next week at the Tour Championship. You looked like you were having a ball at the Ryder Cup. Do you have to win to have fun, or do you have to have fun to win?
A little of both. The European team looked to me like they were having fun at Louisville, but even though they enjoyed the week, they lost and took a lot of hits for it. We had a lot of fun in Ireland in 2006. Tom Lehman was an awesome captain. But we really got spanked.
The perception is that the Americans don't have enough fun at Ryder Cups.
Why is that? I have fun, win or lose. Of course, Louisville was really fun, and it was really important we won -- for the event and American golf. I'm thinking even the Europeans think it was probably a good thing.
Should Paul Azinger have been retained as captain for 2010?
Yes, but I think Corey Pavin will be a great captain. Paul did a great job. It would be a good idea if assistant captains became the next captain, if that could be organized. That way, every new captain would have experience. Ultimately that would take away a captain's ability to designate his assistants, because the PGA of America would have to dictate who's being looked at as the next in line. I'll say this: On Sunday night in Louisville, we were all for Paul coming back.
What about this rumor that you were Hunter Mahan's campaign manager to get him named to the team?
We have some great young American players, and he's one of them, that's for sure. We've had some terrific international players for a while. Sergio Garcia, for instance. But from that period when our 20somethings weren't supposed to be all that special, now we've got a bunch of them. Like Anthony Kim, who's got a lot of talent in addition to being very gutsy and very funny. As for Hunter, yeah, I felt of the guys who didn't make our team on the top eight of the points standings, Hunter was the best of the group. I talked with Paul about Hunter, but Paul might have been thinking the same thing. Hunter was quoted last year saying some things about the Ryder Cup, but we all make mistakes. We all say stuff we wish we didn't say.
He criticized the Ryder Cup without ever having played in one, realized he was wrong, and apologized. Perfect. He's a good person and an incredibly talented golfer. Talk about great golf swings and great ball striking. Plus, he knows how to hit shots.
Besides Kim and Mahan, who are the other young players from around the world that you like?
Adam Scott, for one. He has a phenomenal golf swing. It's amazing to watch him play. I don't know why he hasn't won more, but it's inevitable he will. Plus, he's another of these young guys who attract galleries. People will come out to watch him play.
At the end of last year, Sergio briefly passed you as No. 2 on the World Ranking. What happened?
Sergio passed me because he played better. Rankings don't lie. There are more discrepancies back in the list, from 50th place maybe to 100th. Trying to determine who's No. 79 and who's No. 80 isn't like determining who's No. 2 and who's No. 3. Meanwhile, the tour needs guys like the ones I've mentioned. We need to build campaigns around guys like Camilo [Villegas], Adam and Hunter. That's our future.
There have been various reports about you joining the European tour. True?
The European tour is a great opportunity to have golf grow on a worldwide basis. I don't think the PGA Tour is threatened, although the growth of golf in the United States has been flat. We're just not getting more people into playing, so the growth is not accelerating the way we'd like it to. As for me, the European tour just isn't a good fit now. Last year was stressful for the family and me because we didn't spend as much time together as we'd like.
A few years ago, Mark O'Meara mentioned that his pal Tiger might retire sooner rather than later. Where do you think you'll be in five years?
I have no idea. Five years or 10 years, who knows? I have a lot of things going on, besides family, but it's not like I have a master plan to leave competitive golf. I love it. I love the competition. I really enjoy it. But I also enjoy spending time with my family, and our oldest daughter, Amanda, is 9. That means she's halfway out the door to college.
Do you ever see yourself in the broadcast booth?
Could you be the next Johnny Miller or Nick Faldo? No. I don't want to be a commentator. I enjoy mental challenges. I enjoy starting things; I enjoy being creative. I really enjoy business. I started a business a couple years ago, in fact, that will be up and running soon.
It's a business that will really help people. It will give every American access to an immediate retirement account, tax-free, and a life-insurance policy. I used the credit-card platform, and it's based on a rewards program. Look at all the people in this country who get into these rewards programs for frequent-flier miles, for instance, when 37 percent of Americans don't even fly. Or you collect points to get things like digital cameras. We've patented this idea, the technology has been built, and the software has been designed. We'll partner with a bank, or hopefully more than one bank, to manage it. Sometimes I don't sleep at night, and I just come up with these ideas.
You play golf for a living, you have a wife and three children, you work for a number of companies, and you stay awake at night thinking about frequent-flier miles?When Amy rolls over in bed and sees you staring at the ceiling, what does she say?
What can I say? She tells me to turn off the TV and go back to sleep. [Laughs.] That's the other thing: I might have a TV show on, and then I'll start thinking about one of these ideas of mine, and I wind up having to watch the TV show all over again because I haven't really watched a thing -- I've just been spaced out for an hour. I've got another idea about biofuels and health care. Want to hear it?
Soon. Let's hit some other topics. Didn't you once tell Alex Spanos, owner of your beloved San Diego Chargers, that you would one day like to buy his team?
Well, first of all, I do love the Chargers. I've rooted for them since I was a kid and go to as many games as I can. At their playoff game against Indianapolis in January, I lost my voice cheering for them. I would love to be involved in pro football somehow. It's a great sport to get involved in, but I've never had the opportunity. As a long-term goal, yeah, that would be one of them, to have some sort of ownership interest in the Chargers.
What about baseball? The San Diego Padres were recently on the market.
Baseball economics are tough. Economically, all teams in the NFL have a chance to be successful, whereas in baseball, there are just a few. It's the same thing with basketball. You have a salary cap in the NBA, but it's a very soft cap.
How has the economy affected you?
Everybody has been affected. But as things are now in a recession, a person's greatest asset is his or her job. Not the house, the job. The job enables you to pay your bills. Fortunately my job is secure, at least for now. I have a lifetime exemption on the tour, and the tour, as tough as times are, has a number of its contracts locked up for a while. Also, my business relationships have been with companies that are successful on a global level.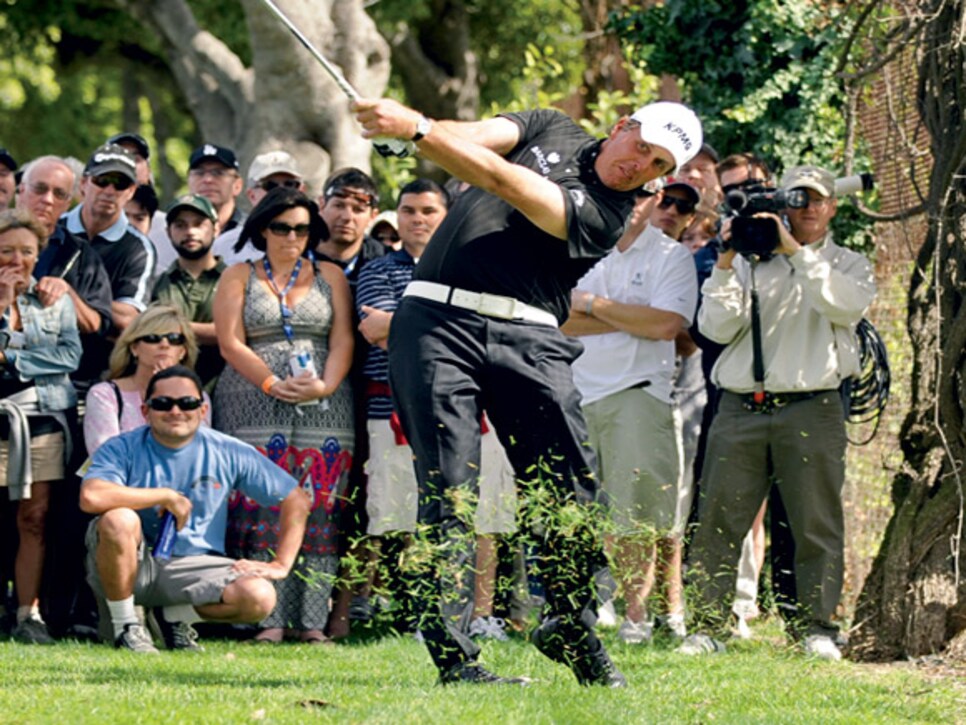 You just bought a new private jet to replace your old private jet. You enjoy expensive wine, and workers relying on tips love to see you walk in the door. Would it be accurate to say you enjoy your money more than most golfers?
Let me tell you a story. When I first came out on tour, a very smart gentleman by the name of Steve Taylor gave me some great advice. I started talking about buying an airplane when I was in my 20s. He told me, "OK, you want to have a $1 million airplane -- but it's really a $10 million airplane." I asked him what he meant. He said, "If you take that $1 million and put it away and save it and invest it, it'll wind up being $10 million. So, it's important in your first 10 years out here to make your money work for you." I listened to that, and another rule of his: a third, a third, a third. Spend a third. What's the point of having money if you don't spend it? Then put a third in safe investments, and a third in higher-risk, higher-reward stuff. So, I waited until later to get a plane, and I was able to protect my family.
When you were a kid, you just dreamed of getting a seat on a plane instead of the entire plane, correct?
My father was a commercial airline pilot. He had to retire early because of diabetes, but he was vested enough to secure nonrevenue tickets for family members. When I got to the age that I started traveling for tournaments, I used those tickets. Problem was, you could always get bumped. If I called ahead to see whether a flight was open, by the time I got to the airport, maybe it wasn't open. If the flight before was canceled because of weather or whatever, all the overflow would go on the flight I wanted, so I was out. I spent a lot of nights sleeping in those hub cities like Detroit, Minneapolis and Memphis. I was big in the Memphis airport.
So, the perception of you growing up with a silver spoon is wrong?
Absolutely. My mother worked, and she had to take a second job to support my junior golf. I stayed in private housing whenever I could, but I think she said she figured out what it cost for me to play during the summer, and it was something like $5,000. That's a lot of money. When I was 8, I started working on a driving range, picking up balls. Golf was too expensive then, but if I worked at the range, I could practice for free. So, no, I wasn't a country-club kid. But I had fun, and I appreciate everything I have now, believe me.
Did you once run away from home on Thanksgiving?
Two different stories. I was 3½ and begging my dad to take me to play golf. He thought I was too young. So I packed my Flopsy stuffed animal and a bunch of balls into a suitcase, put my clubs over my shoulder, and ran away. But I asked my neighbor for directions to the course, and she knew something was up. She told me to take four left turns. I did, and when I returned to where I started, which was home, my parents were waiting.
And the Thanksgiving story?
My parents were very strong on education, family and the idea that golf was a reward, not something I was entitled to. Thanks-giving Day 1985, I was told would be a family day -- no golf. But we weren't going to eat turkey in the morning, so I called my neighbor, Chris Peters, and paid him $5 to take me to the course. I couldn't drive yet; he could. I didn't bother paying him for a return trip, because I had a feeling I would be covered, if you know what I mean. Well, I hooked up with some guys and played maybe three holes. Then I looked up and saw my parents. "Time to go, fellas." My parents were furious. But on the ride home, I remembered an old line from Ben Hogan: Every day you miss practicing, it will take you one day longer to be good. I said, "If you don't take me to the golf course, I'll just have to find another way." Mom and Dad just looked at each other. They never said a word.
How do you keep your children from getting spoiled?
I don't know if Amy and I are succeeding, but we know it could be an issue, so we try to stay on top of that. Amy has done a great job. When we go to China, for instance, she takes the kids not only to the great places but shows them areas of poverty. I think the kids get it.
What else do you do with them since they'll never see the inside of an airport?
We have a Start Smart program in San Diego. Every year, we bring in 1,500 kids to Walmart and get them six new pairs of pants, six shirts, two pairs of shoes, socks, all their school supplies. So the kids can feel good about starting school with stuff they might not otherwise be able to afford. And our kids are right there, helping out. Do your children know you're famous? A little bit, but not totally. Every once in a while, they'll come running in and tell me, "Daddy, Daddy, you're on TV!"
What's your answer when someone suggests playing golf now and being a humanitarian later?
If the opportunity to help is there now, take advantage of it, because it might not be there later. Amy and I have worked with ExxonMobil getting kids more inspired in sciences. We can't wait. We're graduating two million fewer scientists and engineers than China and India. Our country became great in part through scientific breakthroughs, developing medicine. Just building things. In 15 years, unless we get back to that, our role as a superpower will be in jeopardy. We have to start today.
You work with the armed forces, too.
We're planning a three-day event with Justin Timberlake. Probably at the TPC Scottsdale. Golf and a concert. There are six military charities supported by the tour, two of which I'm very involved with: Homes for Our Troops, which modifies homes for soldiers when they come back from war injured, and Special Operations Warrior Foundation, which puts kids who have lost a parent through college.
When you develop all your novel ideas, does it take your mind away from golf?
Are you maybe too analytical on the course? I think these ideas are great for my golf, because they're a distraction. When I'm playing golf all the time, I can't wait to get away. When I'm not playing, I can't wait to get back into it.
Wouldn't it be easier if you just went out and bought a franchise for your favorite burger spot, In-N-Out?
Don't think I haven't tried. I tried five years ago, but they're all family-owned. In-N-Out makes eight figures a month. I would have put one in my back yard if I could have bought one. As it is, the nearest one to our house is about 25 minutes away.
So, that's really too far away to be practical for you to go there for lunch.