News
Phil Mickelson just did something he'd never done in 2,200 rounds on PGA Tour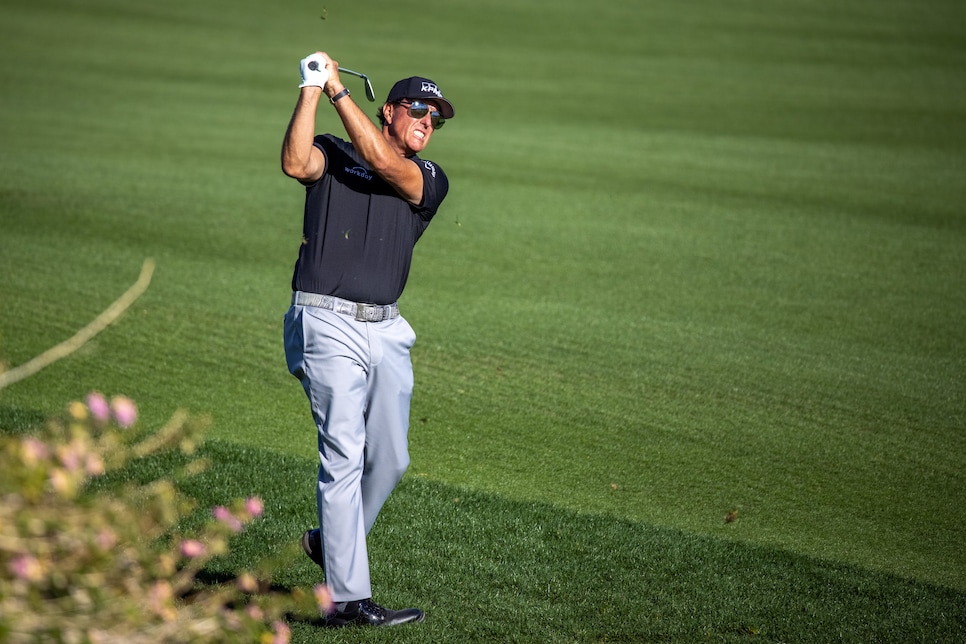 Phil Mickelson hits his second shot on the ninth hole during the first round of The American Express.
Icon Sportswire
This is Phil Mickelson's 30th year on the PGA Tour. And he's never been known as the steadiest player in the world, so Lefty's done virtually everything there is to do on a golf course.
On Friday at The American Express, the 50-year-old did something in his 2,201st round on the PGA Tour that he's never done before: He parred every single hole on the PGA West Stadium Course.
They were pretty much all tap-ins, too. Apart from a 16-footer for par on the par-5 fifth and a 15-footer at the par-4 12th, all the par putts were inside eight feet.
Lefty had made 17 pars in a round five times before, but he had never gone the full 18 for 18—which the Internet is deeming a "Full Faldo," a nod to Nick Faldo's 18-par round that won the 1987 British Open at Muirfield.
When Mickelson's feat was brought up after the round, he deadpanned, "Surprising, because I really try to hit fairways and center of the greens and just make easy pars and for that to be the first time, it's really shocking."
He wasn't happy with the score or missing the cut by six shots, but Mickelson contended he was encouraged.
"There's a lot of good things to take from it—the way I'm driving the ball, my iron play. There's a lot of positives," he said. "But if you look at the scorecard, it's pathetic. I'm not denying that. But I think that it's a little bit closer than it looks."
Hey, the man made personal history. And that's why we love golf. An otherwise nondescript day and a tournament that could quickly fade from memory now becomes a round he'll never forget.