Phil Mickelson doesn't have anything to prove at this stage of his Hall of Fame career, but he keeps proving things anyway. Perhaps foremost is his ability to contradict the widespread notion that golf is thoroughly in the hands of the millennials. Indeed, with an impaired Tiger Woods receding from the landscape, Mickelson is arguably the game's most intriguing active player.
That can only be said because Mickelson, at 46, remains among the best in the world. He sits at No. 13 in the World Ranking after finishing a cruel second in the 145th Open Championship at Royal Troon. Mickelson's 17-under-par 267 was historic—for its excellence as well as its ultimate inadequacy.
But for Henrik Stenson's remarkable 20-under onslaught, Mickelson would have won his second claret jug and sixth major title. Then again, had it not been for Jordan Spieth's performance in the 2015 Masters, or Rory McIlroy's in the 2014 PGA, or Retief Goosen's in the 2004 U.S. Open, or David Toms' in the 2001 PGA, etc., etc. … You get the idea.
Fortunately, the mercurial left-hander has had little time to stew over the latest entry in his thick log of poor timing. This year's compacted major schedule brings the 98th PGA Championship to Baltusrol Golf Club in Springfield, N.J., just 11 days after the last putt dropped at Troon.
"I am playing the best golf of my life. I truly believe that I still have some big wins in me if I keep playing like I have been." —Phil Mickelson
Baltusrol represents a rare opportunity for Mickelson to renew acquaintances with a major venue other than Augusta National where he has won a major. Eleven years ago, Mickelson got up and down for birdie on the 72nd hole at Baltusrol's Lower Course for his second of five major titles and his only PGA victory.
"I've got a lot of special memories going back to Baltusrol in '05, and probably that we don't have a month to wait between majors is a good thing for me," Mickelson said on Sunday evening at Troon. "I'll try to look at the positives and take that into Baltusrol and keep my game sharp over the next week or two as opposed to going home and taking some time off."
Though Mickelson has failed to end the longest winless drought of his career, dating to the 2013 Open Championship at Muirfield, his game has been sharp most of the year. Revitalized under the tutelage of new swing coach Andrew Getson, Phil has thrilled from Pebble Beach to Memphis, two tournaments were he was also runner-up.
There have been notable clunkers at the Masters, Players and U.S. Open, all truncated two-round visits. But his resiliency is remarkable. At last month's WGC-Bridgestone Invitational, Mickelson presciently said he expected to play well in upcoming events.
"I am playing the best golf of my life," said the player who has won 42 PGA Tour titles, mostly in the Woods era. "I truly believe that I still have some big wins in me if I keep playing like I have been."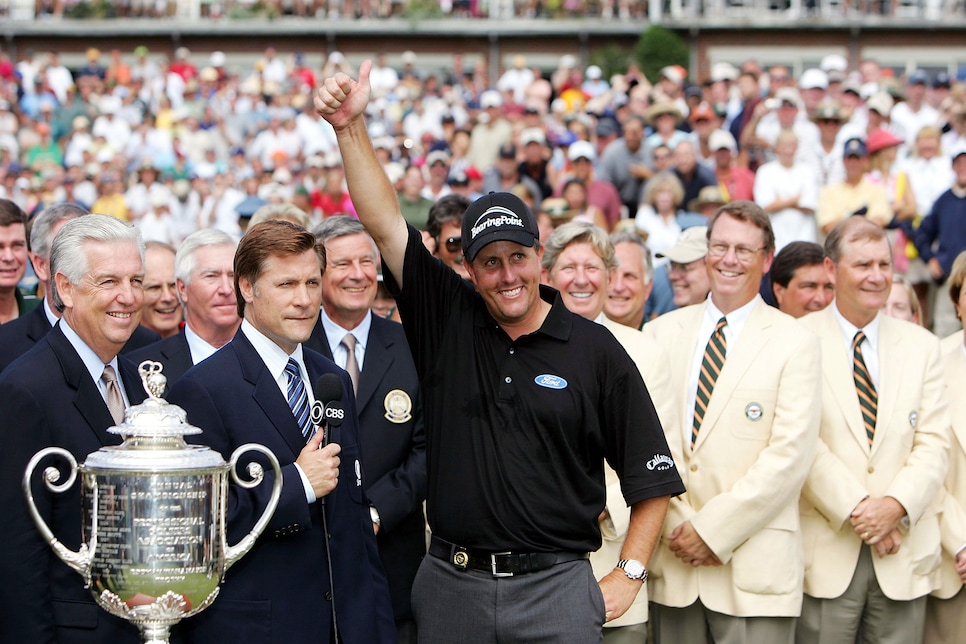 Mickelson lost Duel In the Sun II, but his standard of play puts the law of averages in his favor. It says something about his skill and enthusiasm that in his 25th pro season, Mickelson is second on the tour in scoring and third in U.S. Ryder Cup points, making him a lock for his 11th appearance, which would tie Nick Faldo's record. Mickelson is the oldest player to shoot 63 in a major, which he tallied in the opening round at Troon. Based on the excruciatingly slow lip-out of his 18-foot birdie putt on the 18th hole, it should have been a 62. No less an authority than Jack Nicklaus said Mickelson got "robbed."
The PGA of America obviously recognizes Mickelson's continuing relevance. He is paired in the first two rounds at Baltusrol with defending champion and World No. 1 Jason Day and No. 4 McIlroy, the 2012 and 2014 winner.
One of Mickelson's most endearing qualities is an irrepressible love for golf evocative of Arnold Palmer, whose example long ago inspired Lefty to unfailingly sign autographs after his rounds. And no one since Palmer has seen such love so unrequited: With his 11th runner-up finish in a major, Phil passed Arnold for second all time behind Nicklaus with 19.
Mickelson immerses himself in the game as Palmer did, playing frequently at home and tinkering with golf clubs. Lefty did the grind himself on the new 64-degree wedge he wielded in Scotland. His practice rounds are the most-watched at any tour stop, his regular Tuesday four-ball a trash-talking testing ground for primarily younger American players whom Mickelson seeks to steel for future pressure moments like the Ryder Cup.
Of course, no one will have more pressure at this fall's matches at Hazeltine National near Minneapolis. Mickelson's critical remarks of Tom Watson's captaincy in the wake of the American loss at the 2014 matches at Gleneagles were the first sparks that ignited the creation of the easy-to-malign Ryder Cup Task Force.
Mickelson's rejoinder to critics is that the task force will have had nothing to do with the outcome of this year's match, win or lose for the Americans. "I care more about long-term success, about having continuity and giving us the best chance to succeed," he said at the WGC-Bridgestone. "It doesn't mean we will, but it gives us our best chance. Let's see where we are 20 years from now."
Twenty years from now Mickelson still might have a hands-on role. Even in his 60s, it's easy to see his enthusiasm for the game and appetite for competition remaining vibrant. He'll be a willing elder statesman, out front and active.
It's why he plays as he does, even if he has nothing to prove.