Hot topics
PGA Championship 2021: Wind, military service, the Olympics and the other best quotes and topics from Tuesday's press conferences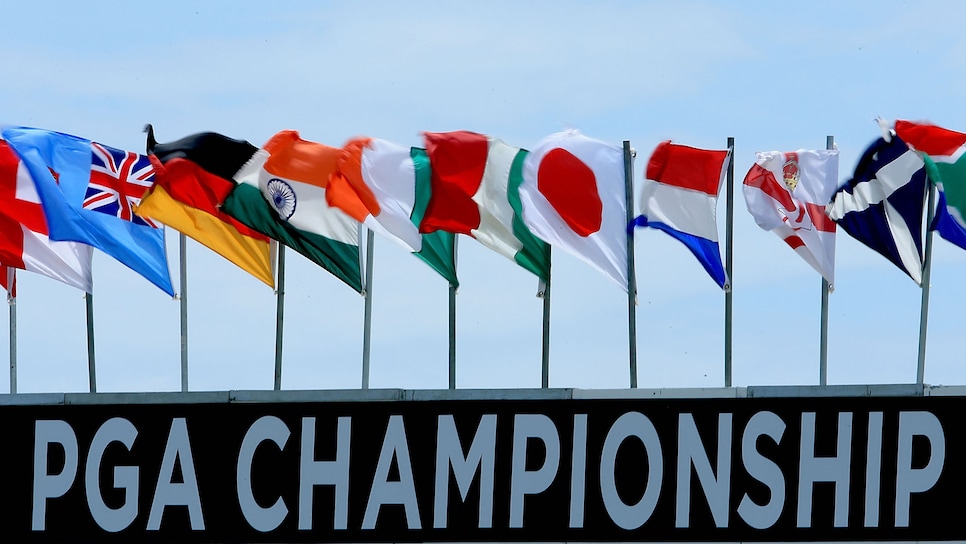 Flags are blown by the wind during the 2012 PGA Championship at Kiawah Island.
David Cannon
KIAWAH ISLAND, S.C. — The pace in the PGA Championship interview room on Tuesday was far more brisk than the tournament play that's to come later this week. A whopping 14 players and a PGA of America delegation that included CEO Seth Waugh took the stage, and the brutal windy test that is the Ocean Course was a prevalent theme. Multiple players cited the five-plus-hour rounds that the wind and length of this Pete Dye course will yield through the first two days.
But as is often the case during these Tuesday parades, the topics ranged from threats to the PGA Tour from alternate leagues, rangefinder usage, the Olympics and mandatory military service, among other digressions. There were light moments, tense moments and revelatory moments. Here are some made-up superlative categories from a busy day at the microphone.
Most ubiquitous topic: wind
If you're a fan of wind, this is the PGA Championship for you. You may have heard that the course is pushed up against the Atlantic Ocean and wind is going to impact play all four days, with a forecast for a change in directions coming on the weekend.
Players were peppered with their thoughts and strategies for playing in the wind throughout their press conferences. In total, the word was used 158 times—the most (36!) during Xander Schaueffele's shortish time with media and the least (1) with Will Zalatoris and Brooks Koepka, who had to talk almost exclusively about his health. It was such a constant topic, let's just break it out into two sub-categories:
Sounds best wind-prepared: Justin Thomas
While Jordan Spieth had yet to see the course and several players had seen only one half of it, JT came into Kiawah early and has seen it in its entirety. He is also one of the few to play it in multiple wind directions.
I'm very, very happy and also fortunate that I came Sunday morning to play because it was a totally opposite wind than it's been the last two days. I played 18 on Sunday and played nine the last two days, so I've seen the golf course in two completely opposite winds. I think that's definitely helpful for me who didn't play in 2012.
Simplest wind strategy: Rory McIlroy
Adam Scott discussed how much the wind can throw a player off his process or take him out of his game. Players repeatedly expressed just how daunting the task is just in practice rounds and will certainly be on the weekend. McIlroy, the champion here in 2012, was asked to go through his adjustments for playing in these conditions and opted to go in another direction.
I've been playing golf for 30 years, so I sort of—it's automatic. I don't really think about it. I get the wind, I get the number, I try to visualize what I'm going to do, and then I try to replicate what I have just visualized. I think in practice rounds, as well, I try to keep my focus by playing one ball and by trying to shoot a score and by trying to get into—just get into play mode a little bit. Yeah, on days like this you can almost take on too much information. … It sort of goes back to playing golf as you did as a kid, without a yardage book, and just sort of eyeballing it and playing it a bit more by feel.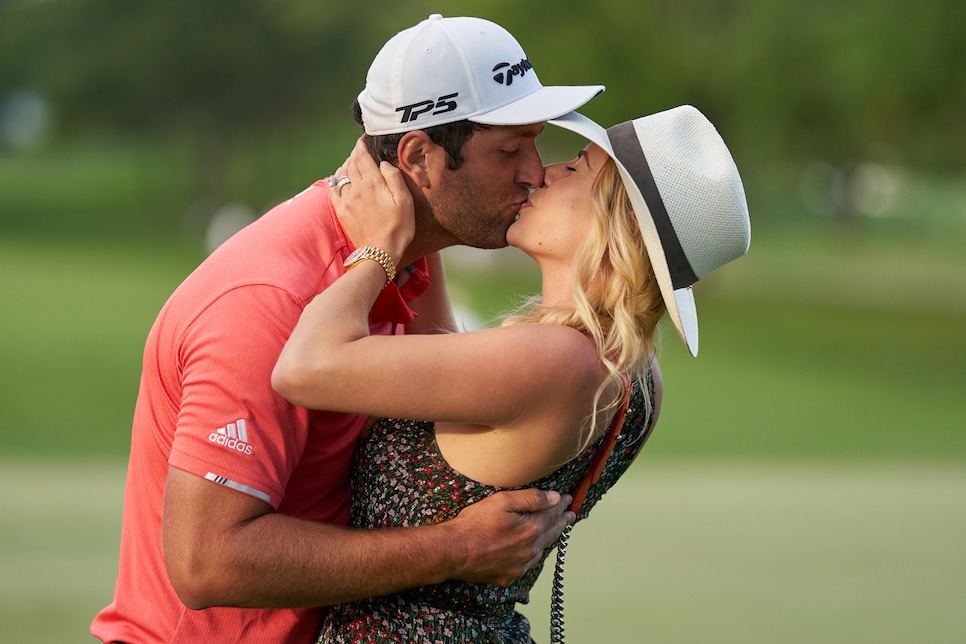 Jon Rahm celebrates with his wife, Kelley, after winning the 2020 BMW Championship.
Robin Alam/Icon Sportswire
Most "perspective": Jon Rahm and Lee Westwood (tie)
There's an ongoing bit among the golf diehards that any time a player becomes a new parent, the audience is hammered with cliches about the new "perspective" that pro has now as a father or mother. Jon Rahm got it at the Masters, which he played just days after becoming a first-time dad, and that was a theme again today. The Spaniard was adamant about the glow of fatherhood changing not only his life, but career as well.
I get home and I forget about what's going on around me. I forget that we are at Kiawah Island, I forget that we are at a major, and I forget what the mission is. It's also really refreshing for the mind. The feeling of presence that I have when I'm with him is unique, so it can only be a good thing for me as a person and as a career.
Such perspective! But a challenger for this made-up award came in the form of Westwood, whose perspective has evolved and improved with age.
Q: Are you doing anything better now than you did 10 years ago on the golf course?
WESTWOOD: Yeah, I think not caring. Just playing, taking each shot at a time on its merits. I think a lot clearer now. I have a much better perspective now than I did 10 years ago.
Follow the veteran and wise Westy: care less, people.
Most regrettable comment that went absolutely too far: Rory McIlroy
McIlroy has said again and again how much events without fans impacted him, and he was quick to cite the crowds in Charlotte for his victory at Quail Hollow two weeks ago. But this is just too much, too generous, too benevolent, and we have to draw the line somewhere.
Yeah, love the mashed potatoes guys again. I don't even care about the stupid comments. I'm just glad that everyone is back here.
Most efficient response: Brooks Koepka
The two-time PGA champion rarely says more than he has to just to fill up airtime or the transcript. Questions about his health and continued recovery, which he's been told should take another six months, consumed almost the entirety of his press conference. But players were also pressed throughout the day for their thoughts on the challenge of the 17th hole, and Brooksy did not seem interested in even providing any initial thoughts or humoring the inquiry.
Q: Un-health related, but could I get your thoughts on the 17th hole?
KOEPKA: I haven't played it yet.
And that was that—a brief moment of silence, laughter and moving on to talking about his knee again.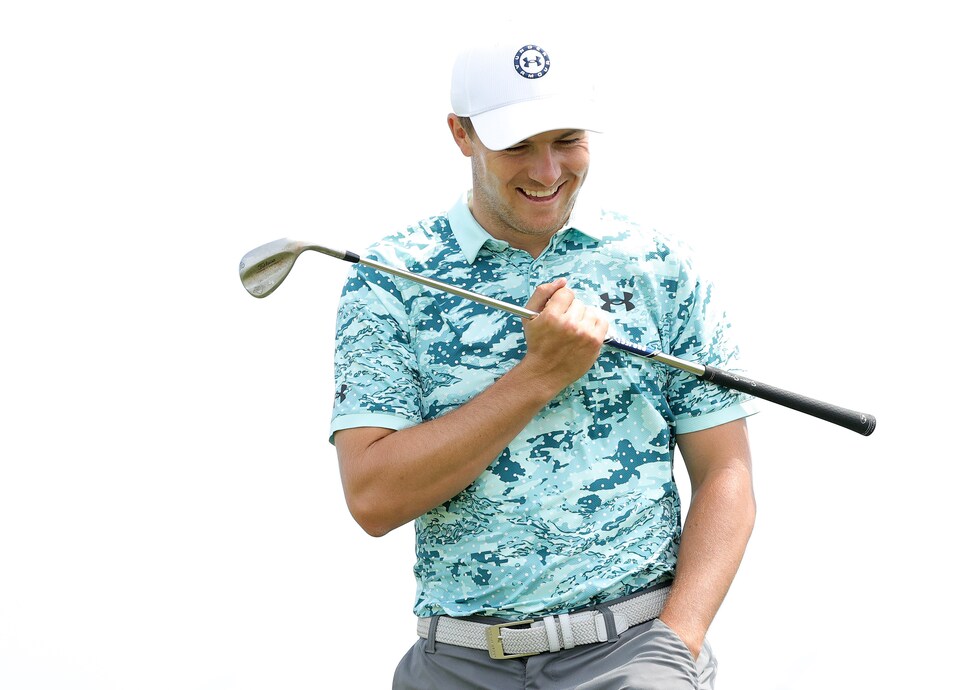 Jordan Spieth laughs during his practice round at Kiawah Island.
Stacy Revere
Most contemplative: Jordan Spieth
As is always the case, Spieth was expansive in his comments, much of which focused on his struggles of recent years and success of recent months. As he talked through his process of finding a swing to pull him out of the doldrums, and then getting more comfortable with it, Spieth was asked if the goal was to eliminate all thoughts of poor shots and memories of uncomfortable feelings over the ball. He quickly replied with a big-picture self-assessment. There seemed to be a bit of self-discovery even as he worked his way through the answer.
Q: Is the ultimate goal eventually to not have any of that scar tissue remaining?
SPIETH: No, I mean, I think it shapes kind of who I am. I've proven to be very human. It's kind of fun. When I'm on, when I've been on in the past, I've won tournaments by eight shots out here, and that's obviously the goal.
But kind of the ability to kind of shun off a bad shot and come back the next hole and make a long putt or something like that, just the grind, is enjoyable when you're kind of on the positive momentum side of it. I don't think it's getting rid of it. If anything, I step up confidently and appreciate kind of where I've been, and it just makes me even more excited to kind of embrace those shots and pull them off, and that's an even bigger confidence boost than if I just didn't have it at all, I guess.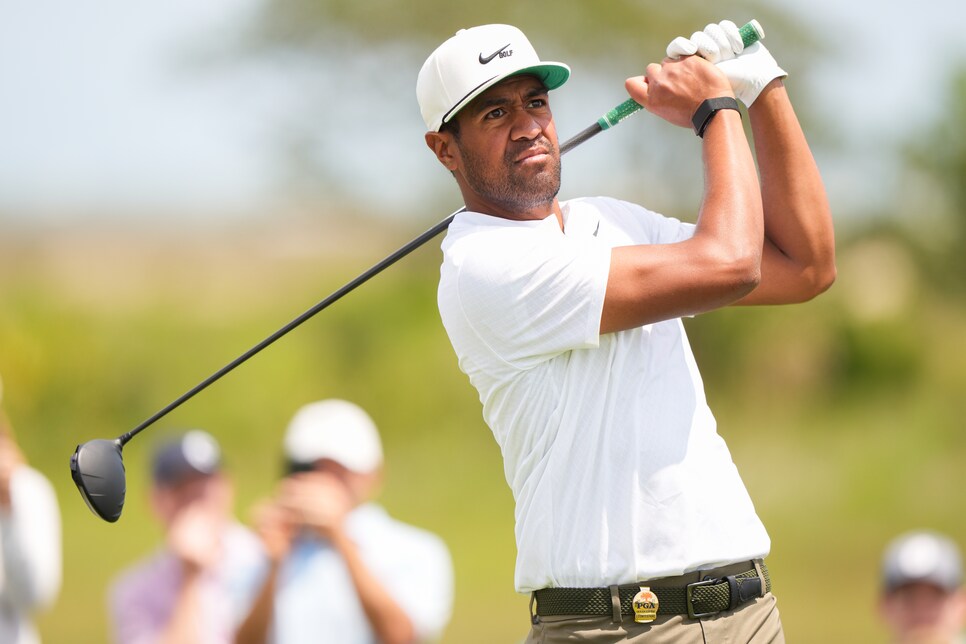 Tony Finau hits his tee shot on the ninth hole during a practice round of the 2021 PGA Championship.
Darren Carroll/PGA of America
Biggest surprise: Tony Finau
Finau apparently missed the memo on the allowance of range finders during competition this week.
Q: This week you get to use the yardage devices as well as your book. Which one would you rely on more?
FINAU: Yeah, you mean like during the tournament we're able to use a … we really are? I didn't know. We can use our range finders during competition?
Q: Certain facets of the range finder operation, yeah. No slope.
FINAU: I didn't know that. I haven't had time to think about it.
Most flummoxed: Xander Schauffele
All these players can dodge and filibuster with the best of them, but Schauffele was stumped and caught off-guard when pressed about a hypothetical of another player asking his dad (and swing coach since he was a kid) to work with him.
Q: How would you feel about another player working with him?
XANDER SCHAUFFELE: Just absolute betrayal (smiling). I'm just kidding.

XANDER SCHAUFFELE: It depends on who it is.
Q: Are you surprised that others haven't considered the success he's had with you?
XANDER SCHAUFFELE: These are interesting questions that I haven't been really asked.
Now another player out there needs to do this and put this to the test—maybe you're taking your competition off his game.
Top new nickname via Will Zalatoris
Apparently, the defending PGA champion, Collin Morikawa, has a nickname among peers and former Walker Cup teammates that we'd yet to hear until today.
We've always joked about this on the Walker Cup team, that when Collin gets in his–we call it "Blackout Collin"—where he just goes on tears, winning amateurs by seven and eight and does things like hitting drivers under the gun to eight feet or whatever he did last year at Harding Park.
Henceforth, when he gets on a run, it's Blackout Collin.
Most divisive subject: The Olympics
It's not a controversial or new subject, but there was split opinion in the interview room on playing in the Olympics. Westwood is opting out of it (even if he'd qualified) because of family commitments and a busy playing schedule around that time. It sounds like he's ready to play in Memphis and not Tokyo. Thomas and Rahm, on the other hand, expressed an eagerness and dream-come-true sentiment on the subject of playing for a gold medal under their nation's flag.
Most incredulous: Jon Rahm
The Spaniard was unfamiliar with the distinct possibility that Sungjae Im may have to leave golf for mandatory military service in Korea.
Q: Can you imagine what kind of pressure Sungjae Im would feel, that if he doesn't win a medal he goes into the military?
RAHM: Wait, seriously? I'm sorry I'm laughing, but is that serious?
Q: Yeah, that's the one way to be exempt from mandatory military service is to win a medal at the Olympics.
RAHM: Well, I would say if we're fighting for fourth and third place, I'm open for bribing if he needs me to make a three-putt on the last hole. We can always talk about it. I like Korean food. We can always talk about it. That is very different, right, because he's going to be playing for—just to be able to have a chance to be—fulfilling his dream, which is play golf on the PGA Tour. It's not easy to do, especially coming from a different country. I feel for him that those are the two choices, either win a medal or go to military service, because even if you end up in the nicest branch of the military it's still one or two years he can't play golf. That's a big setback.
Best 2021 PGA development: The return of the long iron
The modern PGA Tour rarely requires the best in the world to use long irons. It's a driver-wedge game and the top-ranked players in the world, who are also often the longest, often do not dip down below 6- and 7-irons. This week, both wind and length, and even if the course is not tipped out, will require frequent use of woods, hybrids, and long irons on every length of hole. A sampling of long-iron testimony from the microphone so far.
RAHM: Yesterday from 14 on, I think the shortest iron I hit into a green was a 5-iron. I'm not usually the shortest hitter. I was playing with Zach Johnson, and I think he pulled a head cover on every single hole except the par-5 16th, coming into the green.
ZALATORIS: Even though I'm hitting 3- and 4-irons into basically the last five or six holes, that favors me because I hit it far, and that means guys are hitting more club than me.
FINAU: 14 is a par 3. I hit a 3-iron from the back tee. It was more like my driving iron, which I flight about 255 yards. So I had to hit that club on 14. 15, I hit 4-iron into, which is a par 4. 16 is a par 5; I hit driver, 3-wood, and it was about 80 yards into the green on a par 5. 17, that's the only tee we played up. I hit a 4-iron into that green, and then driver, 3-iron on 18 from the back tee. I'm not used to hitting a lot of long irons, mostly into par 5s, not par 4s, so I think that gave me a little bit of a taste of what it could be like this week.
KEVIN KISNER (on the 17th hole): Lord hope that we're going to play a tee up. Today we played it at 202 from the front edge of the back box, so we were trying to hit a 235-yard shot over water to an area about 13 yards wide. I tried to hit a 7-wood; was unsuccessful. That's not a very easy shot into the wind. Depending on where they play it and where the flag is, I think you have a range from 5-iron to 3-wood. Sounds fun, doesn't it?
ADAM SCOTT: I don't know how holes get more difficult than that [the 17th], and now at the moment it's straight into the wind, and I've been hitting 4-irons and 7-woods and briefly discussed hitting a soft 3-wood in to see how that feels.
It is a long course, but the wind—when you stand on 16 and it's 608, it's playing like 750, and it's probably numbers that we'll never hopefully see on golf courses. But that's what it's playing like.
Most staunch I-dare-you comments: Justin Thomas
With that wind and the variety of tee boxes, the PGA will likely move many tees up this week. Thomas threw down a bit of a gauntlet, albeit a sensible one, on those setup choices.
THOMAS: I noticed it last week when someone sent me a scorecard and I saw that the back nine was 4,000 yards, and I think I actually laughed out loud when I saw it, because I was looking at the numbers. They can't possibly play it that long. Unless they get a day where there's absolutely no wind. The holes that are going to be back downwind when it comes back into the wind, they just can't—they can't play 14, that par 3, back if you have this wind today. Guys are going to be literally hitting driver on that hole. Unless the PGA wants seven-hour rounds, I wouldn't advise it.