Champion's defense
PGA Championship 2021: After Round 1, Kiawah seems like perfect golf course for Collin Morikawa
Reigning PGA champ Collin Morikawa looks competely comfortable in shooting a 70 in first round on the Ocean Course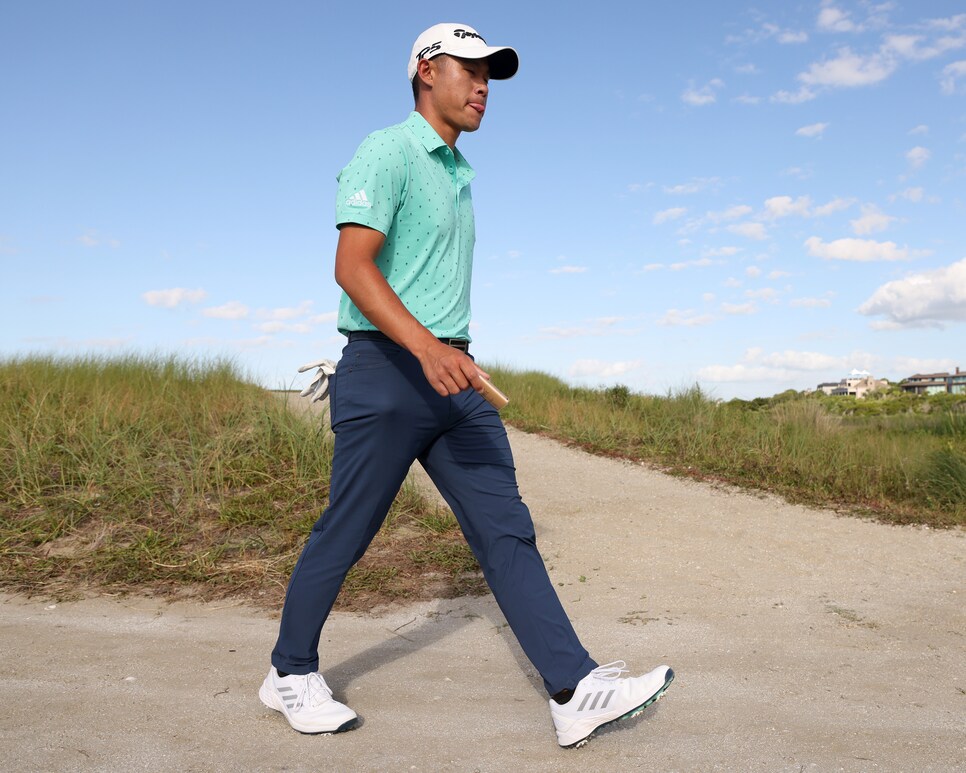 Collin Morikawa walks to the 10th tee during the first round of the 2021 PGA Championship.
Jamie Squire
KIAWAH ISLAND, S.C. — The course-fit game is a fickle business, dangerously close to fools-errand territory. Bryson DeChambeau was a popular pick to miss the cut at Winged Foot, and we know how that turned out. Every player capable of winning a PGA Tour event can play well at any golf course. It may be more likely at certain places than others, but it can happen anywhere. A "ball striker" can have a hot putting week, and a "short-game wizard" can flush it for four straight days. This may be the hardest sport of all to handicap.
Collin Morikawa, for example, is known as perhaps the premier iron player in the world. But the biggest win of his life, at last year's PGA Championship, was largely the result of a torrid week on the greens—he led the field in strokes-gained/putting at TPC Harding Park. All this to say, take the following declaration with a whole handful of salt: After one round of this PGA Championship, Kiawah's Ocean Course looks like an absolutely perfect golf course for Collin Morikawa.
The defending champion opened with a rock-solid two-under 70 on a breezy but not that breezy Thursday morning, an ideal start to his first title defense as a professional golfer. (He's won three other times on tour; one was an opposite-field event he skipped the next year, one a one-time COVID event, the last happened just a few months ago). He jumped into red figures on his second hole of the day and stayed there, adding four more birdies to offset three bogeys.
"You just have to hit quality iron shots," Morikawa, the tour leader in SG/approach, said of the keys to Kiawah. "Didn't really make too many mistakes, and the mistakes I did, they're really easily fixable."
It's just not that complicated; nothing in Morikawa's game is. In his two years as a pro, Morikawa has already emerged as the type of ball strikers other players stop to watch on the range. He can hit them high and he can hit them low, and what he gives up in distance—at 294.2 yards average, he ranks 125th on tour—he more than makes up for with precision.
Which brings us to Kiawah. The landing areas at this Pete Dye masterpiece are actually quite wide; they have to be on a course next to the ocean, where wind is nearly always a factor. But if you miss those landing areas, you're rolling the dice. On good breaks, you'll be in the waste areas on some packed-in sand. On bad breaks, your ball will be half-submerged in powdery dust you'd find in a sandbox. On terrible breaks, you're in a bush.
The key, then, to taming this beast is avoiding those big misses in windy conditions. The guy with the trophy on Sunday evening will be someone who controlled his ball flight all week, who kept it under the wind when he needed to and took his medicine when he did get out of position. Sounds an awful lot like an awfully mature 24-year-old.
One would think he'd want the wind to persist, if not intensify?
"Absolutely," he said. "I hope it does [get windier] because it makes you hit good shots, and the guys that are hitting quality drives, quality iron shots, are probably going to be hitting more greens. Pars are going to be a little easier. You're not going to be as stressed through 36, 54 holes. I feel like where my game is at right now and how I'm hitting my iron shots, it feels really solid, how I'm hitting my 4-irons and 5-woods. So yeah, I hope it does stay windy because it really tests your ability."
Morikawa hits it well virtually every week; if he was a tour-average putter, there's a good chance he's already No. 1 in the world. But he's not a tour-average putter. He came into this week ranked a putrid 186th in SG/on the greens on the greens, and his last individual start at the RBC Heritage told a familiar story.
Morikawa gained 11.6 shots tee-to-green at Hilton Head that week, second only to winner Stewart Cink. But whereas Cink gained 2.3 shots on the field putting, Morikawa lost 2.5. He's still adjusting to the "saw" putting grip he switched too before the Genesis Invitational­—he lost nearly eight shots to the field the week he debuted it at Riviera, a brutal hello—and has putted better than average just once since switching to it. That came at the WGC-Workday Championship at the Concession. He won by five.
On Thursday at Kiawah, Morikawa gained just over a shot in the early going with his putting despite missing a four-footer on his last hole of the day.
"I thought I putted great," he said. "My speed was good for the most part. That's just things I've been working on. It's good to see something translate into a tournament round and hopefully just continue that the next three days."
If he continues to putt well, or event decently—and it's a huge if, granted—the defending champion just might be the man to beat.