News & Tours
PGA Tour will no longer require vaccinated players to take COVID-19 tests at tournaments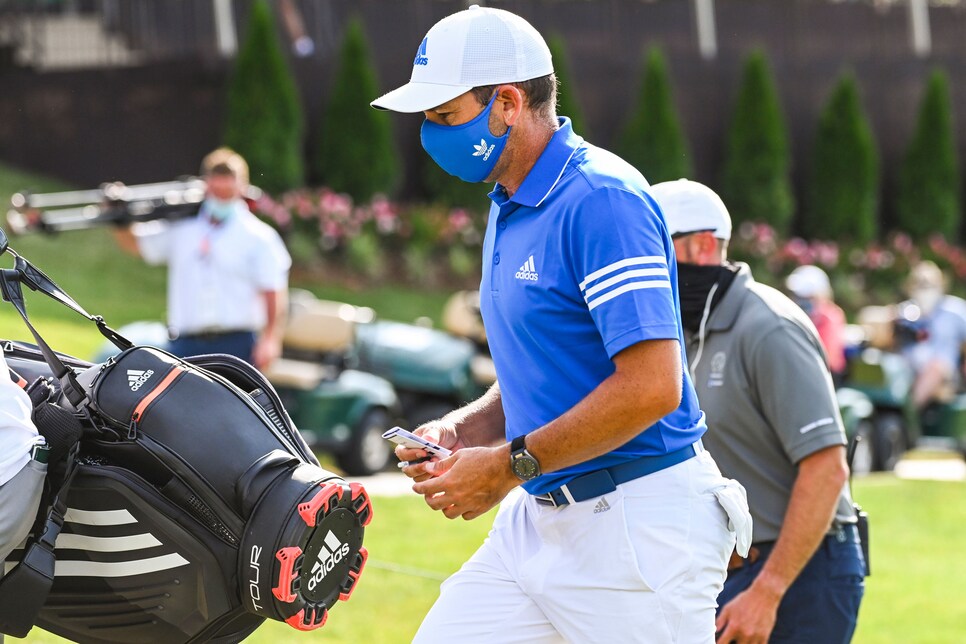 Sergio Garcia walks off the 18th hole with a mask on during the first round of the 2020 Memorial Tournament.
Keyur Khamar
The PGA Tour will no longer require fully vaccinated players to take COVID-19 tests in order to play in events.
The tour informed players of the decision in an email earlier this week, a copy of which was obtained by Golf Digest.
"As the COVID-19 vaccine is becoming more readily available, more individuals are being vaccinated," the email reads. "PGA Tour Health and Safety protocol requires individuals to continue testing onsite until 14 full days have passed since their second dose (Moderna & Pfizer) or 14 full days since their single dose (Johnson & Johnson). Once 14 days have passed, individuals are no longer required to take a COVID-19 test when considered 'inside the bubble' at PGA Tour, PGA Tour Champions or Korn Ferry Tour events."
Players—and anyone else entering the bubble, including caddies, coaches, trainers and the like—will be expected to upload their vaccination cards to the Healthy Roster app, which the tour has used to facilitate health-related communications throughout the pandemic.
PGA Tour Commissioner Jay Monahan has stopped short of saying the tour will require players to be vaccinated in order to play—"I think vaccination is a choice," he said in December—but said at the Players Championship that he was "hopeful" everyone in the tour ecosystem would get the vaccine.
"We're going to do everything we can to educate all of our players on the facts behind vaccinations," Monahan said. "I think the most important thing right now is education, and then we're going to do everything we can to support vaccination for our players when it's appropriate to do so."
The tour has required a negative COVID-19 test before entering a tournament's "bubble" since last June, when play resumed after a three-month hiatus. More than 20 players have returned positive tests at tour events and thus have been forced to withdraw and quarantine in the same city they took the test. Each player who tested positive was given a $100,000 stipend from the tour.