Takeaways
J.J. Spaun's big playoff push, Tyler Duncan's one-ball rule, and Xander's trouble with wasps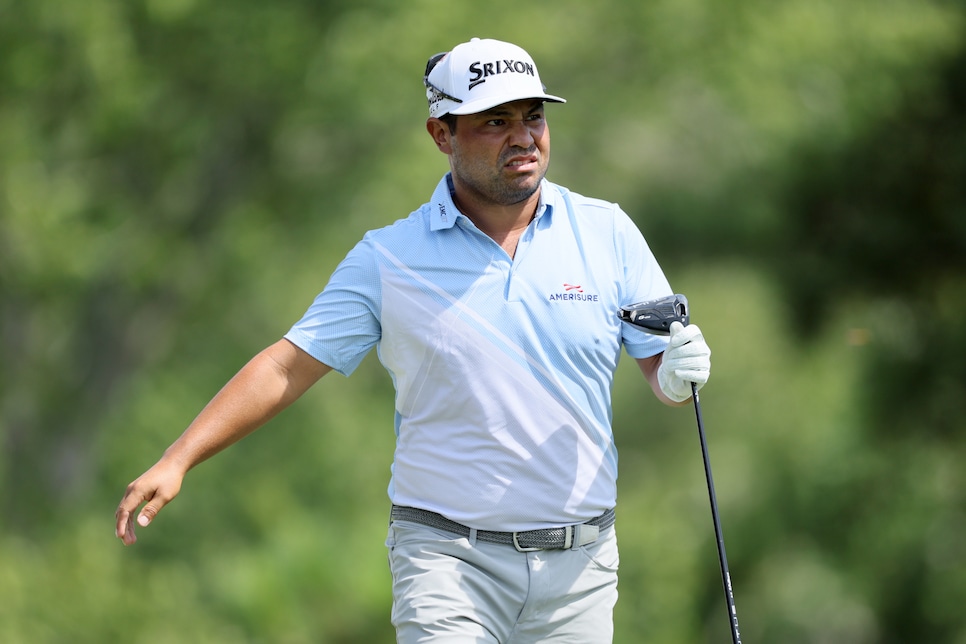 J.J. Spaun reacts to his shot plays his shot from the 17th tee during the second round of the FedEx St. Jude Championship.
Andy Lyons
The playoffs, whatever the sport, are about opportunities, getting a chance to improve on your season. So here comes J.J. Spaun, who won his first PGA Tour event earlier this year at the Valero Texas Open, and then kind of sputtered.
He qualified easily for the FedEx Cup Playoffs, coming in at No. 25 in the points standings, but the California native has never made it to the Tour Championship, and in his six years on the tour hasn't finished higher than 62nd in the final standings.
Spaun has a chance to improve on that—quite massively, in fact—if he maintains his form at the FedEx St. Jude Championship. In his first career appearance at TPC Southwind in Memphis, Spaun, 31, has the outright lead after following up his opening 62 with a three-under 67. His 129 total is a stroke better than Sepp Straka and Troy Merritt.
Were he to win the first of the three playoff events, Spaun would jump to No. 2 behind Scottie Scheffler.
Now that's how you take advantage of the playoffs. Of course, he's only halfway home, so Spaun didn't want to get ahead of himself even though he is ahead of everyone else. "It's exciting. Still a lot of golf left," said the 98th-ranked player in the world. "Just going to try to keep doing what I've been doing the last two days and hopefully it will pay off."
After winning in Texas, Spaun finished T-23 at the Masters, but then his game cooled off with only one top-10 finish the rest of the regular season. He missed the cut in four of his last seven starts and also withdrew from another event. But he hasn't panicked.
"I sort of went a little crazy after my three-week hiatus after my win," he explained. "Wasn't swinging it how I thought I was at Valero and the start of the year, so I was trying to fix that. So when you're kind of playing golf swing out there, it's not really going to pay off well for you.
"So I worked on some good things in the past couple weeks that are starting to pay off. And especially this week, too, kind of got a nice feel with my swing and just trusting it."
He knows he has to take advantage of his improved form. Now is perfect timing. The playoffs.
"It's so hard to be consistently good at the highest level," Spaun said. "Some guys that do it like that, like Tiger and McIlroy and all those guys, it's just insane how good they are for so long. It's really hard to play consistent great golf like those guys do. I did it for a few months and then kind of fell off, but here I'm kind of making my way back."
And making his way to the top of the standings. So far.
Breaking: McCarthy can still putt
It's no secret to anyone who follows golf that Denny McCarthy's success is predicated on being one of the PGA Tour's best putters. And, sure enough, he's putting well again this week at the FedEx St. Jude. Although, not that well, he claims.
"It is always good for me. It still feels really good. "I made some nice par saves in the middle of the round and a couple eight-, 10-footers early. I just haven't really made anything of length like I normally do," the fifth-year pro said. "I occasionally drop a few bonus putts in there, I haven't done that yet, but it's a good sign that you've got to strike it well at this place and good to see some of the work I've put in on my ball-striking pay off."
McCarthy loses strokes off the tee and approaching the green, so he has to scramble and putt well. But it's his work on his swing with instructor Brian Creghan that has him feeling better about his game overall. And it's more than just putting that has him one stroke off the lead at nine-under 131 after his five-under 65 on Friday at TPC Southwind.
The Maryland native, 29, did most of his damage by playing his first six holes in five under, including a hole-out eagle at the par-4 sixth from 153 yards. Though he has yet to win on tour, he thinks he is making the necessary improvements to change that.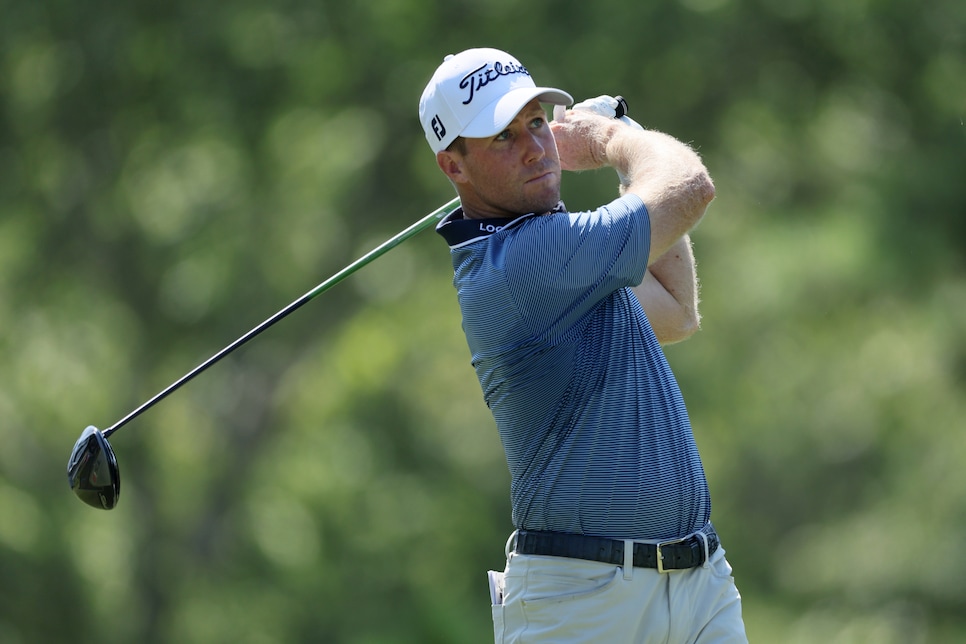 Tyler Duncan plays his shot from the 17th tee during the second round of the FedEx St. Jude Championship.
Andy Lyons
"Yeah, it's definitely catching up," McCarthy said when asked if his ball striking is catching up to his putting skills. "There's times where, like my ball-striking on the week at the U.S. Open was really, really good, and if I had a hot putter I would have been right up there at the top. [He finished T-7.] I was still a couple shots back most of the way. Felt like if I just made those couple putts of length to kind of get me going, it would have been maybe a little bit of a different story, but my ball-striking was great there. It stood up to the test at Memorial [T-5], which is also a ball-striker's golf course, if you will. So, the more I hit it like I know I can, the more I'm going to put myself in contention."
Tyler Duncan's season was on life support after an opening even-par 70, but a seven-under 63 on Friday has given him hope of advancing to the BMW Championship. The bogey-free round has him projected to move just inside the magic top 70 in the FedEx Cup standings. Of course, he still has two rounds to go, but at least he's in the mix.
His explanation for the turnaround would make your basic recreational golfer who buys his own golf balls smile. The key to keep his card clean, he said, was that he, "played the same ball the whole day. That ball didn't want to make bogey, so I kept riding it."
Apparently, this is standard operating procedure for the fourth-year PGA Tour player. "Yeah, if I get going in the right direction, make a lot of birdies, I like to keep the same ball until I make a bogey," said Duncan, who began the week 118th in the standings. "So then once a bogey comes, I would have switched, but the bogey never came, so the ball made it 18 holes."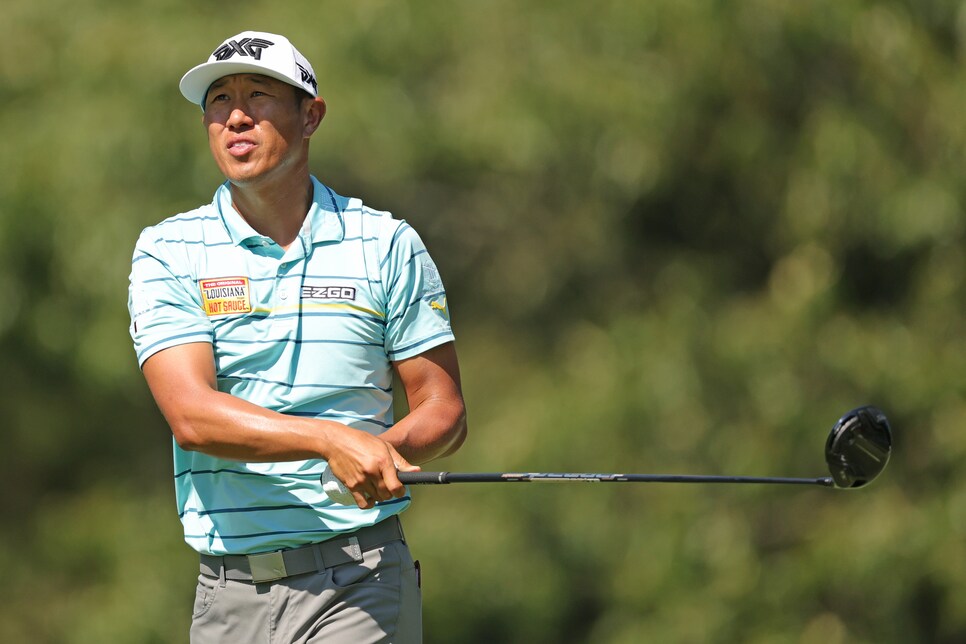 James Hahn plays his shot from the seventh tee during the second round of the FedEx St. Jude Championship.
Stacy Revere
No word on if it also gets the start in round three.
James Hahn copped some heat, to borrow a phrase, earlier this month with a few of his Twitter posts after the 2022-23 PGA Tour schedule was released. First, he was rather bothered by the "Vegas to Japan to South Carolina to Bermuda to Mexico" portion of the fall schedule and how stressful that is. The responses were not sympathetic.
Then he took more flak for questioning why pro golfers have to pay their own expenses with no guarantee of making a dime.
Welp, Hahn's travel schedule might take him from Memphis to Wilmington, Del., if he keeps playing as well as he has the first two days at TPC Southwind. A one-under 69 on Friday gave Hahn a six-under 134 total and a shot at advancing in the playoffs. He moved up from 108th to 75th in the standings.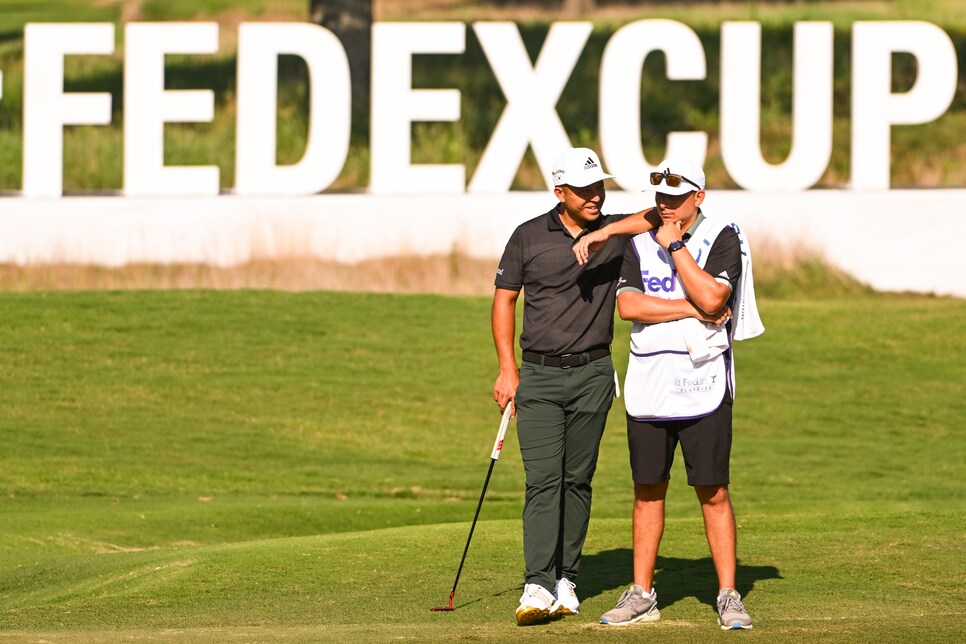 Xander Schauffele chats with his caddie Austin Kaiser on the 13th hole during the second round of the FedEx St. Jude Championship.
Tracy Wilcox
A good weekend and he'll be heading east—and with a decent amount of new coin to pay for the trip.
Sand wasps. They're a thing, at least in some of the bunkers at TPC Southwind.
We've heard of getting a free drop from fire ants, but on Friday Xander Schauffele sought relief from a fairway bunker at the par-5 third hole because of sand wasps nesting in a part of the trap. They are said to be annoying but don't usually sting people. Schauffele probably didn't know that, so he asked for a free drop. PGA Tour rules official John Mutch noted the proximity of the nest to Schauffele's ball and denied the request.
Schauffele, who had laid up into the bunker from the right rough, left his third shot from 99 yards short of the green and then failed to get up down—a tough bogey when there are only two par 5s. Two holes later he found another bunker off the tee, prompting further discussion on PGA Tour Live about the presence of the sand wasps—and their name. ESPN on-course reporter Michael Collins was moved to remark, "They probably have a marketing agent working on a new name for them right now."
Schauffele, who has three wins this year and came into the week with seven straight finishes in the top 20, ended up with his second straight two-under 68.