PGA Tour
The 10 most surprising first-time PGA Tour winners of the last decade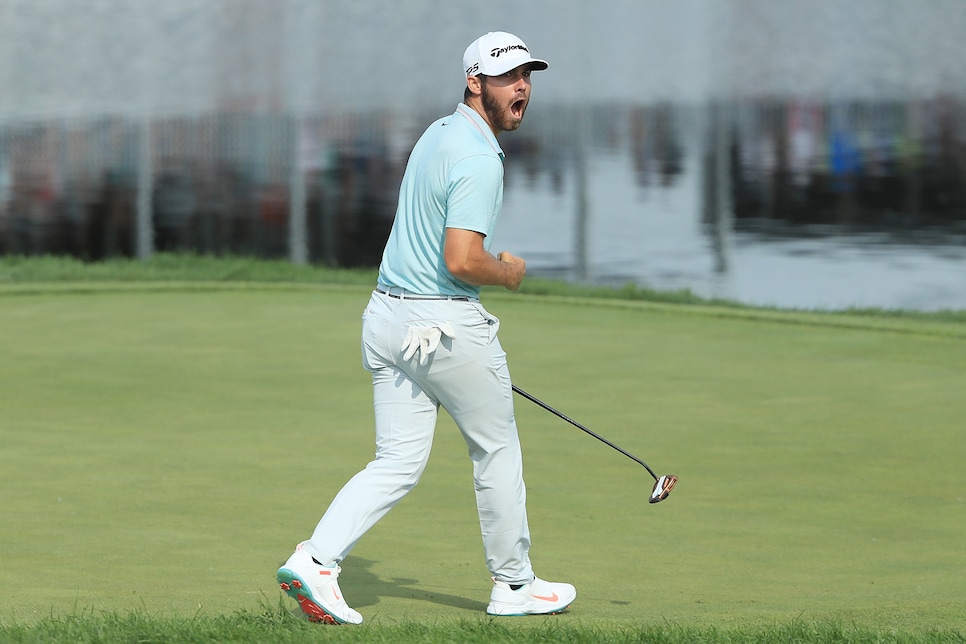 Matthew Wolff celebrates after a eagle putt on the 18th green to win the 3M Open at TPC Twin Cities.
Sam Greenwood
It's Wells Fargo Championship week, and it's hard for me to think about this tournament without thinking about Derek Ernst, the shocking winner of the 2013 event who out-dueled Phil Mickelson on Sunday and beat David Lynn in a playoff despite coming into the event with a world ranking of 1,208. I spent a bit of time with Ernst in 2014, learned his story, wrote about him for a book and then had to cut most of the material. A lot of people called his win a "fluke" that year, and to date, they seem mostly right. Just as he came from nowhere to win in Charlotte, he seemingly disappeared just as quickly. (In reality, he's still grinding, having played on the Korn Ferry Tour since 2017.)
The memory of Ernst, combined with the first career tour win by Sam Burns last week at the Valspar Championship—a much less surprising triumph—got me thinking about maiden winners in general. Who were the most surprising first-timers of the last decade? Was Ernst No. 1? I asked the always accommodating Mark Broadie for help, and he compiled a list of winners since 2010 with the highest (i.e. worst ... the lingo gets confusing) OWGR rankings coming into their first victory. Let's count 'em down:
T-9. Adam Long (2019 Desert Classic), Max Homa (2019 Wells Fargo Championship)
Same year, same world ranking (417), and they did it in "normal" events ... as in, not in an opposite-field week where the world's best players were at a WGC or a major. This list goes purely on World Ranking, so those opposite-field events still count, but it's very easy to argue that what Long and Homa did is more impressive than a few of the players to follow.
8. Cody Gribble — Sanderson Farms Championship, 2016 — OWGR: 448
Gribble was a stud at the University of Texas, a member of the 2012 NCAA Championship team that included Jordan Spieth and Dylan Frittelli, but struggled to make an impact in his first years out on tour. That changed in October 2016, when he shot 65 to win at the Sanderson Farms while the world's best were in China for the WGC. Gribble's win was emphatic—four strokes—but he lost his card at the end of his two-year exemption in 2019.
7. Michael Kim — John Deere Classic, 2018 — OWGR: 473
Another former college great (Kim won both major player-of-the-year awards for Cal in 2013), his trajectory was very similar to Gribble's. Early struggles, followed by the breakthrough win at the John Deere in '18 by a whopping eight strokes, followed by an almost immediate plunge back down the World Ranking. He still holds his status from that win thanks to pandemic-induced super season, but with 13 missed cuts in 18 events this year, it looks like only a matter of time before he slips away. You'll notice that it's a common theme: If you win from out of the blue, you tend not to stick around very long.
6. Greg Chalmers — Barracuda Championship, 2016 — OWGR: 490
Some measurables here look similar to others on this list, like winning an opposite field event for a guy flirting with 500 on the OWGR. But anyone who knows golf knows that Chalmers is a slightly different animal. For one thing, Chalmers is older (47 today), and for another, he was very successful in Australian events for years before winning in America. He's won two of the three "Australian Triple Crown" events and captured a Players Championship to boot. This is a case where the numbers are at least a little deceiving.
5. Brian Stuard — Zurich Classic, 2016 — OWGR: 513
Stuard is another interesting case in the sense that anybody who followed golf closely would have already known his name by 2016, since he was already on the PGA Tour and hovering just outside the top 100 in the World Ranking around 2013 and 2014. But he hit a skid that saw him plunge down to No. 513, and that's where he stood when he reversed it completely with a win in New Orleans (pre-team era). Unlike many others on this list, Stuard is still hanging around and is currently 112th on the FedExCup list for 2021.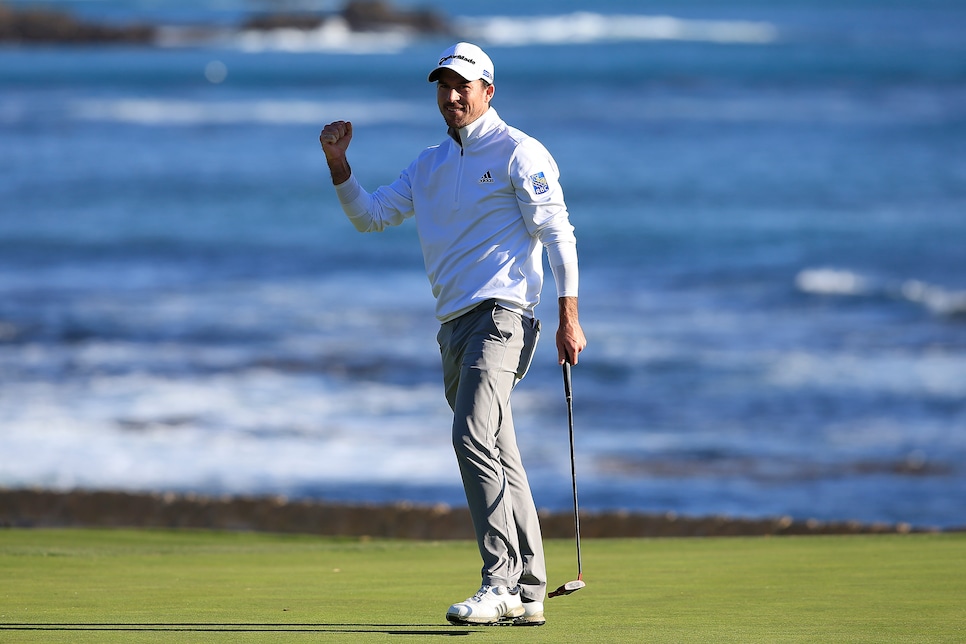 Nick Taylor of Canada celebrates on the 18th green after winning the 2020 AT&T Pebble Beach Pro-Am.
Chris Trotman
4. Nick Taylor — Sanderson Farms, 2014 — OWGR: 566
Before he won last January at Pebble Beach, the Canadian was the surprise champ at Sanderson Farms in 2014, another beneficiary of the opposite-field event bonanza. Clearly, Taylor has not gone anywhere, and has remained a reliable journeyman and kept his tour card since.
3. Billy Hurley III — Quicken Loans National, 2016 — OWGR: 607
In 2016, Hurley was playing with conditional status and had just come off a missed cut at the U.S. Open when he came to Congressional and had the week of his life. With a cumulative 17 under, he beat Vijay Singh by three strokes and turned his career around. Today, the 38-year-old Hurley is recovering from back surgery and is back down to 1,234 on the OWGR.
2. Derek Ernst — Wells Fargo Championship, 2013 — OWGR: 1,208
As you can see, this is quite an OWGR jump from No. 3 on the list. Ernst's story is truly one of the most ridiculous in the history of golf, and he's one of just two players to nab his first win from outside the top 1,000 in the World Ranking. We'll probably never see anything quite like it again. "But wait," you're thinking, "he's No. 2 on the list. What gives?" Well ...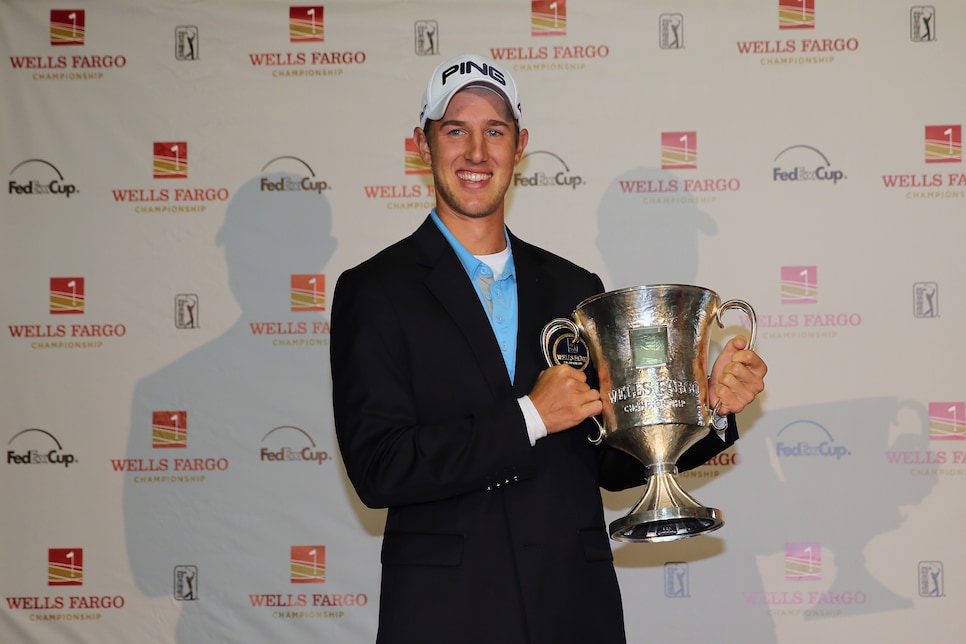 Derek Ernst holds the trophy after winning the 2013 Wells Fargo Championship.
Streeter Lecka
1. Matthew Wolff — 3M Open, 2019 — OWGR: 1,659
You know that saying about lies, damned lies, and statistics? It's not that Wolff's win wasn't surprising—it was—but this is a question of degrees. Wolff had just won the 2019 NCAA individual championship, and he had already been identified as one of the tour's up-and-comers. He hadn't had a chance to accumulate many points since turning pro a month earlier, so technically he tops the list by highest OWGR rank. However, the fact that he won was nowhere near as shocking as Ernst's out-of-nowhere performance at the Wells Fargo.
(For what it's worth, Jim Herman is the third player to win a tournament from outside the top 1,000 in the last decade. We think of his 2020 Wyndham Championship as surprising, but in fact, it was his 2019 Barbasol Championship victory that saw him rise from 1,252 in the rankings. This, however, wasn't his first win.)
One other interesting note here is that if you sort by majors alone since 2010, Darren Clarke (OWGR: 112) and Keegan Bradley (OWGR: 110) are the biggest "surprises," and the only two players to ever win a major ranked outside the top 100 in that span. Comically, Tiger Woods is 25th on this list, with his No. 12 ranking before the 2019 Masters ... which proves that even in a discussion of the biggest underdogs in this game, you can't get away from the G.O.A.T.