Tour Championship
Viktor Hovland is close to putting Tour Championship on ice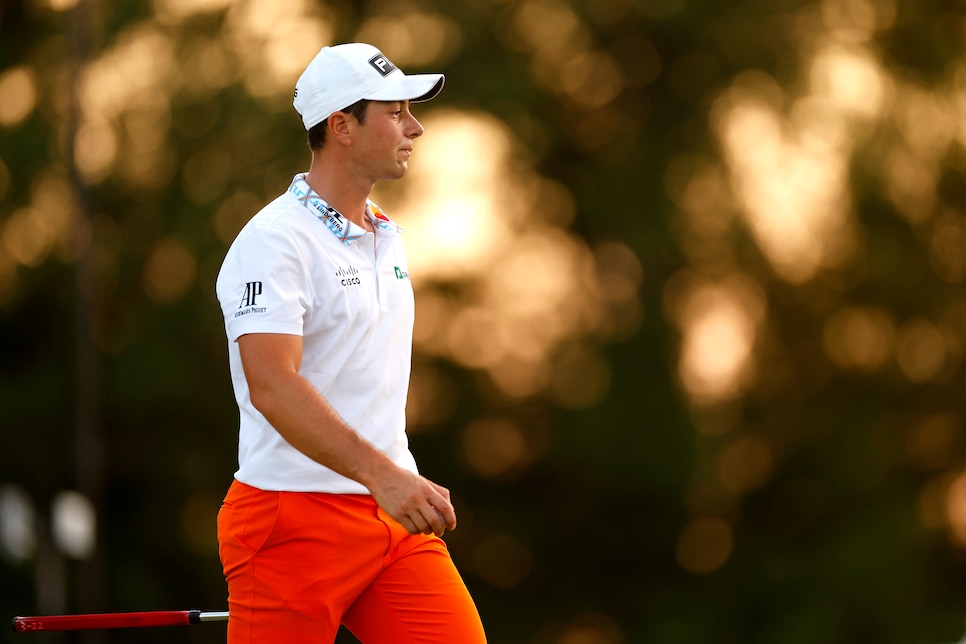 Viktor Hovland walks from the 17th green during the third round of the Tour Championship.
Mike Ehrmann
ATLANTA — It's unlikely an ice bath will cool Viktor Hovland down, but that's how he planned to spend Saturday night. As the city's heat index reached 106, Hovland's play at East Lake was nearly as hot. He tapped in for a 66 just after 8 p.m.—the late finish due to a 75-minute weather delay—and took a six-shot lead after 54 holes in the Tour Championship. It left the 25-year-old with 18 hours to waste before a tee time that should yield a FedEx Cup victory and $18 million payday.
"[I'm going to] jump in the ice bath, get some physio done and just go to bed," Hovland said of his rather un-wild Saturday night plans. "The tee time will come around pretty quickly."
Hovland's 20-under-par total through three rounds (he began the Tour Championship at eight under using the adjusted scoring format) left East Lake specialist Xander Schauffele in his wake at 14 under. Schauffele has played some decent rounds at East Lake—24 of his 27 trips around the layout have been under par. He's never finished worse than tied seventh in six previous visits. But the 2017 Tour Championship winner conceded his Saturday 68 gave Hovland far too much room.
"Not good enough," Schauffele said when asked to describe his round. "I missed two short putts on 15 and 18. I wouldn't have gained anything on the leader."
Aside from missing short putts, it's hard to gain anything on a sublimely talented player whose work ethic at the back end of the season has been noticed by Schauffele and other members of the PGA Tour elite.
"He's just playing unbelievable golf," Schauffele said. "He's been working really hard. I saw him working hard through the playoffs. I was out late, and he was one of the guys I always saw until dark as well. So, no surprise."
That work paid off last week when Hovland won the BMW Championship at Olympia Fields outside Chicago with a final-round 61. Considered one of the game's best drivers and a fine putter, the five-time tour winner has turned his short game around dramatically in the past 12 months. In his words, he's a more complete player.
"I don't think I've ever played as well [as] this stretch; I've certainly hit the ball this good before," Hovland said. "I feel like I've hit the ball better than I have this week and even last week.
"But it's just about putting it all together, and it seemed like the good weeks that I've had before I've always managed to short-side myself or chip [poorly] a couple times and end up out of contention.
"This year, I feel like I've just become a little bit more complete, and I don't have to hit it my best to be in contention. I don't have to hit every shot pure. I can miss it slightly and get up and down and move on."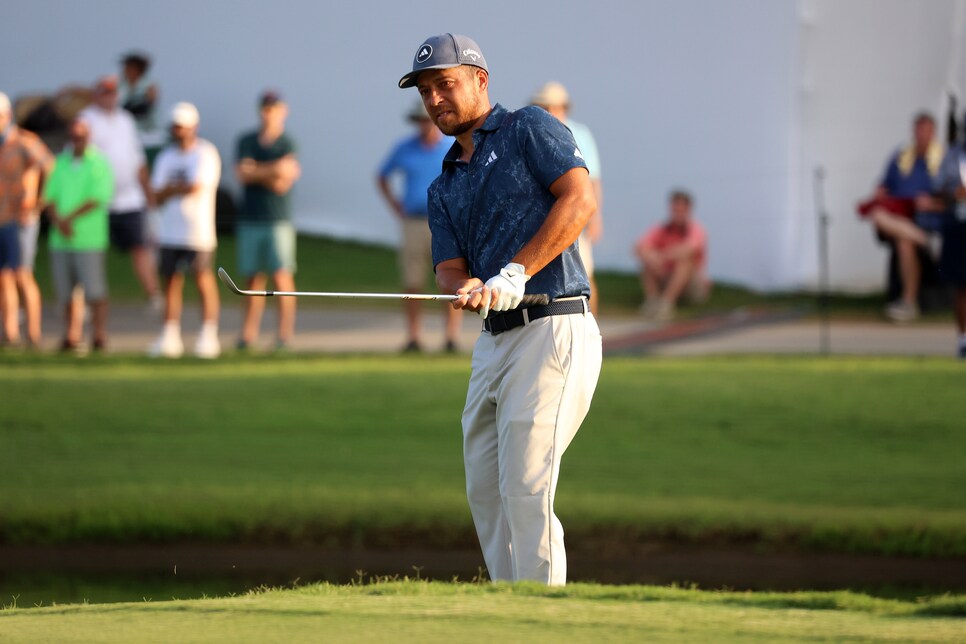 Xander Schauffele chips during the third round of the 2023 Tour Championship.
Icon Sportswire
That doesn't bode well for the chasers. Keegan Bradley (70) and overnight co-leader Collin Morikawa (73), tied at seven back, appear to be playing for Ryder Cup captain's picks, which will be announced by Zach Johnson Tuesday. Two of this year's major winners, Masters champ Jon Rahm and U.S. Open winner Wyndham Clark, are 11 under alongside Scottie Scheffler, who squandered his two-shot advantage pre-tournament with two rounds over par, including Saturday's 73.
"I know what I need to do [Sunday]," Schauffele said. "I need to go out and try and put as much pressure on him tomorrow on that front nine as I can and hope for the best."
Hope may be Schauffele's only tool to reel in Hovland, who is determined to add his name to illustrious group to have won the FedEx Cup since its 2007 inception – Tiger Woods (twice) and Rory McIlroy (three), among the champions.
"The list of names that's been on that trophy is pretty special, and it would be awesome to have my name on there," Hovland said. "It's a marathon getting into this week, but [the Tour Championship itself] feels more like a sprint."
If it's a sprint, then all signs point to Hovland running away with it.