Courses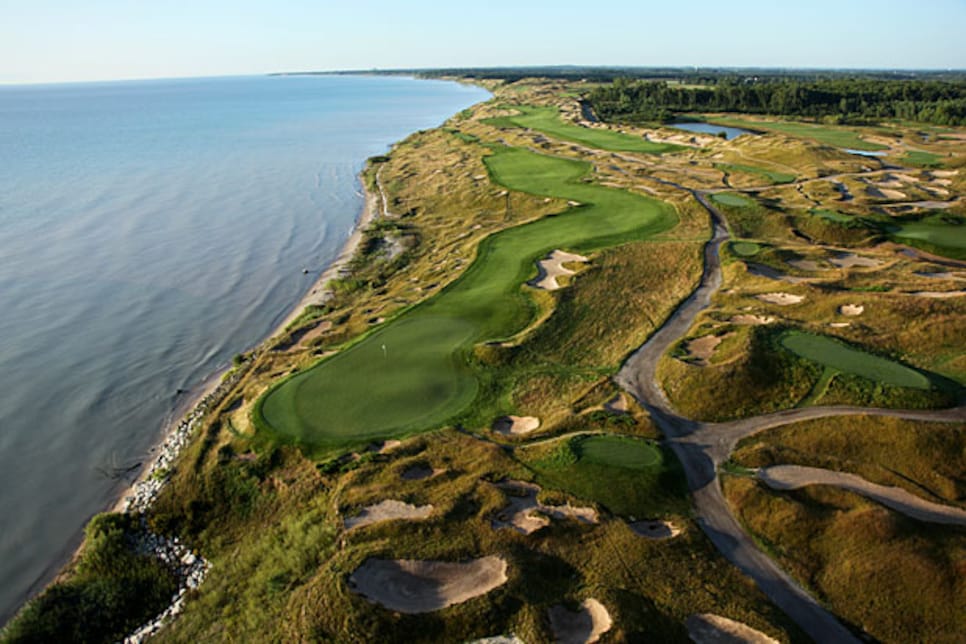 No. 8 at Whistling Straits typifies Dye's visually intimidating style.
-- that I received a jolt of clarity.
For 16 holes I had played with a knot in my stomach, both hands on the steering wheel and one foot on the brakes, unceasingly afraid of what a missed shot would bring. I'd felt enfeebled in the same way at Spyglass Hill
in the 1990s. Now, however, I was looking down at a distant and alarmingly small tabletop propped up by a sheer wall of railway ties rising 30 feet from a disheveled sand dune lapped by Lake Michigan white-caps. Because a three-story high fescue-covered mound blocked any view of the right side of the green, my mind was flooded with the throat-tightening thought that only a wind-piercing laser beam of a shot could possibly find the target. My mind was made up. This was the hardest course I'd ever played.
But don't just take it from an overmatched spray-hitter. The best players in the world who have played Whistling Straits think the same thing. When the PGA Championship starts next Thursday, there will be little dispute that it will be held on the most testing course ever to host a major.
At 7,514 yards, it's the longest. The par 72 will include three par 4s of 500 yards or longer, lumpy waves of long fescue rough and an endless sprinkling of more than 1,000 bunkers (the PGA of America has yet to decide if these sand traps will be played as hazards or "through the green," as was done at the 1991 Ryder Cup at Kiawah). The firm and humpy nature of the narrow, winding fairways will produce some bad bounces, while arbitrary clumps of rough and awkward stances in the tiny bunkers will often mete out punishment that won't fit the crime. The cliffhanging par 3s may be remembered as the most penal set ever, with the 221-yard seventh best described as a giant version of Troon's Postage Stamp, while the tiny finger of green suspended over oblivion on the 143-yard 12th will be home to the tightest pin position ever seen. Meanwhile, ground probably will be lost more often than gained on the four par 5s, of which the shortest is 569 yards.
"It's an amazing course -- so cool to look at, but just brutal to play," says Mark Calcavecchia, who has gotten in several rounds at the Straits, posting a best score of 72. "Sometimes all you see is a ledge, the lake and the sky -- and no bailout. It's going to be six-hour rounds and train wrecks all over the place. Anybody who can somehow get through 72 holes without making a double bogey or worse will probably win."
Predictably, the scouting reports have spread fear and loathing through the locker room. "There are so many holes out there with places where a guy could hit a quality shot and still end up losing a shot," says Jay Delsing, who like several players gathered reconnaissance the week of the PGA Tour stop in Milwaukee. "I mean, go left on 17 Sunday and your life will pass before your eyes. There's just too much luck. It's a beautiful place, but I ended up hating it."
Others are more temperate. "It was very playable," said Loren Roberts, the short but steady veteran who shot 71. "I could reach the holes. I would say that 75 is not that bad a score. It will probably identify the best player, but it will definitely identify the most patient player."
Doomsayers are estimating the winning score could approach or even exceed 293, the highest winning total in a major since the 1963 U.S. Open at The Country Club. That's farfetched, although according to Calcavecchia, "not if it blows."
All agree that heavy wind could turn the championship into a bloodbath. August is normally the calmest month in coastal Wisconsin, with winds rarely exceeding 10 to 15 mph. But gusts in the 40s are not unheard of, and the possibility the Straits will be whistling has PGA managing director of tournaments Kerry Haigh prepared to move up tees and set the easiest pins. Still, the specter of Pebble Beach
looms. Wind will be the main variable determining whether the 2004 PGA is remembered as a classic championship or the Mistake by the Lake.
Either way, the challenge presented by Whistling Straits represents the kind of quantum leap in the examination of skills that periodically infuses the majors, traditionally in the U.S. Open. The first and most notable such shift occurred at the 1951 U.S. Open at Oakland Hills
, where Robert Trent Jones' muscled-up redesign rocked the golf world and gave Ben Hogan's closing 67 all-time great status. Increased rough and green firmness at Pebble Beach in 1972 and Winged Foot
in 1974, though considered extreme at the time, had a lasting effect on playing tolerances. At the 2002 U.S. Open, the setup at brawny Bethpage was applauded for putting long-iron approaches back in the game. Conversely, it appears the net result of the recent dramatic changes at the Augusta National
simply have kept pace rather than stayed ahead of what the modern player with modern equipment can do.
Whistling Straits takes its place in the continuum by taking the demand on tee- to-green skill to a new level, asking players to hit longer and more controlled tee shots and approaches, with the penalty for mistakes more severe than ever. It's a cutting-edge course, intended to be at least slightly ahead of its time.
It's a departure for the PGA, which other than having its 1987 championship at PGA National smothered in Bermuda rough, has been the player-friendly setup. But Whistling Straits comes at a good time. The lesson of Shinneock Hills is that with the modern golf ball going as far as it does, a course less than 7,000 yards cannot contain the best players in the world without being tricked up with rough and silly greens or played in severe wind. Unless those who run major championships are willing to accept winning totals that go deep into double-digit-under-par territory (as the R&A has done for several years now on its British Open links rota), old-line classic courses that don't beef up big-time no longer have enough yardage or severity to bring out the best from the best.
Whistling Straits has all the ingredients, perhaps in excess. But along with its stunning visual appeal, what will make it most interesting is that for all its severity, it has an inspired, artistic quality. The course is wonderfully paced, with an ebb and flow of shifting strategies. It's not inconceivable a player could use all 14 of his clubs in a single round while being presented with all sorts of options in shot shapes and trajectories depending on the direction and force of the wind. There's a drivable par 4 at the 355-yard sixth, the usually reachable but perilous par-5 16th arriving at crunch time, and a disaster-laden finish finding its crescendo on the 500-yard par-4 18th. Says Calcavecchia of the three-leaf clover configuration that makes up the back portion of that green, "Whatever possessed a human being to design something like that, I will never know."
A hot round can be had. Terry Mauney's course record of 67, shot in the PGA Club Professional Championship (played at 7,202 yards) in 1999, will almost surely be broken, but cutting off doglegs and going for pins will redline the risk/reward meter. The smart player will err toward safety. "The basic formula is going to be get it in the fairway, get it on the green, get your par and move on," says Roberts. "You've got some choices, but they are tough ones. You've got to think so much it gives you a headache."
That's music to the ears of Pete Dye, whose work has pushed the greatest players to get better more than any other living architect. In building Whistling Straits, the 78-year-old felt more urgency than ever to truly test the limits of what the modern player can do. Dye strongly believes advances in the golf ball over the last several years have marginalized some of his most fearsome courses, and he basically chuckles at anticipatory complaints from players. He remembers the wails before the 1988 PGA about how tough Oak Tree would be, only to see Jeff Sluman win with a 12-under-par 272. Crooked Stick was supposed to be too long in 1991, but John Daly miniaturized it.
"These guys cry wolf a lot," says Dye, in an old-rascal voice that recalls Henry Fonda in "On Golden Pond." "These days especially, you have to push it, or it won't really challenge them." Steve Friedlander, the director of golf at Whistling Straits, remembers a Dye winter visit in which he endured 10-below-zero temperatures to toughen some green complexes for the championship. "I was worried about hypothermia," says Friedlander, "but Pete just kept fiddling and asking, 'You think this will scare 'em?' "
It's what Dye does best. The master of illusion, he hides targets and bailouts, while directing the player's eye toward trouble like the vast hairy moonscape that flanks the blind landing area off the tee on the 507-yard par-4 eighth hole, or the death drop to the left of the 17th. While pros are expert in avoiding disaster, they are not immune to the doubt and uncertainty that produces bogey trains of defensive golf. At the finish, when Dye demands that a player pull the trigger on the most crucial shots in the round, only the toughest players won't feel they're playing Russian Roulette.
Always the contrarian, Dye believes Whistling Straits can be had. He cites the fast fairways, playable rough, front green openings, flattish putting surfaces and moderate speeds he believes will make the course not only fair, but in light wind, vulnerable.
"The ones playing well will get to this course," he says. "It will make them a little uncomfortable at first, but once they go around a couple of times and get used to it, they will get locked in. I hope that I can get them to hit some 5- and 6-irons into the green because, heck, they hit those 210 yards. Very few times will it be a 3-iron or a fairway wood. The guys who are playing well will handle it OK, and somebody might handle it great." Dye predicts a winning total of eight to 10 under par.
The PGA has dared greatly, pushing the envelope with its most provocative site in its history and possibly elevating itself from the fourth major to something more. In that sense, it has nothing to lose.
In a week of train wrecks, the event itself could become the biggest one, but I think the odds favor the opposite. Unlike Shinnecock, where over-the-line shotmaking demands essentially reduced the event to a putting contest, the best ball hitters will rise at Whistling Straits. I see the winner finishing in single-digit-under-par figures, although if a great player is truly on, he could separate himself and run away from the field on the order of Tiger Woods at Pebble Beach in 2000.
Most of all we will see truly suspenseful golf, the best embodiment to date of Charles Price's old dictum that major championship golf is like walking a high wire without a net. Catastrophe will lurk on every hole, and never more gut-wrenchingly than in the fourth round.
And when the championship is over, I'm betting golf will eagerly await the next major at Whistling Straits.