News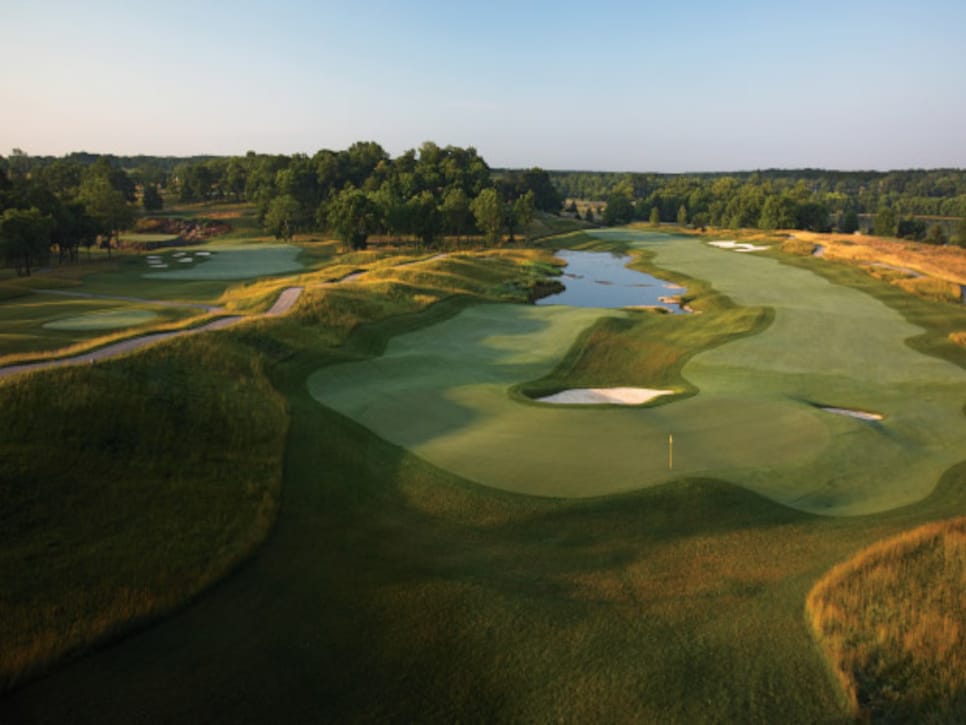 The par-5 18th at Valhalla will play at 542 yards and can accommodate an estimated 20,000 spectators.
Like the Norse myth that inspired its name, Valhalla Golf Club in Louisville, site of the 96th PGA Championship Aug. 7-10, inspires passion. Plenty of golfers love it. After all, it has been on Golf Digest's list of America's 100 Greatest Golf Courses
since 1993. Of course, at the moment it's ranked 99th, its lowest spot ever. Yes, the front nine is unattractive, sitting in the floodplain armpit of a muddy, eroded river called Floyds Fork, with ill-disguised high-tension electrical towers parallel to the par-5 seventh. But the back nine is mostly gorgeous, set among wooded hills and a gentle valley aside Brush Run Creek. Granted, there's the island 13th green, atop a cistern of rocks, with an ugly staircase to the 14th tee, plus the unique (goofy?) horseshoe-shape green on the par-5 18th, which some players have dubbed "the toilet seat." Both previous PGAs at Valhalla produced playoffs (Mark Brooks over Kenny Perry in 1996, and Tiger Woods over Bob May in 2000), and a third PGA was scheduled for 2004 before the PGA of America made a switch to Whistling Straits. In response to quickening green speeds, Jack Nicklaus rebuilt Valhalla's greens three years after the 2008 Ryder Cup, softening the most severe contours. The course will play at par 71 and 7,458 yards (up from 7,144 as a par 72 in 1996). Favorites? Tiger, if he's back and healthy. And maybe it's worth taking a look at Phil Mickelson, who was T-8 in '96 and T-9 in 2000.