Courses
PGA Championship 2020: What past first-time PGA hosts can teach us about what to expect at TPC Harding Park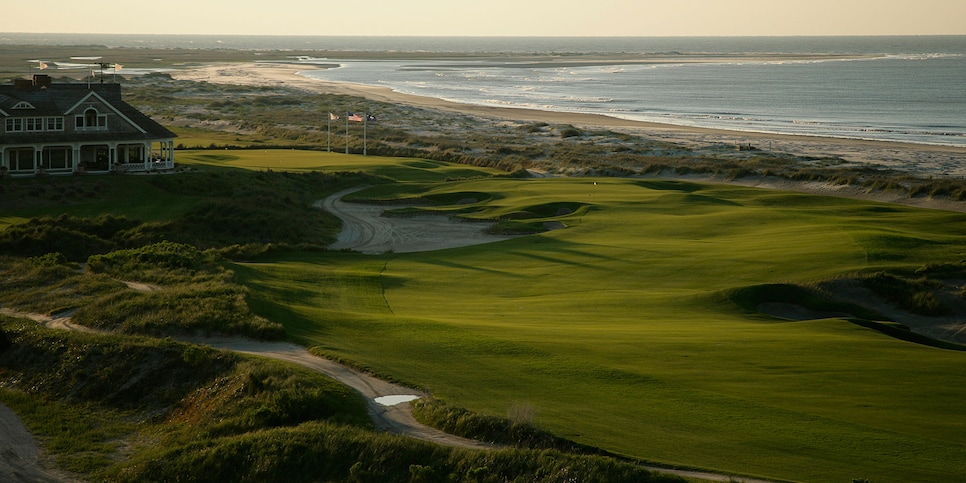 The 18th hole at the Ocean Course at Kiawah Island.
Stephen Szurlej
When TPC Harding Park welcomes golfers to the 2020 PGA Championship in San Francisco next week, it will become the 129th course in the United States to host a men's major (and just the second in the Bay Area, joining Olympic Club's Lake Course). A public facility originally designed by Willie Watson and Sam Whiting in 1925 but modified significantly over the last 20 years, Harding Park will be familiar to a portion of the PGA field, namely those who competed at the 2015 WGC-Match Play Championship (won by Rory McIlroy), the roughly dozen or so who played in the 2005 WGC-American Express (won by Tiger Woods) and a few others who participated in the 2009 Presidents Cup.
The relative newness of the venue at the professional level and its straightforward, uncomplicated architecture—long, bending, tree-lined holes with elevated greens fronted and flanked by bunkers—would seem to favor no particular player or game. To get a sense, then, of what might transpire in the coming days, and how TPC Harding Park might fare in the spotlight as PGA of America officials shape the setup, we looked back over the last 40 years at courses that made their major championship debut hosting the PGA.
One intriguing observation emerged: Only two of the 10 debut courses produced a champion who never won another major (OK, three, but Justin Thomas seems to have the game to win another and deserves a little more time to grab one before he gets labeled a one-major wonder). Each of the other winners either already had a major or claimed their first of what would be multiple titles. The takeaway? New PGA courses have done well in identifying historically great players. If there is another sure bet it's this: The winning score will be under par, as it has been every year since 1977.
SHOAL CREEK, 1984
WINNER: Lee Trevino, 273 (-15)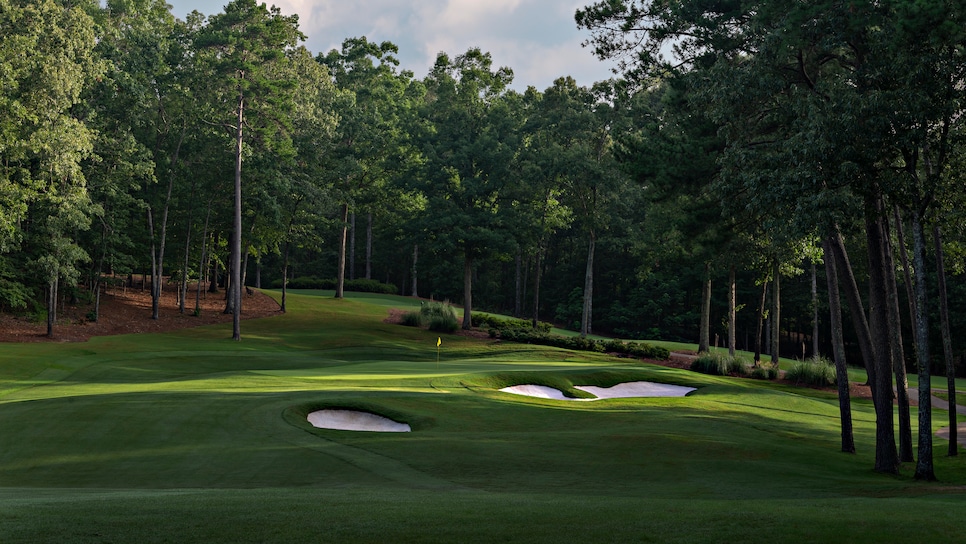 The 15th hole at Shoal Creek.
Courtesy of Michael Clemmer
In the densely wooded outskirts of Birmingham, Ala., Shoal Creek was developed in the image of Augusta National (and founded by an ANGC member): an elite, immaculately conditioned Southern private enclave with elegant holes framed with nature, slick greens and a quartet of reachable but risk-laden par 5s. But it was really a different thing altogether, a relatively new Jack Nicklaus-designed layout that required accuracy off the tee to avoid the deep ball-swallowing Bermuda rough. Even that setup didn't put up much of a fight as the course yielded the lowest winning score relative to par (to that point) since the championship went to stroke play in 1958. Trevino, then 44, was the man who deconstructed it best, driving fearlessly and rolling in miles of putts on his way to his sixth and final major title.
PGA NATIONAL (CHAMPION), 1987
WINNER: Larry Nelson, 287 (-1)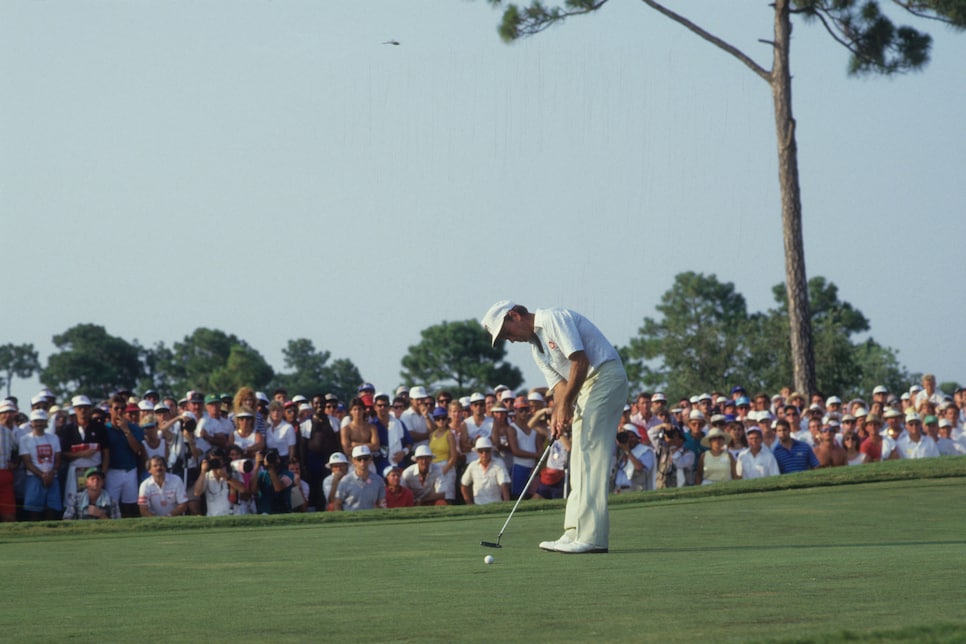 Larry Nelson putts to win the 1987 PGA Championship at PGA National.
Jacqueline Duvoisin
Technically this was the second PGA Championship played at PGA National, but back in 1971 the host course, now called BallenIsles Country Club, was located on the other side of the Florida Turnpike (Jack Nicklaus won). The 1987 event in Palm Beach Gardens was held on the six-year-old Champion course, designed by George Fazio, a brutally tough, water-strewn design with bumpy greens that had to be put on life support to nurse them through the steamy week (the cut was seven over). There's a reason why majors are no longer held in Florida during the summer—Sunday's high-90s temps were an area record, and the extreme heat melted as many scores as it did players' willpower. In the end it was Nelson, perhaps the only man in the field prepared for such stress (he had spent three months fighting in the jungles of Vietnam), who prevailed in a playoff over Lanny Wadkins, claiming his third major victory. The winning score was one under, the second highest winning score since 1976.
OAK TREE (NOW OAK TREE NATIONAL), 1988
WINNER: Jeff Sluman, 272 (-6)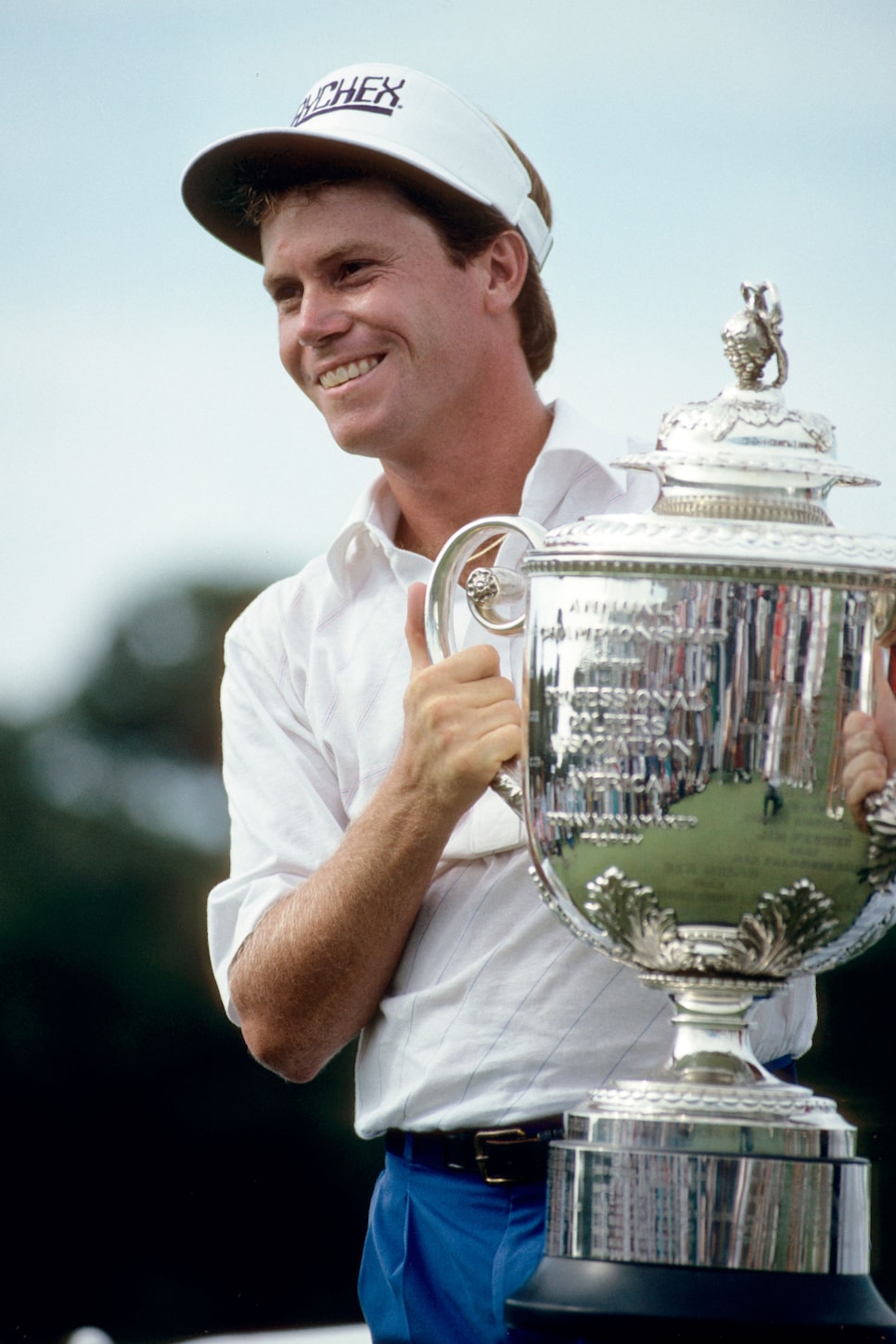 Jeff Sluman with the Wanamaker Trophy after coming back to win the 1988 PGA at Oak Tree.
Jeff McBride
Oak Tree, built near Oklahoma City in 1976, epitomized everything Pete Dye was doing at the time. Thin holes slinked perilously close to a variety of water hazards with deep subset bunkers flanking small perched greens. Each shot demanded a controlled play to a clear target. It was a setup designed for surgeons, and the scoreboards most of the week reflected precision over power. For a long time it looked to be Paul Azinger's tournament to lose as he started the final round with a one-stroke lead. But wee Jeff Sluman, propelled by an eagle hole-out on the par-5 fifth, shot a Sunday 65 while almost everyone else was posting numbers in the 70s, to cruise to a three-shot victory and his one and only major.
KEMPER LAKES, 1989
WINNER: Payne Stewart, 276 (-12)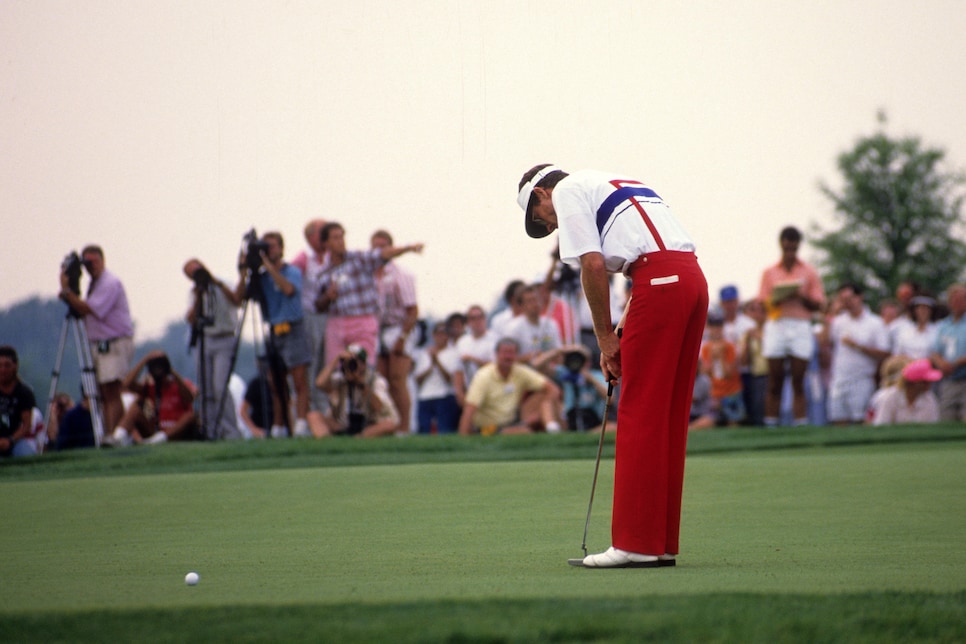 Mike Reid saw the 1989 PGA slip away down the stretch at Kemper Lakes.
Jacqueline Duvoisin
One look at Kemper Lakes in 1989 would leave two distinct impressions. First, they don't build courses like they did in the 1970s anymore—big yet standardized designs with landing zones pinched by sprawling bunkers and large segmented greens. Second, with water hugging seven holes, including the last three, this would be the perfect place to choke away a tournament. Which, unfortunately, is exactly what Mike Reid did. The Chicagoland gallery didn't know whether to gasp or cry as the almost wire-to-wire leader stood on the 70th tee with a three-shot lead, and proceeded to finish bogey/double bogey/par to lose by one to Stewart, who shot 31 coming in to steal the first of this three major titles.
CROOKED STICK, 1991
WINNER: John Daly, 276 (-12)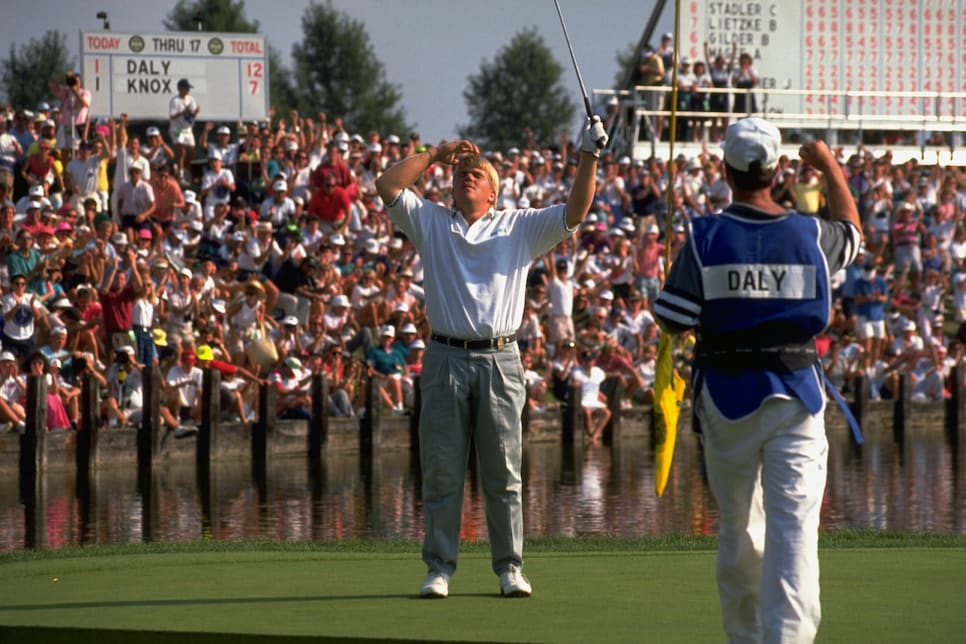 John Daly was a suprise winner of the 1991 PGA at Crooked Stick.
Sports Illustrated/Getty Images
When this week began, almost all the discussion was about unconventional Crooked Stick, an early-career Pete Dye design in his native Indiana that he used as an architectural laboratory, tweaking and modifying it throughout his life. It was the second-longest course to ever host a PGA, and the players were frustrated by having to hit 2-, 3- and 4-irons into small par-4 greens fringed with rough and deep bunkers. When heavy rains came pre-tournament, making the course play even longer, it became apparent that only a player who hit it extremely long and high could prevail. That was prophetic, although no one imagined the one to do it would be a little-known ninth alternate who didn't arrive until early Thursday morning. Combining orbit drives and surprisingly clutch putting, Daly took the lead on Friday and ever looked back, winning by three, the first of his two majors.
VALHALLA, 1996
WINNER: Mark Brooks, 277 (-11)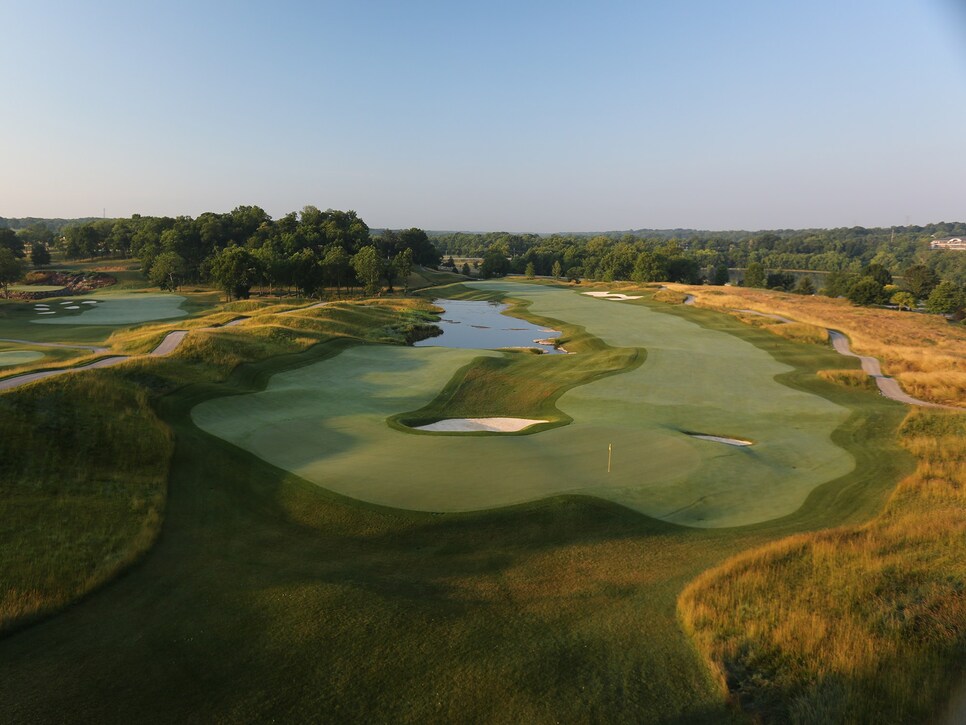 The 18th hole at Valhalla.
The Jack Nicklaus design outside Louisville, Ky., was a little bit country, a little bit forest and a lot of rock-n-roll. Just 10 years old in 1996, it was a unique departure from more traditional venues that proceeded it (Inverness, Southern Hills and Riviera), with modern-looking holes strategically skirting ponds and streams, multiple-route options and opportunities for both heroics and flameouts. Phil Mickelson lead by three at the halfway point but faded, clearing the stage for Kentucky-native Kenny Perry to stand on the 72nd tee with a two-shot lead. He bogeyed, and then watched from the television tower (instead of staying loose on the practice range) as Brooks birdied the last to force a playoff. A stiff Perry bogeyed 18 again giving Brooks his one and only major title, as well as birth to Valhalla's reputation for producing exciting finishes.
SAHALEE, 1998
WINNER: Vijay Singh, 271 (-9)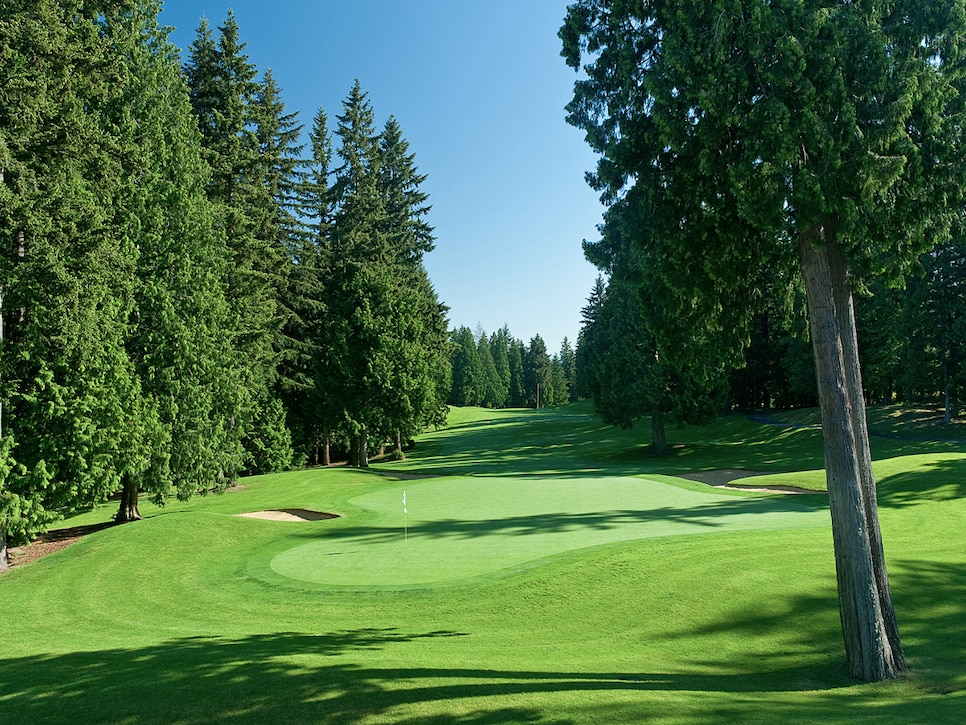 The ninth hole at Sahalee Country Club.
Rob Perry
Looking for a true dark horse at TPC Harding Park? Singh, who will be in the field and who has won twice on PGA debut courses. The first came in the Pacific Northwest at Sahalee, a forested Ted Robinson design outside of Seattle modified by Rees Jones for the event. The course played like the speeder chase on Endor in "Return of the Jedi," with narrow holes jetting through labyrinthine corridors of pine and evergreens. Courses like this demand flawless ball-striking and accuracy, which is exactly what Singh and Steve Stricker provided as they each began the final round four shots clear of the field. They dueled alone until the par-3 17th where Singh was able to get up and down from a bunker for par and Stricker wasn't. This was the last time a PGA was contested at a sub-7,000-yard course, and the last held in Washington state.
WHISTLING STRAITS (STRAITS), 2004
WINNER: Vijay Singh, 280 (-8)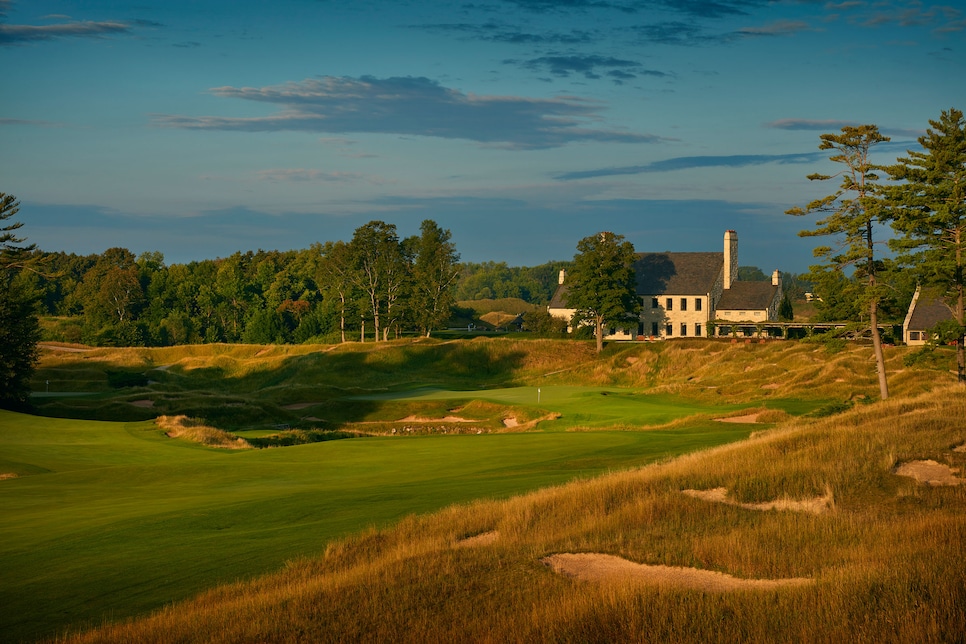 The 18th hole (and clubhouse) at Whistling Straits.
Gary Kellner
It's difficult to predict what kind of tournament is going to break out on a Pete Dye design. By the time the PGA visited for the third time in 2015, Whistling Straits was bleeding red numbers. The first time it stopped on the shores of Lake Michigan, however, the Wisconsin course looked monstrous, wind-ripped and gnarly with knee-high rough and countless bunkers—it was also the first PGA Championship course to top 7,500 yards, boasting three par 4s of more than 500 yards. But it wasn't until the final round that it finally bared its teeth, extracting a 76 and 75, respectively, out of runaway third-round leaders Singh and Justin Leonard, who fell into a playoff with Chris DeMarco. It was fitting that Singh prevailed for his third major crown: he was the best player at that particular moment and just weeks later would ascend to No. 1 in the Official World Golf Rankings, breaking Woods' run of 264 consecutive weeks at the top.
THE OCEAN COURSE AT KIAWAH ISLAND, 2012
WINNER: Rory McIlroy, 275 (-13)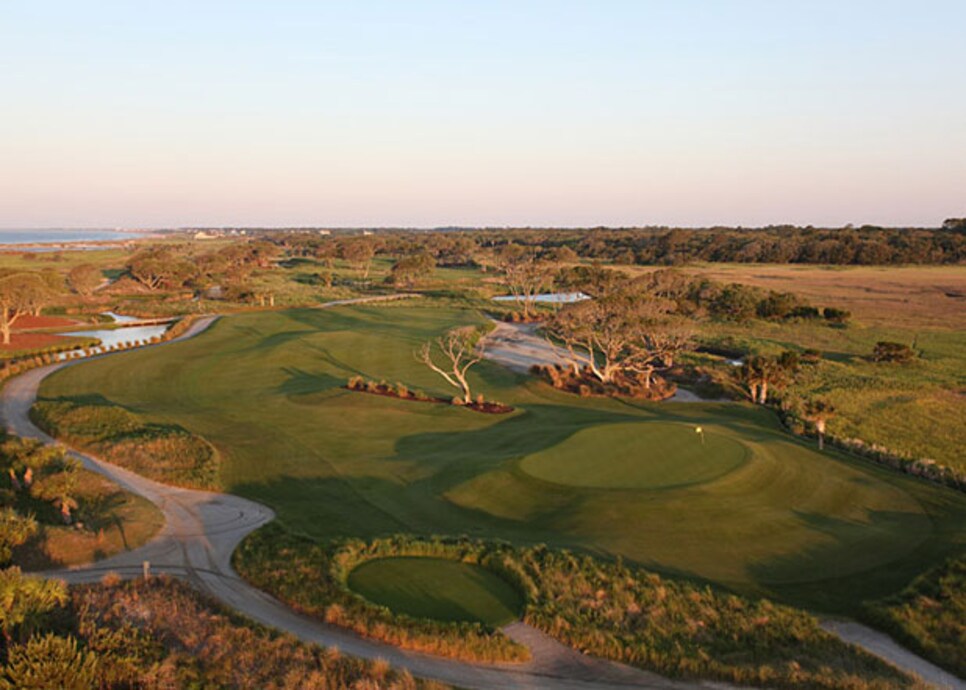 The third hole at the Ocean Course at Kiawah Island.
Pete Dye's Ocean Course on the South Carolina coast made an auspicious debut on the world stage when it hosted the 1991 Ryder Cup, know infamously as "The War on the Shore" due to the psychological carnage it wreaked. The course was far less intimidating during its PGA premiere 21 years later (it will also host the 2021 PGA) due to maturity and design modifications, as well as a field of players better equipped to handle Dye's shenanigans. As expected, the wind and weather roared on occasion but great ball-striking and timely scrambling in gusty Sunday conditions allowed McIlroy to run away from the field on the way to his second major. His PGA Championship record-setting eight-shot victory was a reminder of his unique ability, when on, to lap the competition.
QUAIL HOLLOW CLUB, 2017
WINNER: Justin Thomas, 276 (-8)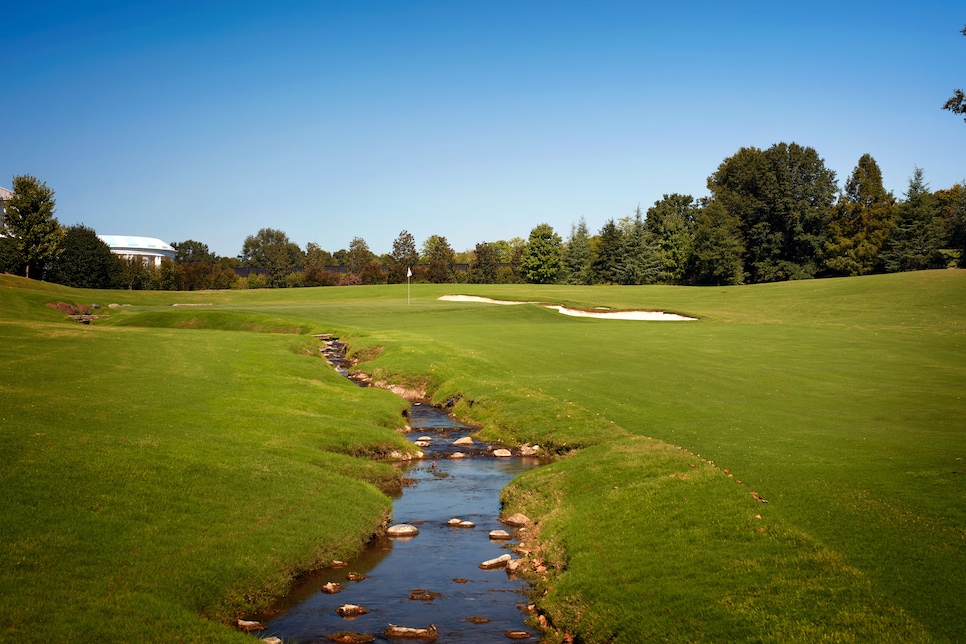 The 18th hole at Quail Hollow Club.
Photo by Gary Kellner/PGA of America via Getty Images
While a first-time major site, Quail Hollow was well known to most of the field who come to Charlotte and play annually in the Wells Fargo Championship, though the four new holes architect Tom Fazio created prior to the event were a change up, as were the re-grassed Championship Bermuda greens. The course played to classic PGA Championship form—firm with tough but not extremely penal rough. And it provided drama as five players held the lead on the second nine before Thomas, 24 at the time, clinched his first major with a gutsy birdie on the difficult, water-banked par-3 17th, an appropriate coming-out party for one of the game's finest young players.