News
PGA Championship 2020: Here's why Zach Johnson thrives in majors, and probably won't be going away this week at Harding Park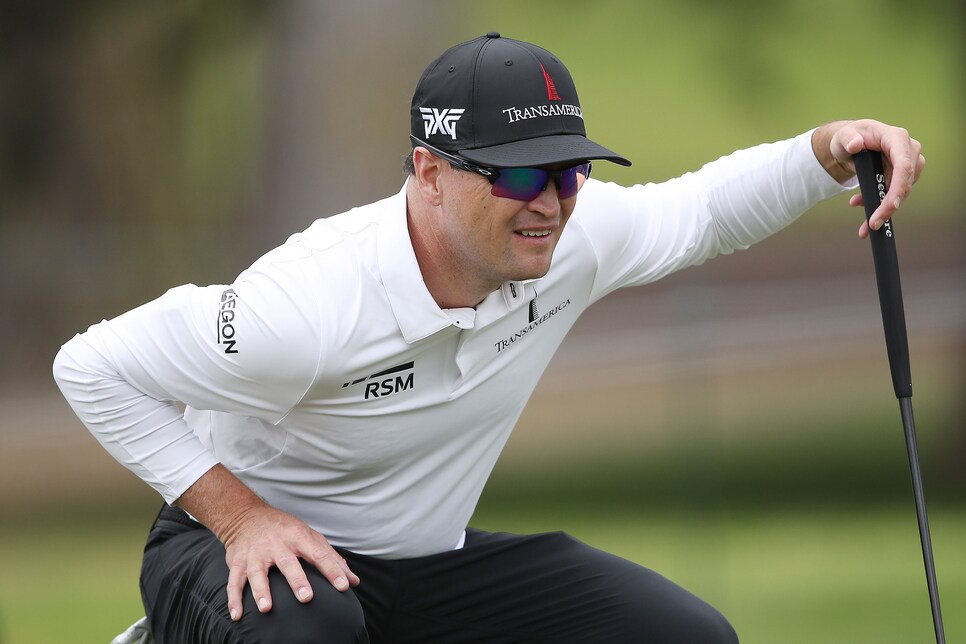 Zach Johnson lines up a putt on the fifth green during the first round of the 2020 PGA Championship.
Sean M. Haffey
In finishing off an opening four-under-par 66 Thursday at the 102nd PGA Championship, Zach Johnson played the ninth hole at TPC Harding Park, his final of the day, in textbook fashion. Well, it was textbook for Zach Johnson.
His tee ball on the 518-yard par 4 trundled just off the fairway into the first cut on the left, leaving a decent lie and a clear line to the back right pin. Then he launched a fairway metal on line to the flag that stopped just short of the putting surface. Two putts. Par. Easy stuff. OK, well, that second shot was struck from 235 yards out. Typical for a guy who ranks 188th on the PGA Tour in average driving distance. He doesn't need a long memory to remember his last long approach shot.
Johnson, 44, isn't leading this first major staged in 382 days, though he did have a share of it until his only bogey on the par-3 eighth hole, his penultimate of the day. But you can make the argument that the two-time major winner led the field in optimizing his skill set. Which, by the way, he's done most of his career.
"Today, I putted great," said Johnson, whose stats bear that out, given that he led the field in the morning wave with a 4.78 strokes gained/putt, a number that could hold up through day's end. "Even some of the putts I missed today looked really good. Pretty solid. There wasn't anything overly flashy, just solid."
Ranked 210th in the world, Johnson never has been flashy but usually has been solid, which is how he won the 2007 Masters and the 2015 Open Championship at St. Andrews—the last, to date, of his 12 tour wins.
Length is supposed to be a huge advantage at Harding Park, and still might be the deciding factor come Sunday. The bombers can still find greens much of the time from the rough, while Johnson cannot, so he has to hit fairways, he has to chip well and his putter has to remain his best friend.
If you're surprised that Johnson flourished, he was not. He said he has been putting decently in recent weeks and his game overall was moving in the right direction with each practice round.
"I just got better as the week went on—Monday, Tuesday, Wednesday," he said. "Yesterday was really good. Started to really hit a lot of fairways yesterday, and then my speed with my putter became … well, just better from the previous two days. And then it kind of led into today."
His optimism belies his recent results. He hasn't posted a top-10 finish since late 2018 at the RSM Classic, which is a home game for the St. Simons Island, Ga., resident. His best finish this year was a tie for 11th at the Travelers Championship, and he currently isn't qualified for the FedEx Cup Playoffs, ranking 127th in points. But he still competes well in majors. Two years ago he made the cut in all four majors and three of those finishes were in the top 20.
Clearly, he brings a certain mindset to harder tests that allows him to stay competitive. He explained after his round that a lack of fans didn't alter his intensity. Perhaps the stakes and the severity of the test did, though. Experience helps, too.
"In a major you can't get ahead of yourself, and this is a venue where it's very difficult to get ahead of yourself," he said. "Some tournaments, even if they're difficult, it's easy to get ahead of yourself because you're always thinking about the next hole or the next nine, whatever it may be at times, and this place you can't do that. Every shot is so demanding, and that's great. It's fair, it's just demanding."
A major asks a lot of a player. It asks more of a 40-something veteran who always is at a distinct disadvantage when it comes to the almighty tee ball. Zach Johnson can't do anything about that except play to his strengths. Some days, that's plenty good enough.