News
PGA Championship 2019: How many majors can Brooks Koepka win? A LOT, according to Brooks Koepka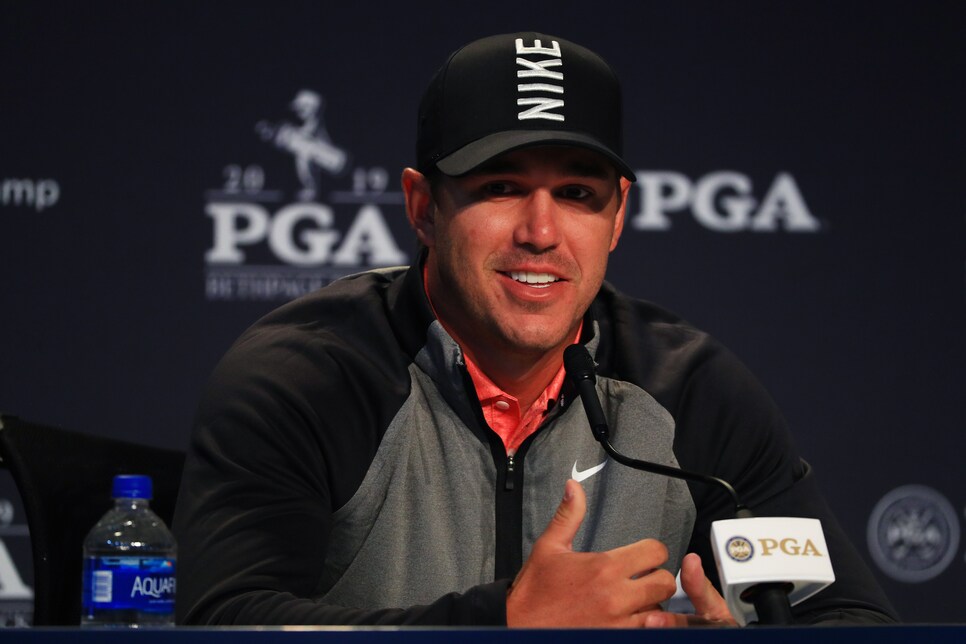 FARMINGDALE, N.Y. — At the rate Brooks Koepka has won majors since June of 2017—three out of his last seven, but who's counting—it's not an outlandish statement to say he'll easily double that total by the end of his career. Six would put him in an elite class, one of only 14 golfers can say they are a part of.
Seven? That would put him with Arnold Palmer, Sam Snead, Gene Sarazen, Bobby Jones and Harry Vardon. Eight? That'd tie him with Tom Watson. Nine? Hello Ben Hogan and Gary Player. Hell, five or more puts him in the conversation of the greatest golfers of all time.
Koepka is aiming way higher.
On Tuesday morning at Bethpage Black, host of this week's 101st PGA Championship, the defending champ was asked if he had a certain number of total majors won in mind. If his answer ever proved to be prophetic, he'd put himself in rarified air.
"I don't see why you can't get to double digits," said Koepka without skipping a beat. "I think you keep doing what you're supposed to do, you play good, you peak at the right times. Like I said, I think sometimes the majors are the easiest ones to win. Half the people shoot themselves out of it, and mentally I know I can beat most of them, and then from there it's those guys left, who's going to play good and who can win."
It's a number only three players have ever reached: Jack Nicklaus, Tiger Woods and Walter Hagen. Koepka, who just turned 29 on May 3, is not old, but he's not getting any younger either. Tiger already had nine at 29, while Jack had seven. Hagen, however, won his third just months before his 29th birthday, so the precedent is there for Koepka to have an explosion of victories in his 30s. Of course, Jack and Tiger did okay in their 30s as well, Nicklaus winning eight times and Woods five before a decade-plus drought.
But as both Rory McIlroy and Jordan Spieth have proved, majors aren't easy to win as Koepka thinks they are. Many believed McIlroy would be halfway to 10 by now after winning four by the age of 25, yet he's not won since the 2014 PGA Championship. Four days before his 24th birthday, Spieth won his third major at the Open Championship in 2017. It remains his last professional victory.
Koepka has never lacked confidence, and his performances at the majors have given him every reason to set the bar high. Even in non-victories, Koepka has shined, collecting four top 10s before winning his first at Erin Hills in 2017, then adding a T-6 at the 2017 Open Championship and a T-2 at the Masters in April. In his last 16 majors, he's finished T-21 or better 15 times.
Maybe they really are easier.
"One hundred and fifty-six in the field, so you figure at least 80 of them I'm just going to beat," he said. "From there, about half of them won't play well from there, so you're down to about maybe 35. And then from 35, some of them just, pressure is going to get to them. It only leaves you with a few more, and you've just got to beat those guys.
"I think one of the big things that I've learned over the last few years is you don't need to win it, you don't have to try to go win it. Just hang around. If you hang around, good things are going to happen."
This mindset, according to Koepka, is what has deterred him from winning much more in regular PGA Tour events.
"I've gone out on Saturday and tried to build a cushion, maybe pressed a little bit too hard and gotten ahead of myself, where in the majors I just stay in the moment. I never think one hole ahead. I'm not thinking about tomorrow. I'm not thinking about the next shot. I'm just thinking about what I've got to do right then and there. And I kind of dummy it down and make it very simple, and I think that's what helps me."
This attitude, which has clearly served him well in the biggest four weeks of the year, makes that double-digit number not sound too crazy. But even he knows saying it and doing it are two different things.
"I like my chances this week. I feel like I'm playing good. You know, if I do what I'm supposed to do, then yeah, I think I'd be tough to beat. But at the end of the day, you never know what's going to happen. You've got to go out and play four good days. So we'll see when the gun goes off on Thursday."