News
PGA Championship 2018: An emotional Rickie Fowler pays tribute to Jarrod Lyle, and jumps to a quick start at Bellerive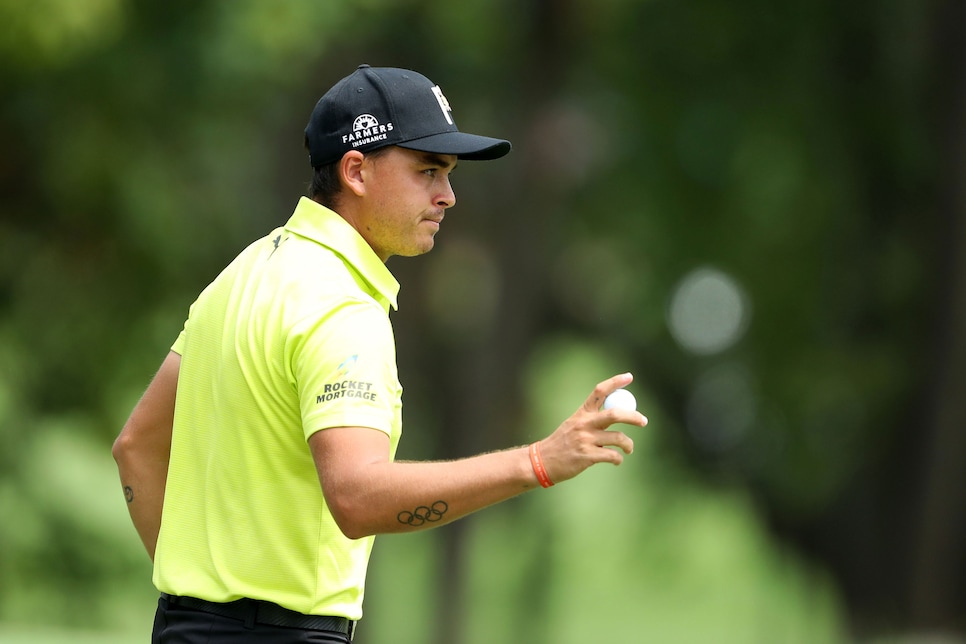 David Cannon/Getty Images
ST. LOUIS — PGA Tour players often come across as scripted automatons in how they walk, talk and play. This extends to their dress, as well, with their outfit for any particular day's round having been carefully curated in some faraway marketing laboratory weeks (if not months) earlier.
Rickie Fowler was supposed to wear a dark blue shirt from Puma in the opening round of the PGA Championship. I'm sure it was very nice. Then Jarrod Lyle, the affable and indomitable Aussie who fought so inspirationally during three separate bouts with cancer, passed away from the insidious disease, on Wednesday evening.
The news hit Fowler hard.
The first time the two played together on the PGA Tour was at the 2009 Waste Management Phoenix Open. It didn't take long for the Big Unit to have a big impact on the young superstar, with Lyle often razzing Fowler hard enough to keep his head from getting too big. They played often early in Fowler's career and in 2016 when Fowler was in Australia for the World Cup, he played in a charity tournament for Lyle, and the two remained close to the end.
On Thursday, Fowler paid tribute to Lyle by ditching the shirt he was slated to wear for a bright yellow-ish one that he dug out of his suitcase the night before. It was an extra that he wasn't even supposed to wear this week at Bellerive, but he wanted to do so in honor of his friend, who frequently wore yellow in competition. It went well with the Leuk the Duck pin attached to Fowler's black and yellow Puma hat.
"It's been a tough few weeks, especially talking with guys that were also close with Jarrod," said Fowler, choking back tears. "I was lucky enough to be able to talk to him last Friday, so one thing that did help is hearing kind of from him how he felt. He sounded like he was in a good spot."
After an opening-round 65 at Bellerive, Fowler is in a good spot, too. His six birdies and one bogey have him atop the leader board at the PGA after the morning wave as he tries again to capture what has been an elusive first major.
"I'm definitely happy, but Thursday you can't go win the golf tournament," he said. "You can definitely take yourself out of it and lose it, so we took care of what we needed to take care of today and we move on to Friday."
Now he just needs to take care of the rest of the week.
At this year's Masters, Fowler put on a dazzling back-nine charge with six birdies in his last 11 holes en route to a Sunday 67, but fell one stroke shy of Patrick Reed. It was Fowler's third runner-up in a major and eighth top-five of his career.
One view would be that he struggles to close when it matters the most. Another would be that he keeps giving himself the opportunity.
"I know Phil [Mickelson] didn't win until his 30s," he said. "It's not something I necessarily worry about. Keep putting ourselves in position, get in contention. We have had plenty of runner-ups. Jack had a lot of runner-ups. We'll just keep beating down that door."
And this week keep beating the drum for Lyle.
"It's been fun to be thinking about him while we're out there playing because he would probably be the one to kind of kick you in the butt if you started feeling sad or bad," Fowler said. "He would kind of give you a hard time and tell to you man up or something along those lines.
"It's been enjoyable celebrating his life, and we'll continue to do that."
Lyle was just 36 when he passed away, cancer having taken his vibrant soul far too soon. This week's PGA? It's Fowler's 36th career major championship.
Now that's a script anyone would sign up for. What better way to keep the celebration going than by chugging a few beers in the Big Unit's honor from the biggest trophy in golf.