News
Pernilla Lindberg, a Swedish upstart, upstaging the stars and co-leads ANA Inspiration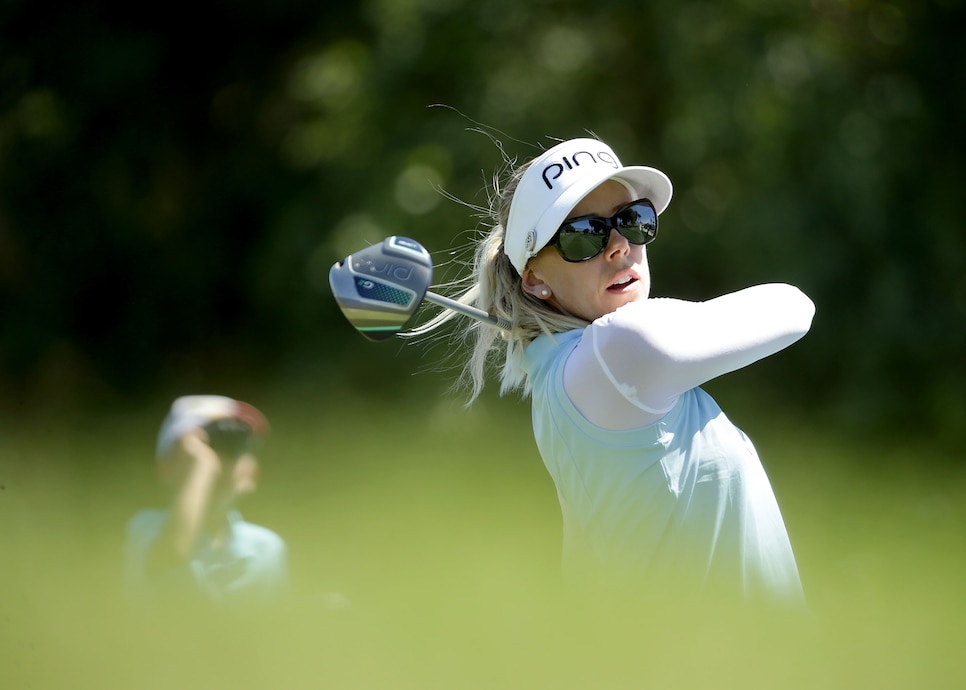 RANCHO MIRAGE, Calif. — Sunny and warm is an evergreen weather report in these parts this time of year, but it also applies to Pernilla Lindberg's disposition.
A good attitude might or might not help when it's hot enough to fry an egg on a sidewalk, nearly 100 degrees here on Friday, but it can't hurt. Of course, a good attitude is a gimme when you shoot 65-67 in the first two rounds of a major championship, as Lindberg has done.
Lindberg and Sung Hyun Park co-lead the ANA Inspiration on the Dinah Shore Tournament Course at Mission Hills Country Club. The glamour pairing of Lexi Thompson and Michelle Wie, meanwhile, has underdelivered; Thompson is eight shots back, Wie 10 back. Jessica Korda is in third, three off the lead.
For Lindberg, a 31-year-old native Swede, her temperament isn't dictated by her scores. An even keel and optimistic outlook are the hallmarks of a career defined by mediocrity. She has never won on either the LPGA or Ladies European Tour, never finished better than third, in fact, in her eight years on the LPGA, yet it has not discouraged her.
"I feel like as a player I might be kind of slow, but I'm for sure keep going in the right direction all the time," she said. "Obviously nowadays we have a lot of young players that come out and win right away, but I haven't let myself get frustrated that I haven't maybe had the success yet that I've wanted.
"I just kind of keep plugging away and feel that I improve year by year. I'm just collecting so much experience out here every year, that I'm getting more and more ready just to be in this situation. Every time I'm there, I'm just so much more comfortable."
By way of introduction, Lindberg is from Bollnäs, a town of 25,000 in the northern part of Sweden. Her parents introduced her to the game at Bollnäs Golf Club.
"The golf season is obviously really short," she said. "But if I wanted to see my family during the summers, I had to be at the golf course, and I loved it. Even before I was really playing, I was out there picking flowers, rolling around in the grass. I was just in the environment all the time."
Bollnäs Golf Club had the only course in town. "Actually kind of a funny fact is that my dad has been the president of my home club for 40 years. So I think that might be some kind of Swedish record. We probably have twelve-hundred members there. I'm from a pretty small town, but I know I have twelve-hundreds fans there that have kind of followed me since I was little."
Her rooting section will grow should she continue to outperform her record. The question then is whether she is capable of maintaining her pace.
"Obviously, I haven't been exactly there in a major before," she said, "but I still have been around it enough. Of course, it's going to probably give me a few more butterflies in my stomach, but as long as I do what I'm supposed to do when I'm over the ball, that's all that matters. I've gotten plenty of practice at that."