News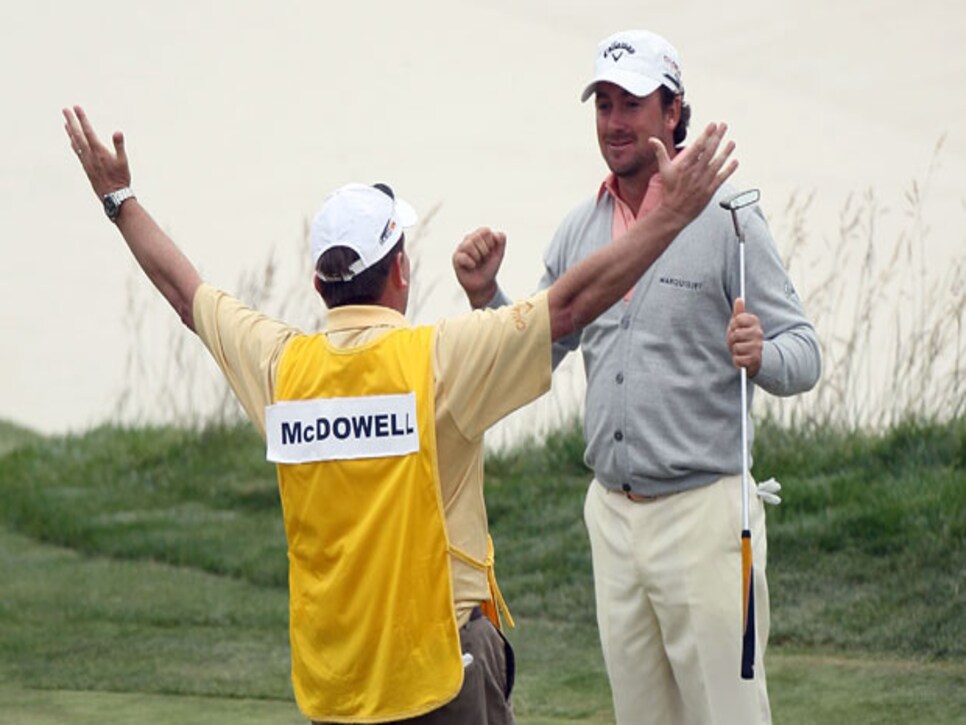 Graeme McDowell managed his game and the course on his way to the title.
PEBBLE BEACH -- Well now, that was fun. Unless, I suppose, if you had to play in it. If there were ever any doubts that the U.S. Open is the hardest golf tournament on the planet -- and maybe on a few planets yet to be discovered -- they were put to rest once and for all Sunday on a Pebble Beach Golf Links that just drilled several of the best players in the world before identifying a couple lesser knowns as the best of this particular week.
When play began in the final round with Dustin Johnson holding a three-stroke lead over Graeme McDowell, most folks were looking a little bit farther down the leader board for potential winners. There was Tiger Woods lurking five strokes behind McDowell and coming off a third-round 66; Ernie Els was six back and had won this tournament twice. Phil Mickelson was seven strokes off the lead after a gutsy 73 on Saturday that could have been an 83 -- the kind of effort that wins tournaments.
All the Big Three needed was a little help from the leaders. Johnson immediately did his part by playing the first three holes five over par on his way to a painful 82. But on a day when birdies were an endangered species and there were no moves made by anyone back in the pack -- at least not anyone with a serious chance to win -- McDowell quickly sensed the situation and adjusted brilliantly, managing his way cautiously around the course and avoiding disaster.
He posted one of the great 74s of all time to win at even-par 284 and it was Gregory Havret, a Frenchman barely known in France, who gutted out a 72 to finish one stroke behind as a European won the U.S. Open for the first time since Tony Jacklin in 1970. Not a bad omen in a Ryder Cup year.
"I was proud of myself the way I stayed calm today," McDowell said. "To win at Pebble Beach, to join the names Jack Nicklaus, Tom Watson, Tom Kite, Tiger Woods, me. Wow. I'm not quite sure if I belong on that list, but hey, I'm there now. It's a pretty amazing feeling. I really stuck to my game plan which was to put some nice calm swings on it and not get really sucked in by what the rest of the guys were doing."
And the Big Three? Woods failed to capitalize on Johnson's early woes when he bogeyed three of the first five holes on his way to a 75. Els turned in 33 but stumbled home in 40, and Mickelson, who went out in 34, came back in 39. None of them ever put the kind of pressure on McDowell that would make him crack. They were on the leader board in name only.
"I wasn't really surprised by that," Mickelson said about the high scores on Sunday. "It just wasn't there, other than the first six or seven holes. The pin placements got progressively more difficult. And there just wasn't the opportunity, really, for birdie."
That gave McDowell room to breathe, and he used it wisely. When he was in trouble -- like over the green on No. 14 or bunkered on No. 17 -- he was able to play safely and settled for bogeys rather than risk higher numbers by gambling for pars.
In the end, Havret joined the procession of backpedalers when he missed an 8-foot birdie putt on the final hole that allowed McDowell -- who was watching from the 18th fairway -- to play cautiously for a lay-up par. "I had an opportunity to go for 18 in two, but made the decision not to when he didn't make four," McDowell said.
Woods spent most of the day looking like one of those Accenture commercials he used to make where he would be off standing in waist-high grass talking about handling difficult decisions. "Our game plan was just if we shot under par for the day we would probably win," Woods said. "The golf course was playing too hard, too fast, and it can get away from you pretty quickly out there."
Certainly, that was a feeling experienced by a lot of the contenders on Sunday. For those who feel that par should be a difficult score to achieve, they got their kind of U.S. Open. And those who say it is no fun watching grown men cry -- or at least make bogeys -- will have plenty of high numbers with which to bash around the USGA.
Mike Davis, the guy who sets up courses for the USGA, took the shortest course on which a U.S. Open has been contested since the disaster at Shinnecock in 2004 and made it one of the most difficult without ever losing control of the situation. Any complaints about the course were about bumpy greens and not the way Davis set it up.
Asked if he was surprised that McDowell and Havret contended down the stretch, Woods said: "Not necessarily because of what Mike has done with the golf course. He's given more guys the chance to win the golf tournament. It's more open now. With the graduated rough, being firm and fast like this, it brings a lot more players into play who have a chance to win."
What Woods seems to be saying is that Davis has brought shotmaking back into the game and bomb-and-gouge out of it. You cannot try to overpower a U.S. Open course. Davis has also placed a premium on another quality of a true champion: Patience and the ability to adjust to conditions.
McDowell did that brilliantly on Sunday at Pebble Beach while others took risks when they didn't need to. In the end, after Johnson handed him the lead, McDowell played brilliant defense. And maybe that was appropriate in the midst of the World Cup. Because if Sunday at Pebble Beach felt like anything it was one of those 1-nil contests where scoring becomes secondary to merely not making mistakes. Once McDowell got the lead, he protected his goal magnificently -- the way a champion does.