News
Patton Kizzire is the last man standing—figuratively, fortunately—in a fraught-filled week at the Sony Open in Hawaii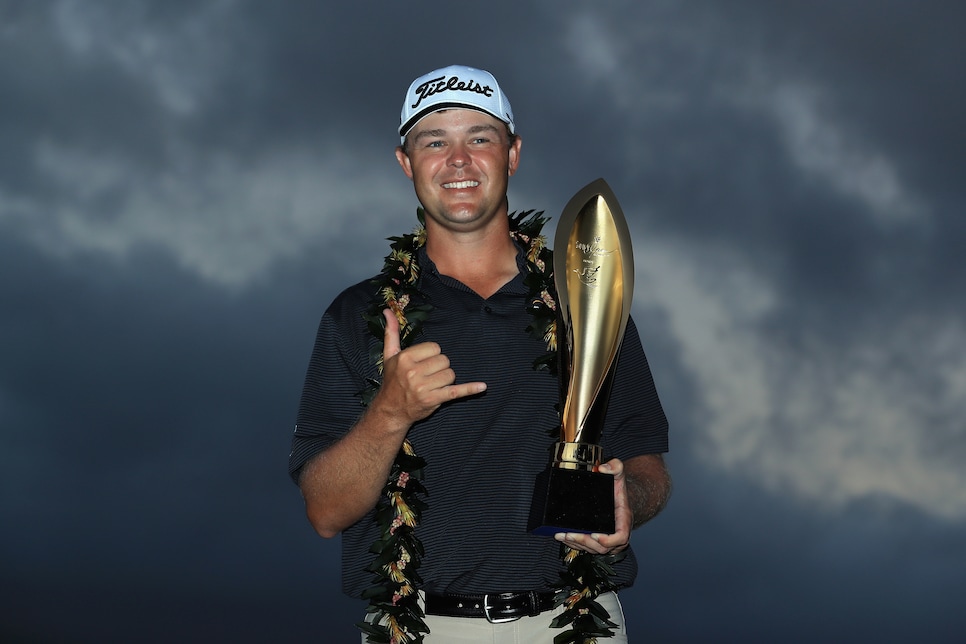 HONOLULU — Recapping the week that was in the Aloha State—one that included the fear of a missile strike, an actual strike of television workers and a caddie admitted to the neurological ICU after falling and hitting his head—a golf tournament seemed well down the list of eventful happenings.
The Sony Open in Hawaii carried on anyway.
It was only fitting then that the tournament was decided in the longest playoff in its more than 50-year history.
On the sixth extra hole at Waialae Country Club, James Hahn's six-foot par putt on the par-3 17th slid wide right, leaving Patton Kizzire a two-footer for par that he made for the win.
"It has been a peculiar week. We have a great friend that is in critical condition that our prayers [go out] to him and his family," said Kizzire, a reference Cory Gilmer, caddie for Blayne Barber and who, like Kizzire, played college golf at Auburn, who fell and injured his head on Friday night. "And the missile strike was wild—or the missile threat was wild, and the camera strike was unexpected as well.
"So amongst all that, I was able to focus on playing golf, and I was glad to get the win."
The victory was the second in Kizzire's last four starts—his previous one came last fall over Rickie Fowler in Mexico—and of his career. The 31-year-old St. Simons Island, Ga., resident also became the first player this season to record multiple victories.
"This is huge for me," Kizzire said. "One win doesn't necessarily mean a whole lot, two means a little more, and three is even better. I'm always looking for the next one."
He doesn't have to look far to see what it could mean. Or what it could lead to. Players with multiple victories last season included Justin Thomas, Jordan Spieth, Dustin Johnson, Hideki Matsuyama, Marc Leishman and Xander Schauffele. Pretty good company to be in. Thomas was the tour's player of the year and won a major championship. Spieth won the Open Championship, his third major before age 24. Johnson finished the year No. 1 in the world and remains there. Matsuyama reached as high as second in the world, while Leishman moved up to being the world's top-ranked Aussie at No. 12. Schauffele was named Rookie of the Year.
Kizzire outplayed all of them this week, by the way, save for Johnson and Matsuyama, who weren't the field.
Did I mention that Hahn also closed in 30 en route to a 62 to land in the playoff? He was also 2-0 in playoffs, the first of which included him beating Johnson with a 25-foot putt on the third extra hole at Riviera.
This time, it didn't go the 36-year-old's way, despite a couple of looks in overtime to win it.
"This [playoff] was a little different," Hahn said. "I teed off at 10:30 this morning. Didn't have lunch. Just kind of tired overall, how the week panned out.
"I'm not making any excuses. I definitely had enough gas for the playoff. It's just, God, I'm just hungry. A lot of adrenaline. And then that kind of carried over to my putting where I just didn't really feel comfortable."
It was evident in some of his swings, and his stroke.
Kizzire, who had a 17-footer on the last to win it in regulation long after Hahn had already finished, felt the opposite going into the extra frames. It helped that just two months ago, he shot a final-round 67 in Mexico to hold off Fowler by a shot.
"Experience is huge, especially going toe-to-toe with Rickie there in Mexico," he said. "That was big for me to come out on top and to know that I can do it and to see myself do it. I used that experience today.
"I didn't have my best stuff, but I was able to kind of get it done and make some pars when I needed to."
Birdies, too. A pitch-in on the 10th followed by a 13-footer one hole later helped.
"That was a big boost for me," Kizzire said. "It was a wild day."