News
Patrick Reed says Tiger Woods 'winning a lot of tournaments' not out of question
NEW PROVIDENCE, Bahamas — Some of Patrick Reed's earliest memories of Tiger Woods were when Woods won seven straight starts from the middle of 2006 through early 2007. It's still the second-longest winning streak in golf, behind Byron Nelson's 11.
The one that stood out the most, however, is the one that started it all, when Woods captured the 2006 Open Championship at Hoylake a few months after Woods' father, Earl, had passed away. Woods missed just a dozen fairways that week and at one point hit 36 straight greens in regulation on the baked-out links course.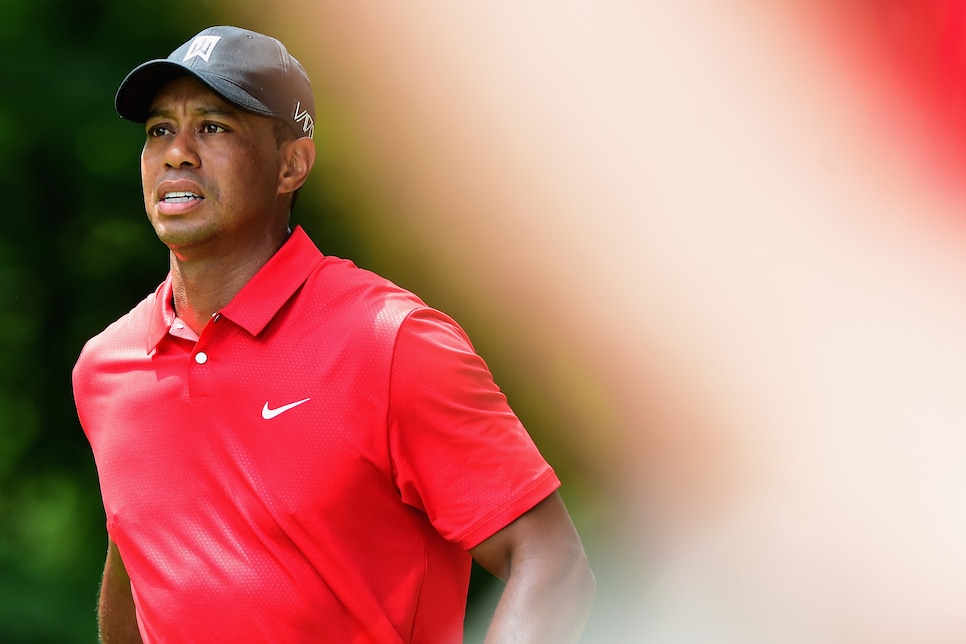 "That was my guy growing up," Reed said. "Everyone my age wanted to be Tiger."
Monday, the two played nine holes together at Albany, the 600-acre luxury playground for the super rich on the southeastern tip of the Bahamas—where Woods' yacht "Privacy" runs about middle of the pack in the enclave's marina, and where its owner is returning to competitive golf at this week's Hero World Challenge after a nine-month hiatus following a fourth back surgery earlier this year.
While Reed, 27, would welcome the version of Woods who dominated the game for more than a decade, he knows the soon-to-be 42-year-old Woods is something else at this point in his career. What, exactly, is TBD. Still, he was impressed by what he saw from the 14-time major champion and tournament host in their few hours together on Monday.
"It didn't impress me that he could hit it long and straight," said Reed, who was outdriven by Woods on every hole, including their last one of the day when Woods clipped him by 50 yards. "I expected that. Tiger wasn't going to come back unless he felt his game could handle it.
"I was more impressed by him hitting the different golf shots, going at drivers hard, drawing it, fading it, moving his body fast through the ball, moving his body slow through the ball, getting steep on some to flight it, being able to hit all the shots he hit today and not once wince, not once pick his tee up tee gingerly, walking tall, walking his normal pace and with pep in his step."
A day earlier, Woods played 18 holes, saying he is pain-free. On Friday, he also played with President Donald Trump, Dustin Johnson and Brad Faxon in a round in South Florida.
The shots haven't counted for real (yet), but the reports have been nothing but glowing from those who have taken part.
In October, Ian Baker-Finch told GolfDigest.com that Woods' swing looked "smooth" and that his game looked "normal," after observing him in a round at Medalist. Last month, Rickie Fowler, also a member at Woods' home club and one of the game's longest hitters, told Golf.com that Woods was hitting it "way by" him. Then last week, Faxon noted in a piece he penned for Golfweek, that Woods outdrove golf's resident bomber Johnson "half the time" in their round together.
The expectations should be tempered, though.
This week's tournament will be Woods' first since the Dubai Desert Classic in February, where he withdrew prior to the second round because of back spasms. And last year when Woods returned from another long layoff at the Hero, only two players finished the week with a higher score than Woods' four-under 284 total.
Woods does appear healthier and his swing looks freer, yes. Just being able to tee it up and doing so pain-free is enough—for now. It is, as Woods often likes to say, a process.
"He has nothing else to prove," Reed said. "People are putting all these expectations on him. Is he gonna come back? Is he gonna play well? Who cares? We're just glad to have him back. We all want a healthy Tiger.
"If [he] stays healthy ... I wouldn't be surprised if he came back and started winning a lot of tournaments again. If he stays healthy."