News
A stellar Sunday gives Patrick Cantlay the Zozo title and some much-appreciated momentum as the Masters looms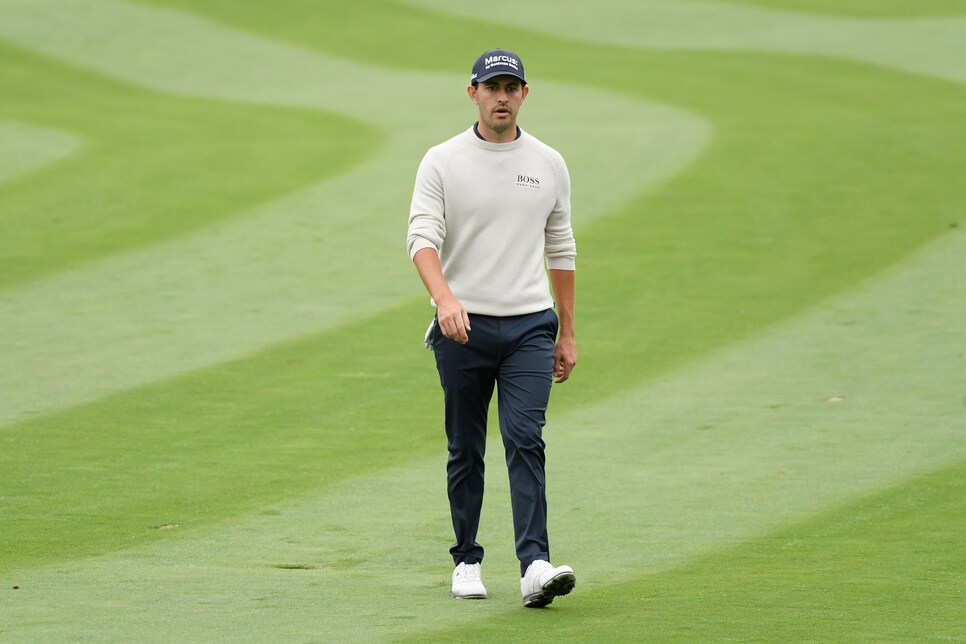 THOUSAND OAKS, Calif. — Patrick Cantlay has never seemed particularly fond of the spotlight. He's quiet, goes about his business and lets his game speak for itself.
It should come as no surprise, then, that while two of the world's top three players duked it out in what felt like the main event, the laconic Californian was content to tip-toe his way up the leader board Sunday at the relocated Zozo Championship.
In the end, he could not be ignored. Cantlay leapfrogged Justin Thomas and Jon Rahm with a thoroughly impressive 65 on Sunday at Sherwood, good for 23-under 265 total and a one-shot victory.
It's the 27-year-old's third PGA Tour victory and his first in his home state. Cantlay grew up a 90-minute drive down the coast in Long Beach and played two years at UCLA, where he reached No. 1 in the World Amateur Golf Ranking. Mind you, the Zozo was being played at Sherwood for this one time, the COVID-19 pandemic forcing PGA Tour officials to move the Japan-based tournament to the U.S. due to travel restrictions.
"It's really great to win at home," Cantlay said, never one to waste words. "I look forward to hopefully winning at Riviera, and anytime you win close to home it just feels a little sweeter. I felt comfortable all week. I like this cloudy California weather, I'm used to it, it's what I grew up with. It was just a nice week."
Cantlay started Sunday three shots behind Thomas—further back than he'd like to be, for sure, but well within striking distance on one of the easier PGA Tour setups in recent memory. Sherwood has five par 5s, and they're all reachable, and at roughly 7,100 yards and a par 72, it had little defense against this world-class field. At more than a few points during this week, birdies felt as commonplace as pars.
On a course like that, getting off to a fast start is a must—otherwise, you feel like you're losing ground and start to press. Cantlay got off to an ideal start, birdieing three of his first four holes to pull within two shots of Thomas. But Thomas and Rahm held steady through the front nine, each making the turn at 22 under.
Patrick Cantlay's third career PGA Tour win comes in his 101st career tour start.
Harry How
Cantlay was two back of Rahm after the Spaniard birdied the par-5 11th to get his nose ahead. No reason to push, as there were still two par 5s remaining. The first one proved pivotal. Cantlay played the 13th perfectly, bunting a driver down the center of the fairway then running up a fairway wood to the fringe before converting an easy two-putt birdie.
In the group behind, Thomas and Rahm both made a mess of the hole, albeit in different ways. Thomas' mistake came with his tee shot, a block that found thick rough down the right side. He could not advance his second into the fairway and had a blind shot for his third, which he sent over the green. But still, a nifty up-and-down for par averted total disaster.
Rahm cannot say the same. He striped a 3-wood off the tee and had an iron in hand for his second, but he caught his approach a bit heavy and left himself every golfer's least favorite proposition: the 40-yard bunker shot. He left it short of the green and could not get up-and-down—a crushing bogey to fall a shot back.
Cantlay kept pushing. He canned a 17-footer for birdie at 14 and pulled off the shot of the day on the par-3 15th, one of Sherwood's only difficult holes: a three-quarter 7-iron that he nearly dunked. His 10-footer for birdie was dead center, and the tournament was his to lose, so long as he avoided a bone-headed mistake.
He did not avoid a bone-headed mistake. After laying up with his second on the par-5 16th, he pulled a wedge well left and hit a tree—he was somewhat fortunate that it kicked right. Still, his bogey (just the second he'd made all week) opened the door for his chasers.
"I thought I still had to make birdies, so I was firing right at that flagstick and I pulled it a little bit," Cantlay said. "Occasionally that happens even to the best of us.
"I wasn't expecting it to hit the tree, thought it would actually cover the tree. I think if it would have missed the tree, maybe it would have caught the edge of the green, but it hit the tree and went to a bad spot."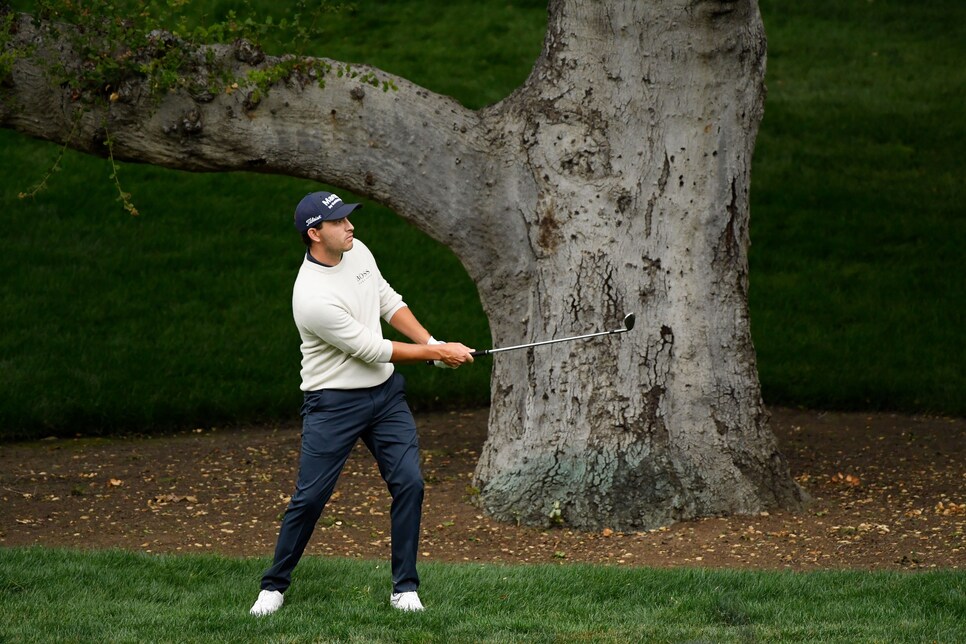 Patrick Cantlay plays a shot from the rough on the 16th hole during the final round of the 2020 Zozo Championship.
Harry How
Ultimately, Rahm had a 19-footer for birdie on the 18th hole to force a playoff that missed on the low side; he settled for a closing 68. Thomas, who would ultimately shoot "only" a 69, needed to hole his approach shot on the 18th to tie Cantlay, and came close, A four-foot birdie at 18 earned him a tie wutg Rahm for second.
"I just didn't play very well," said Thomas, who had a 54-hole lead for the 14th time in his still young (he's only 27) career but for the third straight time failed to convert it into a win. "It's unfortunate because I feel like I usually could have shot 5 under out there. To play the par 5s one under is just unacceptable if you're trying to win a golf tournament. I fought like hell, I fought as hard as I could, I just didn't have my best stuff."
It's a validating victory for Cantlay, and one that sees him return to the top 10 in the World Rankings, moving to No. 9. Which is where he belongs—while the public might not think of him in the same breath as the 20-somethings he beat on Sunday, there's been a sense inside the golf world that Cantlay is every bit as good as the Thomases, the Rahms, the Morikawas, the Schauffeles of the world. Not quite an underachiever, but capable of more. Watch him on the driving range and you'll understand. Remember, he's the guy who shot 60 as an amateur in a PGA Tour event, the one who held the solo back-nine lead at Augusta National for a hot second in 2019.
Speaking of Augusta. Add another name to the expanding list of contenders for the Masters.
"I was able to win one of the tournaments Tiger won last year," Cantlay said. Woods won this event last year in Japan but beat just three players this week.
"So now I'm just going to go try and win the other event that Tiger won last year."