Golf In The Days Of Black & White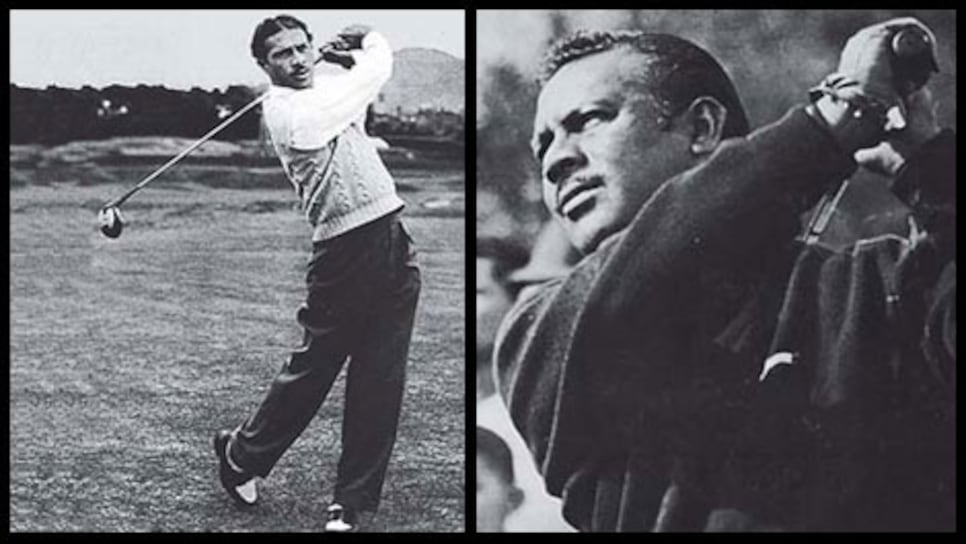 It's a midweek afternoon in August at the Durban Country Club, one of South Africa's most famous golf courses, and a club tournament is in full swing. The bar is filled with golfers telling jokes over beers, totting up their scores, and keeping half an eye on the TV, where a cricket match between the Virgin Islands and St. Vincent is reaching what in cricket passes for a critical climax. Outside, through the glass doors, a procession of golfers and their barefoot caddies can be seen navigating the devilish par-4 closing hole, where a skillful tee shot that is favored with a couple of fortunate breaks can sometimes reach all the way to the green. The sun is shining. Monkeys play in the trees. There is a breeze coming off the nearby Indian Ocean, filled with tropical suggestions of exotic fruits and spices, and forgotten sultry afternoons.
"This is where it happened," says Rajen Sewgolum. In golf's long and checkered history of racial discrimination, what took place in 1963 on the terrace directly in front of us has been characterized as the sport's most shameful moment. In a sport that is still far from averse to shameful moments, it's a story that continues to resonate today. Rajen's father, Sewsunker Sewgolum, an impoverished caddie who grew up in a tin shack not far from the course, who never went to school and could neither read nor write, was finally, at the age of 34, given permission to compete in the Natal Open, a tournament that had previously refused his presence because of the color of his skin. And playing the game with his characteristic serenity and a strange upside-down grip, the man they called "Papwa," who never had a golf lesson in his life, overcame some of the best South African professionals of the day to win the tournament. It was an astonishing victory: To the large Indian community in Durban and to observers around the world, Papwa was a revelation, a homespun hero, a dark-skinned David in a world of white golfing Goliaths.
What happened next became known as "the prize-giving that shook the world." Because it was raining, the logical place for the post-tournament coronation was inside the clubhouse. But in the apartheid parlance of how the government of the day itemized human beings, Papwa was a "nonwhite"; the sanctuary of the clubhouse was exclusively for whites. The champion was therefore hurriedly handed the trophy outside. A hard rain was falling. There would be many more rains to come. Sewgolum died at 49, a disappointed, broken man.
A LOOPHOLE, AND A VICTORY
Papwa was born in a part of the world with a history of oppression. It was in Natal that southern Africans experienced their first taste of systematic segregation, under the British colonial "Shepstone system." Papwa's great-grandfather was one of an army of indentured laborers -- quasi-slaves -- imported from India in 1860 to work on the sugar plantations. Up the road is Pietermaritzburg, where, in 1893, a dapper young Indian lawyer was thrown off a train for having the temerity to hold a first-class ticket -- which he had paid for. So began a lifelong campaign against injustice by Mohandas -- later "Mahatma" -- Gandhi.
Papwa happened to become a golfer because one day, as a boy, walking beyond the confines of the shantytown where he lived, he stumbled upon the Beachwood Golf Course, sister to the nearby Durban Country Club. Later, back home, his father made him a club from a guava tree branch. His father died a few years later, and to support the family, Papwa went off to work as a caddie. By the time he reached adulthood, despite limited access to golf courses and equipment, he'd become a terrific, natural, self-taught player. Unlike practically every other right-handed golfer, Papwa held the club with the left hand below the right, and with no overlapping or interlocking fingers, a strange piece of unconvention of the kind that is sometimes found in geniuses, like Lester Young holding his saxophone sideways, or Einstein's aversion to socks. "I believe a man should swing a club the best way he knows how," Papwa told Golf Digest in 1964. (Many top golfers today use Papwa's cross-handed grip for putting, even chipping, but only a handful use it for all shots.) It certainly worked: He would regularly shoot in the 60s and once made a hole-in-one on Beachwood's par-4 16th hole. With borrowed clubs and borrowed shoes, he won the Natal Amateur at 16 and soon was winning local tournaments for "nonwhites," often by more than 20 shots, routinely setting course records.
The notorious Group Areas Act, which sought to demarcate separate areas for different "races" to live and work, meant that the bigger, far-more-profitable white tournaments were out-of-bounds for Papwa. But there was ambiguity in the law: Was it really illegal for a "nonwhite" to "occupy" a white area if that area was, say, a cinema, or a golf course? The loophole enabled Papwa to gain permission to play in a few white tournaments, starting with the 1961 South African Open, but in the contorted logic of the day he would be allowed to "occupy" only the golf course, not any of the facilities, including the clubhouse, and the permit was only for the days of the tournament -- no practice rounds were possible. Such permits were very rarely granted, usually at the last minute, and always came with significant restrictions. Papwa was constantly watched -- and sometimes directly threatened -- by the secret police. "He must have always been in a state of turmoil," says Rajen over tea at the now-integrated Durban Country Club, which he recently joined.
In 1963, for the first time Papwa's application to play in the Natal "Open" was accepted. On the last day, watched by a surging crowd of Indian supporters, he parred the final hole to win by a stroke. It was an astonishing feat. Papwa was immediately hoisted onto the shoulders of his ecstatic followers. Every caddie, waiter and laborer in Durban stood a little taller that day: Papwa had beaten the white man at his game.
The legend of the ensuing prize-giving has been handed down through the decades like folklore. As Papwa changed in his manager's car and combed his hair, the rain began to fall. "The weather was wild," says a club history published in 1982 (which incorrectly gives the date of the incident as 1965). "A fierce wind blew and the sky was black. ... Then down came the rain in pounding torrents."
The planned outdoor ceremonies would have to be moved inside, into the clubhouse, where the likes of Papwa could not tread. And so it was, in a game of fair play and integrity, Papwa was barred from attending his own prize-giving. Instead, in a downpour, he was quickly presented with the trophy beside the 18th green. The evening was lit up by smiling Indian faces, by photographers' flashbulbs, and, as if in benediction, by forks of lightning in the sky. Then the whites sought refuge in the clubhouse, where the official celebrations got underway. Papwa and his fans made their way home.
The precise details of this tale have been a matter of much dispute over the years. Some said Papwa was handed the trophy through the clubhouse window. (He wasn't.) Some blamed the legendary golfer Gary Player for not speaking up in Papwa's defense. (Player wasn't there.) For a long time, Durban Country Club officials attempted to portray the outdoor ceremony as a magnanimous gesture -- "it would not be fair for Papwa to go inside to get his trophy, out of sight of his enormous following," according to the club history. "It certainly was not a slight to Papwa -- rather one of consideration to enable his fans to see him in his moment of glory." Another rationale was that the outdoor prize-giving was mandated by the Natal Golf Union. Yet another blamed the government: Letting Papwa into the clubhouse would have been illegal under the terms of the Group Areas Act and would have put the club's liquor license in jeopardy.
"I've read so many stories about what happened, and nobody's ever got it right," says Bobby Verwey, Player's brother-in-law, who finished third in the tournament that day. "Papwa was a friend of mine, the loveliest guy you'd ever know. In those days they gave out prizes to the top-five finishers. And the five of us got together and decided to have the prize-giving outside, because Papwa wasn't allowed inside. It wasn't just Papwa -- we all got our prizes outside. There was no prize-giving inside. And it was barely even raining. I don't think we even had an umbrella."
Another man who witnessed the event is Murray Leyden, now the genial golf captain of the club, who was 9 at the time. "I remember the day vividly," he says. "I remember running from every tee to the green to get the best spot. Papwa was very, very popular with the Indian community, and everyone came out in droves to watch him. I remember his grip -- I couldn't believe it. At the end there was pouring and pelting rain. Papwa was given the trophy outside. And then everyone went inside. I really didn't understand why."
Two years ago, Leyden was involved in the club's decision to place a plaque on the outside wall of the clubhouse, facing the 18th green, honoring Papwa for being "the first person of colour to win a professional golf tournament in South Africa." The plaque concludes: "We salute the talent of this self-taught legend of the game." A ceremony was held, attended by Rajen and Papwa's widow, Suminthra. The club apologized for what had happened four decades earlier.
"Although it could have been beyond the control of the club," continues Leyden, "or to do with potential issues, or to do with legal issues, the laws of the land, we regret that it happened. It's important in a new South Africa to right the wrongs of the past, which is why we erected the plaque. It had been a festering sore for the Indian community. A lot of wounds have now been healed." (One club member, however, tells me that he thinks the club has merely done "the bare minimum." Aside from the plaque and a small, framed caricature of Papwa drawn by Leyden's father, there is little evidence of the man at Durban Country Club. The corridor leading out to the 18th green is lined with photographs from bygone events. Papwa is in only one of them, when he finished runner-up in the 1963 South African Open. A planned memorial room in the clubhouse, filled with memorabilia of Papwa's life, never happened. Papwa gets an unsympathetic page in the 1982 club history, blaming the victim for the misfortunes that befell him by concluding: "Sadly, brilliant golfer that he was, Papwa seemed to lack the determination and discipline to remain at the top." Today Durban Country Club -- "where people matter and values count" -- makes no mention on its website of its most famous former employee, homegrown champion and local hero.)
Whatever the truth of the conflicting details of the prize-giving, the incident was just one of countless apartheid assaults that Papwa endured. But as a potent symbol of exclusion, it turned into a firestorm, starting with press commentary at home and abroad. "In any normal land the treatment of this fine player would be considered an insult to him and an acute embarrassment to everyone else," said the defiant Rand Daily Mail the day after the event. E.S. Reddy, a former director of the United Nations Centre Against Apartheid, wrote in 1998: "The photograph of 'Papwa' receiving his trophy in heavy rain outside appeared in many newspapers around the world and greatly helped the boycott of apartheid sport." Even if nobody today can remember exactly what happened, it was a day that golf would never forget.
Papwa remained silent about the snub -- and about all the indignities he was subjected to. "He never spoke out," says Rajen. "He never lost his cool, never raised his voice, never said anything harsh. He was a humble man." Papwa carried on as best he could. He could only rarely afford to travel internationally. His first trip abroad hadn't come until he was 30. A Beachwood member, Graham Gordon Wulff, had given Papwa a job at his cosmetics factory in Durban, with a generous salary and afternoons off for golf. (Wulff would make a fortune from his most popular invention: Oil of Olay.) One day in 1959, Wulff decided to take Papwa's predicament into his own hands: He would fly him out of Africa, in his tiny Piper Comanche 250 ZS-DRT four-seater, to have a crack at the British Open at Muirfield. They flew past the snow-capped Mount Kilimanjaro, survived a storm over the Sahara desert, and posed for photographs sitting on camels in front of the Egyptian pyramids, arriving in Edinburgh after a dozen stops along the way. In the event -- his first of any stature -- Papwa missed the cut but amazingly won his next tournament, the Dutch Open at Haagsche Golf Club. He and Wulff, now 91 -- "my dad's guardian angel," says Rajen -- went home to Durban to a heroes' welcome. "There were huge crowds of people lining the streets to see Papwa," recalls his widow, Suminthra, in the documentary film "Papwa: The Lost Dream of a South African Golfing Legend." Suminthra, who first met Papwa on her wedding day -- they had an arranged marriage -- was proud of what her "poor caddie boy" had achieved.
Papwa won the Dutch Open again the next summer and played in the British Open again in 1963, finishing 13th and beating many more-celebrated players in the field, including defending champion Arnold Palmer. Wrote Herbert Warren Wind: "I have an idea that it will be only a matter of time now before a major title falls to the world's greatest cross-handed golfer -- Sewsunker Sewgolum." Papwa won the Dutch Open for a third time in 1964. And the next year, now allowed back into the Natal Open, he won that again, too, this time in a thrilling head-to-head battle with Player, one of the best two or three golfers in the world at the time. "He chipped like a man from Mars," said Player in defeat. The prize-giving, in decent weather, was held outside.
By now, Papwa's performances were putting a severe and very public dent in the government's fantasies of white supremacy. Permission to play in a string of events was denied, and all appeals failed. The government decreed that mixed sport would not be permitted. Papwa was effectively banned. "Outside South Africa my dad was a hero," says Rajen. "But on his own doorstep, he was treated like a tramp. He couldn't understand why he was being kept from doing the thing he loved. It was breaking him emotionally. Golf was his only livelihood. It was all he knew."
There were a few more forays overseas, including a brief stab at the U.S. tour in 1967, where his first event was in Houston. Among his spectators in the opening round was the previous year's U.S. tour money leader, Billy Casper, who wanted to see for himself the upside-down grip that he'd heard about. "It was amazing," Casper told the press that day. But Papwa cut short the trip. His performances were disappointing. "He was always homesick," recalls Verwey. "He was just never very happy whenever he was away from Durban." Lonely and depressed at the 1970 British Open at St. Andrews, Papwa shot 72-78 to miss the cut by one. It would be his last big overseas event. His final tournament was the 1977 Natal Open for "nonwhites." He won it for the 20th time in 22 starts.
Papwa's life story was chronicled in a 2005 biography, Papwa Sewgolum: From Pariah to Legend, by Christopher Nicholson, a human-rights lawyer, Durban judge, occasional golfer and longtime opponent of apartheid. Nicholson and Rajen have fallen out over it. The book includes some unflattering accents to Papwa's life. He liked a drink, for instance; he fathered a child with another woman. "So," says Nicholson, "he was human. But I didn't set out to upset anyone."
One of the things that particularly irks Rajen is the description of his father's death. Nicholson portrays Papwa as a penniless alcoholic, who in 1978 had a heart attack in a shebeen -- an unlicensed bar in the townships -- fell off a barstool, and died.
"My dad did not die in a shebeen," says Rajen. "I was at home on the morning he died. It was the school holidays. I was 16. And he passed on right in front of me. Yes, he drank, but he was never an alcoholic. It was his way of overcoming the disappointment. He became a very sad person. But he was never bitter."
Nicholson relied on testimonies of people he interviewed; clearly memories can become jumbled as the decades roll by (as the versions of the prize-giving in the rain illustrate). "But the main point of the book is the tragic story of this talented golfer who wasn't allowed to play," says Nicholson. "It broke his spirit. It killed him."
Rajen never got to see his father play. Papwa discouraged his children from golf -- he wanted them to go to school instead. So Rajen didn't take up the game until he was 25. Like Papwa, he is self-taught and uses the upside-down grip, yet he plays to a 2-handicap. (His son, Nisharlan, is an assistant pro -- with a conventional grip.) I was hoping I might get to play a few holes with Rajen, but the afternoon is drawing on, and the weather has turned. So instead, Rajen takes me for a drive. On the seat of his car is a framed certificate he has just been given for 25 years of service to the Durban municipality, where he works as a training manager. As we head west, past the Indian community of Springfield, Rajen talks about the foundation he has launched in his father's name. An inaugural fund-raising tournament at Durban Country Club in 2005 was attended by many leading South African golfers, including Player, who donated to the cause. "We want to go out to the townships and try to pick out raw talent," says Rajen. "There must be hundreds out there who could play just as well as Papwa."
We turn at New Germany Road and pass an informal settlement of tin shacks, the kind of slum that, according to the United Nations, a billion people around the world now call home. In front of it, four barefoot boys are kicking a ball around on a bare patch of earth. Nearby is the entrance to the Papwa Sewgolum Golf Course, one of the few municipally owned tracks in South Africa, named in honor of the man after his untimely death. It's a far cry from the Durban Country Club. The clubhouse is locked, the course is deserted. One old guy is practicing his chipping beside the parking lot, another is hitting balls. "It wouldn't be safe for you to play here right now," says Rajen.
We look out over the course and in the distance, beyond the 18th tee, stands the red tower of a crematorium. It was here that Papwa was cremated. Following Hindu tradition, his ashes were placed into the nearby Umgeni River. Then the water carried them east, between the Beachwood Golf Course and the Durban Country Club, and out into the expanse of the Indian Ocean.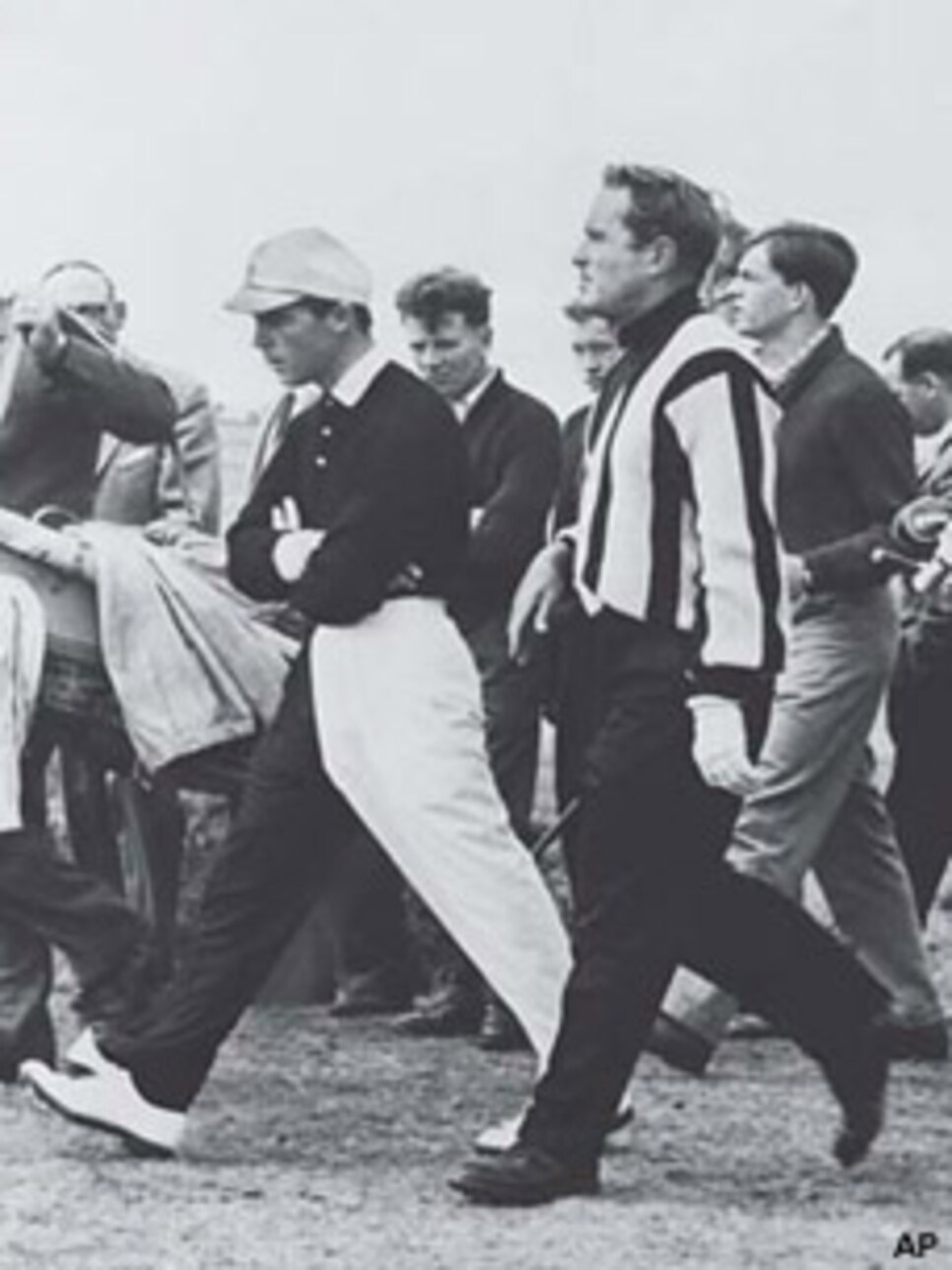 Gary Player arrives on the roof terrace at Wentworth Golf Club, just outside London, to do some radio interviews. He strides purposefully in crisp white pants. He is graying at the temples but shows no sign of baldness. Famously fit, you feel sure that this 5-feet-7, 71-year-old man would have no trouble wrestling you to the ground. After an al-fresco breakfast of toast, fruit and tea with honey, he puts on headphones, closes his eyes and, once on air, speaks with precision, as if he earnestly believes everything he says. All his favorite topics are recited and re-recited: "I preached fitness and weight training for golf all my life, and I was ridiculed for it. ... The Bible says honor thy mother and thy father, and Tiger Woods is a great example of that. ... The golf ball is going too far; we've got to slow it down. ... I've traveled more than any human being who ever lived. ... I'm an 80 percent vegetarian. ... I still do 1,000 sit-ups a day. ... I love people." One radio station has to end the interview abruptly, cutting him off mid-sentence. "That was pitiful," says Player, whose nicknames according to his website are The Black Knight, Mr. Fitness and the International Ambassador of Golf. "That was absolutely pitiful."
Player is in town for one of a series of tournaments he hosts every year to raise money for his charitable foundation. He kicks things off with a bunker clinic. The crowd is spellbound as he leaps around maniacally, cracking jokes, dispensing advice -- "You've got to imagine the sound of a match being struck as you hit the sand. Strike the match! Strike the match!" -- and hitting some exquisite shots. Later he is driven out to a par 3 on the course. For the next six hours, he plays the hole 26 times, once with each group in the tournament. Every time he is driven from the green back to the tee, he grills the event director for personal details of the upcoming foursome, then steps out of the cart and greets the members of the new group as if they were childhood friends. His enthusiasm never wavers. The event would raise about $275,000 for The Player Foundation, which benefits underprivileged children, especially at his Blair Atholl Schools outside Johannesburg, which he founded a quarter of a century ago. Earlier this year, Player received a humanitarian award from the African-American Golfers Hall of Fame.
In the middle of the activity, Player has some time to sit and talk. As always, he's keen to promote his homeland. "We're inundated with many wonderful golf courses in South Africa. ... South Africa has won more major championships postwar than any country other than the United States. ... Nelson Mandela is one of my great heroes. Every time I'm around him I just cry. Every time. Because he's so humble."
Player is asked what he remembers of Papwa Sewgolum. "He was a thorough gentleman," he says, looking far off into the distance as if trying to recall those long-gone days. "And he was very, very talented. He was short off the tee but had a very good short game, and a very good temperament. He's been an extremely controversial subject in South Africa. It was tough for him. He came along at the wrong time, unfortunately. But in the meantime, he's given a lot of people, particularly young Indian golfers, a lot of encouragement. Any young Indian golfer coming along can have Papwa as a hero."
Player thinks hard when asked what Papwa might have achieved if it hadn't been for apartheid. It's a tough question. Papwa couldn't compete much in his own country, had only limited opportunities overseas -- he played in just six majors, all British Opens -- and faced enormous restrictions to his freedom throughout a short career that was sabotaged by the racist regime.
"How do you ever say what a man's future would have been?" asks Player, finally. But then he proceeds to do just that: "If you want to make a comparison, he was just under a Harold Henning. Harold Henning was just a little better than him. He would have had a very nice future."
No disrespect to Harold Henning, but this is hardly a generous eulogy.
Inevitably, the conversation turns to those years when Player was the all-too-visible target of anti-apartheid demonstrators. Did he have death threats? "Every week," he says. And he says it again, in a rising screech: "Every week!" And once more, now with resignation: "Every week. In America, Australia, Europe, for about two years. It was not easy. At the PGA Championship in 1969, in Dayton, Ohio, they threw ice in my eyes. They threw telephone books at my back. They charged me on the green. They threw balls between my legs as I was about to putt. You know, it's hard to comprehend. And I lost the PGA by one shot. And I had it everywhere I went. Everywhere."
Player talks of the injustice of it, and of the black players he supported and sponsored during the 1960s and '70s, including Papwa and Vincent Tshabalala, another talented golfer whose opportunities were curtailed by apartheid, and who won the French Open in 1976. (Tshabalala, who is writing a book about his experiences, declined to be interviewed for this story.) Player also mentions his iconic one-white-leg/one-black-leg pants that he wore at the 1960 Open at St. Andrews. They were, he says, "a quiet protest, of bringing white and black together."
But were they really? Couldn't they instead be interpreted as a sartorial representation of that old apartheid slogan of "separate but equal"? Because there was a time when Player did believe in apartheid. In his first autobiography, *Grand Slam Golf *-- which includes no mention of Papwa -- there are some excruciating musings on "race" and "the native," and these unequivocal words: "We in South Africa ... believe that our races should develop separately, but in parallel." He also writes: "This is my land. I am South African. And I must say now, and clearly, that I am of the South Africa of Verwoerd and apartheid." Hendrik Verwoerd was the prime minister of South Africa until he was stabbed to death in 1966, the same year Player's book was published. According to the measured words of Nelson Mandela in his autobiography Long Walk to Freedom, Verwoerd was "the chief theorist and master builder of grand apartheid"; a man who "thought Africans were lower than animals." At the Apartheid Museum in Johannesburg, you can watch a tape of him smiling grotesquely as he describes his evil regime as "good neighborliness."
This was all long ago. Player's views were hardly uncommon back then. As one Afrikaner who works in the golf industry told me, with brutal honesty, "Ach, man, we all supported apartheid in the early days."
"We were brainwashed," concedes Player. "It was like the Germans during the war. They had a propaganda machine, and they brainwashed young people. And they brainwashed us in South Africa. As a young man, you're listening to all this, and they're saying it's going to be separate but equal. And then suddenly I realized that it wasn't equal. Apartheid was a dreadful policy."
Verwoerd's replacement was John Vorster, a keen golfer and enthusiastic supporter of the Nazis during World War II. Player was a regular golfing companion -- something else that attracted a great deal of criticism. One day he went into Vorster's office. "And I said to him, please, I'd like to break down the apartheid barrier in sport," Player remembers. "You know, to go to a man like that was tough. And I said I'd like to invite Lee Elder, the black American golfer, to South Africa. I thought he was going to tell me to get out. Instead he said, go ahead. And that was a start. I'm very pleased I did play golf with Vorster, because had I not, I could not have gone into his office and achieved that. I was able to contribute a very significant thing to our country."
It was 1971. Elder said he would play in South Africa, but only under certain conditions: Other black pros must be allowed to compete, in front of mixed crowds, and have full access to all the amenities, such as the clubhouse. Player -- and Vorster -- agreed. Three tournaments that year would be classified as "international" events that were open to golfers of color, with more to follow in subsequent years. Similar initiatives were taking place in other sports. Selected hotels and restaurants were also accorded "international" status. Papwa played in the golf events, but his best years were gone.
There were still restrictions, however. Dale Hayes, for instance, played in the first "international" event, the 1971 South African PGA, and he recalls that "nonwhite" players weren't allowed to use the same toilets as the whites. And for many, this kind of "reform" was nothing but tokenism: government propaganda intended to counter the rising international outcry against apartheid. The propaganda was unsuccessful: South Africa, excluded from the Tokyo Olympics in 1964 -- an idea proposed by India -- was formally expelled from the International Olympic Committee in 1970. There would be many more sporting boycotts to come. According to the famous dictum of the anti-apartheid South African Council on Sport, there could be "no normal sport in an abnormal society."
"Those tournaments were really just a window dressing on the situation in South Africa," says Dennis Bruyns, executive director of the South Africa tour from 1981-1991. "The black players in South Africa couldn't go to any of our main venues for 51 weeks of the year, but in the 52nd week, when the tournament was on, then they could go and play and have a drink in the bar. Basically the Group Areas Act didn't apply for that one week. It was all part of a grand plan at the time. There was a huge effort to try to sell this to the world."
Bruyns, a former tour pro, has known Player for a long time -- ever since he was 14, when he played with him in a pro-am. "He's the greatest sportsman South Africa has ever produced," says Bruyns. "The amazing thing about Player is his loyalty to and love of South Africa." As to Player's role in creating the "international" events, Bruyns chooses his words carefully. "I think to an extent he was used," he says. "He was doing it from his heart. They were more political than he was. They saw an opportunity."
Judge Nicholson is less charitable. He says the events were "a charade. This kind of thing was nothing but an attempt to put a positive face on apartheid. Gary Player was part of that." Nicholson also criticizes Player's role in the '70s in the so-called Committee for Fairness in Sport, and the conservative newspaper The Citizen, both of which, he says, were government-funded operations. According to South African writer Christopher Merrett: "It is a matter of undisputed historical fact that Player was a notorious apologist and propagandist for apartheid."
At the Masters Tournament in April this year, under the famous tree next to the clubhouse at Augusta National Golf Club in Georgia, Lee Elder recalls that distant summer of 1971. "Gary asked me to come," he says gently. "We were good friends, and we still are today. I wanted to try to help in any way I could." Elder, a year older than Player, is something of a pioneer. At a club with a complex history in matters relating to skin color, in 1975 he became the first black person to enter the grounds as a Masters competitor, as opposed to a caddie or waiter.
Elder decided to take in some other countries during the African expedition. "I had a U.S. State Department advisor, Fletcher Martin," says Elder. "He told me that a lot of people wouldn't think highly of me flying directly into South Africa from America." So Elder was made a "goodwill ambassador," and, over a period of two months and traveling with an entourage of a dozen people, he played in Liberia, Ghana, Nigeria and Uganda. In South Africa, he played in tournaments and exhibition matches with Player, including one in Durban where the proceeds went to a school for black girls. Elder's lasting memory of the trip is a big dinner one evening at the famous Wanderers Club in Johannesburg. Vorster was part of the receiving line, shaking hands with all the guests as they arrived. Right before it was Elder's turn to meet the prime minister, however, Vorster abruptly left the receiving line, walked over to the main table, and sat down. "It was in the newspapers there the next day -- Vorster snubs American golfer," says Elder. "The reason he gave was that the proceedings were taking too long, and he wanted the festivities to start on time." Elder shakes his head.
"The thing about Gary is he's never said a bad word about his country or his people," he continues. "He was always proud to be South African. He's a good friend. He didn't deserve to be targeted. These things are a lot different now." Is there still racism in golf, in America?
"Oh, yeah," replies Elder to the rhetorical question. "You have a generation that's been taught a certain way by their parents. A lot of improvements, but it's going to take time, generations, until we get to the day when we don't see the color, we see the person."
"The whites live locked away in their fear, the blacks live locked away in their anger," says Mandla Mentoor. "They hold the key to unlock our anger. We hold the key to unlock their fear." We are standing on top of a beautiful hill in Soweto. The dust filters a low sun over the seemingly never-ending expanse of the famous township, conceived as a place where black laborers could be housed at arm's length from Johannesburg's white elite. The hill is the centerpiece of a community regeneration project, spearheaded by Mentoor, called SoMoHo -- Soweto Mountain of Hope. Where garbage and occasionally bodies were once dumped, now trees, flowers and vegetables grow.
A tour of South Africa provides many such glimpses of a nation in transition, a nation of extremes. From the slums of Soweto we drive around the ring road to the Vodacom World of Golf, a giant, buzzing golf theme park with a multi-ethnic membership of 12,500 people. South Africa has many beautiful new golf resorts; their promotional materials boast of "electrified palisade fencing," "motion detectors, infrared and radars," and "guards and armed response with dogs." We go to a plush Italian restaurant in Durban; one of the owners tells us how he'd been awakened a few nights earlier by three guys trying to saw a hole in his roof. "We are doing extremely well in every field except the crime," says Player. There are roughly 20,000 murders every year in South Africa, more than in the U.S., whose crime statistics are hardly a source of pride and whose population is more than six times greater.
Crime is not, however, the cause of the country's problems, but a symptom of them, of extreme inequality, 25 percent unemployment, chronic disease. (The average life expectancy is just 47.) Political apartheid is over, but for most of the 80 percent of the population that is black, an economic apartheid remains. At a restaurant in Cape Town, you watch as a large, middle-age white man imperiously raises his arm and snaps his fingers to summon a black waiter, and you think John Pilger might have a point when, in a recent book chapter entitled "Apartheid Did Not Die," he writes that little has changed.
Cape Town, "the new San Francisco," is geologically perhaps the most beautiful city in the world. The drive into town from the airport passes miles of shantytowns and slums. At a terrace on the city's swanky redeveloped waterfront, I sit down for a drink with Johan Immelman, the commissioner of the South Africa tour and father of Trevor, at the time of writing the 19th-best golfer in the world. Behind us, half a mile up, puffy clouds cavort and crash into the jagged edge of Table Mountain.
Immelman is proud of his country's golf achievements. "We're doing phenomenally well," he says. "Week in, week out, around the world, invariably there's a South African flag on the leader board. These are tremendous ambassadors."
None of the leading South African golfers is black. Few of the leading golfers anywhere are black. "You've got Tiger Woods," says the executive director. "You've got Vijay Singh from the little country of Fiji. Now surely this huge continent of Africa is bound to produce a world-class black golfer. And I hope I'm around the day that that happens."
A lot of hope -- and pressure -- is resting on 25-year-old James Kamte, who had two runner-up finishes this year in South Africa, and who led the French Open after the first round in June. "My life is all about golf," says Kamte by e-mail. "When I am not playing or practicing I am thinking about golf. I just love this game. My ultimate dream is to someday play full time on the U.S. PGA Tour."
Four years ago, after a beloved board member of the South Africa tour named Vusi Ngubeni was killed in a car accident outside Johannesburg, the board decided to name black-only "qualifying school" tournaments after him. The top-10 finishers receive tour cards. Each tournament has additional places, too, reserved for black golfers. "If you don't do these things, you're going to have no black players," says Immelman, "and that's irresponsible. We want our tour to grow." There are further outreach programs, too, at the grassroots level. The South African Golf Development Board wants to have a million golfers in South Africa by 2015.
A cynic might argue that this is all just more "window dressing," that the country needs other things besides champion golfers, that arming the nation with 7-irons is hardly a cure for poverty. But similar efforts are taking place in every other sport, and are part of a wider sentiment that exists throughout South African society. On a more pressing level there are land reforms, and the "Black Economic Empowerment" requirements that companies must adhere to (with mixed success). In a country with a playing field that was for so long constructed to be so chronically unlevel, American-style debates about affirmative action are largely moot.
And so, discussion returns once more to apartheid. "You know what," says Immelman, "we sit here in Cape Town today and I'm thinking, *Did that really happen? How did they get away with it? *This was the worst disaster zone in the world. But we've overcome it. A miracle. And all it took was a couple of people with the belief that they could change the world."
On the horizon, seven miles away, we can see the black slither of Robben Island, a permanent scar on the nation's conscience. Today you can visit it in a tourist boat, and see the tiny cell where Nelson Mandela spent 18 of his 27 years in incarceration. It was a place where, in the words of Mandela's Robben Island comrade Ahmed Kathrada, the minutes seemed like years, and the years went by in minutes.
FINDING THE TIGER OF SOUTH AFRICA
From Cape Town, a 275-mile drive eastward along the "Garden Route," through the famous wine country and past some of the lavish golf resorts, brings you to the town of George, home to this generation's best South African golfer, Ernie Els. Here is Fancourt Hotel and Country Club Estate, the only 72-hole golf complex in Africa, whose Gary Player-designed Links Course has one of the highest green fees in the land, 1,100 rand (about $150). The 2003 Presidents Cup was played here, culminating in a head-to-head playoff between Tiger and Ernie.
Also here is the Ernie Els & Fancourt Foundation, a kind of golfing fame academy. There are 24 "members" of what might be called Ernie's Army -- 18 boys and six girls -- 14 of whom live on-site and go to a local school. Members have access to first-class training, practice facilities and, about four times a year, Ernie. It's all free. (The Foundation is funded by Ernie, his sponsors and Fancourt owner Dr. Hasso Plattner.) Last year the inaugural "Friendship Cup" was played in Chicago, in which a team from the Foundation took on a team from the Tiger Woods Foundation.
"It is about golf, but it's about a lot more than golf," says Hannes van Niekerk, CEO of the Foundation and a former sports editor who has known Els for 20 years. "About 85 percent of our members are underprivileged. Not necessarily in the sense that they were born in a shack, like Papwa. But without us they wouldn't be able to play. It's so lovely to see how these kids can change overnight. Some of them can't even bring themselves to open their mouths when you first meet them. We'd love to have a top golfer come out of the program, but maybe only one or two will make a living playing this game. What we want to deliver is qualified young leaders."
"I wanted to try to give back through golf, to change people's lives at a young age," Els would say later on a sunny day at the BMW Championship at Wentworth, his other home. "That's exactly what happened to me. If it wasn't for golf, who knows what I would have done. Golf changed my life, and now I'm in a very good place. I wanted to give that dream to other people. Maybe when I'm done playing I might have more time for this. I'd like to go find that Tiger Woods of South Africa. Because he's out there."
Kamte came through the foundation, as did Louis Oosthuizen, who is doing well on the European tour. One of the most exciting prospects is 20-year-old Prinavin Nelson, like Papwa "an Indian guy from Durban," says van Niekerk. "He's one of the members I'm most proud of. He's dedicated, a very focused youngster and one of the best amateurs in South Africa right now."
Three of the Foundation kids take me out to play a few holes. My companions are Cameron Esau, Tumelo Wesi and Monique Smit. They all want to turn pro. Cameron got into golf because his father happened to see the 1986 Masters on TV. "He loved all that grass and greenery," he says. "So when I came along two years later he decided that we would play golf together." With nowhere to play, they would hit balls in the fields. It would be many years before Cameron set foot on a golf course. Tumelo, an engaging character, has a similar story of humble beginnings. All three have perfect swings.
Cameron, Tumelo and Monique had heard of Papwa, but they didn't know the details of his story. They were either born after apartheid ended, or were too young to remember it, and either way don't have much interest in the old days. I thought of something Gary Player told me: "Mandela taught us to look forward," he said. "He said you cannot live in the past. You cannot have bitterness in your heart. It's like when you play golf -- if you make a bogey, you better forget it and get a birdie on the next hole. There's a great spirit in South Africa. We've made bogeys. We're making birdies now."
As the rain comes down harder, the three hopefuls play on with style and grace, avoiding the hazards, eyeing the far-off targets through the gloom, and swinging confidently toward a different future.