The Loop
On the 20th anniversary of the RTJ Trail, David G. Bronner on how and why it works
After President Obama, David G. Bronner may be the most powerful golf nut on the planet. He's the 67-year-old CEO of Retirement Systems of Alabama, a collection of state-employee pension funds whose assets total nearly $30 billion. Among the investments he oversees are television stations, newspapers, a Manhattan office tower, the PCH Resorts & Hotels group and, most famously, Alabama's 11-site Robert Trent Jones Golf Trail.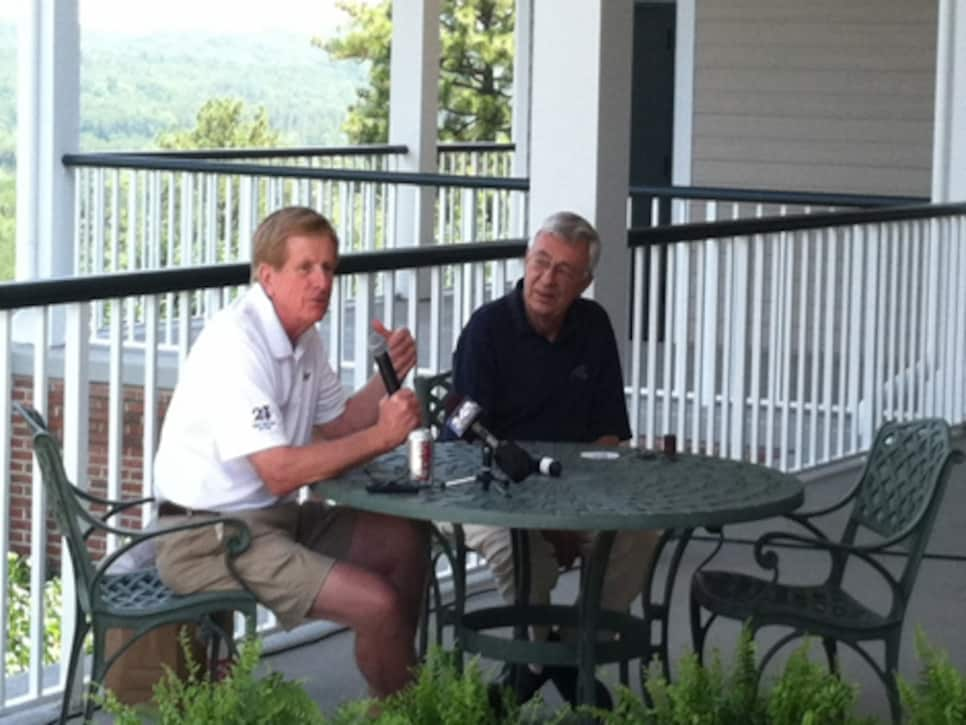 Known throughout the state as "Dr. Bronner"—he has a law degree and a PhD in finance from the University of Alabama—he's the guy who dreamed up the Trail and got it built. On the occasion of its 20th anniversary, the blunt and occasionally profane CEO (pictured, left) joined a late May celebration at Oxmoor Valley outside Birmingham, the first Trail course laid out by Jones and his design associate, Roger Rulewich (pictured, right). Golf Digest's Peter Finch caught up with Bronner over breakfast, where they talked about the Trail's past and its immediate future.
__Congratulations on your 20th anniversary.__
Well, thank you. I wasn't sure we'd make it!
__ Really? It wasn't obvious you'd survive?__
No! I wasn't sure we'd make it at all.
__ What were the big surprises over those first years?__
The big surprise, getting out of the chute, was we had to find numerous sites and go build them at the same time. As Roger [Rulewich] was saying yesterday, it's one thing to build eight courses, but when you built eight at the same time and you multiply it because the smallest facility is 36 holes and the biggest one is 54 holes, that's a whole lot more than eight courses. The big thing was coordinating everything.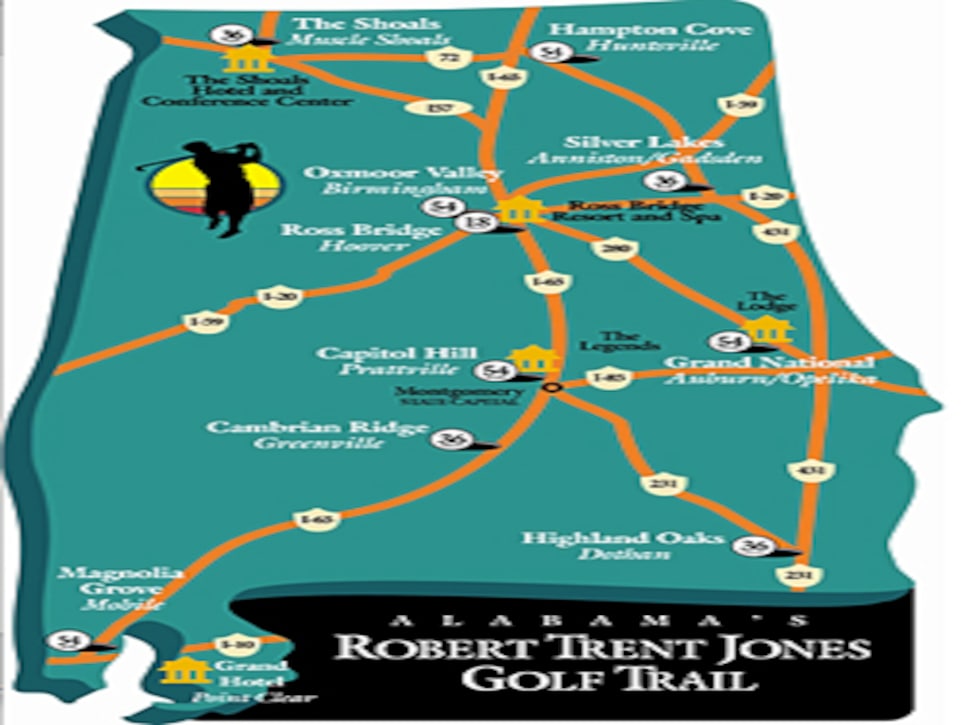 Why did you feel you had to do it all at once?
I felt that if I didn't do it, nobody else would. Or that it would be a failure for sure. You gotta get it to a big enough size that you can attract somebody from California to come. You can't just throw up one or two or three little courses. You had to have a product and a mass that would get somebody's attention.
First of all, what reputation [Alabama] had was negative. It's sort of like I told governors before: People are coming with low expectations. So if they come with low expectations and your hotel is called "The Lodge," are they thinking there are some rockers outside with the old dog and a beer can laying there? Or do you have hotels that are better than any they've ever been in?
You have to take that the same way with the level of the golf courses. And if Trent were alive, he'd tell you he never had an opportunity to do anything like he did at Opelika. I mean, nobody gives you a 1,700-acre finger lake and says, "You can put as many holes as you want on the water." Trent used to tell me that the big developers would say, "OK, you get a hole on the water, a par 3 along the water and you get another one going away."
And then you have sites like Prattville that are unlike any in the world, at least to me. You can walk out either side of the door and have a 100 percent different golf course. Not a 10 percent difference or a 50 percent difference but 100 percent. You go from a true links to a Southern wooded course to the third door, where you have a true water course. Literally, 15 or 16 holes on the Judge have water on them. The Links Course has one tree on it and no water. I mean, that's unusual.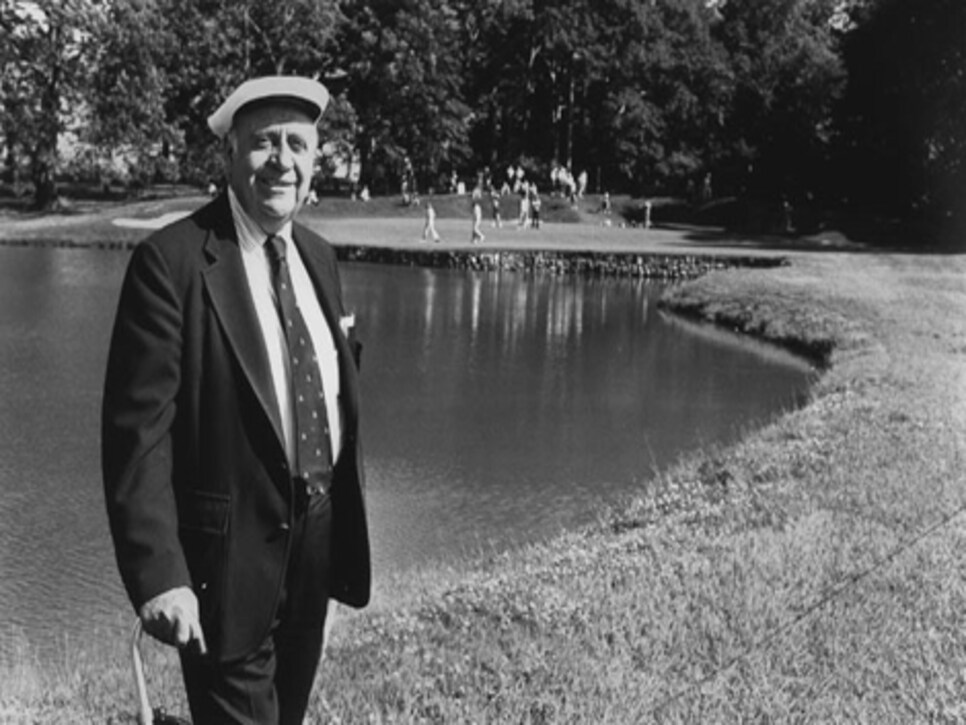 You've said you wrote to a handful of architects about the Trail, seeking bids before you began, and Robert Trent Jones (pictured) was the only one who took you seriously. Are you prepared to reveal who the others were?
Nah. I'll wait until they're all dead. Or I'm dead. Then I'll let you know. They were all the majors. Most of them basically didn't take you seriously. I was trying to be a good little bureaucrat, sending out [requests for proposals]. Trent was the only one who picked up the phone and called. He said, "What the hell are you talking about?"
__ Is the Trail profitable for the Retirement System?__
Marginally. We get a return of about $300,000 a month from the company that operates it, year to year. So it's $3.6 million a year, which is not a return that anybody in my profession would be proud of. But it's positive. And it's better than any U.S. government Treasury I could get right now, less than 1 percent. It's been averaging in the 2-4 percent range, depending on the real estate valuation.
__ Is that different from what you expected?__
No. I mean, I always expected the Trail to be a loss leader. In order to pull you into the hotels that make money, or the spas that make money, or the bars that make money, I had to have a vehicle. I could have the best hotels in the world, but if I didn't have great golf, there's no reason to come here. Unless you're old and want to just sit around, there's no reason to go to a hotel.
__ So when you talk about the $300,000 a month, you mean the golf only - not the hotels.__
Oh no, the hotels are a multimillion-dollar operation. But you've gotta have something to get people there. Golf was my vehicle to say, "How can I make Alabama unique?" OK, we know they've got all kinds of golf courses in Florida. But they're flat. And there's no place on the golf course to go but straight ahead, left or right. So if you have that, what's unique? In California, it's the scenery, the distinctive courses. What's unique about the Trail is the topography of Alabama. It's not like most places. You can literally drive an hour and 15 minutes and have a totally different game than what you're used to.
You can go to a little town called Greenville, Ala., the first town south of Montgomery. Before the Trail, there was what we called a House of Turkey—it sold turkey on the way to the beach—and one hotel. That was it. Now they have nine motels. And more importantly to me, a new high school. Generated by golf. Generated by the taxes off those nine motels. That's what makes me happy and excited about the Trail.
So what's next for the Trail?__
For the next year or so we're working on making sure we've got outstanding programs for the LPGA. And we're working on enhancing the golf experience.
You have to remember that when we started the Trail, Alabama was either 49th or 50th for access to public golf. So we obviously had no public golfers. Because you had no place to play. You have to get a local base. And we're slowly doing that. Slowly, slowly, slowly.
It helps that people have become more prosperous. Twenty years ago, we didn't have Mercedes. We didn't have Hyundai. We didn't have all these great companies with jobs that made people middle-class citizens. We had dirt-poor people. They didn't have time for golf. And god bless em, because I wouldn't either. They were trying to survive. But now you've got jobs with Hyundai, Mercedes, Navistar that pay people $50,000-$70,000 with just minimum overtime. Take you back 20 years and if you were making $22,000 or $18,000, you thought you were in heaven.
The emphasis is [also] trying to restore the travel that we had prior to the Great Recession … or the Great Depression … of 2008. We had a good trend line going. 2008 hurt us but we're trying to get that trend line going again.
Like any business, you have to have a hook. The marketing team came up with the innovative idea of celebrating the 20th anniversary on the 20th of every month. It's 20 bucks to play on the 20th. We had 1,850 people play at Prattville over the last weekend. That's unbelievable.
You've got poor people in the state and the country club people in the state. With the $20 on the 20th deal, you're exposing yourself to that golfer who thinks golf should be $15. He's going to go back to his $15 course and say, "Why am I here? I'm going back over there." Second thing, the average golfer plays less than 10 times a year. So if you're that golfer, you can play all your golf at the Trail this year for 20 bucks a round. The other thing, it allows that country club guy to break out of his set and go see something different. Put all that together and you're growing an industry that everybody else says is dying.
This summer we've got another deal where you can pay $150 and get unlimited golf for three days. You can play 54 holes a day. I tried that one time, by the way. I started at seven and finished at seven. Talk about out of gas! The last two shots I just kicked. But the young guy who's really into golf, he can pay $150, including cart and range balls.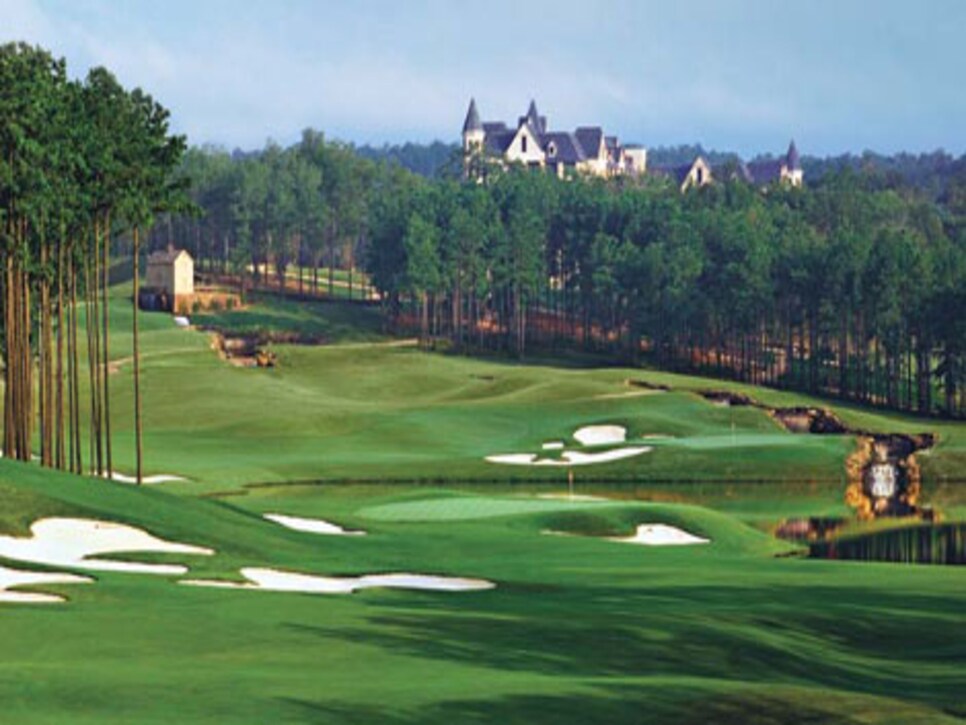 Ross Bridge in Birmingham is one of of the signature courses on the Trail.
That's quite a bargain.__
It's not just cheap—it's good. That's a big difference. It's a lot like Hyundai, the great automaker with a big presence here in Alabama. When it first came to the U.S., people thought it was cheap and bad. Now it's known as cheap and REALLY good. That's how I want people to think of the RTJ Trail.
__ You've been outspoken against Alabama's controversial immigration law. __
Well, I mean basically, you don't want to replace Arizona as the poster boy for idiocy. And we succeeded. We only have less than 4 percent (illegal immigrants) in Alabama. I mean, come on! How big a problem can that be? What happens in any culture, political types in particular like to not solve issues. They don't like to help the people, they like to create problems. And make themselves feel more important.
Has it affected your business at all?
It affected one of the hotels. The problem is, you don't know how it affects you. For the one group that cancels [because of the new law], are there 10 or 20 that decided not to come? I think that issue goes away as soon as the Supreme Court rules—and it should rule in the next 90 days.
__ Are you concerned by all these other states that have started their own "golf trails"?__
No, because it's a joke to me. I think it's funny. If you come to our trail and then go to one of theirs, you'll say, "What in the world have I done to myself?"
To me, it's very beneficial. They don't have the guts to put in enough money to make it work. Whether it's Virginia or Mississippi or Louisiana, whether they put in $5 million or $6 million, who really cares?
You have to understand that we're putting out there $50 million to $60 million. We've got an advertising budget that can compete with Florida. That was one of my objectives when I started the TV and newspaper companies. Florida was drilling everybody in the late 70s and 80s and 90s. If you looked at their operating budget, they were $25 million to $35 million. OK, well goddamn, I can do a good job if you give me the firepower of $30 million! You give me the firepower of $1 million, which was the firepower of Virginia or West Virginia's last deal, and I'm going "Hahaha! That won't even get you on tonight's news but twice!"
You need to keep your message out there. And you have to make sure everything stays fresh. Like I'll send a message to my hotel people after we're done here. There are certain spots in the hotel that will have high traffic and that carpet's got to be changed. You're talking to an old janitor. That's how I worked my way through college. In a presidential suite—which is the ticket we'll give to people who bring 75 rooms or 100 rooms, and not even charge them for it—you've got to know that the bedroom is not going to get nearly the utilization of the parlor. Like last night we had 40 people in there. There's going to be a lot more traffic, so the carpet and the furniture has to be replaced sooner. You want to be able to have that image, so the next guy who comes in the presidential suite says, "Wow!" and not, "This is all worn out."
__ So you're involved in that level of detail, throughout the system? The golf courses too?__
Well, for example yesterday, I noticed the first par 5 down the hill, has one of those big plastic boxes covering the irrigation system. It was broken in the middle. Usually I'm looking for things like hanging limbs that need to be trimmed. Why is there a rough spot? Why do you allow carts to continue to use the same spots? You have to move the ropes every so often so that grass can come back.
__ How's your golf game?__
__ What sucks about it? __
Just distance and old age. One of the pros yesterday was trying to help me turn my shoulders a little better. I'm getting old and crotchety.
__ What's your handicap these days?__
Depends on the bet. And then we go from there. It used to be single-digit. But now I have to say it's more like a 12. If the money's big, then it probably has to be 16.
Or I can get you on the stones [back tees] and I can play from the whites. Then I can handle most anybody.