From the Magazine
Old School: Rickie Fowler And His Three Wise Men
Yutaka Tanaka walks outside the gallery ropes of the pro-am in Scottsdale, quietly aware that most eyes and many cellphones are on his grandson, Rickie Fowler.
A female voice cries out, "Rickie, be in my selfie!" Fowler, 27, looks up, aligns himself visually with a boisterous group, strikes an Instagram-proven pose, awaits squeals of affirmation, and moves on, golf's millennial man in full.
By coincidence it's Wednesday, the day of the week that Tanaka, after retiring from his flame-cutting steel company in Southern California 24 years ago, would set aside to give his then-3-year-old grandson the choice between spending a few hours at an Inland Empire fishing hole or at the rustically pure Murrieta Valley Driving Range, learning golf. Before the tradition ended with Fowler going off to Oklahoma State on a golf scholarship, Tanaka got to a 10-handicap and his grandson was shooting 62s to win high school tournaments.
"Good days," says the 77-year-old in the faint Western twang often developed in an area with high-desert backdrops favored by Hollywood for cowboy movies. "Rickie took all our quarters on the putting green, and he found out he had a gift. It was wonderful to watch."
The man called Taka by family and friends is lean and spry, wearing hand-me-down Puma-logoed golf shirts from a certain three-time PGA Tour winner that happen to fit him pretty well. He and his wife, Jeannie, get to about half a dozen of their grandson's tournaments a year, although it has gotten harder to see Rickie as his galleries have grown. This pro-am should afford some clearer views, as well as allow him access inside the ropes if he chooses.
But Tanaka stays outside them, sitting on a portable seat, feeling uneasy about being a possible distraction. "Rickie's got a lot of people he has to attend to today," he says. Tanaka even declines the privilege when Fowler reaches the famed par-3 16th hole at TPC Scottsdale, where the grandfather could have entered the eerily cavernous enclosure through the players' entrance to get an up-close view of his grandson getting a gladiator's welcome.
"It's all right," Tanaka says. "What I really like is to see how he treats all the little ones who run up to him wearing orange with the big caps. He just has the touch with kids, and he knows it gives him the chance to motivate them to something better, not just golf." Tanaka was especially proud to learn that Fowler had honored his commitment to put on a junior clinic for The First Tee of San Diego the Monday after winning in Abu Dhabi, going from plane to tee in 18 hours covering 8,500 miles. "True golfers give back," Tanaka says.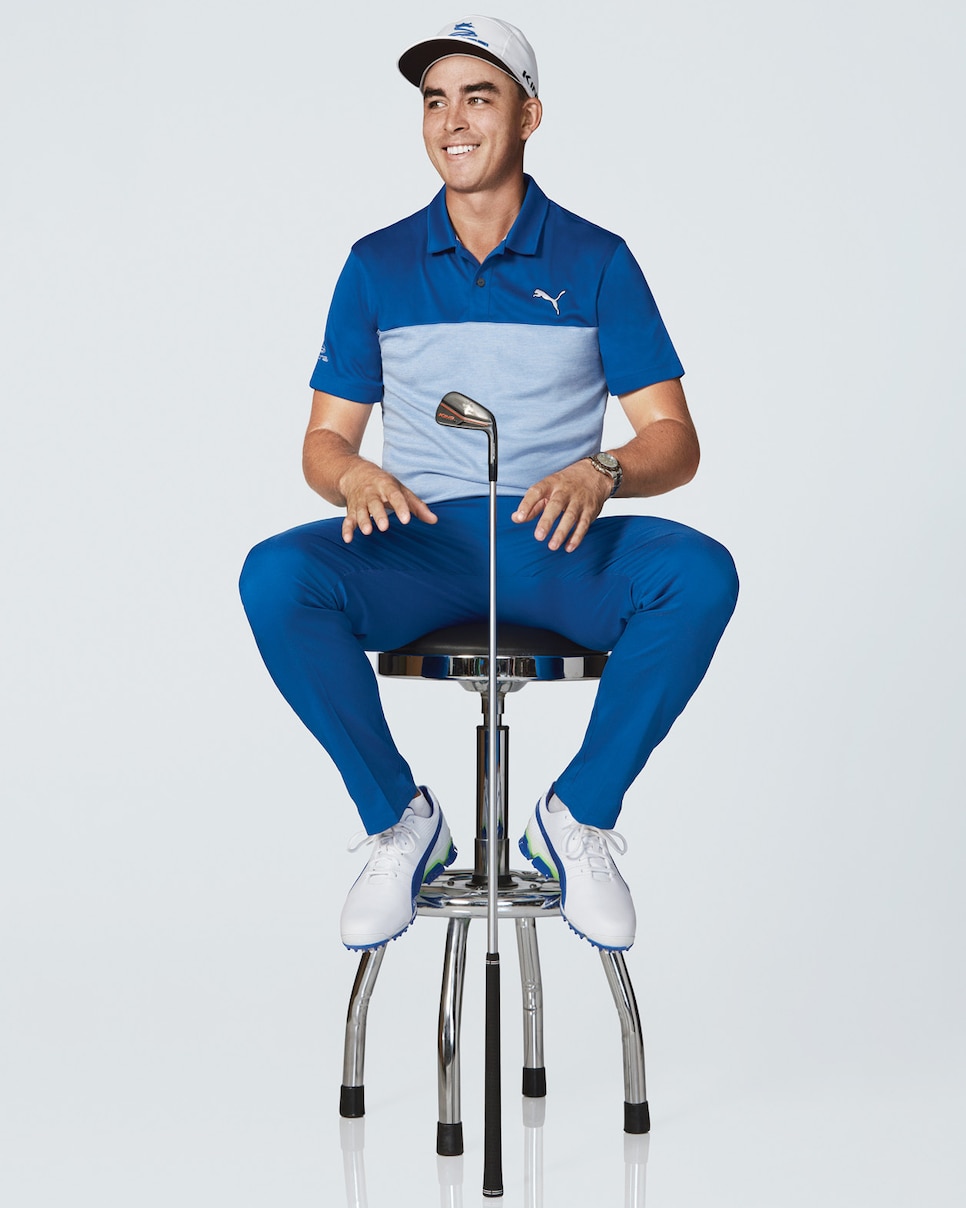 Photo by Walter Iooss Jr.
For all of Fowler's flash—he's expanding golf's fashion boundaries to include high-tops with ankle straps under skinny-fit joggers—at his core, he's old school. When his frequent practice-round partner and friend Phil Mickelson publicly criticized Tom Watson in the immediate aftermath of the U.S. team's latest loss of the Ryder Cup, Fowler nobly stood up for his largely abandoned captain. When Fowler won in Abu Dhabi in January, he sent champagne to the media room, à la Tony Lema. After the victory lifted him to No. 4 in the world, Fowler resisted the media's urging to declare The Big Three of Jordan Spieth, Jason Day and Rory McIlroy was now The Big Four. "We've got to take care of a major," Fowler said, "and then maybe I can join the crew." According to the tournament director of the John Deere Classic, which Fowler has skipped the past five years, he even says "no" with a well-mannered empathy. "Rickie was brought up in a humble home where he was never crowned," says Clair Peterson, "and it shows."
Elderly mentors have mattered. The first was Tanaka, his maternal grandfather, who as a young boy was taken with his family to a World War II Japanese internment camp in Heart Mountain, Wyo., displaced from Pomona, Calif., where his father had a small poultry business after emigrating from Japan.
"I was so young, I didn't understand the hardship," Tanaka says. "Even after the war, we weren't allowed to come back to California for two years and ended up going to New York state. My father was able to keep a business going and bring us back, but some of our friends lost everything. My parents hardly ever mentioned it, and I never talked to Rickie about it."
It's why he was surprised and moved when his grandson had Tanaka's name in Japanese tattooed on the inside of his left biceps. "I thought, Wow, that's a tender place; had to hurt," he laughs before becoming emotional. "Rickie did that with a deep feeling. It touched me pretty good."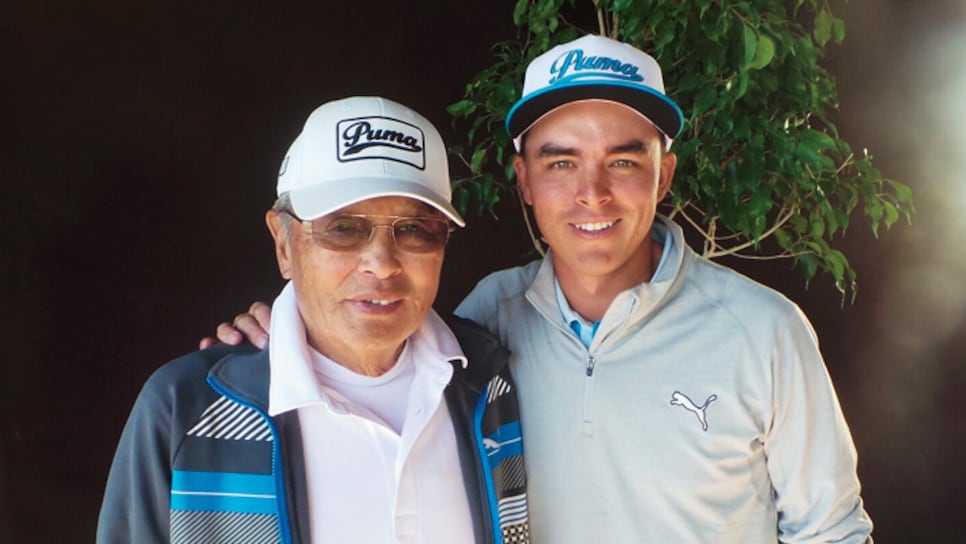 Tanaka is dismissive of the idea that his grandson was the beneficiary of any special wisdom from "Wednesdays with Taka."
"I would pick him up at 2 o'clock on a school day, and we just did things together," he says. "He didn't talk much, mostly just watched. When we fished, he did everything right, and he had that patience where he didn't mind if he didn't catch anything. In golf, we were both beginners, but he could hit the ball, and he could concentrate, and he had drive. Those things came from his parents [Rod and Lynn Fowler], not me."
Fowler says his grandfather underestimates his influence: "Being around him gave me an attitude toward life. He's always in a good mood. He loves having people around him. He treats people the right way. Loves life. He's just ... happy. It's the way I try to be."
Tanaka made sure to keep his distance from Rickie's development in golf. Fowler played in his first tournaments at 4½, and at 7 he began taking lessons at the Murrieta range from Barry McDonnell, whose deep roots in the game emanated from his grandfather, John Gilholm Sr., from North Berwick, Scotland, who served as the head pro at the Country Club of New Bedford in Massachusetts for almost 40 years. After growing up caddieing at the club, McDonnell moved to Los Angeles, where he was an assistant pro at now-defunct Fox Hills Golf Club, fabled for its money games and for being the club where the nation's best black professionals were granted practice privileges after the club was picketed by protestors of the PGA of America's old "Caucasian only" clause. McDonnell saw all manner of self-made top players with idiosyncratic swings and developed a teaching philosophy that allowed for individual differences.
Rickie has learned from his grandfather: 'It's the way I try to be.'
McDonnell never used a video camera or even alignment sticks, leading Fowler to say he was taught "like it was 1950 instead of 1995." The two would have long sessions under a pepper tree McDonnell picked out from a nursery across the street that became "the Hogan Tree," the teacher sometimes calling the diminutive Fowler "Little Hawk."
The owner of the range, Bill Teasdall, had years before benefited from McDonnell's teaching and life wisdom after his promising career as one of the best juniors in Southern California had foundered in an excess of swing theory.
"Barry would say he wanted to make sure what happened to me would not happen to Rick," Teasdall says. "He didn't change his loop at the top, saying, 'That's how he finds the ball.' He was always encouraging and positive. He'd say things like, 'OK, Rick, 18th tee at Augusta. Need a high cut. Can you do it?' And Rick would bear down and say, 'I can do it.' Barry would tell me, 'Two things I'm going to do with that kid. Stay out of the way of his talent. And build a great golf mind.' "
The second part meant preparing Fowler for the stardom McDonnell was sure he would achieve. "Barry could see Rick was one of those special guys who can just flat do it, and he believed he would achieve a lot in the game," Teasdall says. "He'd seen a lot of good players, and he studied great athletes, especially boxers. At Fox Hills, he had a regular game with Joe Louis. Barry used to say, 'Show me a superstar, and I'll show you a tragedy.' He would quote George Eiferman, a former Mr. Universe he was friends with, who said, 'Talent is God-given; be humble. Fame is man-given; be thankful. Conceit is self-given; be careful.' " All that is inside of Rick. He never got cocky, and he's never changed."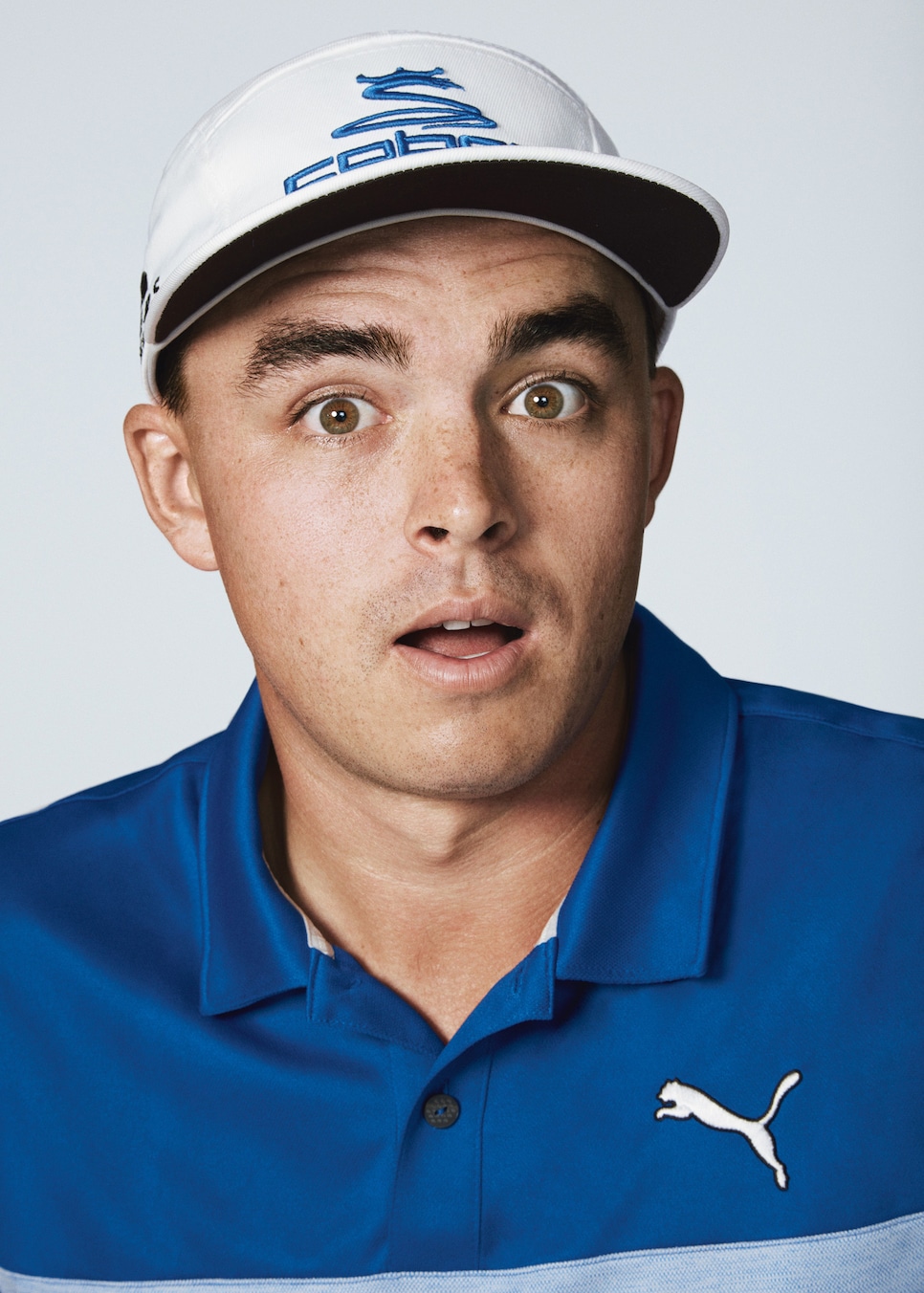 But when McDonnell became seriously ill from heart problems at the start of 2011, eventually passing at 75 in May of that year, Fowler, who had been PGA Tour Rookie of the Year in 2010, hit a prolonged lull, with only 14 top-10s in 69 events through 2013. "That was very hard," says Fowler, who has a tattoo of McDonnell's signature on his left wrist. "He was supposed to caddie for me in the Par 3 at the Masters, and he couldn't make it. It wasn't like I had someone to turn to. It was a bit of searching as far as when I reached the max of where I was going with what I was doing."
Enter Butch Harmon at the end of 2013. The two were familiar with each other from Fowler's participation in numerous practice rounds with Mickelson and Dustin Johnson. With a teaching approach he summarizes as "the ball is my barometer," Harmon's methods shared much in common with McDonnell's, but with an added sophistication born from years of honing the swings of the best players in the world.
Knowing that Fowler's technique depended too much on his superb but not infallible athletic timing to drop the shaft into the correct downswing plane, Harmon has focused on reducing the size of the loop. Fowler's backswing has become more vertical (the action still being grooved by a now-familiar elongated takeaway as a pre-shot waggle), making it less likely the shaft drops behind him on the downswing. It was that move, along with Fowler's propensity for aggressiveness (never discouraged by McDonnell) that led to Fowler making a disproportionate number of driving and approach-shot errors, particularly penalty results, for such a highly ranked player, as quantified by statistical analyst Peter Sanders of ShotByShot.com.
The more efficient action has brought Fowler increased clubhead speed and more length. Instead of bad rounds producing mid-70s scores that took him out of tournaments, they became manageable enough to keep him in contention.
Fowler made a breakthrough in the majors in 2014, with four top-five finishes. However, he was winless and finished eighth on the money list. Spurred on by Harmon, whose greatest strength as a coach is probably instilling self-belief, Fowler jumped a level in 2015, winning the Players, the Deutsche Bank and the Scottish Open. And this year Fowler is off to the best start of his career.
"Rickie is a joy to be around because he loves the game and all the talking and joking and friendship that goes with it," Harmon says, "but when it's time to work, he's a great listener, and he absorbs things very fast, which is a mark of talent. What he's shown me is that he truly wants to be the best. He's proven in the tournaments he's won and the players he's beaten that he's got it in him. At Abu Dhabi, he was paired the first two rounds with Jordan and Rory, and I needled him a little: 'They're not even talking about you.'
He kind of came back at me and said, 'I'll get them to notice me.' And he did. Right now all I see is a player who is going to keep getting better."
If so, it dramatically increases Fowler's chances of winning majors. As he prepares for the future, highlighted this year by Augusta, Oakmont, Troon and Baltusrol, he bolsters his confidence with scenes of the past.
"I think about the driving range all the time," says Fowler, who now lives in Florida. "Walking there from elementary school, middle school, high school, or spending the whole day there in the summer. I think about my times there with my grandpa, and all the times with Barry. I still go there sometimes when I'm back home, and when I get under that tree, it's like, I can't hit it bad. It's a special place for me. Old school."
At 27, Rickie Fowler has more than $21 million in PGA Tour on-course earnings. Some pro highlights after an All-America career at Oklahoma State, where he won the 2008 Ben Hogan Award:
2010: PGA Tour Rookie of the Year after two runner-up finishes (Memorial Tournament and Waste Management Phoenix Open). Member of U.S. Ryder Cup team.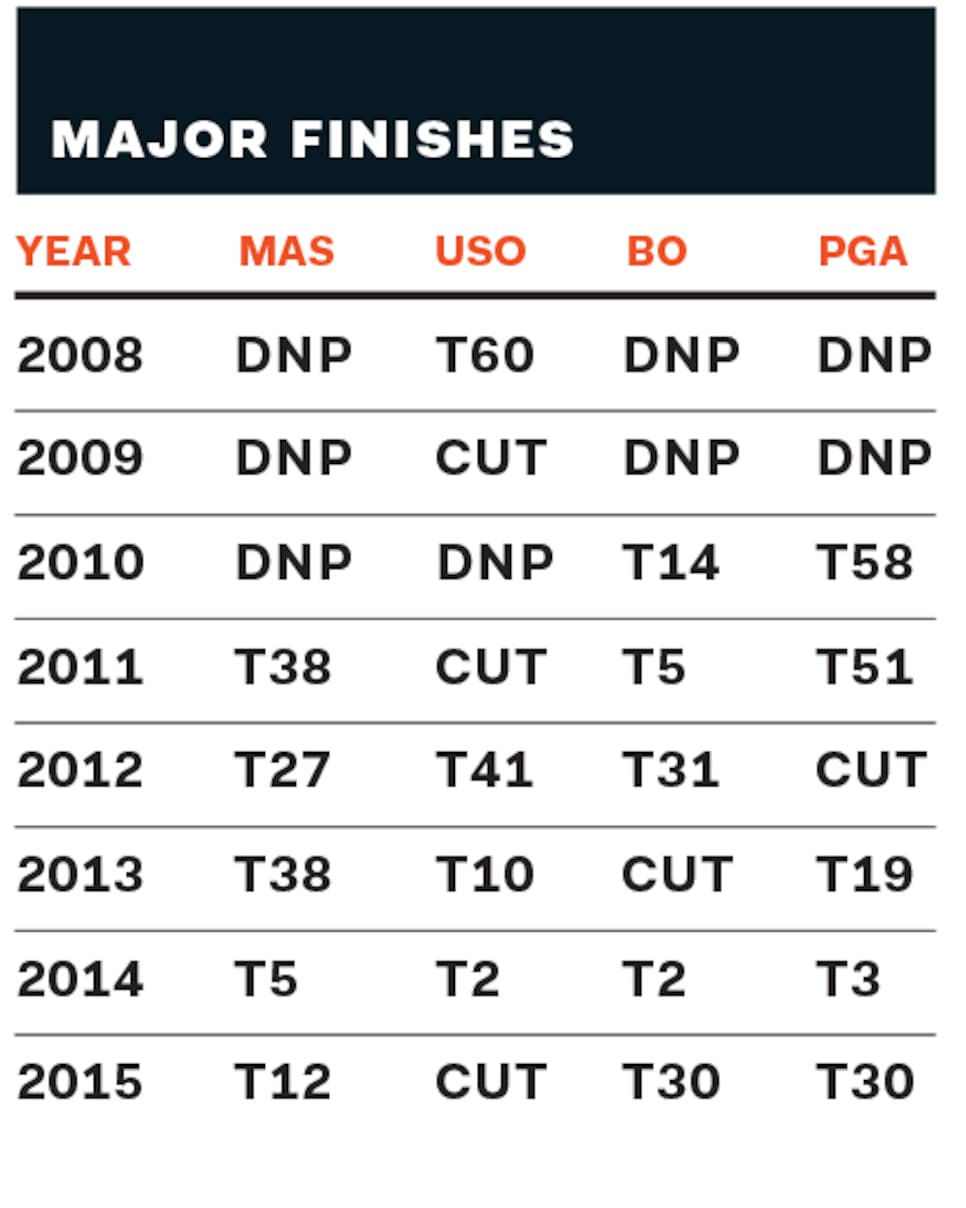 2011: Best finish was T2 in the WGC-Bridgestone Invitational. Career low round of 62 at Phoenix.
2012: Won the Wells Fargo Championship in a playoff with Rory McIlroy and D.A. Points for his first PGA Tour victory.
2013: Five top-10 finishes.
2014: Joined Jack Nicklaus (1971, 1973) and Tiger Woods (2000, 2005) as the only players to finish among the top five in all four majors in one season. Member of Ryder Cup team.
2015: Won the Players Championship and the Deutsche Bank Championship on the PGA Tour and the Scottish Open on the European Tour. Member of Presidents Cup team.
2016: Started the year with a victory in Abu Dhabi over a field that included Jordan Spieth and Rory McIlroy, improving to a best of fourth in the World Golf Ranking.