Equipment
Odyssey's new EXO putters concentrate on providing stability with high moment-of-inertia features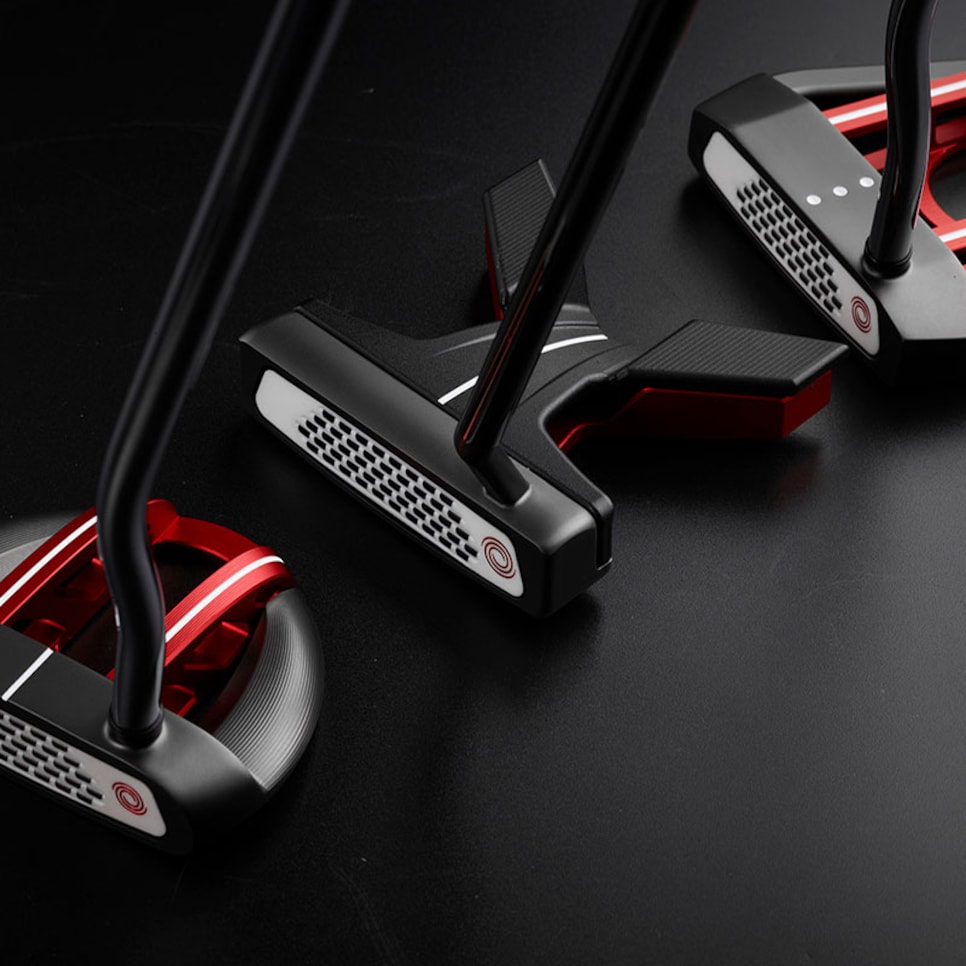 Odyssey's EXO lineup of putters takes on a futuristic wire-frame construction, but its main mission is one of the original ideas in modern putter design: making off-center hits rebound with on-center-like velocity.
This idea of creating a more stable structure to reduce falloff in performance on impacts that occur farther away from the center is commonly called moment of inertia. Higher MOI means the clubhead twists less when there's an off-center hit. Less twist means less energy is lost and more energy is returned to the ball. The end result is that a golfer's worst hits roll more like their best hits.
The Odyssey EXO line features familiar shapes with the familiar traditional mallet-shaped Rossie, the parallel-winged and popular No. 7 and the Indianapolis model from the Toulon Design line. Each model is transformed to a precisely milled wire frame or "exoskeleton" construction that allows weight to be more specifically concentrated in extreme areas to create putters that are more stable on off-center hits than the traditional shapes they are inspired by. The Odyssey EXO lineup benefits from lightweight 6061 aluminum being used in the center of the putter, and heavy 17-4 stainless steel making up the perimeter sections. The result is a series of putters with MOI measurements above 5,000 grams-centimeters squared, significantly higher than past designs.
"With this EXO line we were really trying to innovate and bring new technology to the category with a couple of goals in mind," said Luke Williams, Odyssey's senior director of global strategy. "We wanted to maximize MOI. MOI gets talked about a lot in drivers, but I would say very little in putters. But it does have benefits in putters that are significant.
"We knew if we could maximize MOI, and do so in a way without making it a putter that was unwieldy in terms of size, then we could get better performance."
The EXO line features a multi-piece design where the lightweight aluminum center piece is surrounded by the heavier steel piece on the perimeter. The result is a center of gravity that's low and farther back for better launch and roll, so putts have better energy transfer across the face and a more neutralized skidding on initial roll. Williams said one result is that the 20 percent increase in MOI effectively creates a hole that is 65 percent larger, while a 40 percent increase in MOI would, in effect, make the hole 140 percent bigger.
Then, of course, comes the multipiece face insert. Not content to rely on the enhanced structural elements of the EXO line, these putters also feature an updated face-insert technology. It combines the forward roll-enhancing microhinge features with Odyssey's long preferred White Hot polymer insert material. The goal is capturing a feel that players have preferred for years with a new level of roll performance, said Sean Toulon, general manager at Odyssey.
"The sound and feel has been a very integral part of people choosing Odyssey in the first place," he said. "White Hot seems to be the center of the sweet spot, so it's been great to see us bring an insert like this with the better roll of microhinge technology."
Williams said engineers at Odyssey used sound profile maps to pinpoint the difference between the Microhinge insert found on Odyssey's standard O-Works models and the White Hot insert and developed a new insert material that works with the hinges to produce the same sound profile. That profile is actually a little firmer to better match up with the current trend in golf balls that are getting softer since the original White Hot insert was introduced.
The three models also add special alignment features, including a full-length single line on the Indianapolis, and center marks and framing parallel ball-width double lines on the Rossie and No. 7.
The lineup also includes face-balanced and toe-hang versions of the popular mallet designs, the former working better for strokes with limited face rotation, and the latter an ideal fit for strokes that open the face on the backstroke and close it on the through-stroke.
The Odyssey EXO line of putters will be available at retail May 18 ($300).