From the Magazine
Golf after dark brings its own challenges and thrills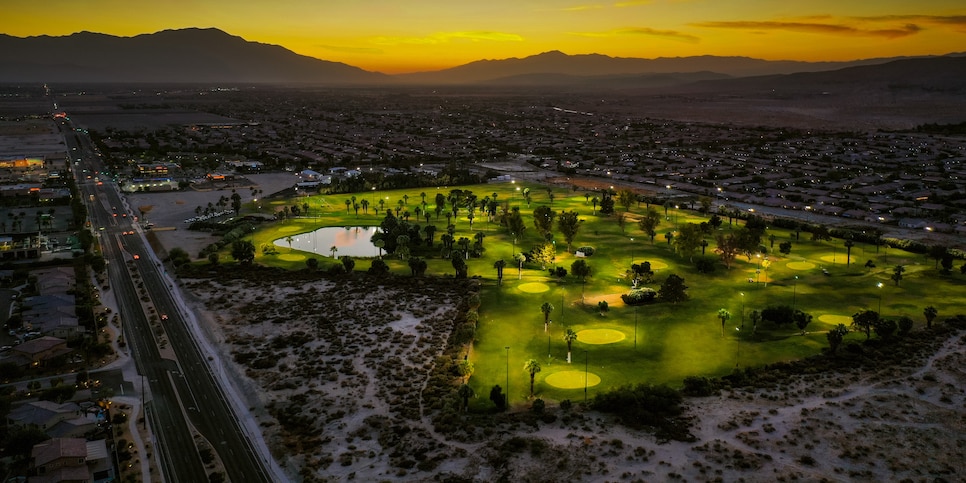 The time was 8 p.m. when I stepped onto the first tee at The Lights at Indio Golf Course in Southern California's Coachella Valley region. Stadium lights illuminated the 136-yard first hole with the rest of the 18-hole par-3 course. As I lined up my tee shot, I heard the electric hum from the lampposts and celebratory shouts from families and teens on parallel holes. The floodlights lining the fairway seeped into the corners of my eyes, straining my vision for a moment. At first my swing felt off-balance as my limbs adjusted to an altered-depth perception. But when I followed through, I traced my ball as it cut through the night sky like a glow-in-the-dark bullet. The satisfying visual made me instantly more comfortable.
Night golf presents distinctive challenges, and according to regulars, it takes time to acclimate yourself and your swing to the different sensations. Misleading lines on the greens and artificial shadows are difficult to interpret at first, but they provide an entertaining level of unpredictability to the game.
"It's kind of like driving at night," says Jim Leisenring, general manager of Angel Park Golf Club in Las Vegas. "You've got the streetlights, you've got plenty of light to see, but there are dark nooks and crannies. It's imperfect, but your eyes adjust to it. It's part of the challenge."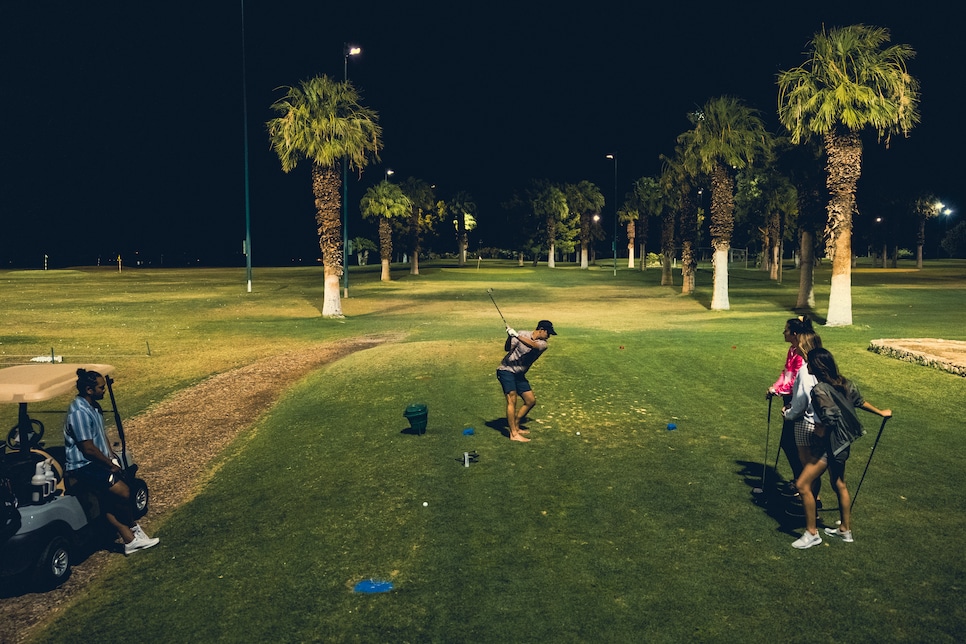 PARTY OF FIVE Jake Brooks, Stephanie DiCiurcio, April Gonzalez, Taylor Ortega and Lendl Punzalen enjoy a night out at The Lights at Indio (Calif.) Golf Club.
BEN WALTON
An appealing part of the experience that doesn't take long to acclimate to is the relaxed and community-oriented atmosphere. Eric Hummel, a third-generation owner of Hummel Bros., a 90-year-old hot-dog company, first played night golf with the other dads of his son's youth baseball team. Thirteen years later, they haven't missed a Thursday night at Highland Greens, a nine-hole par-3 track in Prospect, Conn. Without this weekly tradition, Hummel isn't sure the group would have grown as close as they are today.
"We call ourselves SAG (Suck At Golf). Our wives text us on Thursday, saying 'Are you guys SAGing tonight? Are all the SAGers going to be there?' " Hummel says. "It's taken on a life of its own. We look forward to every Thursday like it's the best thing that's going to happen to us all week."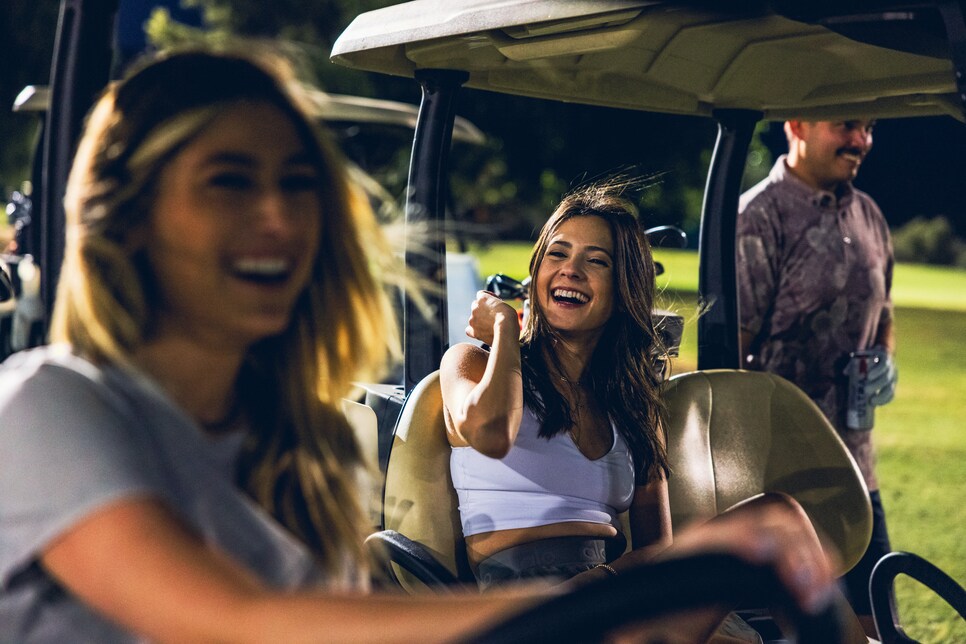 The convenience of 8 p.m. tee times is what makes their gathering possible. The group's daytime work schedules and family priorities would never align. Hummel says the joy that emanates from each round is the really addicting part. "Sometimes you're trying to putt, and tears are coming down your face, you're laughing so hard."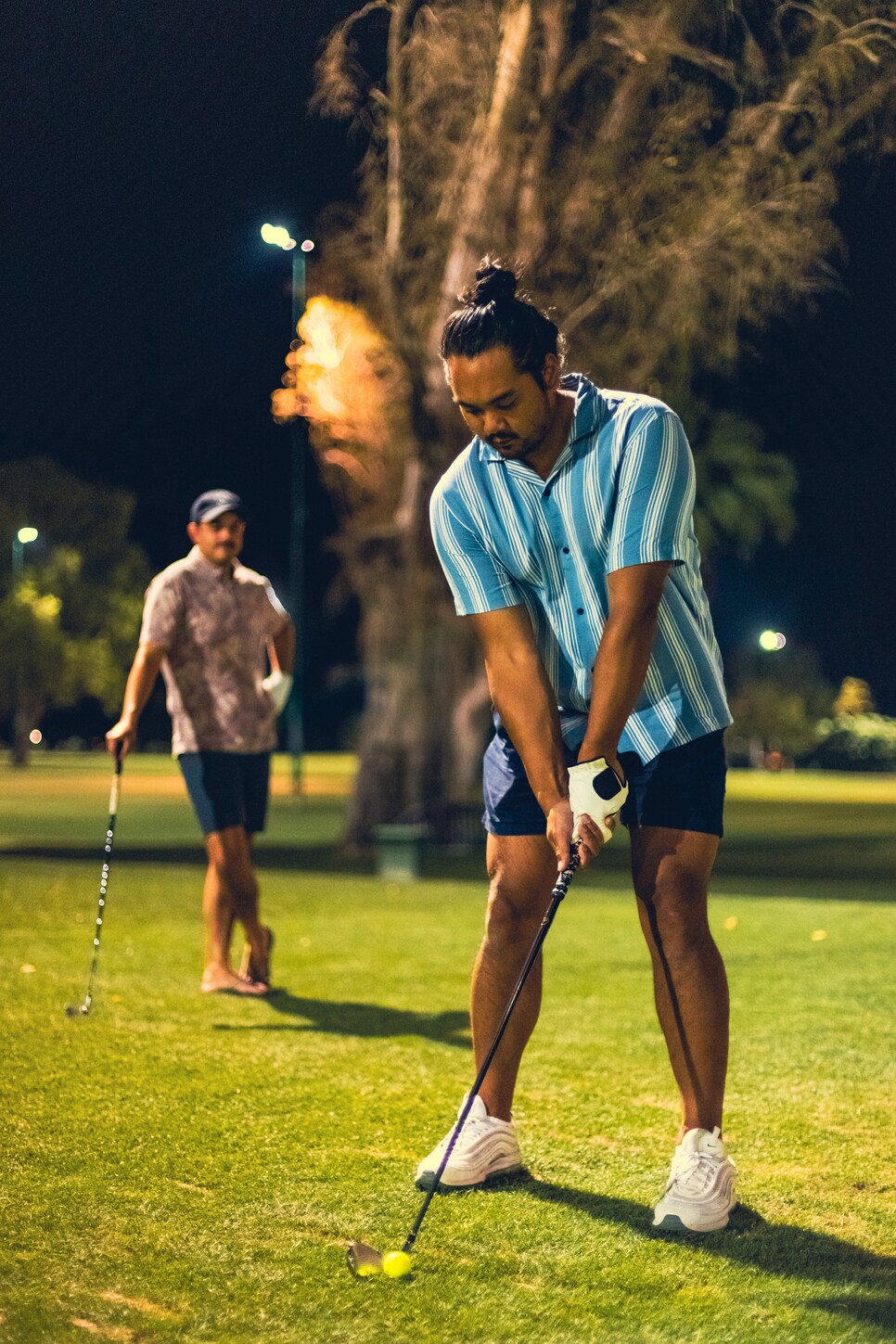 For many people, night golf likely conjures images of belting drives at Topgolf or weaving a ball through windmills and waterfalls at miniature golf. But there are more than 60 courses in the United States that offer night golf, according to Golf Advisor. However, the players you see might look a little different from the typical daytime crowd. From trade workers blowing off steam after long shifts to Gen Z-ers looking for a place to safely get together on a Friday night, the low-key vibe attracts a more diverse and eclectic crowd.
Angel Park in Las Vegas is one of the most popular. Thirty years ago, ownership renovated the 36-hole, Arnold Palmer-designed layout and added the Cloud 9, a par-3 course by Bob Cupp and John Fought that re-creates 12 of the most famous short holes in golf, like the island-green 17th at TPC Sawgrass and the Postage Stamp at Royal Troon. Nine of the replicas are illuminated by LED fixtures for night play.
"In Las Vegas, it's a 24-hour town, so we have a lot of people who come out who have odd work shifts," Leisenring says. "We also see a lot of young people. After school and in the evenings, they're looking for something to do that's akin to going to a movie."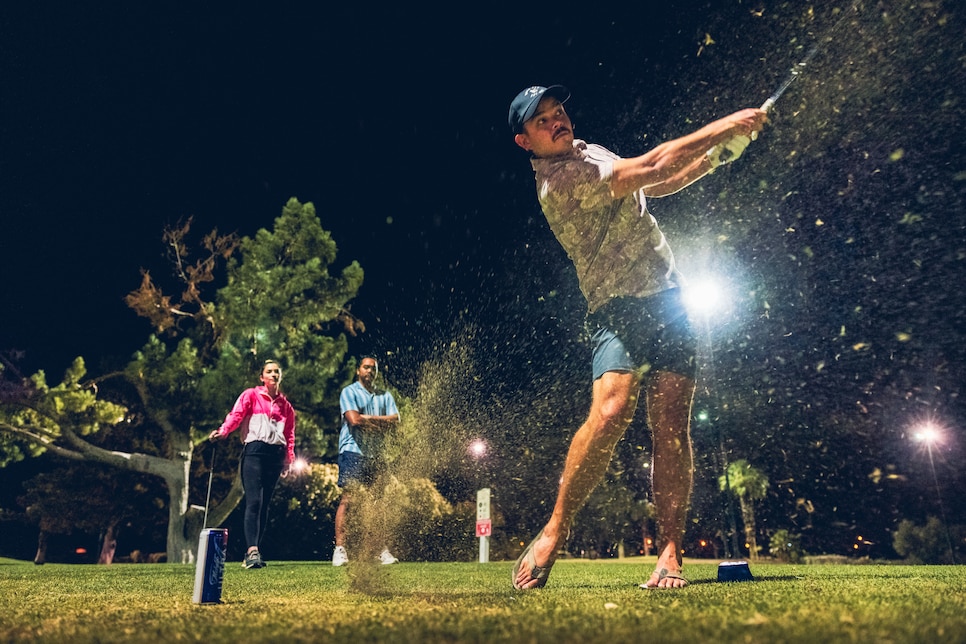 On summer nights, tee times cost as little as $10 from 6 p.m. to 10 p.m.—a good deal for players willing to walk— and every Tuesday, Wednesday and Thursday the par-3 course hosts weekly leagues. Brian Brown, a retired Air Force officer, has been a member of the Golfaholics Thursday night league for 11 years. Depending on work schedules, anywhere from 24 to 36 players will come out for a 5 p.m. shotgun start despite the possibility of rain and 30-mile-per-hour winds in the winter months. Even when a stretch of two to three holes experience lighting failures, members are equipped with headlamps and battery-pack flashlights. If they're desperate, each foursome will stand around the tee box with their iPhone flashlights, shining a collective spotlight.
Brown was introduced to the Golfaholics by a fellow Air Force retiree when they were in need of an additional player, but the majority of the members work in construction. "The ones that are in the construction industry, it's kind of their routine," Brown says. "It's the end of the week, and they might have a light day on Friday, so they're as religious as we are about coming out on Thursday nights as long as they can get away from work."
The ease of evening tee times for day workers is a huge draw. Since the start of the pandemic, there has been an uptick in rounds played, and night-golf operators have noticed a dramatic increase in new customers. According to the National Golf Foundation, 50 percent of golfers surveyed say they are curious about night golf and want to give it a try, but only 23 percent of players report that they have teed it up after the sun sets. This untapped demand can likely be attributed to the lack of accessible night-golf venues.
Night courses in the United States tend to be par-3 courses, both nine and 18 holes, but outside of the United States, night golf courses are more likely to be full-length 18-hole layouts lit at night and through the early morning hours. Marina Bay Golf Course in Singapore is the island's only 18-hole public course. The 7,100-yard layout is illuminated by 186 light masts. Golf has been enjoying a surge in Singapore, and night play serves as a good environment for beginners to experiment with the game.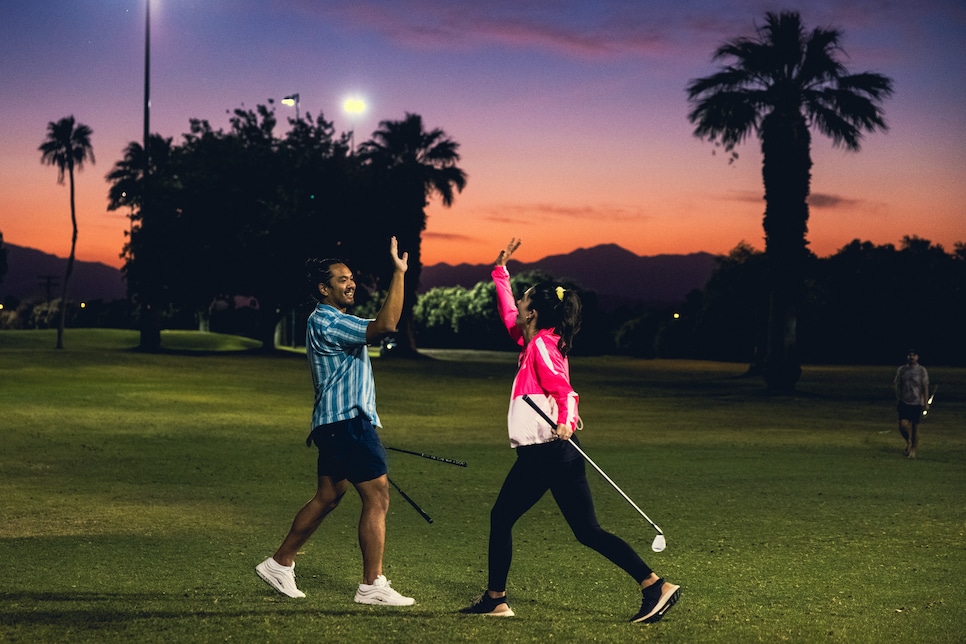 Li Ann Wan picked up golf seven months ago to help her better network with clients, and she finds nighttime to be the most beautiful, enjoyable and accessible time to play. Plus, it's a great way to avoid the almost unbearable Singapore humidity.
Private clubs in the United States have started to embrace night play. Sage Valley Golf Club in Graniteville, S.C., recently transformed its four "Dormie" illuminated practice holes into a nine-hole par-3 course that stays open until 1 a.m. "We'll bring any type of drink you want to you while you're playing," says Justin Beaudu, an assistant golf professional at the club.
In southwest Florida, the Links of Naples Golf Course (4,005 yards, par 61) is surrounded by dozens of private clubs. General manager Scott Allen says many of its nightgolf regulars work at these clubs. During the busiest months, many caddies and assistant pros don't have the chance to sneak onto their respective courses after the members finish their rounds, so they squeeze in rounds at Naples.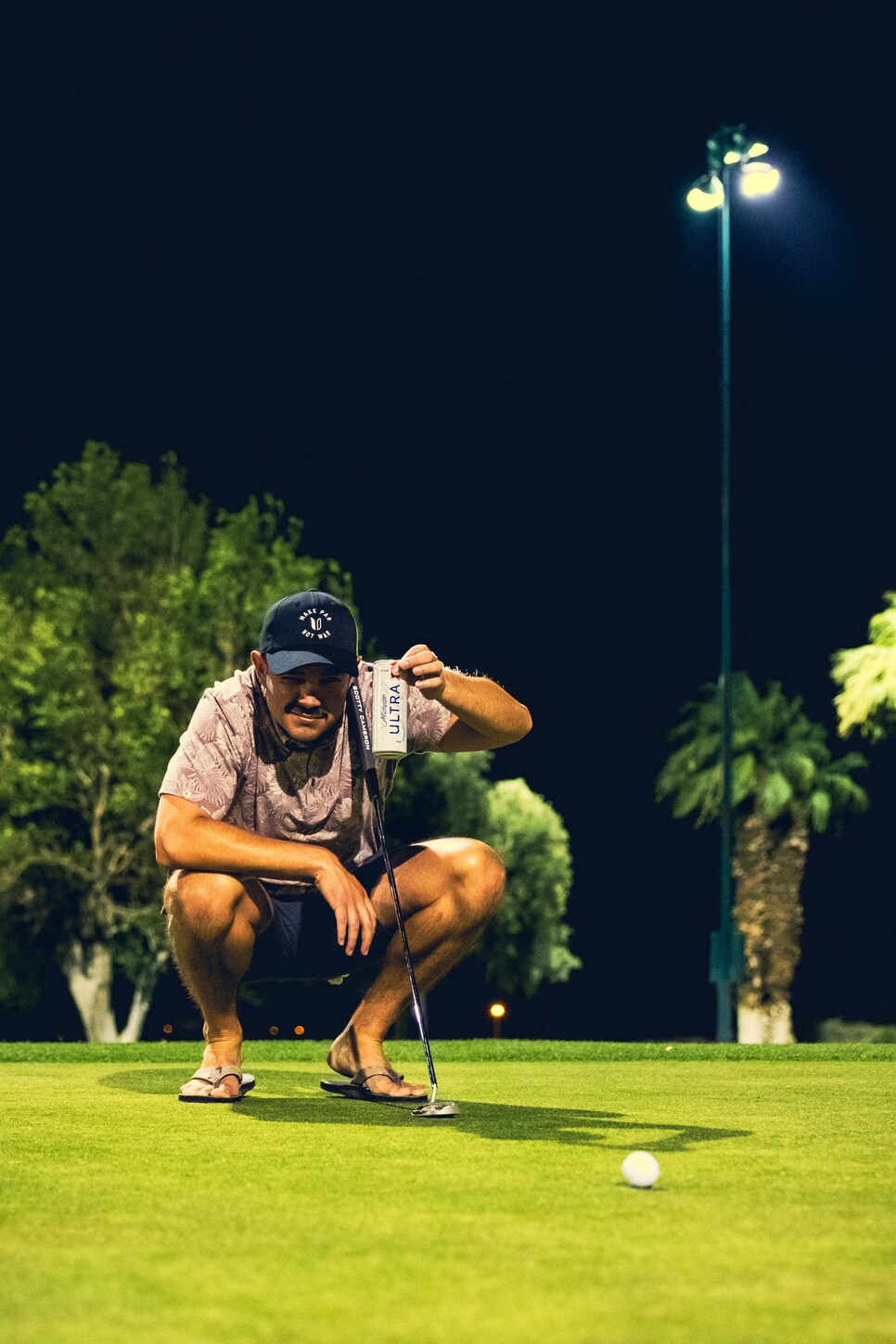 The interest in night golf is there, but for it to become more widespread, course operators must find solutions to some steep obstacles. The cost to install LED lights for nine holes is roughly $500,000, according to the National Golf Foundation. (This doesn't include the underground infrastructure for the wires.) Also, in some states, the weather isn't conducive to night golf, and many courses aren't close enough to population centers to stay busy after hours.
As golf looks to better serve and retain new customers, night golf could be an attractive option. It was good enough for Tiger Woods. One of the places he grew up playing was Heartwell Golf Course, a 2,143-yard par-3 course in Long Beach, Calif., where he would play until midnight. "It's just really different," Woods said at the 2000 Battle of Bighorn, where the final four holes were played under the lights. "You have different shadows on the ball, and it's really hard to see your lines and get a feel for what the break is. The tee shots are all right. The second shots are all right. [The challenge is] seeing what the ball is going to do on the ground."
Just one of the charming quirks of golf after dark.