The bracing joys of winter golf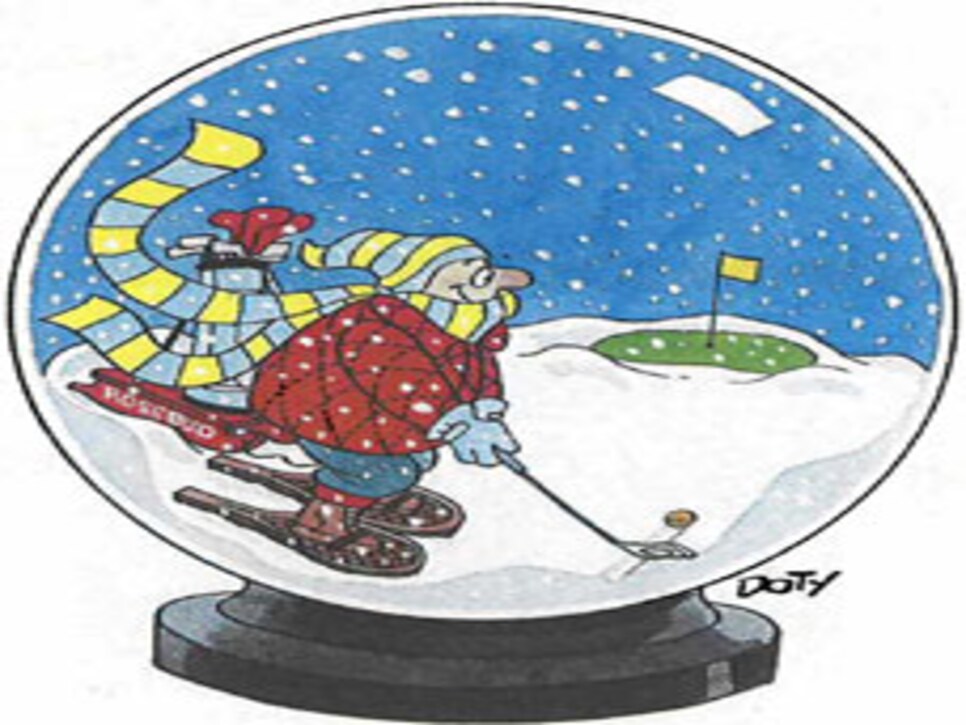 A friend recently was reporting excitedly on a round of winter golf at Pine Valley, the best course in the world by all expert ballots. (I also have friends in low places.) He said that the greens were frozen and his approach shots bounded 40 feet high until he adjusted and began to play bump-and-skate shots.
He sounded like a kid with his first Nintendo game, and he reminded me that winter golf is a different sport, with its own special challenges and charms. It's almost enough to make you feel sorry for players who live year-round in balmy climates like San Diego or San Antonio.
They can relish not the exhilaration of brittle air that puts your senses on military alert, or the crunchy sound of a putt breaking across a cold green, or a steaming cup of soup or coffee at the turn.
There is no dress code, no mixed company to inhibit well-deserved swearing, no heedless group ahead slowing play. Usually the course is yours alone, an enchanted private nature preserve providing escape Thoreau would envy. Nothing surpasses the supernal quiet and beauty of a blue-skied winter golf day.
Winter golf keeps our golf muscles stretched. Our brain muscles, too. Strategy in the winter often is inverted. Rather than lob the ball over a greenside bunker, you may want to run the ball through it.
In some welcome ways, the game is less intimidating in the winter. Drives roll scores of yards farther and hard fairways. The rough goes away. Water hazards freeze over and become ice hazards. Trees truly are 90 percent air.
Your home course takes on intriguing new personalities. When you have it to yourself you are free to redesign it into any novel pattern your imagination suggests. You may find that your best par 4 extends from the 14th tee to the 17th green, or vice versa.
Pine Valley stages a late-year club event in which the course is played backward, from green to tee. The members rank it great fun.
Winged Foot, with two splendid courses, puts together a composite 18 for winter play, avoiding the necessity of temporary greens. Winter greens are about as exciting as cough syrup.
My first exposure to winter golf came 25 years ago at Winged Foot. I had gone there on assignment, to interview one of the help who was celebrating a monumental anniversary of service to a demanding membership. The temperature was around freezing, and it was snowing -- a gentle and lovely but steady snow. I looked out the clubhouse picture windows and saw a foursome finishing on 18. Followed by another. And another.
If the weather was unlikely, they didn't seem to notice. They brushed paths through the snow for their final putts, and the entered the bar on a gust of conviviality, to round over hot toddies.
I have played winter golf ever since, when it is rationally possible. That is, when the temperature is 40, the wind is tame and the footing is safe. I will invoke Hurricane Rules, as they are known at Winged Foot: setting up the ball anywhere on the course including bunkers, because mud in the eye and sprained wrists are unjust rewards.
Tour pros Mike Hulbert and Joey Sindelar grew up in upstate York, the home of the snowmobile. Hulbert says their only winter rule permitted moving the ball out of snow and onto a patch of grass. "We played as long as you could see a little grass on the course," he says.
Playing winter golf suffuses one with an uplifting sense of heartiness, if not superiority. If you can't be good, be zealous, I always say. Real golfers play winter golf.
I was proud in the last few weeks of playing a few holes on Thanksgiving, Christmas and New Year's Day, by myself since nobody else in the neighborhood was up to it. I made sure to accomplish this rare New England triple in the middle of the day, when the high temperature was reached briefly.
With the global warming, we are seeing the end of the Memorial Day to Labor Day season in the Northern half of the country, and winter golf will become more popular. I don't look forward to that probability; we nut cases would rather keep it to ourselves.
At its best, golf in the winter is sublime, and more rewarding than it ever could be in the summer heat. At its worst, it's vastly preferable to no golf at all.