The Loop
Nick Kyrgios is the most interesting man in the (sports) world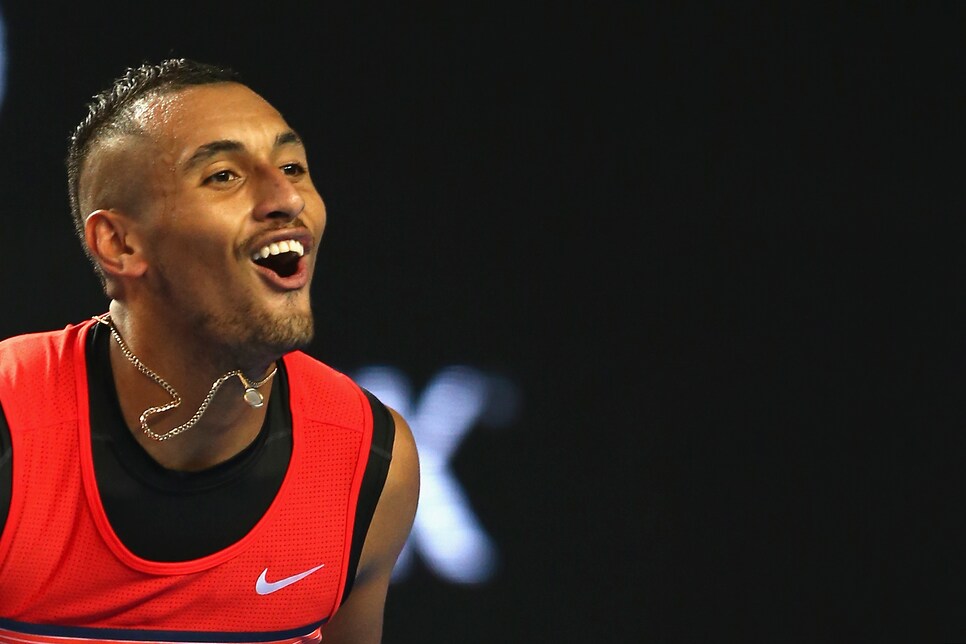 Nick Kyrgios is the Most Interesting Man in the (Sports) World
"Ryan's best chance is just hanging in there and challenging Kyrgios' nervous system...just his emotional capacity to deal with the stress and adversity."
—Steve Weissman, Tennis Channel
I heard those words Sunday morning while watching Nick Kyrgios take on Ryan Harrison in the finals of the Brisbane International, a lead-up tournament to next week's Australian Open. I understand what Weissman meant—Kyrgios is famously mercurial, to the point that the adjective "mercurial" is a staple in every piece of literature about the man, and Harrison seemed to be slowing the match by subtle degrees in order to antagonize him—but I also knew he was wrong. Because Kyrgios, despite doing his stubborn best to give us a public demonstration of the term "head case" on too many occasions to count, also happens to be one of the best pressure players in tennis. In a final, in front of his home fans, he would be impossibly nervous, hair-trigger mad, and volatile even by his capricious standards. But, I felt sure, he simply could not lose.
If that sounds like a paradox, well...welcome to the world of Nick Kyrgios. In the hour-and-change final against Harrison, I watched him behave in ways that you'd call finicky, defensive, angry, moody, insecure, and self-defeating. He had cross words for a trainer about insufficient treatment for his injured right knee, he complained to the umpire about the length of Harrison's mid-set break, he stared down his opponent when he took too long on a changeover, and he showed flashes of exaggerated disinterest that were practically disrespectful.
I also watched him dominate—a 6-4, 6-2 clinic against the overmatched American. During the actual points of the actual tennis match, the 22-year-old Kyrgios displayed the kind of astounding brilliance that makes him, in my inexpert opinion, the second-most skilled player in the world after Roger Federer. He's the type of genius who routinely shocks seasoned tennis announcers—even the ones who are inured to almost any surprise by virtue of their longevity. This shock sometimes stems from his bad behavior or his showmanship, but just as often it's triggered by a flash of simple otherworldly aptitude.
Example: In Sunday's final, in the second set, Harrison had Kyrgios on the defensive, and after a strong rally pushed him well beyond the baseline with a deep, hard forehand. Facing those unfavorable conditions—on the run, to his backhand side, deep in the court—most players would feel fortunate to hit a defensive return that kept them in the point. Kyrgios, with nothing more than a quick flip of his racket, hit a blistering inside-out backhand (probably the hardest ground stroke in the game) deep into the far corner. Harrison could only watch—he was nowhere near the shot. There may not be another human on the planet, including Federer, who could summon that kind of winner from such an adverse position.
Back to the concept of paradox. Kyrgios is liable to give up at the slightest sign of adversity when the stakes are low, but summons a degree of toughness and focus that few can match on the biggest stage—it's how he's taken down the best players in the game, including the "big three" of Nadal, Federer, Djokovic. (He's 5-4 against those juggernauts, though he can't seem to figure out Andy Murray...he's 0-5 against the Scot, with just a single set won in 15 tries.) Almost any disturbance, from an errant throw by a ballboy to a missed call by the chair umpire, can rattle Kyrgios, but it's also true, to quote Justin Gimelstob, that he "thrives on chaos." He looks terminally disgruntled, and yet his game exemplifies the joy of pure inventive play more than any other professional you could name. He is tennis' great young hope, but if he had his druthers, he'd be playing professional basketball. His shot arsenal is the envy of his contemporaries, and yet he's almost unbelievably prone to terrible strategy—hitting too many drop shots, trying four S.A.B.R. attacks in a single return game ("sneak attack by Roger," a quintessential Federer move that involves creeping up on the opponent's serve to hit a surprise return from just beyond the service line, and is best deployed once or twice per match), or blowing an easy shot with unnecessary flair.
It goes on. He has never won a grand slam, or really come close, but he's already inspired some of the best tennis writing in years. He is a neurotic self-saboteur, but he possesses the rarest kind of boldness that can only arise from the unpolluted self-confidence of a prodigy. He is by far the most talented player of his generation, and yet it's difficult to imagine him winning even a single grand slam, while a contemporary like Alexander Zverev—undoubtedly great, but a lesser light—seems destined for at least five. I would never dream of betting against him in a slam final, but in a sport that rewards consistency and the ability to avoid an embarrassing second-round flameout, I'd be a fool to expect him to reach that final. Even in Brisbane, where he was the best player on the court day in and day out, he couldn't manage the focus needed for a straight-set victory until the championship match.
In short, Kyrgios does not make sense. He is grim, he is fun. He is a gamer, he is a whiner. He is blessed, he is cursed. He is the golden boy, he is a cautionary tale. He will win ten grand slams, he will win none. He is indefinable, he is irresistible.
And there is no athlete, in any sport, who more reliably fills you with that electric, anticipatory feeling—the sense that anything, anything, anything might happen.
This is a superlatives column meant to highlight the best and worst from the week in sports, and it's typically split into at least six short sections. But as you see, no other piece of content will share the stage with Kyrgios today. It would feel off, somehow. Kyrgios is the ultimate superlative, and though it's difficult to reach a definitive conclusion about his present or his future, on the topic of singularity there can be no doubt: The man stands alone.