News
Newcomers dominate U.S. and Europe squads as Arnold Palmer Cup teams are selected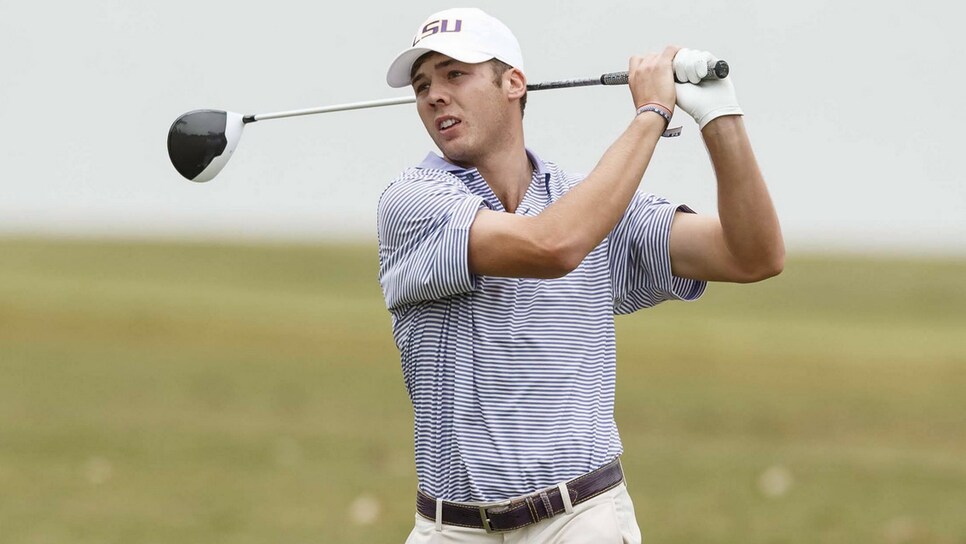 There's a common bond between the teams from the United States and Europe that will be competing June 9-11 at Atlanta Athletic Club in the Arnold Palmer Cup. Both will rely on newcomers in this annual Ryder Cup-style event involving college golf's top men's players.
When the rosters for both squads were revealed Thursday at Bay Hill, in conjunction with the first round of the Arnold Palmer Invitational, just three of the players chosen have prior experience: Maverick McNealy and Doug Ghim of Team USA; Stuart Grehan of Team Europe.
That's not to stay either side is lacking in talent. For the U.S., LSU's Sam Burns (a 2016 U.S. Open qualifier), California's Collin Morikawa (runner-up at the Web.com Tour's Air Capital Classic last year) and Virginia's Jimmy Stanger all rank in the top 10 in scoring for the 2016-'17 season with stroke averages of 69.7 or less. Texas A&M's Chandler Phillips is among the nation's leaders in birdies, and Oregon's Norman Xiong is in the running for national freshman of the year. And USC's Sean Crocker and Illinois' Nick Hardy each have tournament titles to their credit this season.
For Europe, Nova Southeastern's Richard Mansell (England), Oklahoma State's Kristoffer Ventura (Norway), Jacksonville's David Wicks (England), Texas Tech's Hannes Ronneblad and Missouri's Rory Fransson (Scotland) are all inside the top 71 on the Golfstat individual college rankings.
Six players on each side qualified via a rankings system based on their college performances. Three Americans and two Europeans were chosen by selection committees, and each coach got to pick a player. The final European roster spot will go to the winner of April's R&A Foundation Scholars Tournament.
The U.S. has a 10-8-1 advantage overall in the competition, with Europe winning last year's match, 18½-11½. No team has been a repeat winner since the U.S. claimed the cup in 2011 and 2010. And no team has won on foreign soil since the U.S. victory at Royal Portrush in 2010.
This year's Arnold Palmer Cup will be the last that will include only men and pit the U.S. against Europe. In 2018, the competition will be expanded to mixed teams of men and women, and be Americans versus the rest of the world.
Ranking Selections
Sam Burns, LSU
Chandler Phillips, Texas A&M
Collin Morikawa, California
Jimmy Stanger, Virginia
Maverick McNealy Stanford
Norman Xiong, Oregon
Committee Selections
John Coultas, Florida Southern
Sean Crocker, Southern California
Nick Hardy, Illinois
Coach's Pick
Doug Ghim, Texas
Coaches Head Coach - John Fields, Texas
Assistant Coach - Andrew DiBitetto, North Carolina
Ranking Selections
Hannes Ronneblad, Texas Tech - Sweden
Fredrik Nilehn, Texas Tech - Sweden
Kristoffer Ventura, Oklahoma State - Norway
David Wicks, Jacksonville - England
Harry Elllis, Florida State - England
Rory Franssen, Missouri - Scotland
Committee Selections
Stuart Grehan, Maynooth - Ireland
Viktor Hovland, Oklahoma State - Norway
Coach's Pick
Richard Mansell, Nova Southeastern - England
*Last spot goes to winner of the R&A Foundation Scholars Tournament, April 3-4 at St. Andrs
Coaches
Head Coach - David Inglis, Northwestern - Scotland
Assistant Coach - Alan Murray, Washington - Ireland